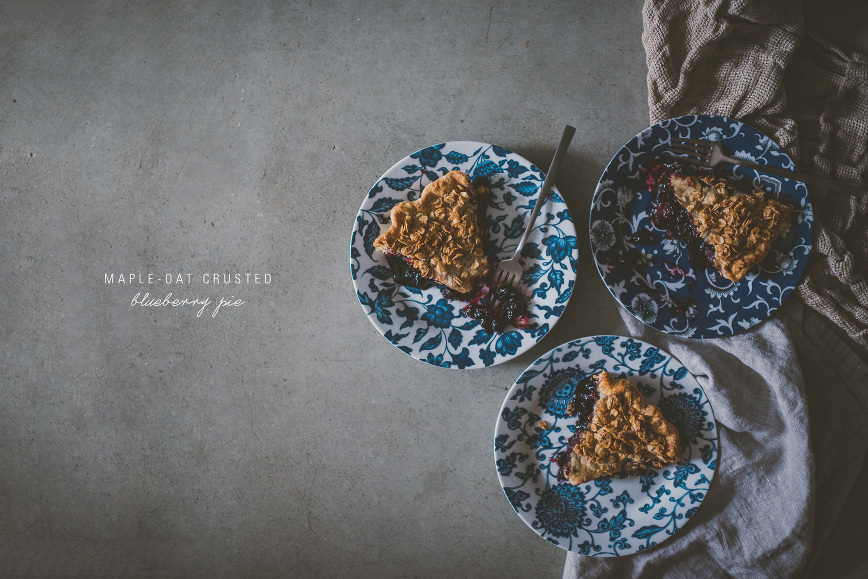 Let's talk about failure. When we're browsing the web, looking at the gorgeous blog posts, we see the finished products: the fruit of hours of labor, recipe testing, failures and re-tries. As a blogger, I'm very familiar with this process. In fact, often times when I'm recipe testing, I don't even take out my camera – because what's the point? As I was editing this post, I realized that as much as I love talking about the process of making food, I rarely show or talk about the failures, the attempts that didn't work, and sometimes those lessons are more valuable than the pretty pictures. About a year ago, I made tangzhong hot cross buns, and my first few attempts were so dismal I had to take a shot of the wrinkly, un-leavened buns. I posted that photo on Instagram and it received a lot of encouragement and shared stories, and I felt encouraged to do more. Because you know what? I'm not a professional chef or baker. I'm a home cook, who learned cooking from my mom and by myself. I'm constantly experimenting, and with experimentation there must be failure. Without failure, how can I improve my technique, or really learn?
I wish I had taken the time to take a photo of the failed, fallen pie this time, but I was honestly so flustered I didn't even want any photos of it. Anyway, I feel like I've been making pies since I first started blogging. It was one of my first "challenges" and I really wanted to learn how to make them, if only to make apple pie for my husband, since it's one of his favorites. I've made so many pies that I don't even look at a recipe anymore to make the crust, and I feel like I can eyeball the filling, too. Well, this time, I whipped up my pie crust, mixed the filling and oat topping, assembled, egg washed, and then just plopped it in the oven. I forgot to chill the pie!!!!!!! Oh my gosh. It's probably the first time I've forgotten, and the pie let me know that immediately. The crust fell, flattened, and basically became a blob. Ok, the pie tasted fantastic, the oat topping was spot on, and the crust was still flaky and buttery, but it was pretty darn ugly. 
I remade with a care for these details, and it worked like a dream! Perfectly flaky, a gooey, warm filling that wasn't runny, a crisp maple-oat topping that provided an extra, comforting crunch – my kind of a pie! The blueberries on the market are so so good right now, and I had to put them into a pie. I'm telling you – juicy Maine blueberries have so much flavor you barely need any sugar or maple syrup. In fact, I cut it back because the blueberries I had were so sweet!!!!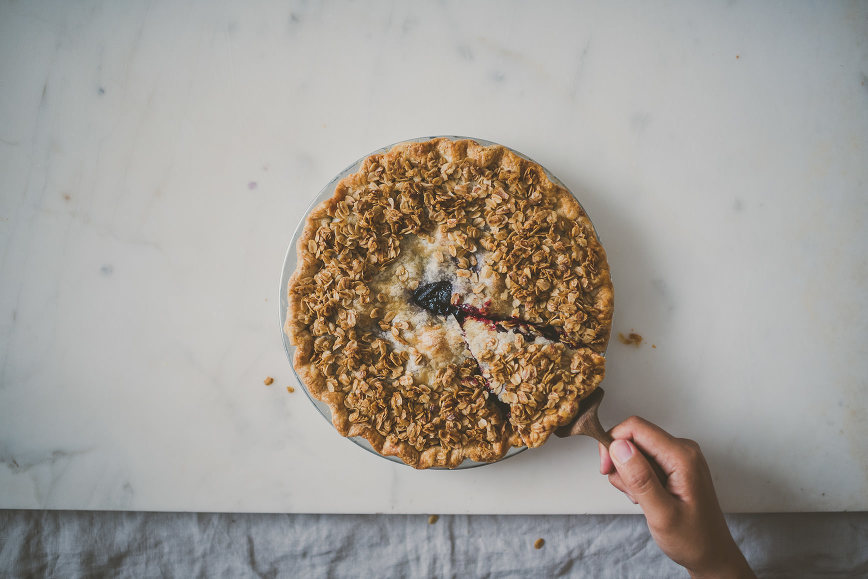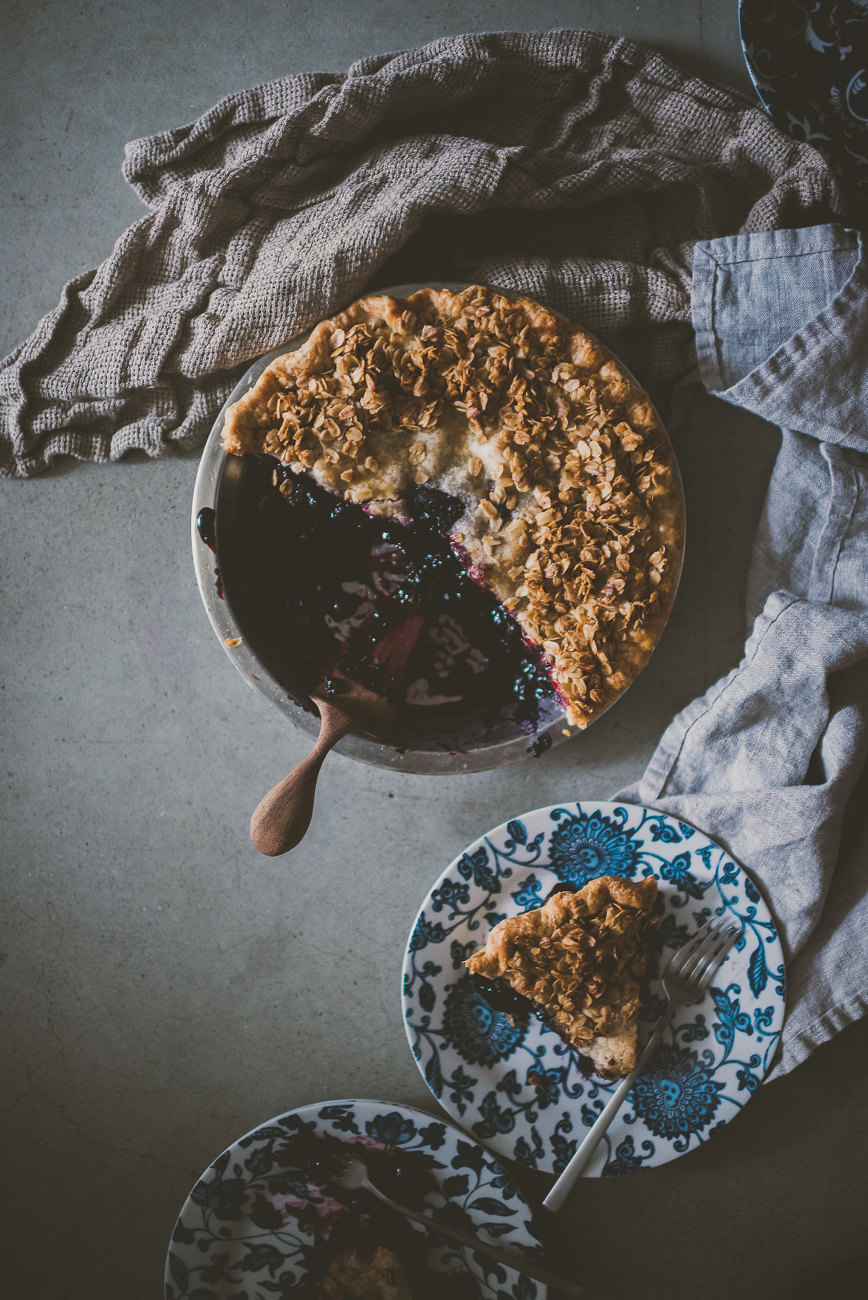 I want to share a story about critique and failures with you. I vividly recall the first critique I had, for our very first project in architecture school. It was a simple project, really, and we progressed from line drawing to collage to a wood model. I was confused and could not translate my 2D drawing into a 3D structure. It wasn't even a building – what were we doing? So I kind of just copy my drawing into wood form, and presented it, slipping over my explanations. Needless to say, I was reamed during the critique (a critique is when you pin up your drawings, display your model, and present your idea to a panel of professors and guest architects – yeah, not scary at all). I was crushed, but in a way, I kind of expected it. That night, while the rest of studio was off celebrating the completion of our first project, I went back to studio. I thought about all the critiques I received, and made something new. Something more conceptualized. Something with a coherent line of thought with the previous steps in the series, the collage and line drawings. Without that critique, without that failed attempt, I don't think I would've come to the second, final rendition. It's a learning process, and my first cue that design is constantly evolving. One of my professors used to urge us to always keep a sketchbook around, to jot down ideas, because you never know when one will pop up, or when one of your ideas will evolve, and you want to note it. This experience, plus many other failures in my architecture studies, taught me that failure was even more important than praise. That critique and reflection are only the next steps forward.




The first time I used this maple-oat topping was on a galette – this oat-crusted plum galette. It was definitely inspired by the maple granola I made last fall, and it worked so well on the galette I'd been dying to use it on a pie. it's a simple mixture of olive oil, maple, and rolled oats. It's like granola on a pie crust. In one bite, you get crunchy oats, flaky crust, and warm, gooey fruit filling. 






linen – shop fog linen / forks – simon pearce
This post is sponsored by bob's red mill! All opinions expressed are purely my own, as always. Thank you so much for supporting the companies that support this blog!!! I've loved Bob's Red Mill since I started baking – it's my go-to for flour, grains (their farro!!!), sugar (the best turbinado for topping pies), and all things baking related. 
---
RECIPE: Maple Oat Crusted Blueberry Pie
Double Pie Crust
2 1/2 cups bob's red mill all purpose flour
2 sticks butter, cubed into 1 cm pieces, cold – prepare this beforehand
1 tsp salt
3 tsp sugar
3/4 cup cold water

Prepare: Cube butter into 1cm pieces, and place it in a bowl in the freezer. I find that this allows the butter to get very cold before you work with it. Place water in the freezer (you will use it before it freezes). Combine flour, salt, sugar. Take cold butter, and using a pastry cutter, fork, or fingers, work quickly and cut butter into dry ingredients. Pea size chunks will remain, and that's completely fine.
Using tablespoons at a time, mix chilled water into dry ingredients until just combined. Do not overmix or knead. Add the mixture gradually – you can always add more water, but you can't take it out. The resulting dough should be damp but not moist.
Separate dough into two halves. Shape into disks and wrap with plastic wrap. Place in fridge. Let dough rest for at least 1 hour. 
Oat-topping
1 cup Bob's Red Mill rolled oats
2 tbsp turbinado sugar
3 tbsp olive oil
4 tbsp maple syrup
Combine ingredients together.
Blueberry Filling
2 lb blueberries
3 tbsp cornstarch
1/4 cup sugar
¼ cup maple syrup
pinch cinnamon and nutpeg
pinch salt

1 egg + splash of water, whisked
In a bowl, combine ingredients, letting some of the blueberry juices run (actually, I do like using my hands for this! It's totally OK to smash some of the blueberries).
Preheat oven to 350F. On a lightly floured surface, roll it into a circle about 1″ wider than your pie pan and gently place over a pie pan. Place in fridge. Roll out other dough into a circle.
Remove bottom crust with pie pan from fridge. Gently pour blueberry filling into dough-lined pie plate, and place top crust over filling. Cut out slits or a shape in the center for air. Trim dough and crimp / pleat edges.
Place in fridge for 15 minutes.
Brush surface with egg wash, then sprinkle oat topping over pie.
Bake for 60-65 minutes, until top is golden brown and filling is bubbling. Let cool to room temperature, and serve.