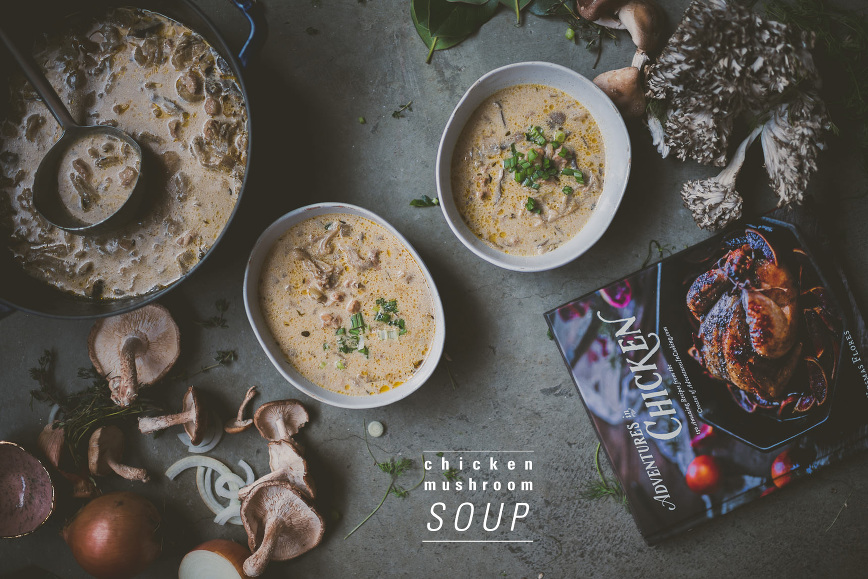 Many congratulations to my dear friend Eva, of Adventures in Cooking, who published this amazing, warm, comforting, and beautiful (duh) cookbook, Adventures in Chicken!!! You probably know by now that I read cookbooks like novels – I love learning about food, and when they're as well written and thorough as this one, well, it's a pleasure for sure. Eva talks about chicken varieties, how to break down a chicken, and even includes recipes with the "lesser known" parts, like chicken feet!!!!! To be honest, I wasn't too surprised – about two years ago (wow), I met Eva for the first time in real life. She and Carey had just wrapped up their workshop on Cape Cod, and even though they must've been all talked out and sick of meeting more people, they had dinner with us, and since then I've admired the pair even more. At that point, this cookbook was still in the beginning stages, and when Eva mentioned exploring other, unconventional parts of the chicken, I immediately perked up and knew this was a book I wanted to cook from!!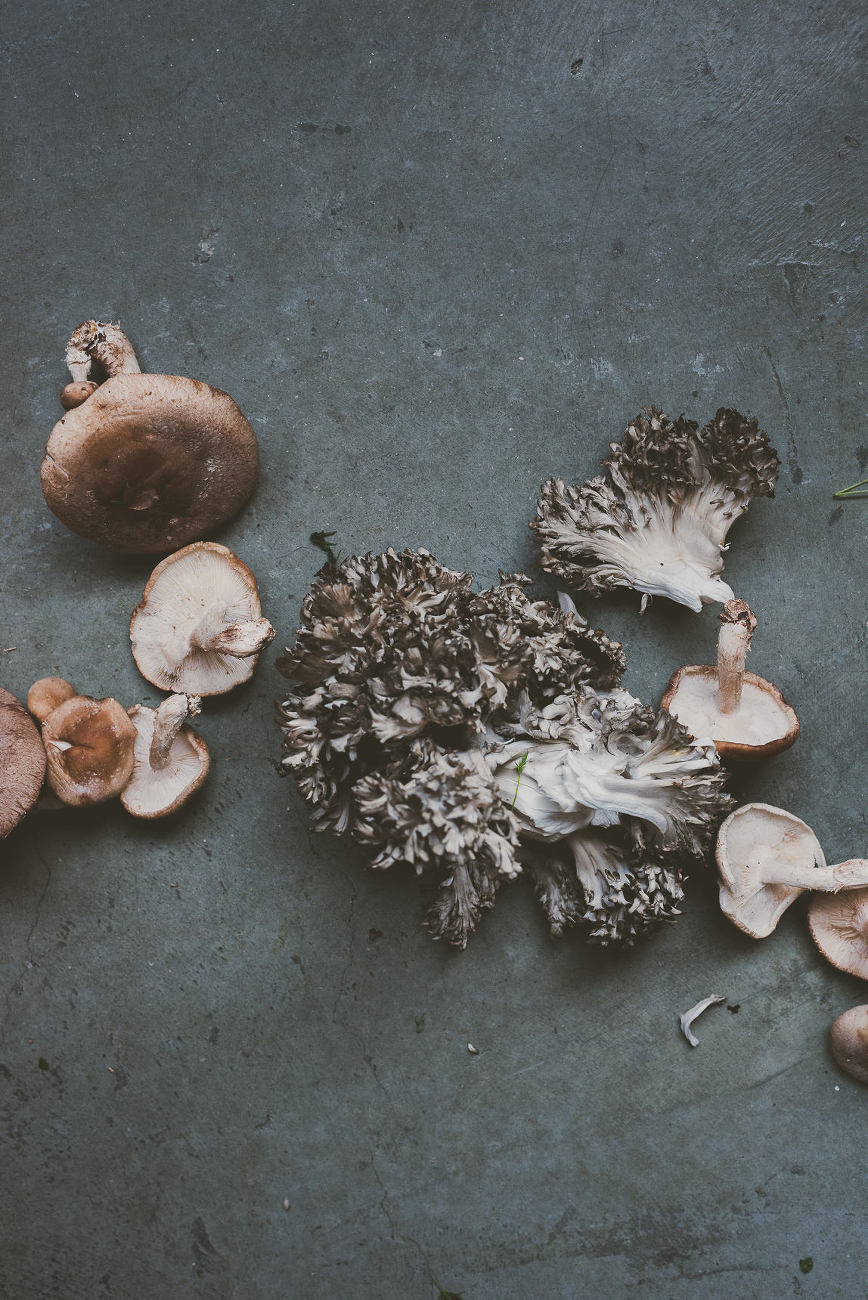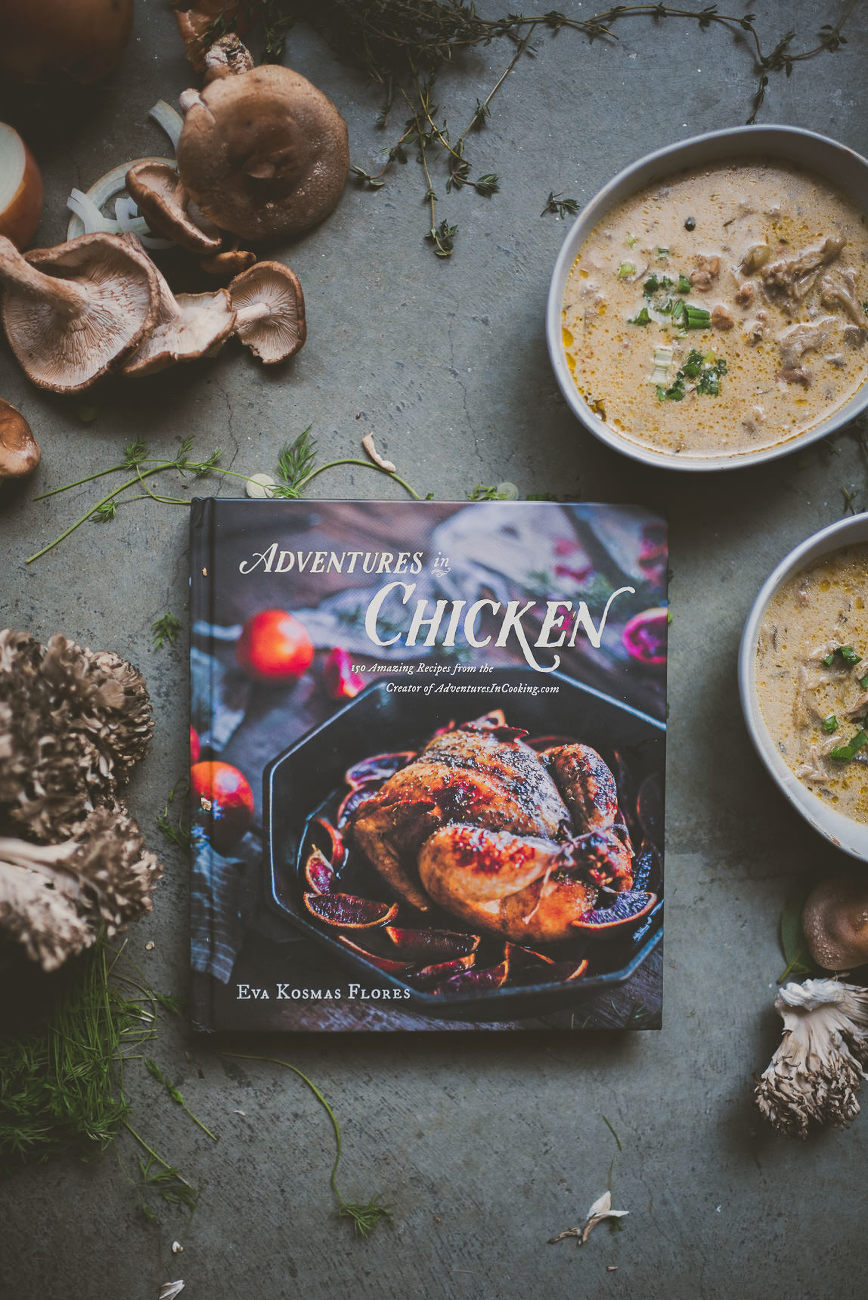 I realized, when I received this book in the mail, that I actually rarely cook chicken at home these days. I used to, but since wedding season picked up, I've avoided chicken – because you know what we get served 95% of the time as vendor meals? Chicken! Usually dry chicken with steamed vegetables and mashed potatoes. Needless to say, I sort of lost my craving for chicken after that. Flipping through Eva's book, I couldn't believe what I was missing. Everything looked succulent, tender, delicious – and not just the dark meat. The bacon and maple roast chicken, homemade sausages, savory stuffed toast, corn chowder soup, pot pies, chicken potstickers… everything looked amazing. The thing about this book is that it brings up entertaining desires. I wanted to make a whole chicken and present it as an amazing showstopping dish. I wanted to host a brunch party and serve savory stuffed french toast.


As I flipped through, one recipe in particular screamed at me to make this, RIGHT NOW. Creamy mushroom soup forever won a spot in my heart when I was in Iceland, where it seemed to be on every menu in every eatery. When I was there a few weeks back (recap SOON), I must've had mushroom soup 4 times in a row. Post hike, appetizer before dinner, lunch… we had gourmet versions, simpler ones from a roadside shack, gross ones at gas stations – it's comforting, warm, and delicious. The umami flavors so characteristic of mushrooms permeates through the soup, lending complexity at every sip. I couldn't find chanterelles (sad), so I bought a good chunk of maitake, and it worked wonderfully with shiitake! This soup gets even better the day after – the flavors of the chicken and mushrooms have a chance to infuse even more into the soup. Every sip is packed with flavors.



RECIPE: Chicken Mushroom Soup, from Adventures in Chicken , by Eva Kosmas Flores
1/4 cup extra virgin olive-oil
3/4 pound boneless skinless chicken thighs, cut into 1-inch cubes
2 medium yellow onions, chopped
8 oz shiitake mushrooms, cut into 1/2″ slices
4 oz maitake mushrooms, cut into 1/2″ slices (original: chanterelle mushrooms)
3 cups chicken stock
1 tablespoon plus 2 teaspoon Hungarian paprika
1 tablespoon soy sauce
2 teaspoons minced fresh dill
1 teaspoon fresh thyme leaves
1 teaspoon minced fresh marjoram
1/2 teaspoon freshly cracked black pepper
3 tablespoons unsalted butter
1/4 cup all-purpose flour
1 cup whole milk
1 tablespoon freshly squeezed lemon juice
2/3 cup sour cream
kosher salt to taste
Heat the olive oil in a large frying pan over medium heat. Add the chicken and onions and cook, stirring occasionally, until the onions are translucent and the chicken is lightly cooked on all sides, about 8 minutes. Add the mushrooms, 1 cup chicken stock, paprika, soy sauce, dill, thyme, marjoram, and black pepper. Simmer, stirring occasionally, until the mushrooms soften and become dark in color, about 15 minutes.
Melt the butter in a large Dutch oven over medium heat. Whisk in the flour and continue whisking while the mixture cooks for another 3 minutes. Add the milk and reduce the heat to medium low. Continue cooking, stirring once every minute or so, until the mixture thickens, about 10 minutes. Empty the mushroom mixture into the milk mixture. Stir in the lemon juice and the remainder of the chicken stock. Cover and simmer over low heat for 20 minutes, until very fragrant with the smell of mushrooms.
Remove from the heat and watch mixture until it stops simmering. When it ceases, stir in the sour cream. Add salt to taste and serve.