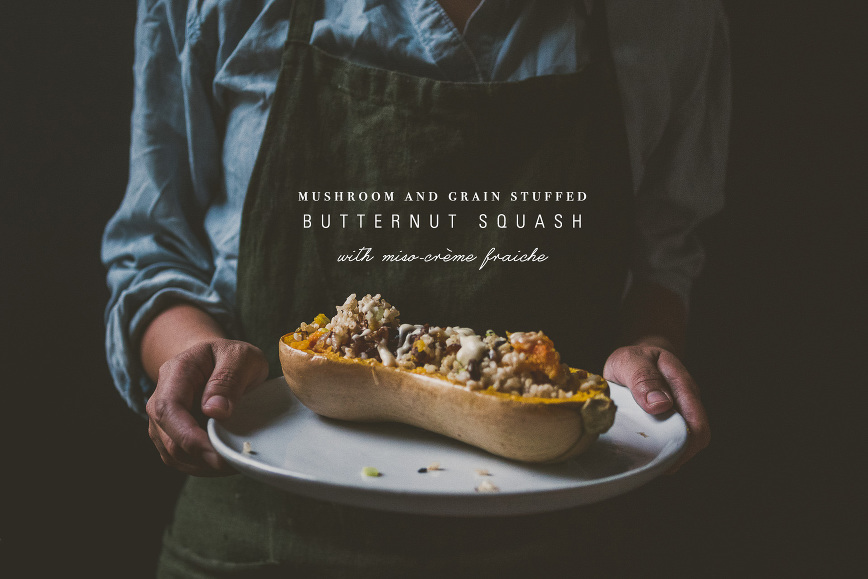 Because #virtualpumpkinparty was so epic, let's extend it a bit shall we? Say, all fall? :). I can't seem to resist the call of the seductive flesh of pumpkins and squashes. The shapes of the delicata, the sweetness of kabocha, the tenderness of acorn squash – I love the varieties and playing with them all. Just the other day I discovered that a local farmstand sold honey squash – little cute squashes that resembled mini butternut squash! I'm going this weekend to see if they have any left, because apparently they're sweeter than butternut squash!!!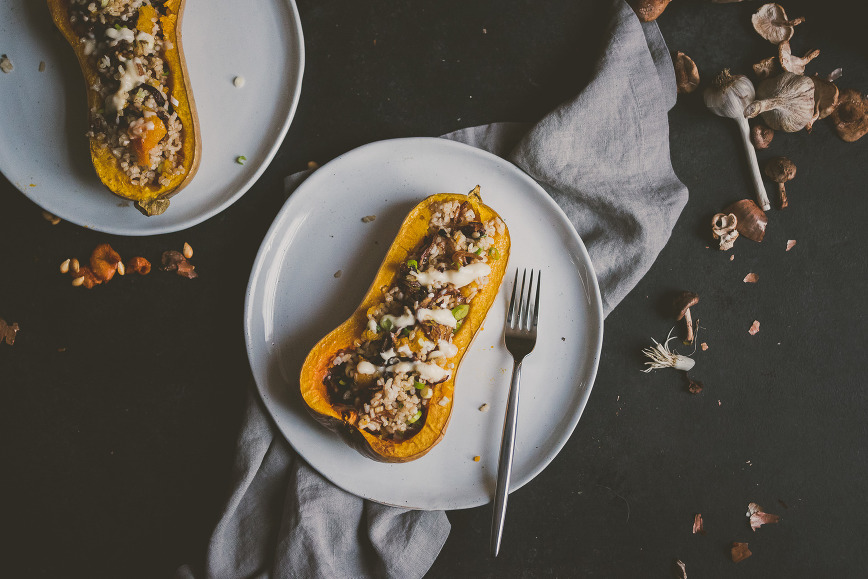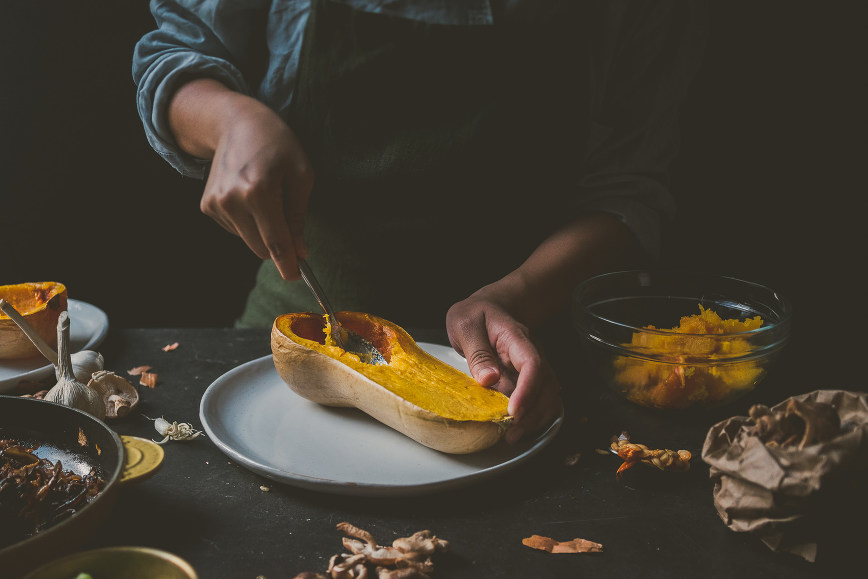 The weather has definitely taken a turn for fall/winter in Boston. We're getting freezing warnings, and fog comes out of my breath when I take Annie out to the park early morning. I find myself craving all the braises, soups, pasta, and warm grain bowls – dishes with body, substance, and plenty of flavor. Butternut squash is one of my favorite squashes to experiment with – it has a subtly sweet flavor with a gorgeous color, and pairs well with so many flavors, and its shape serves as a wonderful "shell" for this dish. Mushrooms are seared and then cooked with richly caramelized onions. Balsamic vinegar is added in and reduced to give it a deeper flavor. This is then tossed with hearty brown rice, scallions, and the innards from the roasted butternut squash. Miso crème fraiche is drizzled on top. This by itself would make a great meal and you can leave it at that if you want. However, for that extra 'wow' factor, a drizzle of miso crème fraiche is placed in the scooped-out butternut squash half, then filled with the mushroom-grain mixture, finally topped with more scallions and another drizzle of miso crème fraiche. The butternut squash half is still warm, and the miso crème fraiche almost melts into the flesh. Every fork-full of the grain mixture can scoop a bit of the roasted butternut squash shell with it!
Trust me, you're going to want to make this.
You can find the recipe over at Simon SAID!!!!!


This post is sponsored by Simon SAID.  All opinions expressed are purely my own, as always. Thank you so much for supporting the companies that support this blog!!