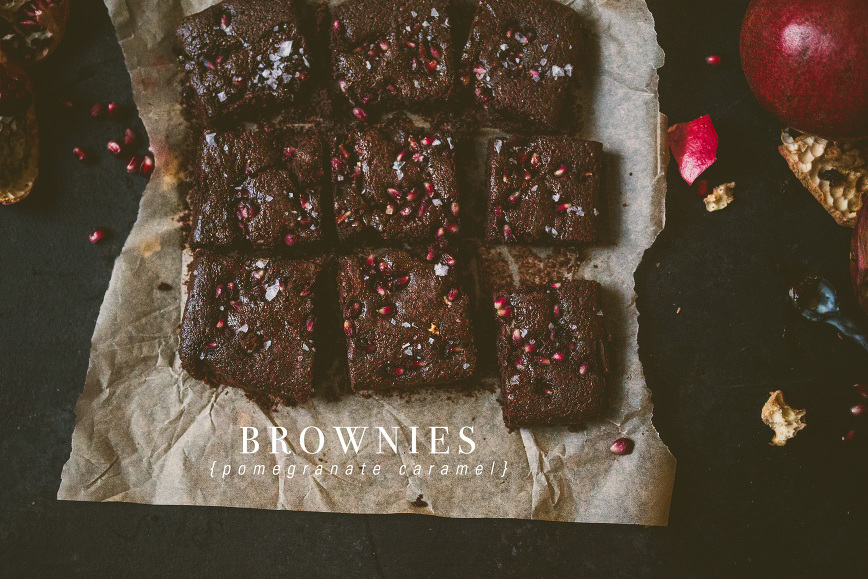 Who doesn't like brownies?!!! One of the first desserts I ever made was brownies, from a box, but still. The fudge-y but still chewy brownies with the crusty crackly top were my favorite, but honestly, I'm not a brownie discriminator. I fell in love with the beautiful pomegranates at the market and knew I wanted to do something with them. Just the process of cracking them open, revealing the seeds is intriguing. I've had pomegranate since I was young – in fact, I was in an art class when the instructor offered us some pomegranate. I remember being really confused – can you eat the seed? What's the point of eating this tiny seed? And it stains?! But at first bite, with the juice bursting out in a tangy welcome, I was hooked.
These brownies are gluten free and are swirled with pomegranate caramel, a tangy yet sweet and chocolate-y treat that is incredibly easy to make!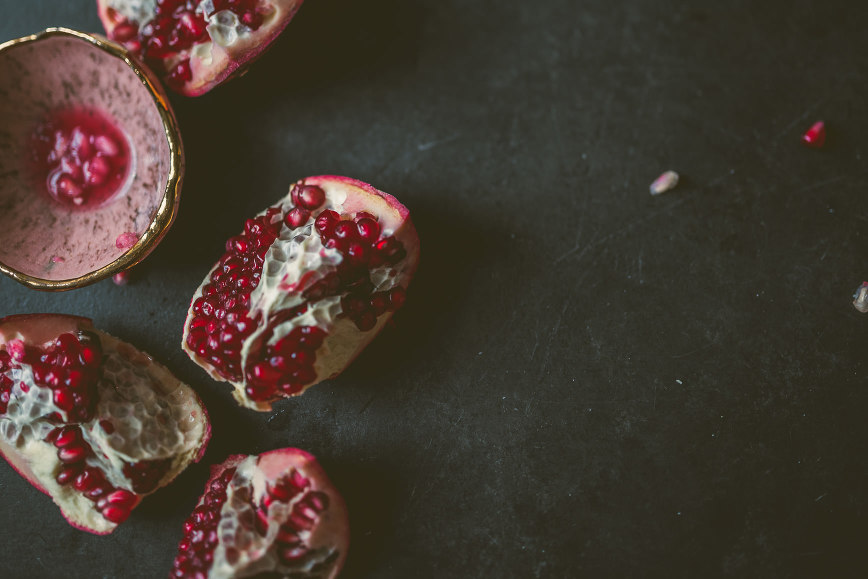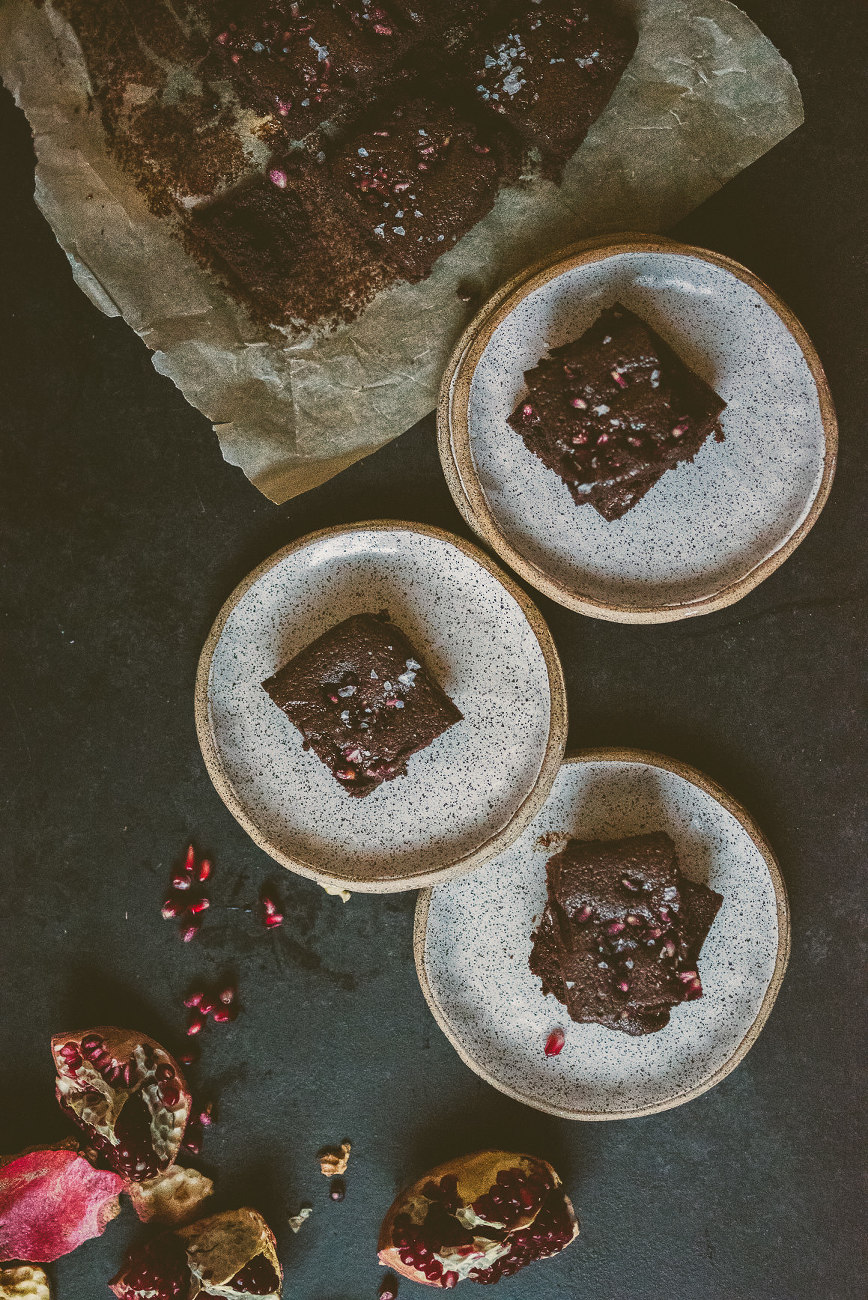 When I first started blogging and making food, I was targeting some favorite family recipes, determined to figure them out and document them (like sticky rice and pork belly buns), and my produce repertoire was minimal and limited, I think. One of the changes that happened to my life when I started to blog more regularly and seriously that I am most thankful for (besides being in this awesome community) is my gradual awareness and appreciation for seasonal produce, especially if locally grown. As we are inevitably inspired by social media, I, too, was inspired by the cycles of produce seen – when fall came, everyone went gaga over squash, and I started to think, how do I cook with squash? Before starting my blog (embarrassing to admit), I never really cooked with squash, so slicing one, for example, scared me to bits, but Google was my friend. I started to pay attention to what's offered by local farmstands and farmer's markets. As I began to work for local publications and was sent out to photograph local makers and farms, I began to really appreciate what's locally grown and how vital it is to our community. I began to truly appreciate what nature has to offer, and how beautiful it is. I've found myself gravitating away from over-styled photos and just photographing the produce – still lifes of produce, so to speak. Nowadays, I'm often inspired by the market. I base my posts and recipes to develop on whats available, because I've found as I cook more and more, that ingredients are paramount and can contribute a LOT to the flavor of the final dish, and the best ingredients are the seasonal, fresh, and locally grown ones (but, I'm probably biased because I love supporting local farmers!). Are you also inspired by what's in-season? Or just by the beauty of vegetables and fruit (especially imperfect ones?!)

This is my 2nd gluten free dessert (see my first one here), and uses Bob's Red Mill Coconut Flour. I struggled a bit with the proportions, and consulted this recipe, this one, and Bob's Red Mill's own coconut flour brownie recipe. I referenced Alanna's book, Alternative Baking, to learn more about coconut flour (such an informative book about gluten free baking!) It's basically coconut ground finely into a flour, and therefore it is incredibly absorptive. It will suck all the liquid out, and the rule of thumb is to either decrease the amount of flour, or add more moisture. I played around with 2eggs, 4eggs, and finally came to 3 eggs. It's not too moist so retains the chewy part that I love about brownies, but isn't dry and crumbly (because who wants that in a brownie?!). I'm happy with the crackly top, the hard edges, and fudgy interior.






Give it a try – the coconut adds a nice subtle flavor, but the chocolate is so intense that it does overpower the coconut. You can use coconut oil for that extra boost in flavor, but olive oil works well too.
This post is sponsored by bob's red mill! All opinions expressed are purely my own, as always. Thank you so much for supporting the companies that support this blog!!! I've loved Bob's Red Mill since I started baking – it's my go-to for flour, grains (their farro!!!), sugar (the best turbinado for topping pies), and all things baking related. 


RECIPE: Pomegranate Caramel Brownies with Coconut Flour
caramel adapted from LA Times
Pomegranate Caramel
2 pomegranates, juiced – at least 1/4 cup pomegranate juice
2 cup sugar
½ cup water
1 tsp lemon juice
½ cup heavy cream at room temperature
2 tbsp creme fraiche (optional)
pinch salt
In a large heavy bottomed saucepan, combine sugar, lemon juice, and 1/2 cup water until sugar dissolves. Increase heat to medium-high and boil, stirring occasionally to prevent sticking.  Cook until it becomes a deep copper color, around 8 minutes. Remove from heat. Gently stir in cream and crème fraiche all at once, and stir – the mixture will bubble and froth. When bubbles subside, stir in salt and pomegranate juice. Pour into bowl, cover, and refrigerate for 30 minutes, letting flavors develop and thicken.
For the Brownies
1 cup cocoa powder
½ cup olive oil or melted coconut oil
3 eggs
3/4 cup white sugar
½ tsp sea salt
1 tsp vanilla extract
¼ cup coconut flour
pomegranate seeds, to sprinkle
flaky sea salt, to sprinkle
Preheat oven to 35o and line 8×8 baking dish with parchment paper. Whisk together oil, sugar, caocao powder, and salt. Whisk in vanilla and eggs. Sift in coconut flour, and mix until you get a smooth and thick batter.
Pour batter into lined dish. Swirl in pomegranate caramel. Sprinkle with pomegranate seeds.
Bake for 30 minutes, until edges are hard but the center is still a bit soft.
Sprinkle with flaky sea salt. Let cool, then cut and serve!!!!!