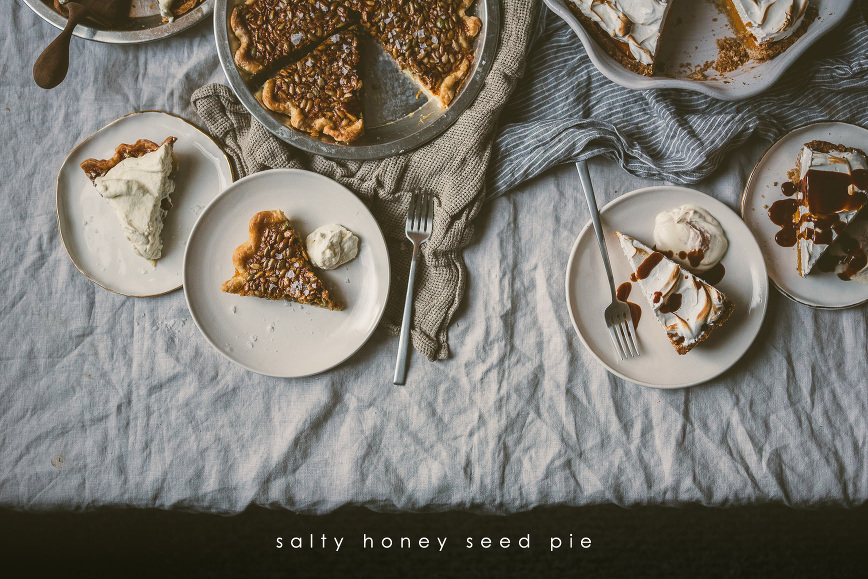 This is one of the recipes I am most excited about this holiday season – Salty Honey Seed Pie!!!!! My love affair with pie has not been easy – I've had ups and downs. Crust fails, struggles with trying unconventional fillings (like this miso apple pie, which is now a favorite) won't get me down – but I can pinpoint the moment it really took off: during my wedding.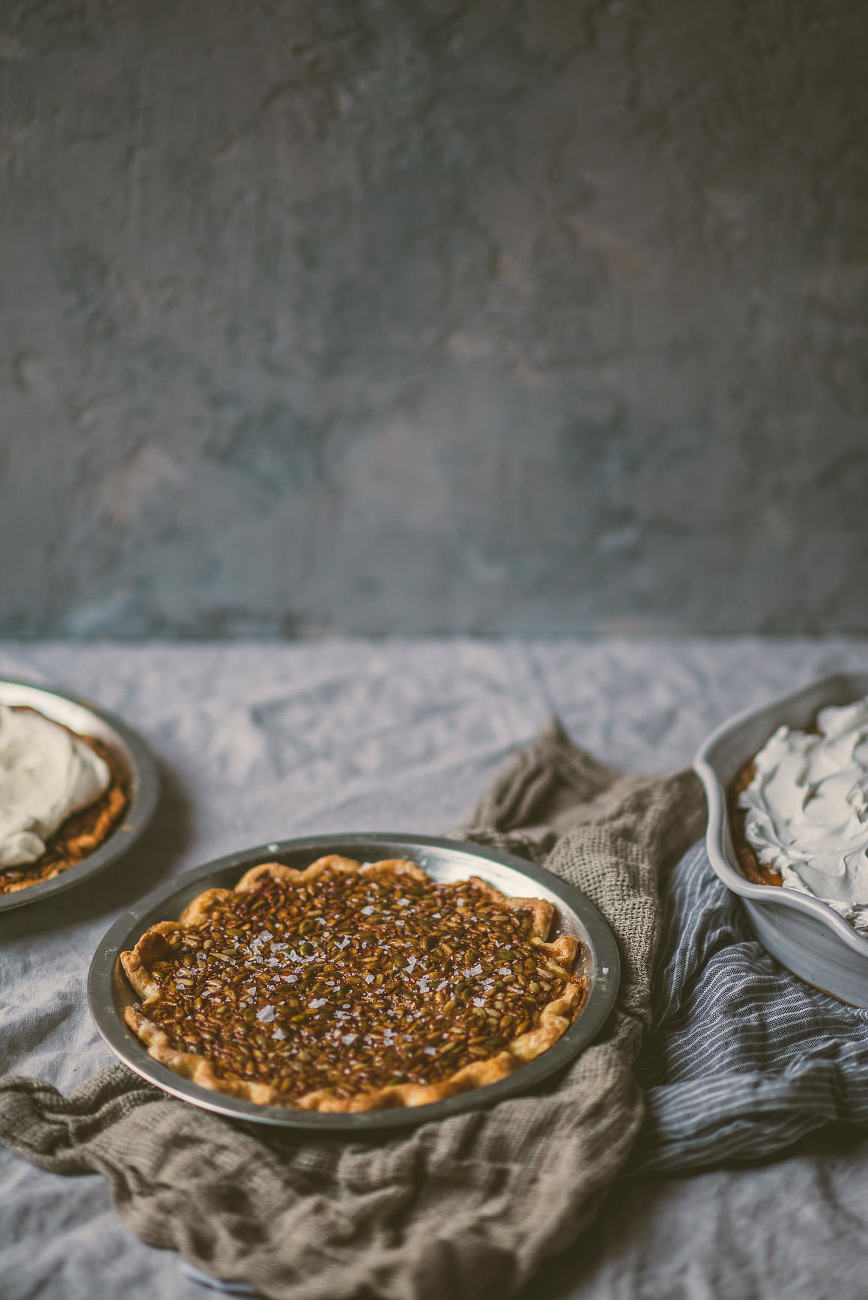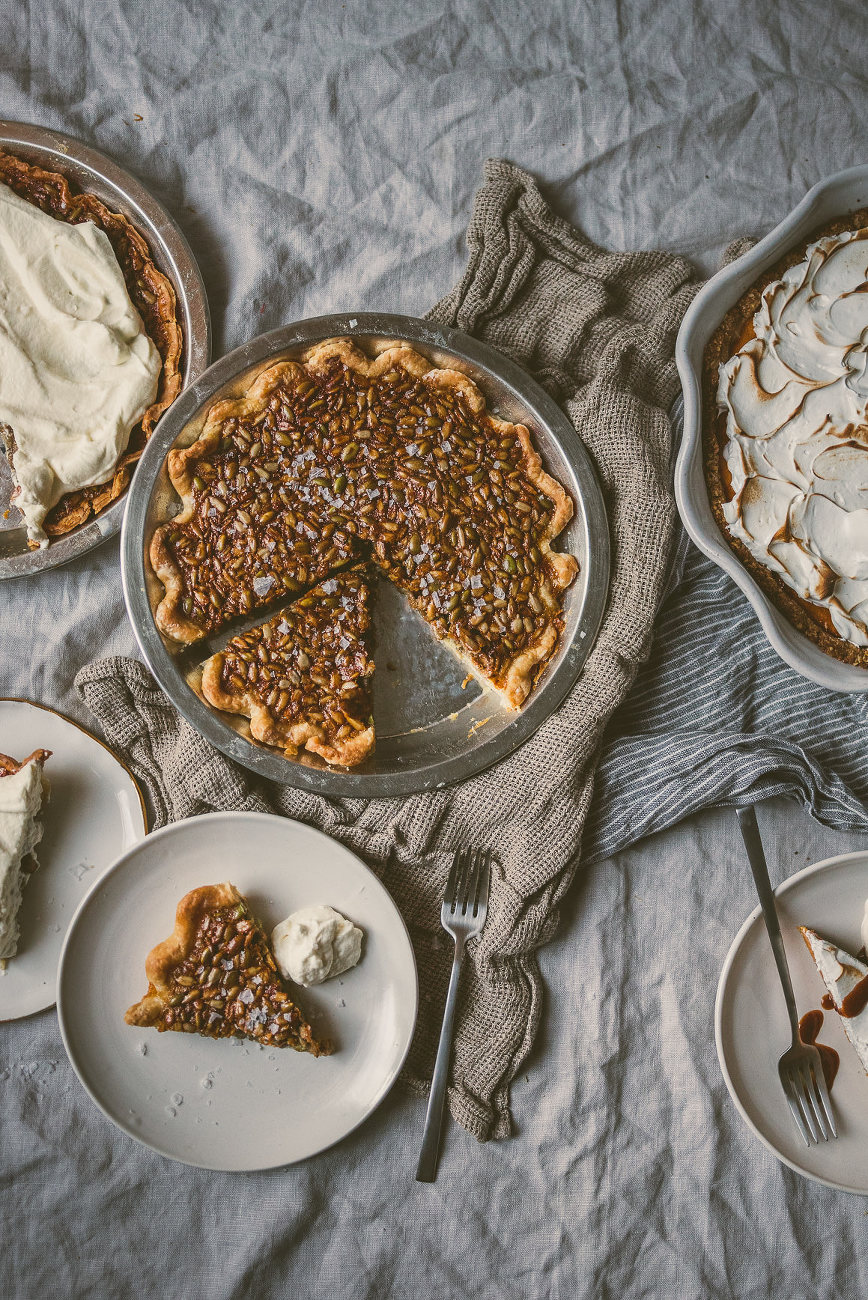 I never really liked wedding cake, and after photographing so many weddings, I rarely even tried wedding cake anymore. So, when Alex and I were thinking about what dessert to serve our guests, instead of a cake we decided to have a pie table! A whole table of various pies, and with a quick search, one pie shop became the obvious contender: Three Babes Bakeshop. Choosing only six flavors was one of the hardest tasks of our wedding planning process, but finally we decided on a mix of classics like apple pie and some of their signatures, namely their salty honey walnut pie.


I'm allergic to most tree nuts, including almond, cashew, walnut, hazelnut… the only tree nut I can eat is pistachios, hence why a lot of my desserts include pistachio. To combat this, I've always been intrigued to find nut-free alternatives, such as earl grey pumpkin seed macarons, sesame milk (black sesame milk with dates and honey + white sesame rose milk), sesame marzipan… and for the longest time, a no-nut version of their salty honey walnut pie has been on my to-do list. At the wedding, we ordered three of each pie, and the salty honey walnut pie ran out the fastest, with requests for more. I could not even imagine what this could taste like but was wildly curious. Alex, out of respect for my lips, didn't eat any either, and that was probably the one disappointment from an otherwise I-will-forever-cherish-these-moments wedding.
I wasn't spurred to actively recreate this until September this year, when I finally went to Four & Twenty Blackbirds cafe, whose pie dough recipe I use. Along with Thalia, Jenny, and Claudia, I sampled a few pies, and their salty honey pie was by far my favorite. I was gripped. What would a salty honey NON-NUT pie taste like? Would it be crunchy salty sweet, or would the non-nut soak with flavor? Keep in mind I've never had a pie like this – no pecan pie or anything, so my pie knowledge and experience was limited to fruit pies and custard pies.


I slowly shaped this recipe adapting elements from Four & Twenty Blackbird's Salty Honey Pie and Saveur's Grizzly Bear Walnut Pie, and I tried it. And now, YOU have to try this salty honey seed pie!!! Friends, this has immediately risen up to my favorite pie. It's caramel-y, not too sweet, fragrant, and has that salty crunch from the seeds! I used a mix of sunflower seeds and pepitas, and then topped the whole thing with flaky maldon sea salt. It's got the perfect balance of sweet and salty and with the extra bourbon whipped cream, this salty honey seed pie is a must-have on your holiday table, especially if you have nut-allergic friends.
Carey, of Reclaiming Provincial, and I were chatting and spontaneously decided – OK. Let's make pies together and have an epic vermont creamery crème fraîche pie shoot. DONE DEAL. We shuffled our schedules and made it work!! I wish we lived closer to each other, but given our tastes and obsession with pies, I think our waistlines are thanking this distance…

She made a seriously drool-worthy sweet potato and marshmallow meringue pie in a maple-oat crust and pecan crème fraîche, with a burnt miso butterscotch that I secretly wanted to squirrel away (but she's on to me). Head on over to her blog for the recipe! You won't want to miss this. It's like the classic sweet potato marshmallow casserole, but in an elevated dessert form.




I mean, look at that drizzle.
Carey and I were in crème fraîche heaven. Both of our pie has crème fraîche in it, to add that extra creaminess – the crème fraîche mixed in with the honey mix makes this pie custard-like and creamy, and the seeds help add that salty and crunchy element. And with pie, of course, we need some sort of topping. With fruit pies I like to have ice cream, but with custard pies or these types of pies, I opt for cream. Carey made a pecan crème fraîche (talk about things I can't eat :((), and I made a bourbon whipped cream, stabilized and thickened with crème fraîche. It was exactly the extra oomph this salty honey seed pie needed. A touch of warm, fireplace-evoking bourbon, whipped into a light airy cream with crème fraîche – together, with a forkful of salty sweet seeds, these are bites of happiness.




I will forever know it as my wedding pie – this salty honey seed pie –  because this was the one that got away.
Head on over to Carey's post for her sweet potato meringue pie!
This post is sponsored by vermont creamery. All opinions expressed are purely my own, as always. Thank you so much for supporting the companies that support this blog. Ever since I discovered crème fraîche, it's been a staple in my kitchen. It's the perfect addition to any dessert, a thickener to pastas or gravies or soups, and just delightful as a dollop on fruit.
white plates and ceramic pourer – myrth ceramics / dessert forks – simon pearce / linens – shop fog linen / aluminum pie pan – boston general store / ceramic pie plate – farmhouse pottery 
RECIPE: Salty Honey Seed Pie with Bourbon Crème Fraîche Whipped Cream
Adapted from Four & Twenty Blackbird's Salty Honey Pie and Saveur's Grizzly Bear Walnut Pie
1 Lightly Prebaked Pie Crust
1 1/4 cup all purpose flour
1 1/2 tsp sugar
pinch salt
1 stick butter, cubed*
1/2 cup cold water*

*before you do anything else, prepare butter and water first, and put them in the freezer. they won't freeze before you have to use them, but they will be COLD.
Mix together flour, salt, and sugar. Take butter out of the freezer and using a pastry cutter, a fork, or your fingers, work quickly and cut butter into dry ingredients. You should end up with pea sized chunks, which is completely fine! Using tablespoons at a time, scatter ice cold water into dry ingredients until just combined. Do not overmix or knead. Add the mixture gradually – you can always add more water, but you can't take it out. The resulting dough should be damp but not moist. Shape into a disk and wrap with plastic wrap. Chill in the fridge for at least 1 hour.
Roll out and fit over a 9″ pie pan. Crimp. Rest in fridge for 15 minutes. Prick with a fork 15-20 sides, along the bottom and sides. Place crust in freezer for 10 minutes.
Preheat oven to 425.
After 10 minutes, line with aluminum foil, making sure the bottom is covered from side to side. Add in pie weights, spreading them so that there are more on the sides than the center. Place on baking sheet and bake until edges begin to turn golden, around 12-15 minutes. Remove pie plates and foil. Place back in oven and bake for another 5-7 minutes, until bottom is dry and set. Cool completely. In the meantime, make salty honey seed filling.
Reduce oven to 350F.
Salty Honey Seed Filling
1/4 cup + 1 tbsp granulated sugar
2/3 cup honey
1/2 tsp salt
2 1/2 cups roasted salted sunflower seeds and pumpkin seeds
8 oz unsalted butter, cubed
1 vanilla bean, seed scraped (or 1 tsp vanilla extract)
3 eggs, beaten
¼ cup crème fraiche
¼ cup heavy cream
In a heavy bottomed saucepan over medium-low heat, combine granulated sugar, honey, and salt until sugar has dissolved. Add butter, stir, and cook until butter is completely melted. Cook until just before boiling.
Remove from heat and transfer to a bowl. Gently whisk in seeds of vanilla bean and then cool to room temperature.
Whisk in crème fraiche and heavy cream. Whisk in beaten eggs. Fold in seeds and pour into prepared pie crust, being careful not to overspill. Place on baking sheet and bake for 40-45minutes, until edges are set but center is still jiggly. The pie will set as it cools.
Sprinkle with flaky sea salt (DO NOT OMIT).
Bourbon Crème Fraîche Whipped Cream
1 cup heavy cream, chilled
1 tbsp sugar
1/4 tsp vanilla
4 tbsp crème fraîche
2 tbsp bourbon
Whip cream with sugar and vanilla until soft peaks form. Gently beat in creme fraiche and bourbon. Serve in dollops with slices of salty honey seed pie.