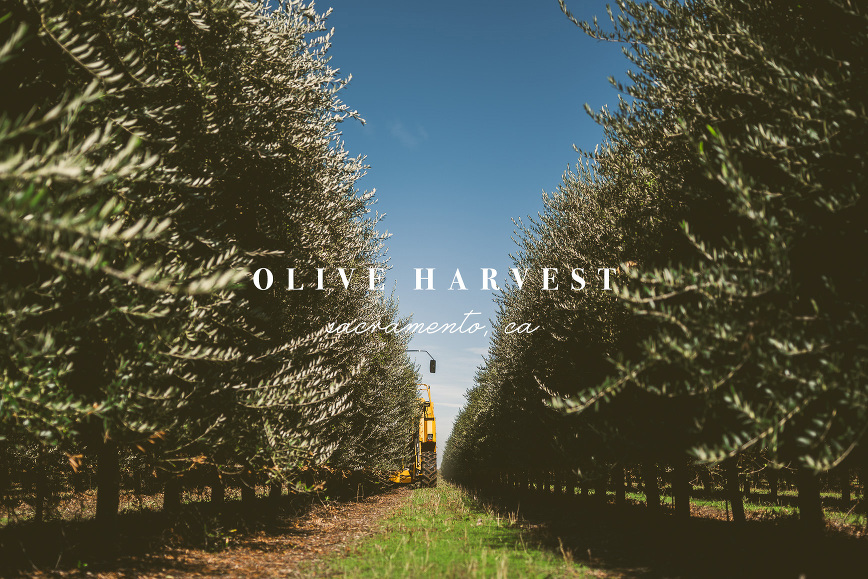 Imagine five adults piled on top of a tractor-like machine, as this machine seemed to "gobble up" olive trees, stripping the trees of their ready olives and then filtering these olives simultaneously. Now, imagine them with cameras, eager and daringly using both hands to capture the moments. I was one of them, and I was terrified and exhilarated at the same time – and I definitely took both hands off the railing so that I could get some shots with  my camera. Stupidly, I had my 45 mm tilt shift on, my 35mm was in my bag (and there was no way I was changing lenses there, with stray leaves and dust flying everywhere), which is a manual focus lens, AND I had no strap whatsoever (I only wear my moneymaker when I'm shooting weddings), so there I was. Clutching my camera for dear life, and trying to plant my feet on this rumbling machine so that I could manually focus and take a shot.
IT WAS WORTH IT!!!!!!!!!
I'm also sharing a recipe for Caramelized Squash Scallion Oil Balsamic Vinaigrette with burrata – scroll all the way down for that.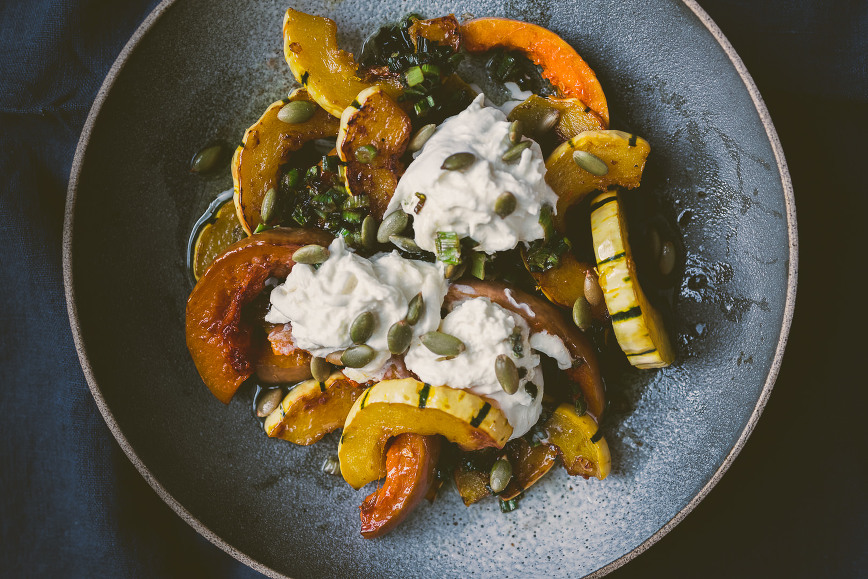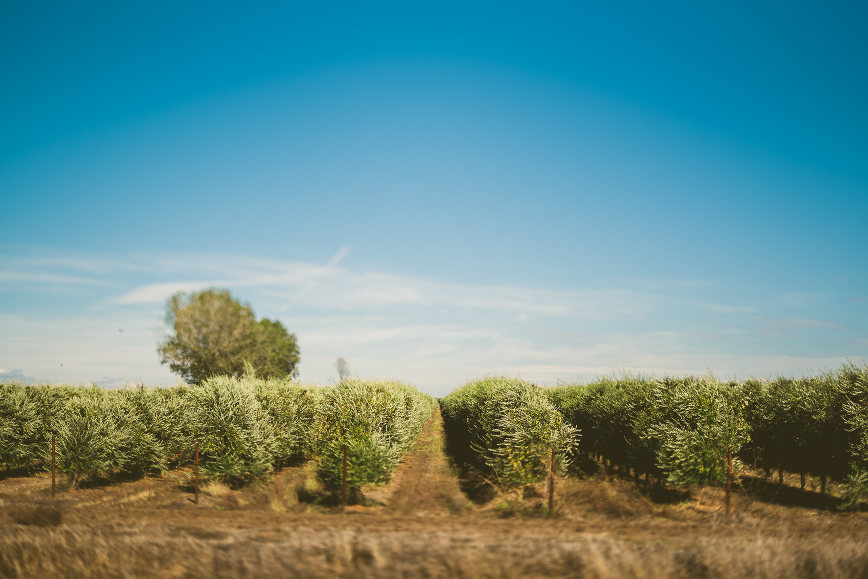 A few weeks ago, I took a whirlwind trip out to Sacramento, CA, to explore an industry I'd never really gotten to know, despite growing up a few hours south from there – the olive oil world. I'd gotten to know the folks at California Olive Ranch last year, when I tried out their product and fell hard for it. Since then, I've been using their extra virgin olive oil every single day.
California Olive Ranch's slogan is "Made Right, Here." Listening to the harvesters and the olive oil sommeliers talk about the product – I realized how true this was, and how special that was. They not only harvested from their own ranch but also from smaller family farmers all throughout northern california. They do so in a sustainable way, minimizing waste and examining each step of the harvesting process. Differing from traditional harvesting methods,  California Olive Ranch uses machines, to maximize trees/acre, increase the efficiency, and so that the olives never touch the ground. The cycle of fruit to oil is shortened, so that the fruit is fresher and yields a higher quality product. They harvest arbequina, arbosona, and koroneiki olives, and from these olives come the different varieties of extra virgin olive oil they create. The olives are crushed into paste, strained for the juice, and then the oil is separated out.
THERE IS A MYTH, that I think everyone should be aware of – since I started cooking, I've received advice to never heat up olive oil too much, otherwise you will reach the smoking point and it'll be bad for you etc etc, but actually, that applies only to lower quality olive oil with more free fatty acid content. The olive oil made at  California Olive Ranch is fresher, with more antioxidants, and therefore has a higher smoking point. So, feel free to cook/fry with this (and I do, daily).

---
THE TOUR
Bright and early, I, along with four other amazing bloggers – Amanda of Heartbeet Kitchen, Erin of Naturally Ella, Kimberley, and Nik of A Brown Table – boarded a bus -actually, no wait, it was a party LIMO BUS, and headed out to the olive groves and their facility. We were blessed with perfect blue skies and not a droplet of rain.




We watched in fascination as harvesting machines rolled up, deposited their collected olives, and then went on their way again. Then, we donned lab-gear and protective clothing and headed inside.


It was an incredible whirlwind of information, visuals, and non-stop photography of all the steps. It was hard to cut the photos down even to this much. The tumble of the fresh, pale green and yellow olives, the residue of branches and silver-y leaves, the paste and oozing oil – I wanted to capture it all. Call it the wedding photojournalist in me, but all I wanted to do was capture each moment.
We got to taste some of the olive oil as it came straight from the paste – so grassy and sharp! We later had a sampling of various olive oils California Olive Ranch sold, and did you know? They're placed in transparent blue cups so that we can't really discern the color of the oil. First, warm up the glass, and take a whiff of the aroma. Then, you kind of "inhale" a bit of oil in with a hissing motion, to aerosolize the oil. Close our mouth, then breathe out with your nose. It's an experience, and one you can do at home. This will help you discern the true characteristics of the olive oil, and help you understand the flavor so that you can pair it appropriately. Fascinating, truly.

After the tour of the facilities, we headed out to the actual olive groves!!!!!! Rows of silvery green trees with their characteristic leaves greeted us, waving hello with the wind. I took about a hundred photos of just that one point perspective down two rows of olive trees….



And me: standing casually between the rows of trees.





Then, my favorite part: we climbed aboard this yellow monster, and yup, stood on top of this machine as it ate its way through the trees.


We were rewarded with this beautiful view of the rows of olive trees, stretching out across the distance.

And here we are!!!!!! Our blogger group


We had a late lunch at Matchbook Winery, where we had a feast of wood-fire oven pizza and olive oil lemon cake and wine tastings, all overlooking a beautiful view of the winery.



A rest at the hotel, then a superb dinner at Empress Tavern, with an entirely olive oil based menu – including olive oil gin cocktail, chickpea fritter with saffron aioli, and so many other wonderful dishes. After a packed morning, this was the perfect way to settle down and take in all the creative ways olive oil could be used in food. This inspired me to create a flavored oil for the dish below – Caramelized Squash Scallion Oil Vinaigrette

---
THE RECIPE: Caramelized Squash Scallion Oil Vinaigrette
And now, I have a recipe for you, made with one of my favorites: California Olive Ranch everyday extra virgin olive oil. I've been feeling the squash buzz for awhile this season, and recently I had a craving to pair it with burrata. It was a match made in heaven, so much so that coincidentally, my friend Sarah of Snixy Kitchen made her version of squash and burrata, which you can check out here. This could be the perfect last-minute Thanksgiving side, right? Who doesn't like burrata?

I used two types of squash – delicata and honeynut squash, but you can use any kind you want. It's tossed with olive oil and maple syrup, roasted until caramelized and soft, then drizzled with scallion oil balsamic vinaigrette, fresh burrata, and roasted pumpkin seeds.

This post is sponsored by California Olive Ranch. All opinions expressed are purely my own, as always. Thank you so much for supporting the companies that support this blog. 
Follow my blog with Bloglovin
RECIPE: Caramelized Autumn Squash with Scallion Oil Balsamic Vinaigrette and Burrata
*you can eat the skin of both honeynut and delicata squash. Serving size is for 2, but you can easily double/triple. And don't forget to check out Sarah's version here! 
Squash
1/2 honeynut squash, seeds removed and sliced
1/2 delicata squash, seeds removed and sliced
2 tbsp maple syrup
pinch salt
Preheat oven to 375F. Toss squash slices with olive oil, syrup, and sprinkle with salt. Bake in a single layer for 10 minutes. Flip the squash slices, then roast for another 10 minutes.
Scallion Oil Balsamic Vinaigrette
3 scallions, sliced thinly into coins, but dark green tops and white roots removed
1/4 cup California Olive Ranch extra virgin olive oil
2 tbsp balsamic vinegar
salt and pepper, to taste

fresh burrata
salted roasted pepita
In a skillet, heat up olive oil over medium-high heat until hot. Add scallions and stir to mix with oil until wilted and charred, about a minute. Let cool slightly. Mix with balsamic vinegar and salt and pepper, to taste. Mix thoroughly to emulsify.
Assemble: Arrange squash on a plate. Drizzle with scallion oil balsamic vinaigrette. Top generously with burrata and pumpkin seeds.