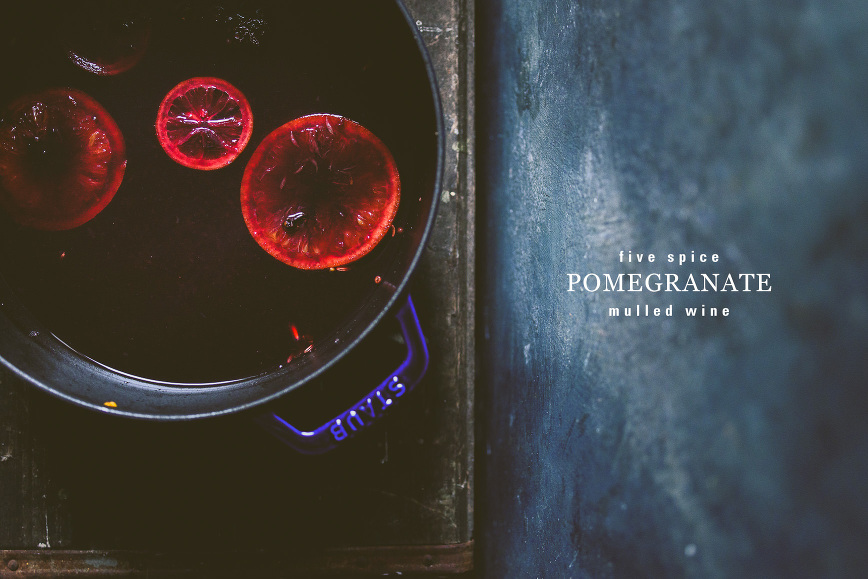 Hello, friends! As we round up 2016, I thought I'd share a warm, delicious drink to ring in the New Year. It's been a crazy year of ups and downs, and I promise, a sort-of-reflection post will be coming soon as I muse about the past, present, and future of this blog. I never had mulled wine until this October at the Montreal workshop, where we finished our last evening together with rounds of mulled wine. The warm, spiced drink captivated me and I knew this was something that I would make for the holidays. I was gifted two giant (grapefruit-sized) pomegranates, and slowly this combination of spices and pomegranate came to mind. To combat the tart-sweet of the pomegranate and obligatory citrus, I infused a classic combination of spices – Chinese five spice: fennel seeds, cloves, sichuan peppercorn, star anise, and Chinese cinnamon (cassia bark). OK. I admit, I was out of cassia bark, so I just used cinnamon sticks, and I liked the warmth that brought, but feel free to use whichever you have on hand.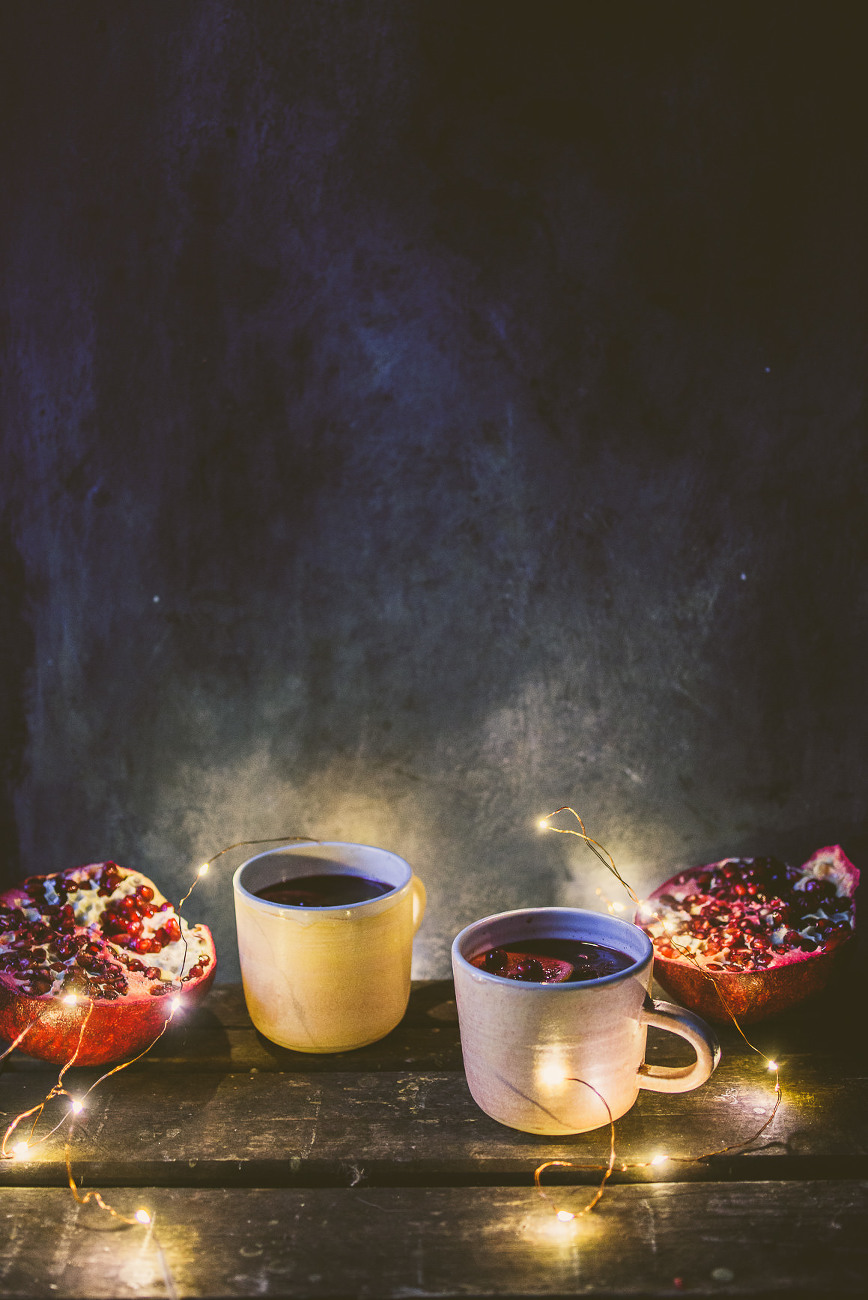 Are you sick of the giveaways yet? I think I went a little overboard, but all of these giveaways I truly love, use, and wholeheartedly recommend. If I could, I would give everyone a set of these. Anyway, with the last post of 2016 I have a last giveaway from Staub, a cast iron company I have used since the early days of this blog. On my stovetop I always have a Staub piece, whether it be a skillet, rice cooker, dutch oven, or this essential french oven I'm giving away.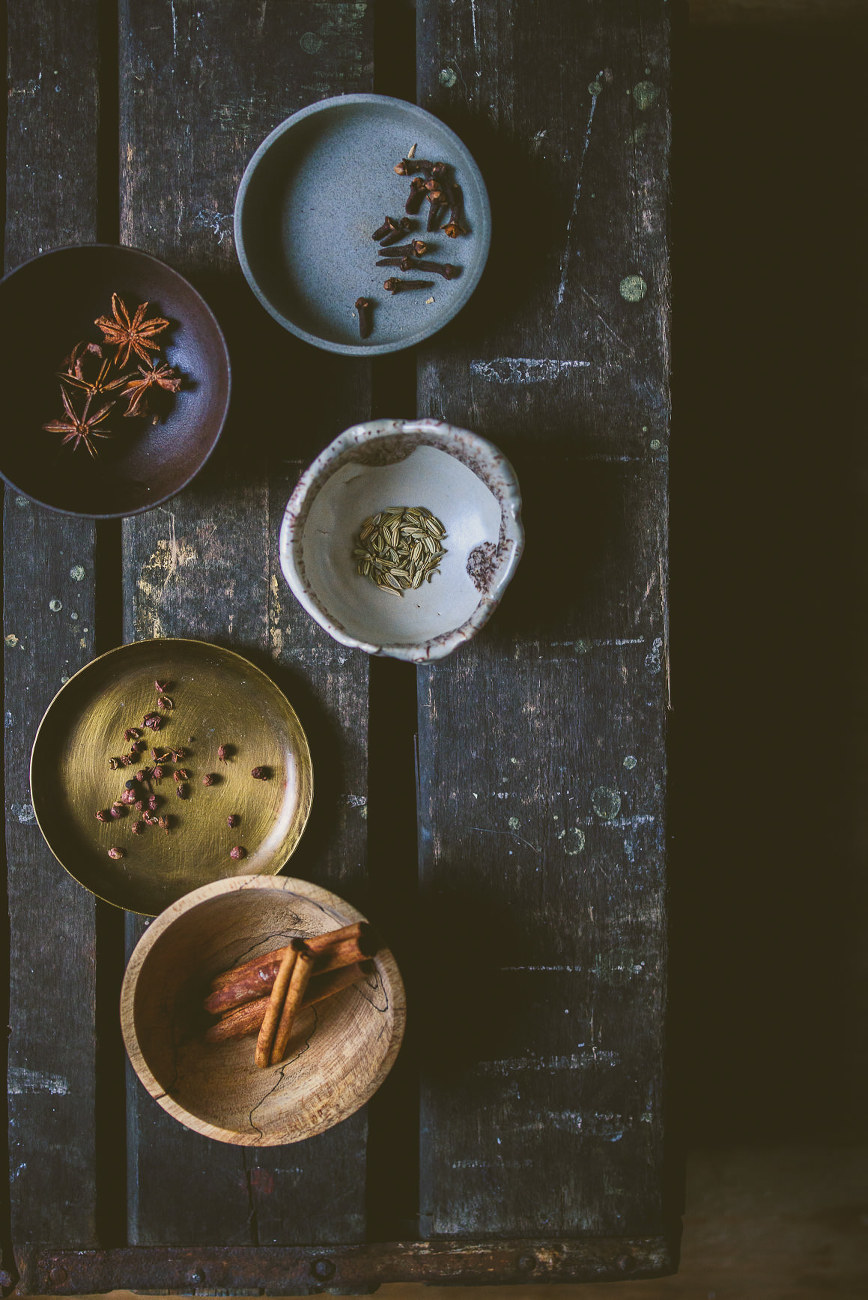 Today is my last full day in the bay area. I'm heading back to Boston to photograph a New Year's Eve wedding, and then it's back to normal programming. My time in California always passes by in a whirlwind of family and friends and milk tea + boba, but I am looking forward to being in my own kitchen with all my tools :). Alex and I are from the same hometown (high school sweethearts!), and we stay with Alex's parents when we're home usually. My childhood home is still warm and nostalgic, but I definitely feel more of a guest. Through the years away from home, new organization, tools, furniture have propped up, and inevitably, it's changed. I spent Christmas Eve baking scallion pancake challah in my in-laws' kitchen, and then Christmas morning baking babka and cookies with my sister in my parents' kitchen. There was definitely some initial "where is…. flour? parchment paper? spatula? oil?", but we got through it with some delicious treats! I'll miss my family, but I'm excited to be back in my kitchen, where I know exactly where all my tools are. I will, however, miss all the homemade food our parents kept making for us – all the noodles and rice balls for breakfast, duck, curry fusion soups my dad whips up, my mom's shaomai and chive boxes… 




---
GIVEAWAY – this beautiful blue and brass essential french oven is a Food52 exclusive, a beautiful collaboration between Food52 and Staub's design team. It's versatile as heck and will be a staple pan in your kitchen! To enter:
fill out the widget below so that I can contact you if you are selected
subscribe to this blog via the scroll box on the right bottom corner (should pop up) or the bar on top.
Congrats to Lily!
Thanks to Staub and Food52 Home for partnering with me on this giveaway! Opinions are solely my own, as always. Thank you for supporting the brands that support this blog! 
---
Notes:
Don't be tempted to add in too many spices and overwhelm the wine
The citrus addition is essential – adding that tartness complements the spiced, warm wine perfectly.
RECIPE: Five Spice Pomegranate Mulled Wine
1 bottle red wine like Cabernet Sauvignon
zest and juice of 1 orange
1 cup fresh pomegranate juice
1/3 cup honey
4 cinnamon sticks (or cassia bark)
3 whole star anise
6 whole cloves
1 tsp fennel seeds
1 tsp Sichuan peppercorn
2-3 slices of orange
¾ cup pomegranate seeds for garnish
In a large, heavy bottomed pot over medium heat, bring the wine, orange juice, pomegranate juice, and honey to a simmer, without boiling. Stir to dissolve honey. Add in spices and orange slices and simmer on low for as long as you want, but at least 30 minutes. Strain through mesh sieve. Ladle into cups and garnish with extra orange slices and pomegranate seeds. And maybe a cinnamon stick.