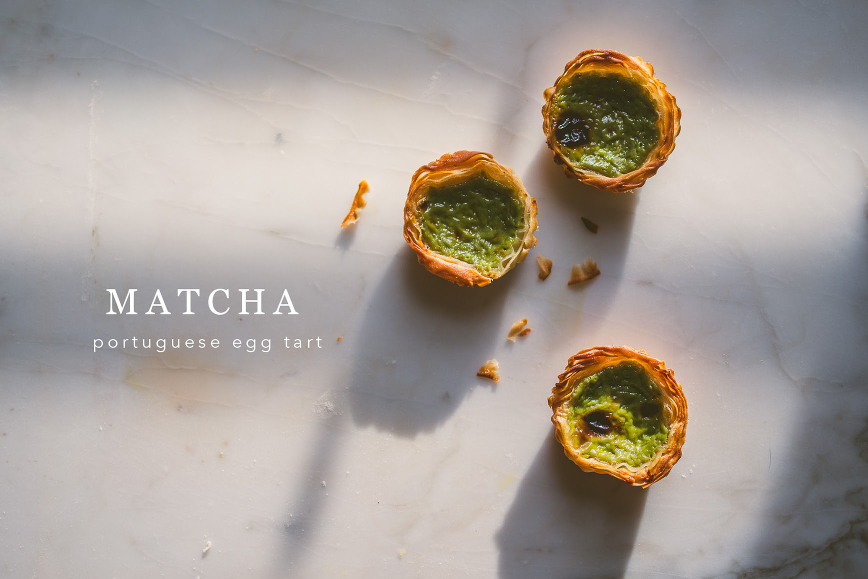 Hi friends! Did you have a lovely holiday? I unplugged a bit during the holidays and spent some quality time with my parents in California, and it was a pretty nice way to rest and recuperate after the holiday craze. This is my first post of 2017, and part of me still cannot believe it's already mid-late January, and I'll be heading to my first workshop of 2017 this weekend! Where did time go?! All my not-so-carefully laid plans of travel posts (I owe this blog Scotland + Iceland.. eek!), 2016 reflection post will still come, but maybe not so chronologically.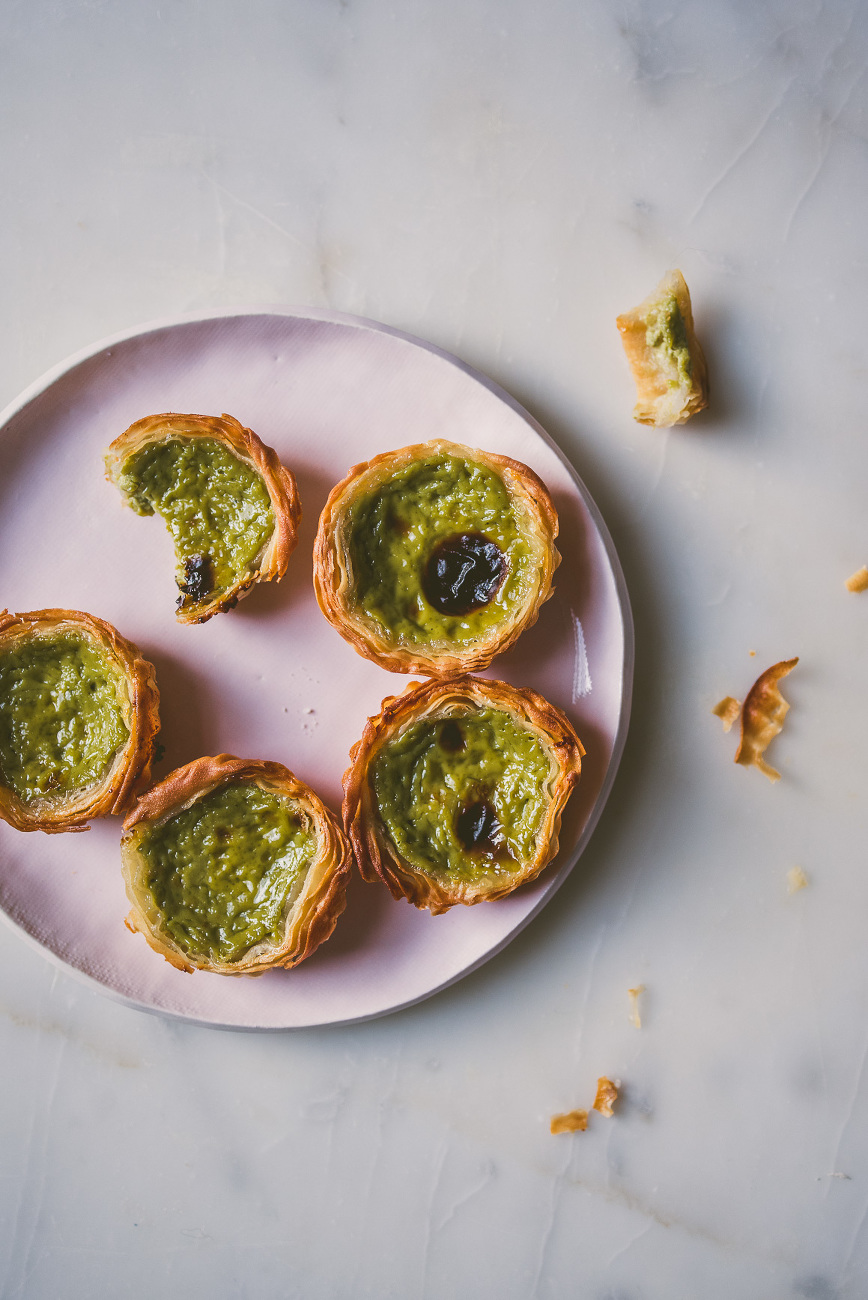 Alright, who has had one of these beauties before? Not this matcha version – the delightful egg custard tart with specks of black on the shiny surface surrounded by a super flaky crust? I've eaten these pretty much non-stop since I was a child. The Portuguese egg tart is another Asian bakery treat I absolutely could not resist, and this extends to current adult-life, too. Read that statement again – yup, Portuguese tart, Asian bakery. Portuguese egg tarts are indeed found in its namesake country, although I'd never had the treat myself, but apparently it is speckled with cinnamon and is encased in this beautiful puff pastry crust. The type of egg tart I'm talking about somehow made its way to Macao, which formed its own adaptation of Portuguese-style egg tart, and then it migrated to Hong Kong and became wildly popular, to the point that even the Asian bakeries in the US have these egg tarts as a standard offering (something I am grateful for).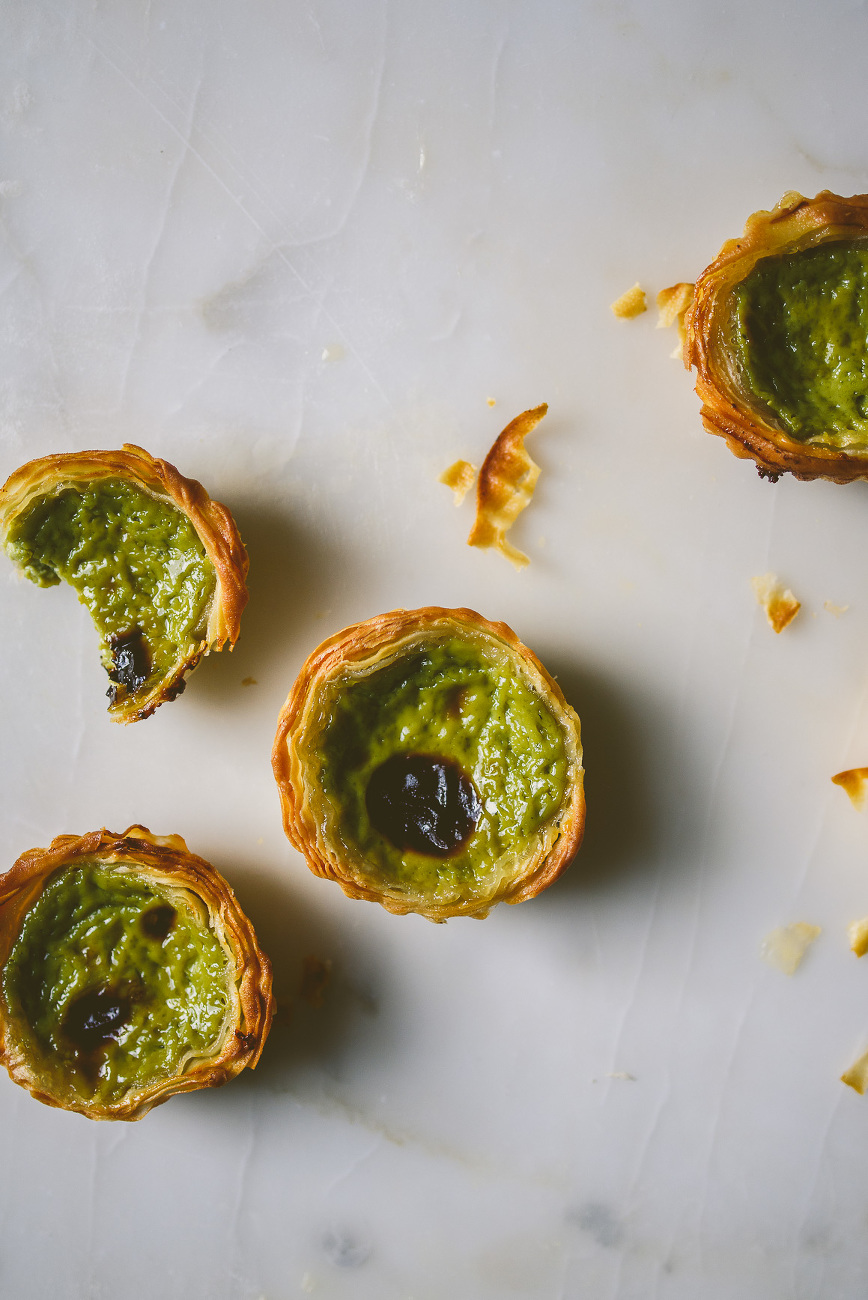 Portuguese style egg tarts are something I've been itching to get my hands on for awhile, but I never had the courage to try the puff pastry, until Mandy of Lady and Pups concocted a genius, seemingly fool-proof way to create that laminated pastry. Well, it IS fool-proof! It's crisp and shatters at the slightest touch, something that apparently is characteristic of the Portugal authentic version. If you prefer a softer puff pastry, then you can do so too.
I cheerfully combined my two favorite things to make this matcha Portuguese style egg tart. With matcha, I'm always careful to make sure it doesn't overwhelm the recipe, and I was hesitant – matcha with egg? However, the egg tart truly refers to the eggs to make the custard filling. It's the same principle as making a custard for ice cream or for creme brûlée, and once I thought of it that way – it's more of a matcha custard tart than a matcha egg tart, but for recognizability lets keep it matcha egg tart. The key to this custard to get those dark splotches is the high heat and the content of the milk. You know the skin that forms in hot milk (something I used to love to pick off and eat) on the surface? That's exactly what that shiny layer on the custard is, and that's what turns into those black splotchy parts, so you need the milk in the custard to achieve that. I played around with part milk and part cream, without getting it too heavy – the perfect filling (in my head) should be a soft, semi-sweet custard filling that jiggles a little bit and is so soft your teeth will sink in. A part of the delight of this tart is the contrast that fills your mouth between the pastry and the custard. Crispy, flaky juxtaposed with soft custard. The matcha was truly a successful addition – it added the right balance of that characteristic bitterness (not really bitter, but for lack of a better term…) with sweet, and that is why I love matcha flavored desserts.


One thing about matcha that you must pay attention to is making sure the powdered tea is fully incorporated, with no lumps remaining. I used to always sift my matcha into my batter, but this time I threw everything for the custard into my trusty new Vitamix Ascent 3500! It's a new line of blenders with a beautiful clear top (truly revolutionary), touch screen, programmed settings, and a timer so you can let it run and go do other things! I'm obsessed with it.

Mandy's genius method uses a pasta machine to roll out the dough into thin strips – I was nervous, but the texture of the dough is actually great for rolling. It's pretty elastic, so even though it is thin and seems fragile, you likely won't be breaking it. Spread the room temperature dough out with your fingers (it's the easiest way, I promise you), and roll snugly to form all those nice layers.










ceramics – looks like white / saucepan – Boston general store / utensil – simon Pearce

This post is sponsored by vitamix. All opinions expressed are purely my own, as always. Thank you so much for supporting the companies that support this blog. 
---
RECIPE: Matcha Portuguese Style Egg Tarts
Pastry recipe and method from Lady and Pups, custard from many sources, including here, and here. 

Makes 12 tarts.
Note: My oven only goes up to 450F, but if you can do 500F, you can bake it in less time, maybe 10-15 minutes, and get more of the burned-milk-layer feel.
Make custard first so it has a chance to cool down.
Matcha Custard Filling
1/2 cup sugar
1 2/3 cup whole milk
1/2 cup heavy cream
3 large egg yolks
1 tbsp cornstarch
2 tbsp matcha powder, culinary grade
Prepare a large bowl with ice and cold water beforehand.
Blend all ingredients in a blender until silky smooth and no lumps remain. Pour into a saucepan and heat over medium-low, until custard becomes thick, coating the back of a wooden spoon. Immediately pour into another bowl, and place bowl in ice bath to stop any cooking. Let cool.
Puff Pastry
8 tbsp + 1/2 tsp unsalted butter, at room temperature
1 cup all purpose flour
pinch salt
1.5 tbsp sugar
5 tbsp cold water
Make sure your butter is completely softened to room temperature, so that it is spreadable, before you begin. Prepare your floured surface and pasta machine prior to beginning as well. I used my pasta attachment on my stand mixer, but you can use a mechanical machine too.
Combine all purpose flour, the 1/2 tablespoon unsalted butter, salt, sugar, and water, and mix with a wooden spoon until dough forms. Turn onto a floured surface and knead until smooth and supple. It should not be too sticky and should be soft and malleable. Wrap with plastic wrap and rest in fridge for 1 hour.
Flour your working surface. Remove dough from fridge and cut dough in half. Flatten one half to about the width of the pasta machine, and run it through on the thickest setting, then re-feed and keep rolling until you reach the 2nd to last setting. At one point, the dough became too long so I just cut it in half and fed them in separately. Lay on a well-floured surface. Spread with a light layer of butter, using an offset spatula (or your fingers) to spread the butter. Start with the short side and begin to roll snugly. When you are finished rolling, place the log over the other sheet of butter-smeared dough and keep rolling. Wrap in plastic wrap and place in fridge while you prepare the other half of the dough. Repeat, bringing the log back and wrapping the new sheets over the log. Place in fridge for another hour.
Cut into 12 disks, then let it sit for 10 minutes. Using your thumbs, form tart shape, smoothing it out from the center to edges. I only have these fluted tart shells, but you can use other ones that are smooth. Push it from the center and up the sides, until the edges stick over the rim. You want to make sure the bottom is thin, but the sides can be thick. Place on baking sheet. Stick in fridge for 30 minutes.
Preheat oven to 450F. Pour custard in shells without spilling (which I failed to do). Bake for 20-25 minutes, until pastry edges are golden brown, turning if necessary to ensure even cooking. Cool for 5 min, then transfer to a rack.