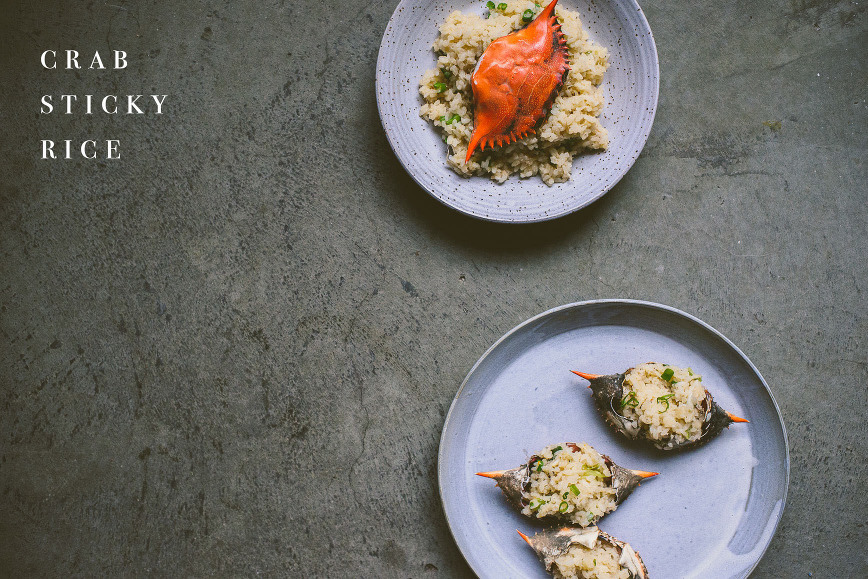 Even though I now live in the beautiful New England and am fully appreciative of New England's local cuisine, a part of me will always love crab over lobster. I grew up in California eating Dungeness crab, and to this day, I love the slightly sweet, distinctive flavor of crab over lobster. I will enjoy lobster of course, but my heart beats faster when I see fresh crab. I've blogged about some more traditional foods my mom has made for us (such as Shanghai shaomai, zongzi, chive boxes), but more recently my mom came up with this delightful concoction, inspired by a dish she had at dim sum previously. It's literally the simplest dish ever – just crab cooked with sticky rice, so that the flavor of crab is really all you need for the dish. It's not a healthy dish – sticky rice, crab, no vegetables? But it's delicious and perfect to serve a crowd with something unique but easy to prepare.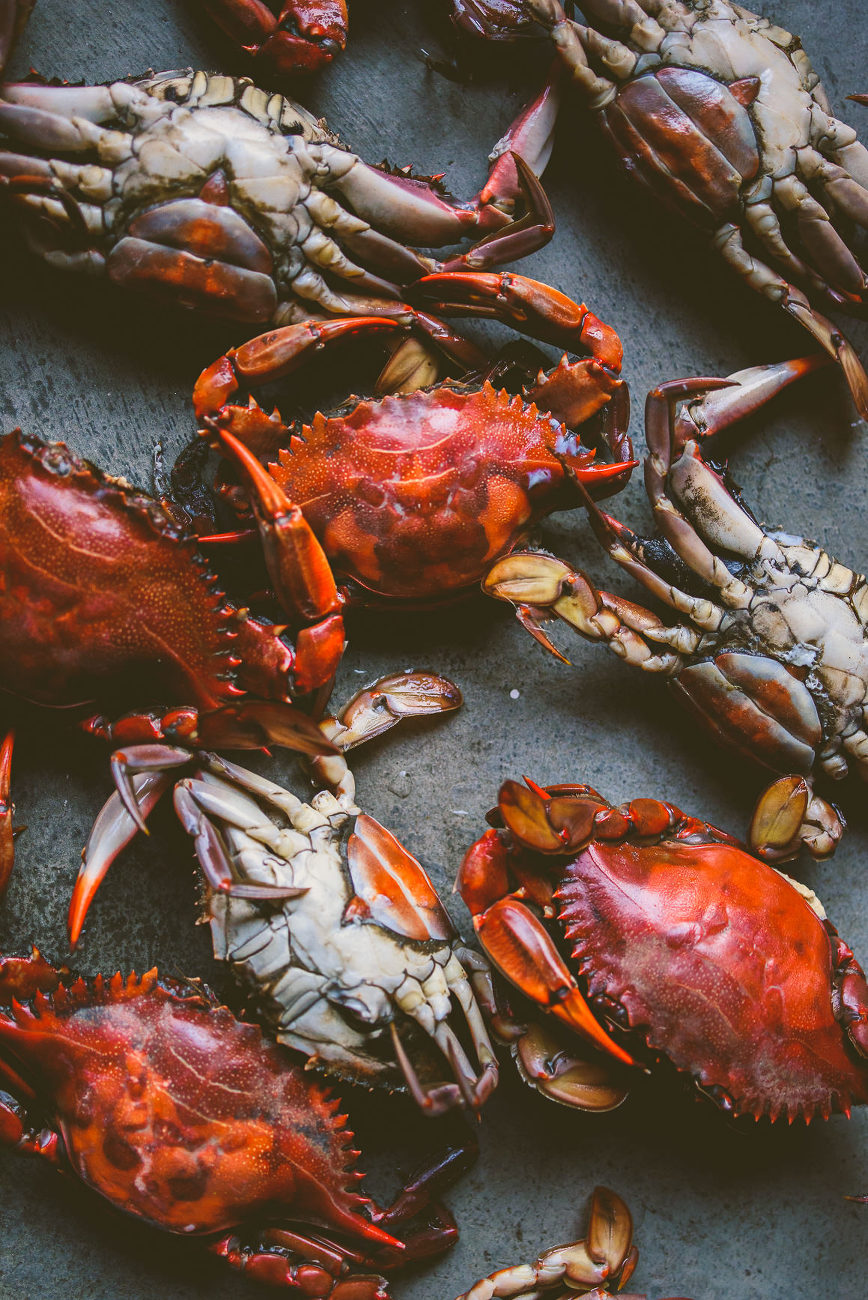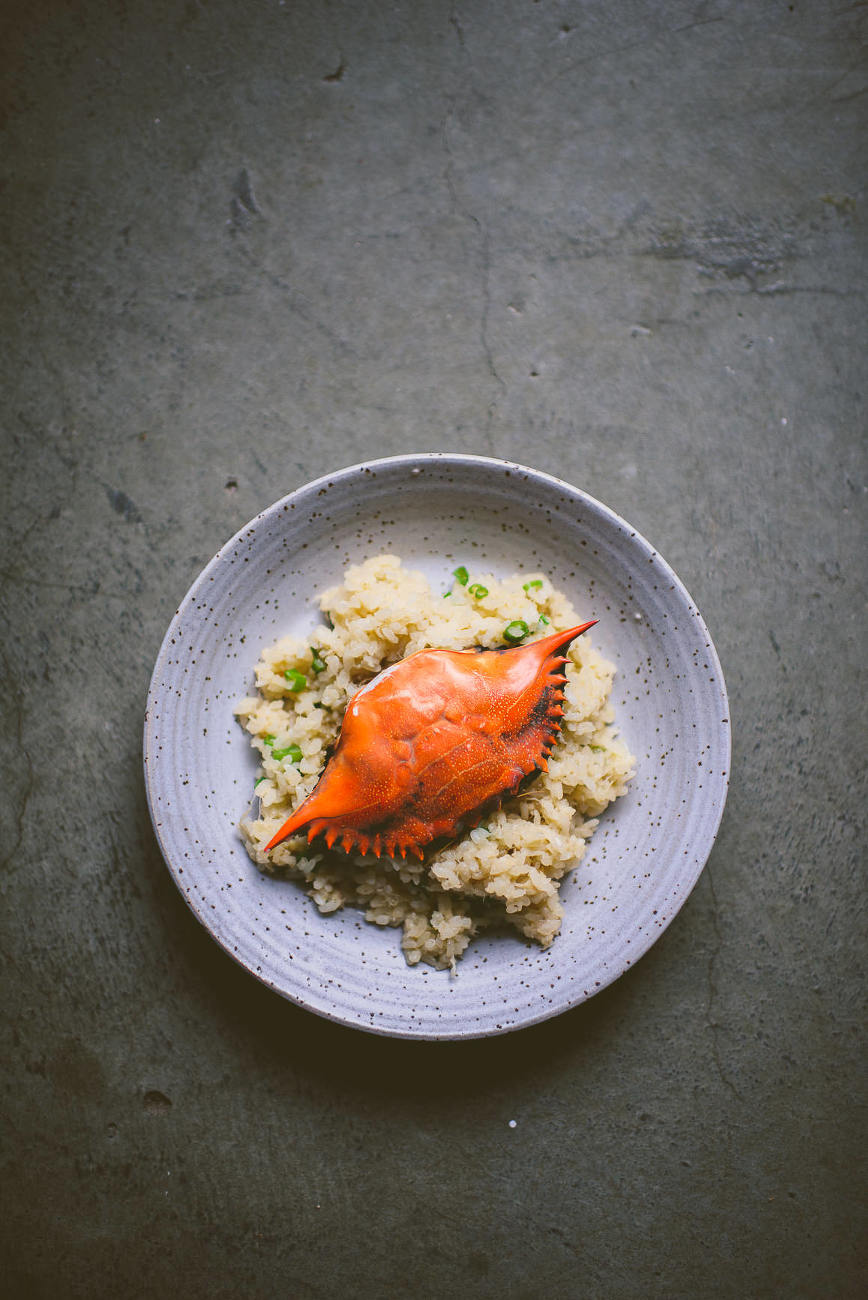 Now whenever we go home or have company, my mom makes this, and I knew this was something I had to share with you all. The process is simple – almost a no-recipe. Steam the crab beforehand, remove the meat, retain juices. Soak sticky rice overnight. Next day, Fry it with ginger, scallion, retained crab juices and meat. Finish by steaming. Ta-da!
I used to hate opening up a crab by myself. My mom is exceedingly skilled at this, so she would always just do it and hand us the meat (hehe). Once we were older though, we began to learn doing it ourselves – slowly and cumbersomely, but we managed to use our chopsticks and our hands to access the meat. When I met Alex, who is REALLY good at picking out fish bones and breaking apart shrimp, lobster, crab, we'd eat crab together, and when he saw me struggling with it, without a word he just handed me the meat he'd coaxed out, and continued to break more apart. This was pretty early on in our relationship, and it was at that moment that I knew he was a keeper :).




Anyway, I opened all these crabs and coaxed the meat out myself because Alex was away when I made this, and because on the East Coast Dungeness crabs aren't as abundant, I bought 10 smaller, sweeter blue crabs. The meat is so fragrant and delicately delicious, but I have to say, breaking them all open and getting ALL the meat (including the legs) is a pain! I had little cuts all over my fingers. The result was worth it.

Happy Chinese New Year! The mood has been a bit meh recently, but whats uplifting has been how the community has banded together. Words of outreach and comfort and action have been exchanged, and I find the community around me (and myself) more fired up than I've ever seen. Stay positive and be kind to one another. If you're looking for more things to make for your new year celebration, try: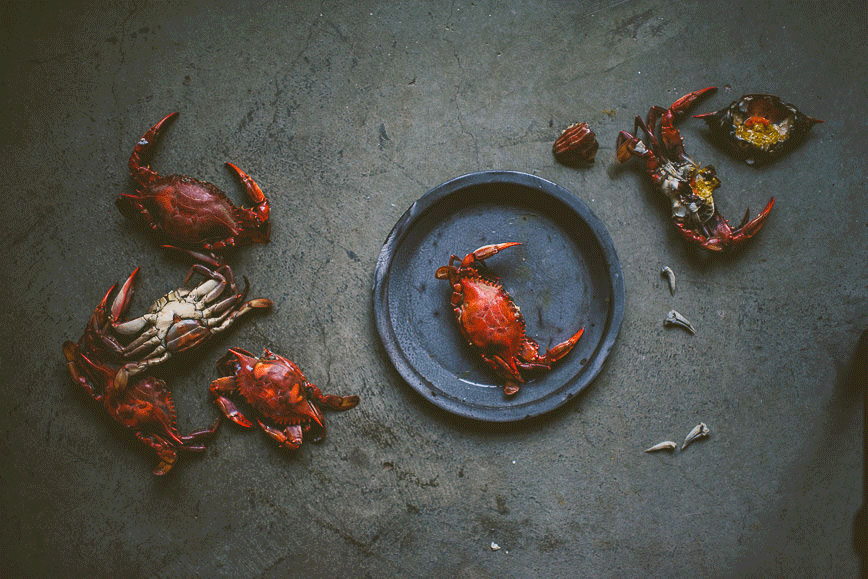 ceramic bowl from ln pottery
RECIPE: Mom's Crab Sticky Rice 
8 blue crabs, or 1-2 Dungeness crab
1.5 cup sticky rice, soaked overnight
2 slices fresh ginger
1/4 cup water
salt, to taste

3 stalks scallion, chopped finely
Day 1: Scrub crabs to your best ability. Steam crabs for 15 minutes, or until cooked through (depending on size of your crab). If you are using many crabs like I am, then do so in batches. Rinse in cold water, and place in fridge.
Soak sticky rice in cold water, covered, overnight.
Day 2: Begin to open crab and remove meat. When opening the crab shell, you will see yellow juices – save those juices in a bowl. For decorative purposes and for extra flavor, retain backs of crab shells and scrub to clean.
Heat up wok with oil, and then stir fry ginger until fragrant. Add in chili pepper if you like some heat. Add in drained sticky rice and stir fry. Add in crab meat and juices and stir fry until sticky rice begins to soften. If it seems too dry, add in water, 1/4 cup at a time. Season with salt and pepper. The rice should be not cooked through but softer than raw, and it should have the taste of crab. Gently fold scallions in. Put it on a ceramic plate that will fit in your steamer. Set aside.
About 30 minutes before serving, place your plate of sticky rice on the top layer of steamer and bring it to a boil (plate should not touch water – should be elevated). Gently set 1-2 crab shells on top of sticky rice, so that when steaming the flavor will seep throughout the sticky rice. Steam for 15-20 minutes, until sticky rice is fully cooked through. Adjust seasoning, and serve warm.