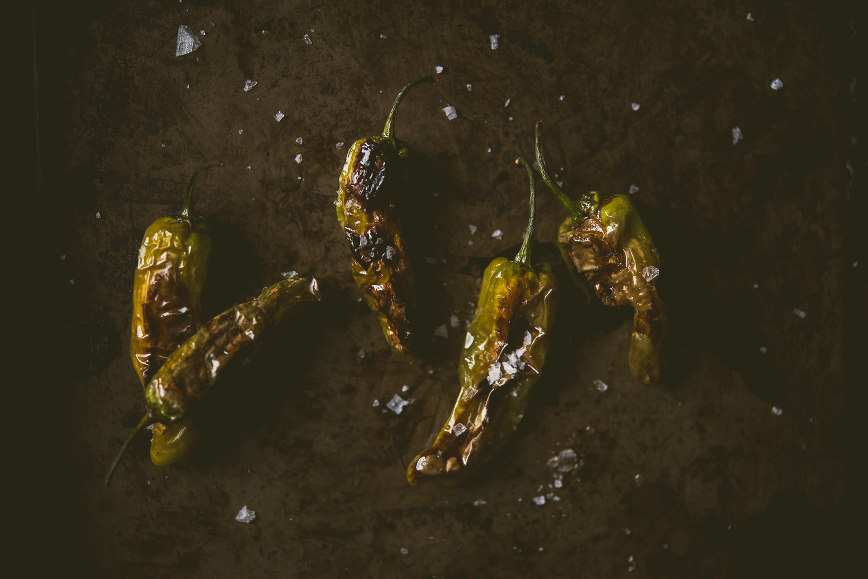 On Saturday, Alex and I woke up and took our dog running by the beach. This is unusual on several accounts. Alex is not an early-morning riser – in fact, he'd rather stay up late than get up earlier. I'm the opposite. I love waking up early, brewing myself some tea or coffee, making my savory oatmeal, and then getting some work done. And then I go to sleep very early. We don't run together much – we trained together for a 10K a few years back, but since then I've drifted to more yoga, and Alex more resistance training. Finally, at 7:00 in the morning, it was mid 50s. MID FIFTIES. The end of February in Boston with highs in the high 60s and low 70s? This is unreal. Today it dipped back but we're getting some 75 + drizzly action later this week too. We've always had March weddings, and the past two years we saw white snow on the ground (one year up to 3 ft) and we had lovely winter palettes. This year we have a wedding on St. Patrick's Day (yay Boston!), so we'll see if we get a more wintry feel or a spring feel (or just a lot of green…)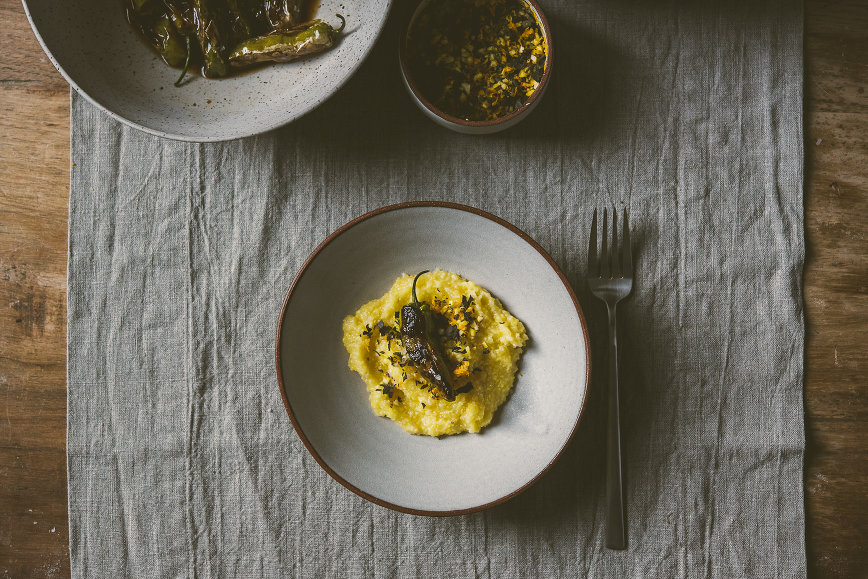 Regardless of the warm weather, my stomach is still in the winter mood. I crave warm, comforting foods, and after a quick work trip to Seattle provided some inspiration, this dish came together. I had a meal with some lovely Instagram friends at San Fermo, and my friend Chikae ordered osso buco with orange-sage gremolata and polenta, and it was so amazing I had to recreate it at home. A gremolata, it turns out, is a really simple "sauce" – garlic, lemon, and parsley, classically, and can be sprinkled on anything, such as polenta. I never made polenta before but it turned out to be a really forgiving grain. Too thin? cook a bit longer. Too thick/clumpy? Add water and stir and cook. Let's make a creamy orange-sage polenta base, and top it with soy marinated shishito peppers. You heard me. No lamb, no mushrooms (although these are excellent choices), but shishito peppers.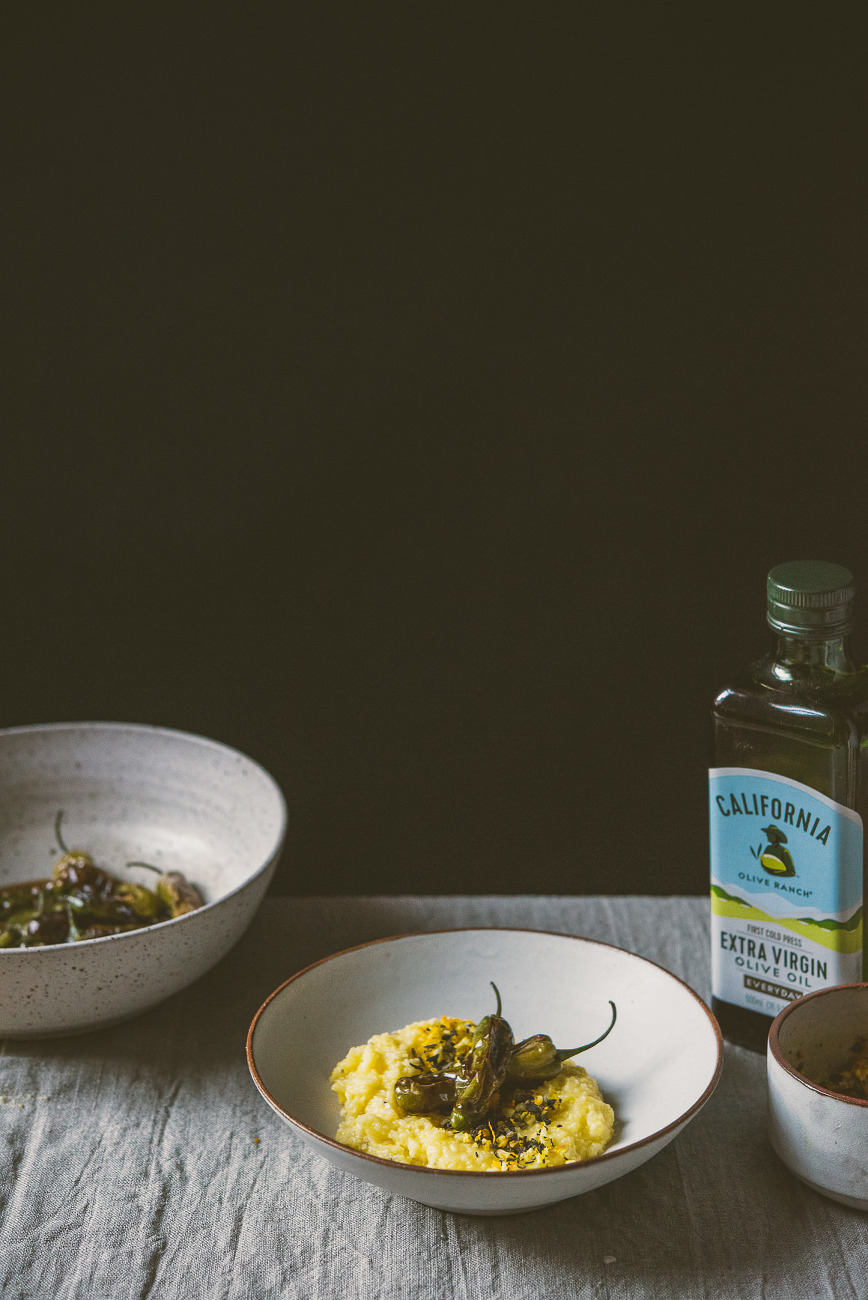 Simple gremolata of fresh sage, orange zest, and garlic: 


Shishito peppers are darling mild green peppers that blister up until they collapse in a bite, with just a touch of heat. They have a lovely texture and sort of just folds in the mouth. I first had them as an appetizer at a Spanish restaurant, Dali, in Cambridge. They were blistered and simply salted, and they were divine. I order them every time I see them on any menu now, but then I thought, well, I must make these at home.



You can leave them simply salted, or you can try marinating them. You won't regret it. After blistering up, they're briefly soaked in a soy marinade – a simple umami touch that really complements the peppers. Put them on a bed of orange-sage polenta, and you have a truly comforting meal.
I fried these peppers up with just one ingredient: extra virgin olive oil. There is a myth about never frying with olive oil, and I want to debunk that today. The myth is that the olive oil has a low smoking point and when you fry with it, it will reach that point and basically becomes bad for you, but actually, this only applies to LOW QUALITY olive oils, with a higher free fatty acid content. The olive oil at CA Olive Ranch is fresher and of higher quality, with more antioxidants, and therefore has a higher smoking point. It's a general good rule of thumb, and I almost always cook with my CA Olive Ranch oil now. The taste is simply superb. The smoke point is high enough to deep fry, if you wanted to. So, I felt very comfortable blistering shishito peppers with a healthy dose of olive oil in my cast iron pan.

Anyway, can I talk a minute about creative ruts? If you follow me on Instagram (come say hi!) you know I've been feeling a bit meh about creating, and honestly? It happens frequently. Social media may show pretty pictures and a positive feed (most feeds are, after all, highly curated), but behind the scenes I think creative blocks are more frequent than one may think. I was so humbled by the responses, direct messages, and emails I got from others who, like me, will fall into the cycle of inspiration – rut – motivation -inspiration, etc… It's part of the creative cycle, and without ruts or blocks there can be no evolution. When I fall into a rut, and I become a general negative Nancy – starting to validate the # of likes/comments by taking things too seriously (please don't, it's really not indicative), harshly critiquing all my recent work, moping about why I'm doing this, and more boring stuff like this. It's not fun, and it can kill all motivation and creative inspiration. I walk away. I unplug. And then I create simple challenges to re-inspire and re-invigorate. I love using still-life studies as a way to completely focus on pure art form. Without the stresses of recipe planning, prep, development, plating, these studies challenge me to only look at light, composition, and prop selection. Sometimes I do away with props too so that I am only focusing on the light and composition and the subject. It's a truly wonderful way to re-set and sort of clear your creative space. Do you get slumped, creatively, sometimes? I'd love to hear about how you deal with it, and what your experience has been. I do have to say, this community has consistently been positive and bolstering, so that even if I feel stifled creatively, I always feel encouraged and supported, and that, I think, is that magic of this community and what keeps me active :).
ceramics – myrth ceramics / linen – rough linen / pan – Staub

This post is sponsored by california olive ranch. All opinions expressed are purely my own, as always. Thank you so much for supporting the companies that support this blog. Their olive oil is truly amazing and is the oil I use on a daily basis – for cooking, salads, topping, pestos, etc… 
---
RECIPE: Soy marinated Blistered Shishito Peppers with Orange-Sage Gremolata over Polenta
*Remember, the high quality, fresh extra virgin olive oil like that of CA Olive Ranch have a high enough smoking point that makes it OK to fry with it.
Shishito Pepper + Soy Marinade
1 lb shishito peppers with stem on
3 tbsp extra virgin olive oil (CA Olive Ranch preferred, or at least other high quality evoo)
flaky Maldon sea salt
3t tbsp soy sauce
1 tbsp rice vinegar
2 tbsp water
1 tsp sugar
Heat olive oil in a heavy pan until hot but not smoking.
Add peppers, with room to spare (separate into batches if necessary) and cook over medium-low heat. Do not stir. Let peppers breathe and char for 1 minute, and once they start to sizzle, turn them and char the other side. Cook another minute. Stir and let cook. Peppers may "burst" and let out air/steam, but that's OK. Peppers should be on the point of collapse, soft and folding on itself.
Drain on paper towel briefly, then place in soy marinade.
Orange-Sage Gremolata
zest of 1 orange
3 tbsp freshly chopped sage
3 garlic cloves, minced

1/2 cup polenta, cooked to your desired consistency.
Mix ingredients together. Use immediately.
Spoon polenta into bowls. Sprinkle with gremolata, then top with marinated shishito peppers. Enjoy warm!