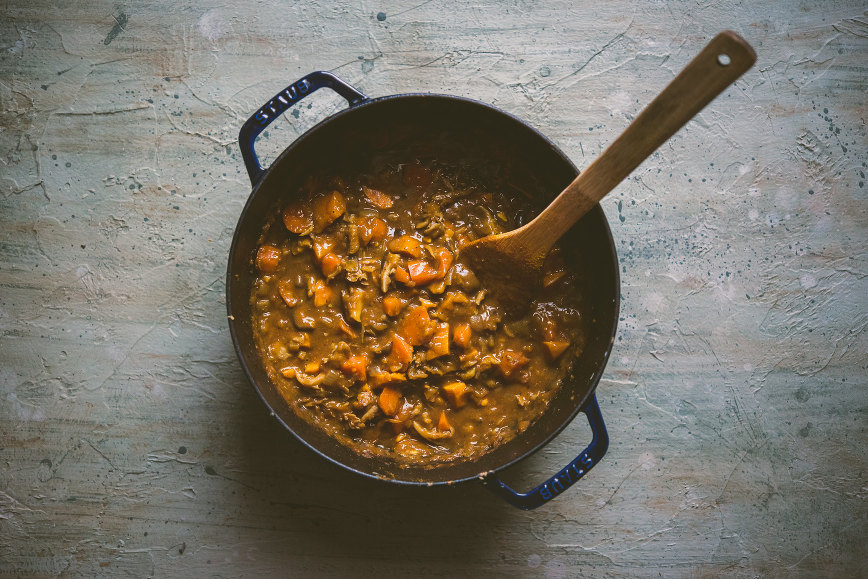 A few posts ago I talked about a new "direction" for this blog – instead of having my life revolve around recipes, I want this year to be more focused on the recipes that revolve around my life – the food that I cook on a daily basis, the ones that are simple, approachable, and nourishing, like the savory miso oatmeal with a poached egg I eat every single day. I'm so excited to share a recipe (also sort of a not-recipe) that has stayed with me since childhood, but actually in a more elevated way (read below)- a mushroom sweet potato Japanese-style curry that is simple and easy to make, based on a spiced dark roux and whatever protein and vegetables you want!! I made a rich mushroom and sweet potato curry, served with plain white rice and a side salad. I eat a variation of this every week. It's so easy and simple to whip up with anything left in your fridge – chicken, tofu, mushrooms, bell peppers, beef… and served over rice, especially with temperatures dip below freezing yet again, it's particularly comforting.
ALSO – I have news!!! Truly wonderful news! I somehow ended up as a finalist for Cucina Corriere's first global blog awards, under "Photography + Instagram" – thank you for nominating me – I honestly had thought it was an Italy-only event, but it's actually international! There are some amazingly talented folks and I'm so honored to be among such a great list of folks. You can vote and view the rest of the finalists here. 
When I was thinking about this new recipes-around-life direction (mostly during the holiday season, when the burnout began to manifest itself), I agonized over it. I mentioned the insecurities/anxiety/blocks as a creative in my last post, and that definitely applied to the blog, too! I get these bouts of ups and downs – what should I post on the blog? Will people like it? What are my readers (if there are any) expecting?!!! Ahh! It's so easy to get buried in my own thoughts and overthink things. And as Hetty wisely pointed out in a comment previously, with social media it's so easy to be influenced by trends and feel the pressure to "keep up" with what's "in". Well, my life is not about hashtags and trends (please, honestly who has different fresh flowers every day?), and I want to share the real-life food I make on this blog. Like this curry, which honestly is not very pretty (it's brown! and orange!!), but SO GOOD. COMFORTING.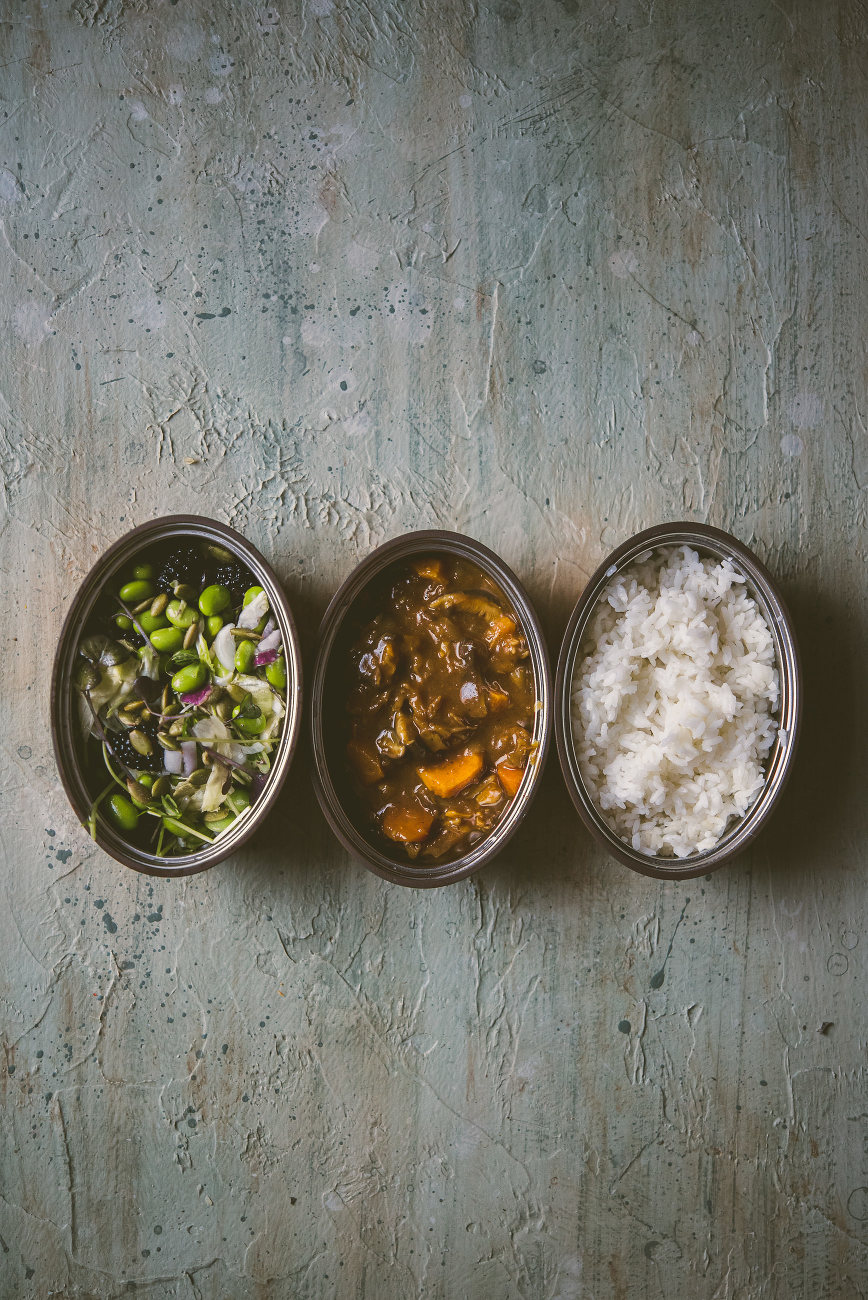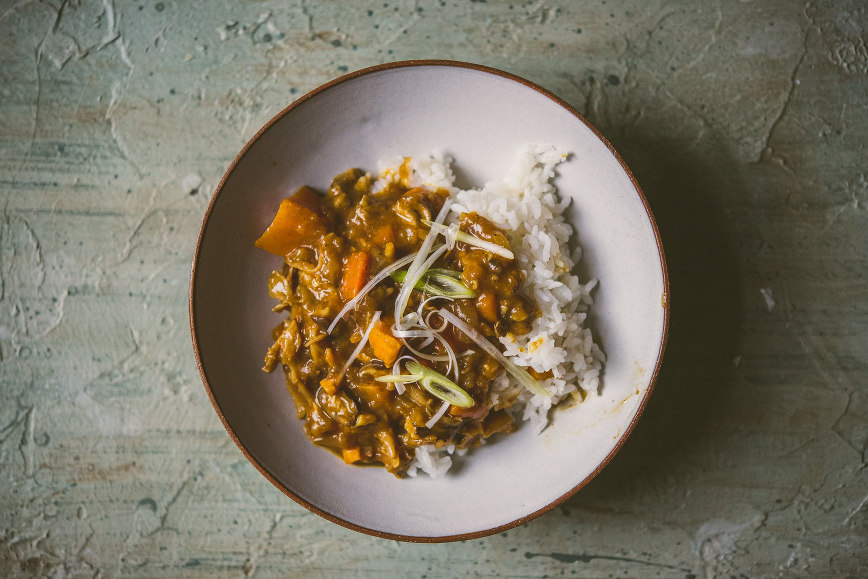 I've had this curry since I was a child.In the best way, the Japanese have adapted curry and made their own delicious, more mild version of it – a rich, flavorful, thick curry with vegetables over rice, and it's now a staple and appears on many menus in Japan and in Japanese restaurants here. Curry over noodles (yum), classically over rice, with katsu on top – because it's seriously delicious. It was so popular that they packaged it into a powder-paste block that is now sold in most asian supermarkets. This is what my mom would buy when I was a child! You still have to cut up your vegetables, cook the protein, etc, but the pre-packaged block is basically the roux that has all the spices and thickening magic ability.
Well, you can make this roux easily at home. I say this is a not-recipe because the ratio is simple: it's a 1:2 ratio of butter : dry ingredients (and this is a common ratio for roux, not a magic ratio I made up). The roux is cooked for about half an hour, until it's golden brown and deep in flavor, and then curry powder, hot paprika, garam masala is added to this roux, which gives it the most delicious, fragrant flavors ever. This goes into your bubbling broth/vegetable mix and thickens it while permeating that curry/spicy flavor. It's that simple.
Choose your desired protein and vegetables. I love mushrooms and the extra depth of flavor mushrooms ALWAYS add, so with a mix of hearty shiitake and maitake mushrooms, carrots, sweet potato, a grated apple for sweetness, and tomato, this curry became my go-to, especially in the winter.


Ok, by this point you may have noticed that the curry and rice and side salad are stored in these beautiful copper oval vessels that make a lunchbox!!! Vaya, a company based in India, makes these vacuum-insulated Tyffyn lunch boxes that were made for home-cooked meals. When they reached out to me, I laughed out loud, because I was just in the market for a new lunchbox. In a few months I'll be on rotation (i.e., in the clinic all day, like a normal work day), and realistically I could not buy lunch every day. I needed a lunch box, or I could just use my plastic containers. I hated lunch boxes growing up – the food became mushy, lost its flavor, and I don't know, I just didn't like how clunky they usually were. I decided to give the Tyffyn lunch box a try, and I have to say, it's much smaller and sleeker than I'd thought, but holds a good amount of food. Three compartments (300ml, 300ml, and 400ml) comfortably holds 1 serving size of rice, curry, and side salad! Plus, it's insulating and will keep your food warm for up to 5-6 hours. I loved using it, and you know what tells me it's going to be used? Alex saw me playing with it one day, and casually said, "that insulates? hey, why don't we take that to the beach one day for a picnic?" Alex NEVER suggests things like this, so I was pretty impressed with that association. Anyway, you can read more about this high-tech lunchbox here.
PS – the side salad is nothing to talk much about, but in case you were interested I simply throw together a range of greens – micro greens, lettuce, edamame, red onion, some fruit (any fruit), thinly sliced Brussels sprouts, and toss with olive oil, champagne vinegar, salt, and pepper. That's it! Goat cheese optional.


This post is sponsored by Vaya. All opinions expressed are purely my own, as always. Thank you so much for supporting the companies that support this blog!!!! 
ceramics – myrth ceramics / pan – staub / backdrop – eclectic lab designs
*If you want to add in beef or chicken, you can brown the raw meat first, then remove and cook onions, deglazing. Add it back in with the carrots. Also, as for spices a good quality curry powder (not legit enough to grind my own blend) is paramount – the other spices I put in, hot paprika and garam masala, or totally because I like those in combination (especially hot paprika. Love it), but it's really up to you. The end result taste remarkably similar to the store-bought package, and I encourage you to try your own combination of spices. I'm not trying to make an exact replica of the store-bought curry blocks, just offering a way to customize and make something similar at home :).
*also, as a reader noted, garam masala and curry powder are both spice blends with a lot of overlapping spices, but because they are blends they can vary vastly from one "producer?" to the next. I bought a curry powder specifically blended for extra heat and spice, and it is so wonderful (but it's spicy!!). I put in a touch of garam masala, which is warm and pungent in a different way from the hot curry powder I have, because the two blends (from Formaggio in Boston) are different enough that they work synergistically. I'd encourage you to read what spices your blends are made of, or if you're legit enough (which I am not), make your own special blend!!
RECIPE: Mushroom and Sweet Potato Japanese-style Curry
curry and spiced dark roux
3 tbsp unsalted butter
4 tbsp all purpose flour
2 tbsp curry powder
1/2 tsp hot paprika
Melt butter over medium low heat. Stir in flour, and continue stirring to prevent burning of the roux. Cook for 20-30 minutes, until the roux changes color into a light, golden brown. Add in spices. Stir until combined and cook for another half minute, and remove from heat.
Mushroom Sweet Potato Japanese-style Curry
2 cups sliced shiitake and other variety of mushrooms
2 small yellow onions, diced
2 carrots, peeled and cut into wedges
1 sweet potato potato, peeled and cut into wedges
½ tbsp finely grated fresh ginger
2 cloves garlic, minced
olive oil for frying
4.5 cups chicken broth
1.5 tbsp tomato paste
1 grated tart apple
1 bay leaf
2 tbsp soy sauce
salt and pepper, to taste
dark curry roux
Heat 2 tbsp oil in a heavy pan (like a dutch oven) over medium and cook onions until soft and translucent. Add in ginger and garlic. Add mushrooms and cook until softened.
Add in carrots followed by broth. Bring to a boil. Add in grated apple, tomato paste, soy sauce and simmer for 15 minutes, uncovered. Add in sweet potato wedges and cook for another 15 minutes, until the chunks soft and easily pierced with a fork.
In a separate bowl with the dark roux you made, add two ladle-fulls of broth and mix until dissolved into a smooth paste. Add this to the soup and stir. Simmer on low heat until it thickens to your preference.
Serve with white rice, and optional fresh scallions on top.