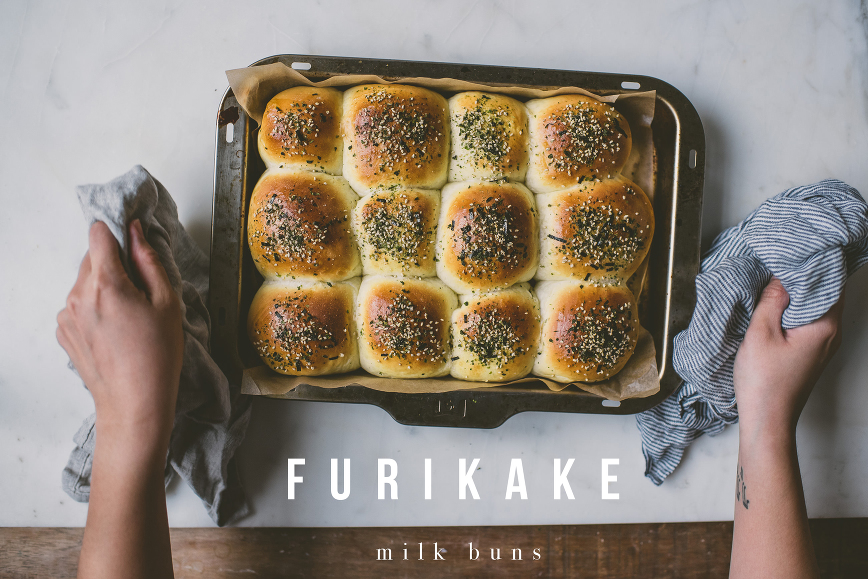 Hi guys, I'm back and so excited to share with you a recipe for furikake milk bread buns!!!!! Thank you so much for being patient with me as I took a break from this space. It was exactly what I needed and now I'm super excited to be back, because oh boy, do I have recipes and stories to share with you. As you may know, I love the water-roux method of making bread – the "tangzhong method", because it yields super soft, pillow-y light breads that are a joy to eat. I've used this to make a lot of sweets, like black sesame babka and taro milk tea rolls, and it's about time I used it in a savory bread. This came to me all of a sudden – I love using furikake, a nori + sesame blend for topping rice, and I'd been using it recently with my morning miso oatmeal everyday – why not use it to top bread?! It's subtle and will be crunchy from the sesame, right? I decided to give it a try, adjusted the salt, etc, and it worked!!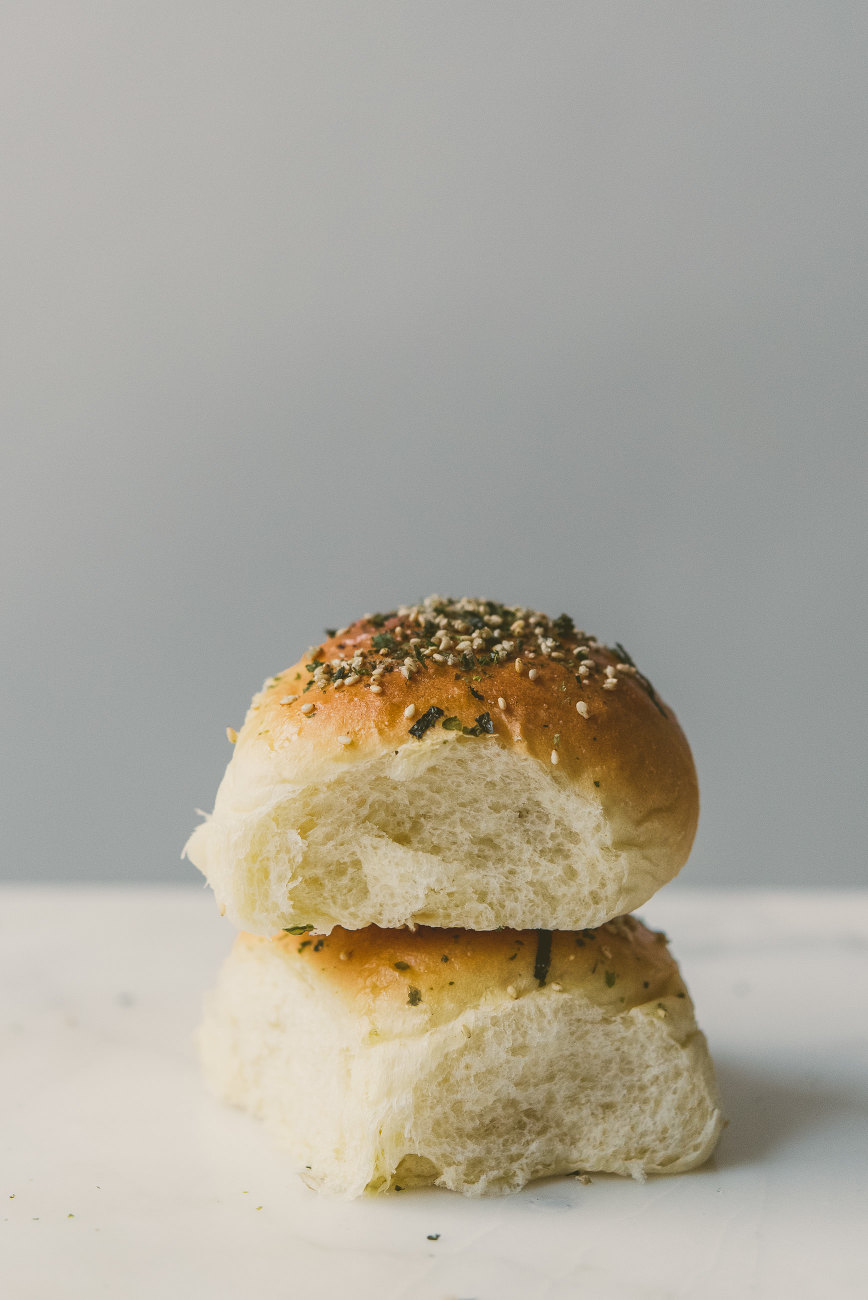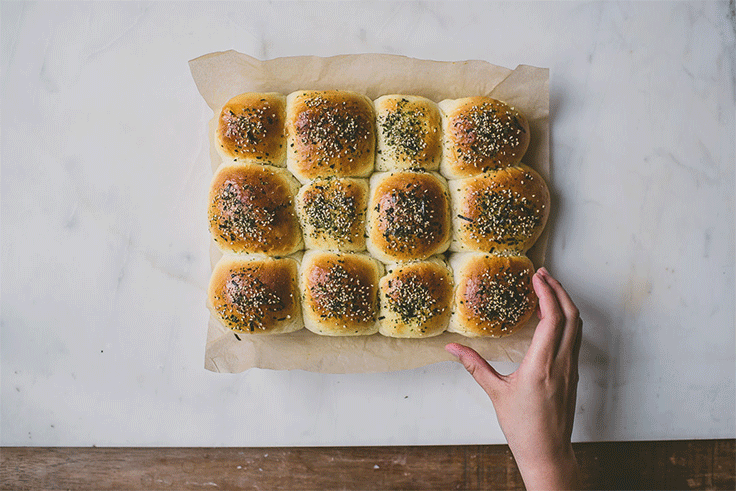 I started writing this blog post ages ago… I actually photographed this and another recipe back in March, when I had spontaneous inspiration and nothing could stop me from testing that spontaneity out, but then of course, study period occurred, and then a ton of travel. Somehow April came and went, and here we are in May. I was a bit taken aback when I logged back into the blog and saw that my last post was February! Thank you for being patient with me – I'm really excited to be back in the kitchen and studio, creating (especially with all the lovely spring produce out!).




Oh, also hello from Japan! I'm currently in a beautiful, cozy little Airbnb in Kyoto, Japan, and I feel so full of inspiration that I had to blog about this somewhat relevant(?) recipe, furikake milk buns. In Japan, furikake is a concoction of dried seaweed and sesame, often customized per individual preferences with bonito, shrimp, wasabi, or other flavorings. It's often paired with rice, but in this case it creates a really wonderful crunchy top on the surface of the buns. You can buy them at any Asian supermarket – my favorite is the simple nori one, with seaweed and sesame seeds :).
Anyway, long day tomorrow (lots of shrines and wandering), so I'll leave it at that. I'm just really happy to be back, and I have SO MUCH TO SHARE (hint: it has to do with food and travel!!).

Furikake Milk Buns from Betty liu on Vimeo.
RECIPE: Furikake Milk Bread Buns 
Tangzhong
25g bread flour
¼  cup milk
¼ cup water
Mix flour with water+milk until smooth. Cook over medium low heat in a saucepan and stir with a wooden spoon, until thick. When swirling wooden spoon around pan, you should be able to see visibly the echoes of the swirl. Transfer to a clean bowl. Take a piece of plastic wrap and gently press it against the surface of the tangzhong. Let cool.
Furikake Milk Bread Buns
350 g bread flour (about 3 cups)
½ cup whole milk
50 g sugar
1 egg, beaten
30g butter, at room temperature
1 tsp salt
2 tsp active dry yeast
tangzhong from above
Heat milk slightly until lukewarm. Add in yeast and proof for 5-10 minutes. You should see a thick layer of foam, indicating the yeast is active.
Whisk together yeast milk mixture with egg and tangzhong.
In the bowl of a stand mixer, sift in bread flour, salt, and sugar. Add in foamy yeast/milk mixture. Mix on medium-high. Add in chunks of butter until smooth. Continue mixing on medium-high for about 15-20 minutes, until elastic, supple, and super smooth. Turn out onto a greased bowl, and cover with a towel. Let rise in a warm place until doubled in size, around 1-2 hours, depending on how warm your kitchen is.
Turn onto a working surface. Divide into 12 portions and work the edges down so that there is a smooth round surface. Place on a parchment paper covered pan and then cover loosely with plastic wrap. Rest another hour, until doubled again.
Preheat oven to 350F.
Make egg wash – egg + splash of water
Brush with egg wash. Sprinkle furikake liberally over surface of buns.
Bake for 20-25 minutes, until golden brown!!!! Enjoy!!