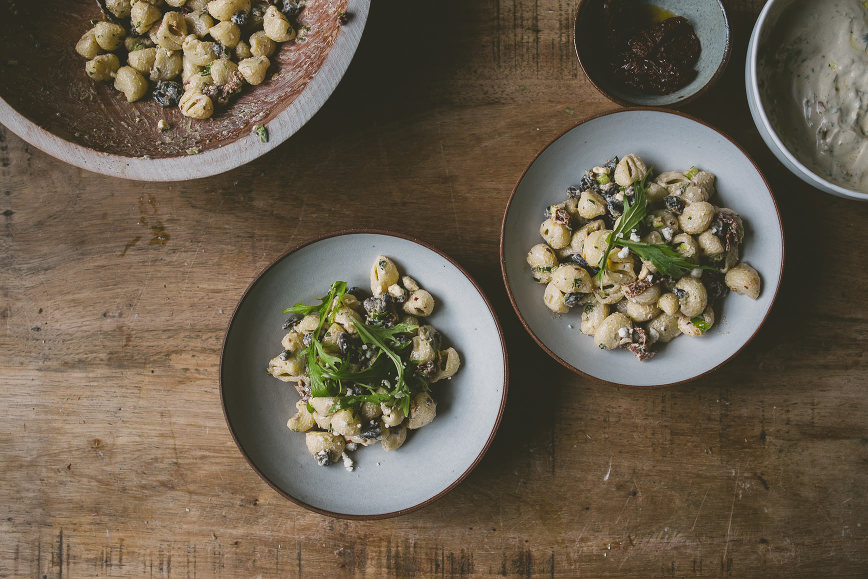 Once the weather heats up just a bit, I immediately start making weekly batches of dressing, for all my salads. And by salads, I don't just mean heaps of fresh greens (which has its place in my meal rotation), but also pasta salads, soba noodle salads, fruit salads. I love the flexibility of these dishes – I can throw in anything fresh in my fridge and with a good dressing, have a delicious, simple, quick meal. My current go-tos, labeled and stored in my trusty mason jars, are this black garlic yogurt dressing I'm sharing below, Laura's sunflower cider dressing, and a sesame miso dressing. It's a great variety for my tastes – one that's savory and tangy, one light and packed with subtle nutty flavor, and a creamy umami dressing. Today, I'll be sharing with you the recipe for black garlic yogurt pasta salad, but in truth you could use this dressing for anything. Dips, say, or even as a creamy bed under cooked vegetables!!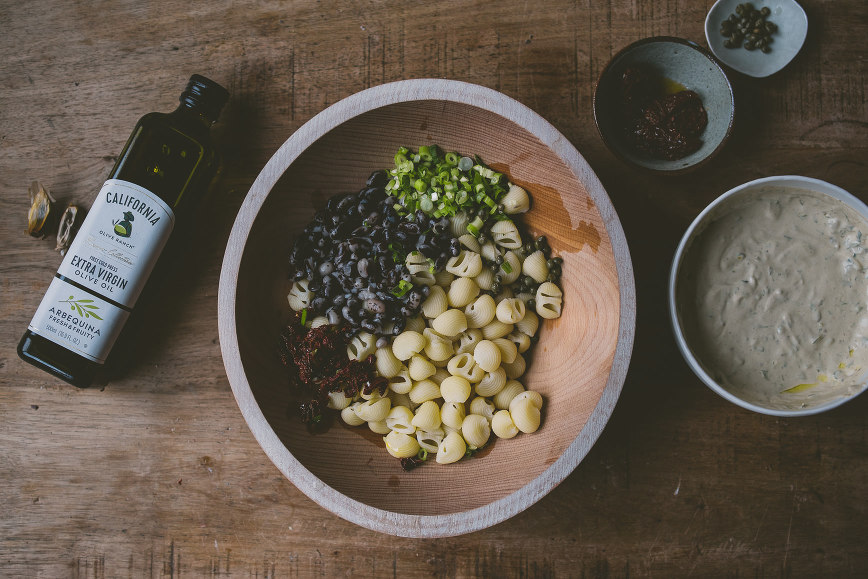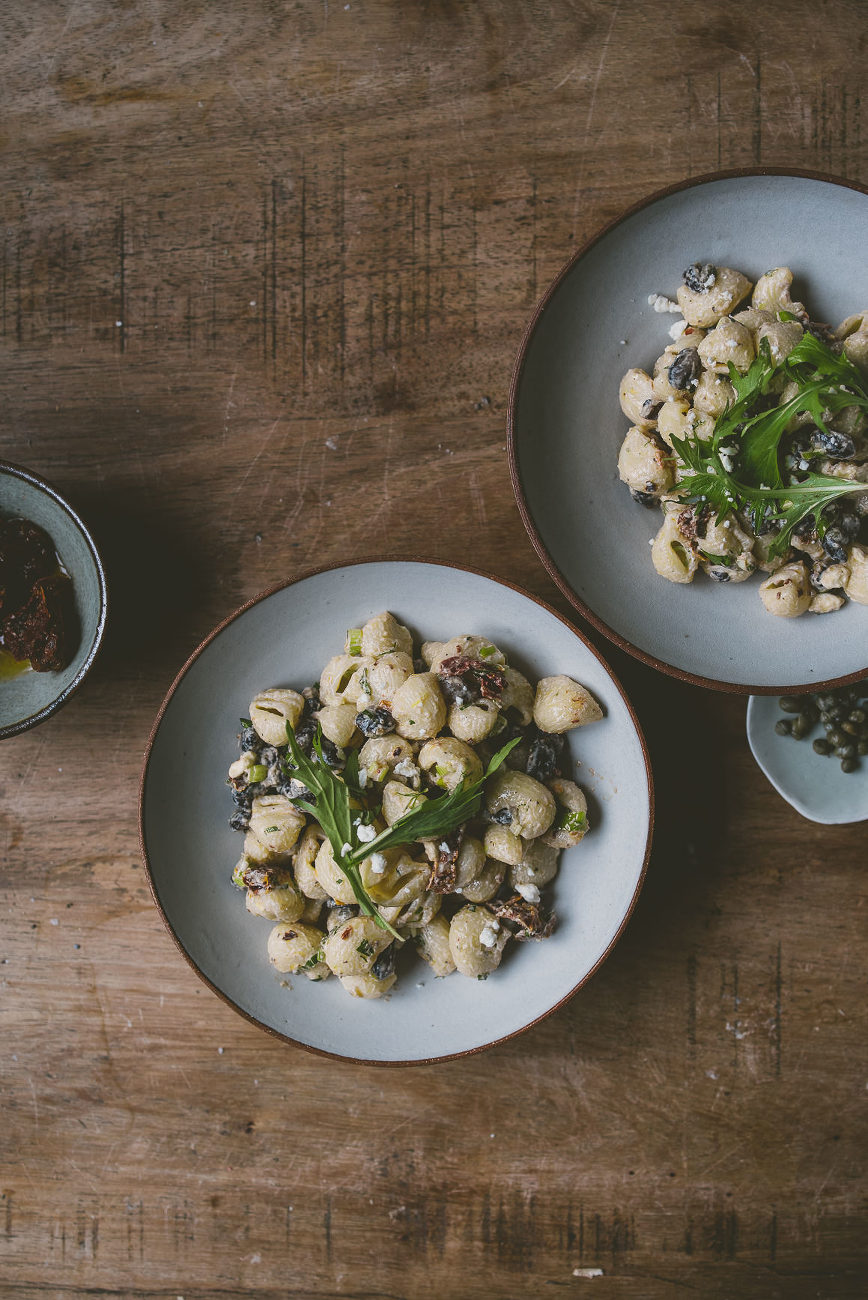 It's been surreal since I've gotten back. A whirlwind of work, shoots, and weddings. I've started rotations in the hospital, and I'm still trying to get used to it, which I better do quickly since I won't have a break until December! My hours are from around 7 am to 5 pm, Monday through Friday, and now I finally understand, truly, the difficulties of having a blog while working full time. To all of you out there doing that, I bow to you, and please teach me your ways! So, still trying to balance my time for medicine, work, and me-time. Tips are appreciated :). Currently surviving on hardcore list making and schedule planning, and of course meal planning. So making these dressings to last for the week really speeds things up. All I need to do is prep the ingredients and everything comes together smoothly.
Actually, one of my favorite dishes from the Milia retreat in Greece (post coming soon!!!!) was a pasta salad, and since then I've been dying to recreate it in my own way, with greek yogurt as the main base. Black garlic adds a savory twist to this tangy dressing, and it's less "spicy" than raw garlic and has a warm, nutty garlicky flavor to it. As I mentioned before, Greece was where I fell in love with beans, and since then I've always had beans available. I'm still obsessed with giant beans, but these little vaqueros are mild yet flavorful as well, a perfect addition to salads and soups. Plus, aren't they gorgeous?

A big part about any dressing is the oil, and olive oil is by far my favorite. Ever since I started using california olive ranch and actually visited its groves and witnessed its harvesting, I've been obsessed. I dip bread into this olive oil, drizzle it over everything, and of course, use it liberally in my dressings. Even when I'm making a dressing that calls for a "flavor-neutral oil", I opt for my extra virgin olive oil, because the taste is truly subtle and I'd much rather use this high quality olive oil than canola. Plus, EVOO is good for you – it's a healthy fat and contains polyphenols that act as antioxidants. You can read more about the health benefits here.




This post is sponsored by california olive ranch. All opinions expressed are purely my own, as always. Thank you so much for supporting the companies that support this blog. Their olive oil is truly amazing and is the oil I use on a daily basis – for cooking, salads, topping, pestos, etc… 
RECIPE: Black Garlic Yogurt Pasta Salad 
Black Garlic Yogurt Dressing
1/2 cup plain greek yogurt
2 tbsp fresh dill
2 tbsp chopped fresh Italian parsley
grated lemon zest
juice of half lemon
3 cloves black garlic, minced
black pepper and salt to taste
3 tbsp extra virgin olive oil (california olive ranch is the best!) 

1/2cooked beans (I used the lovely Vaquero bean)
1 tbsp capers
2 tbsp sun dried tomato
1 tsp red pepper flakes
seasonal greens, such as mizuna!!!
1 stalk scallion, chopped
8 oz pasta, cooked (elbow, shell, rotini)
Combine all ingredients in dressing (yogurt, dill, parsley, zest, lemon juice, black garlic) in a blender or food processor and process until smooth. Slowly drizzle in olive oil and blend until smooth.
Toss pasta, cooked beans, capers, tomato, greens, and scallion with yogurt dressing and adjust for taste with black pepper and salt! Give an extra drizzle of olive oil and serve chilled or at room temperature. Enjoy!