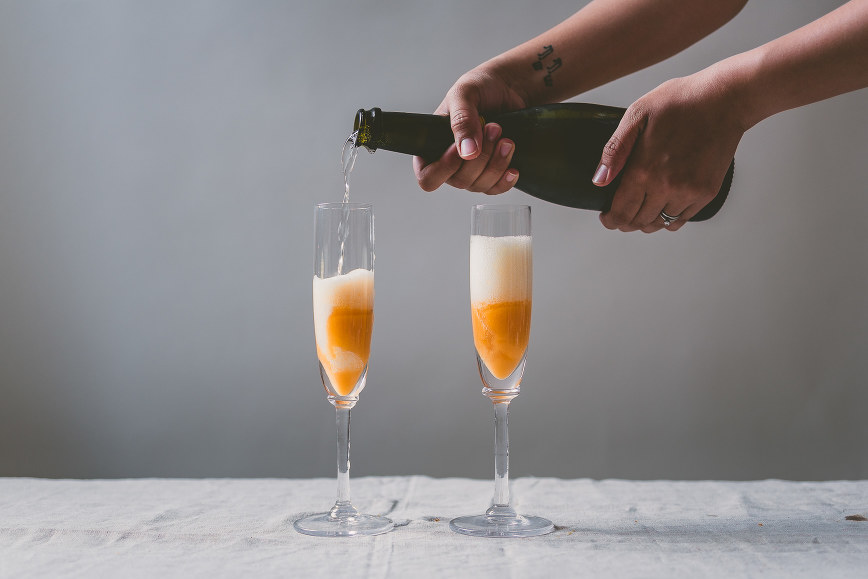 Melons. As a child I hated them. Hate is a strong word, but seriously I absolutely REFUSED to eat cantaloupes and honeydew (watermelon was always an exception. Love that stuff). Through college I picked them out of my fruit salads and avoided them whenever I could. As I grew older though, I found myself trying it more, especially cantaloupes. I began to appreciate its subtle sweetness and the soft but giving texture of its flesh. It's the perfect companion, especially for salads!! Plus, their pale orange color with that pale green skin is a swoon-worthy palette, right? To celebrate summer, I decided to put a twist on a favorite: Bellini! Instead of pureed peach, I pureed roasted cantaloupe, added a touch of osmanthus-infused simple syrup for some floral fragrance, and there we have it, a roasted cantaloupe and osmanthus Bellini.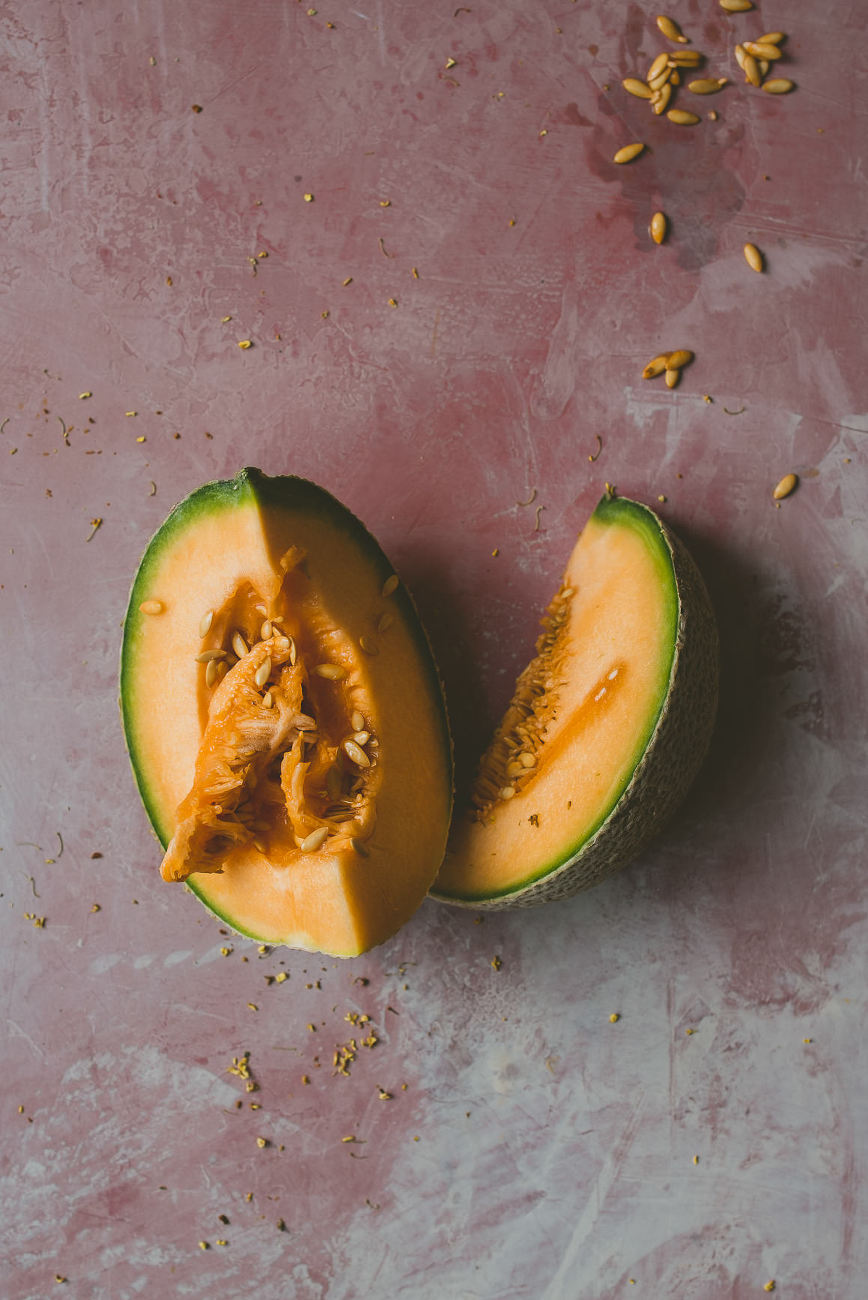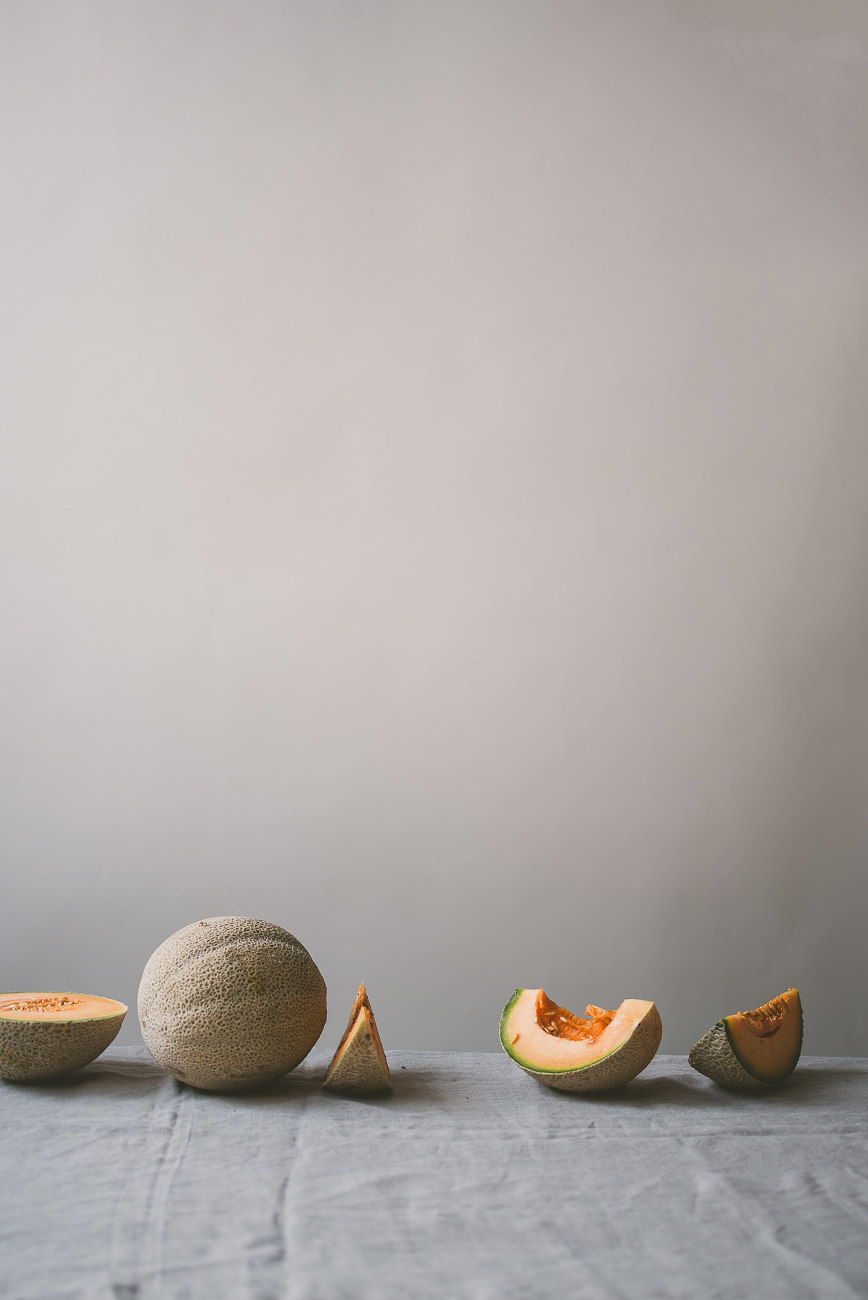 What are you looking forward to this summer? I'm staying put in Boston so I'm mostly looking forward to warm summer days and all the vibrant summer produce, like melons, berries, stone fruits, and all the summer greens! I love the markets and seeing what's out there, cooking as I get inspired.
Cantaloupes are gorgeous, aren't they? A good way to tell if a cantaloupe is ripe (or any fruit really) is the smell it. If it's sweet smelling, likely it is ripe. I spent a lot of time picking up cantaloupes and smelling each one (got many weird looks for it), and even though they smelled like cantaloupe, the flesh still wasn't that ripe. But that's OK, because we'll be roasting them. Roasting the cantaloupe gets rid of some of the water content, and it gives it a nice nutty caramelize-y taste to it. I love roasting/cooking fruits (see roasted strawberry ice cream, roasted rhubarb sangria, caramelized peach caprese panini). This then gets pureed in my trusty Vitamix blender , my Ascent 3500 (see review here), and then from there it is simple. Add prosecco, simple syrup, and emulsify either with a stick or before pouring in a cocktail shaker. Don't be alarmed if the puree separates from the prosecco. Just stir it in so that it mixes. Another tip is to pour the prosecco down a stick to minimize bubbles :). It will still be bubbly, just not excessively so!



I made a simple syrup infused with osmanthus, this delicate yellow flower that is SO good and subtle, and often used in Chinese desserts and cold soups. My mother in law gave me a jar of dried osmanthus and I have been excited to use it (or even just open it up and smell the fragrance, hehe). Add it to any cocktail or dessert – it brings such a lovely subtle fragrance!
My dear friends, thank you so much for the tips and advice on staying organized – filings these pearls away so I can start to structure my life and once I ease into a routine :). After a week at this site, I admit I feel a bit overwhelmed. Even though we spent two years in the classroom, learning about the human body and the pathophysiology behind diseases, applying it clinically to real people is a whole different matter, and there is definitely a learning curve. I'm at the hospital during the day, then at home I'm reading up and studying at night. I barely have time to cook, much less meal prep!!!!!! So of course, on the weekend day I have off I pack in all the things I love, like making a good breakfast, brewing coffee, going to the market, seeing friends, and spending time with the husband. And then I'm studying some more of course :). But it's invigorating. It re-affirms why I chose this path in the first place. It's frustrating, terrifying, yet inspiring. The residents actually brought up the topic of wellbeing and self-care this past week, and I was really intrigued. They recommended the meditating app Head Space. I've heard of it before and now more than I ever I want to give this a go. Anyone try it?
For now I'm happy to be in this space, be a part of this community. I mentioned burnout in the past, but I can feel that fading, finding delight in this space again. The process of creating food and photographing it can be so calming like a little escape from the other parts of my life. Thank you for letting me share this with you!!!!! Also, even if I don't respond to every comment, please know I read and appreciate each one <3. Cheers!




This post is sponsored by vitamix. All opinions expressed are purely my own, as always. Thank you so much for supporting the companies that support this blog. 
RECIPE: Roasted Cantaloupe and Osmanthus Bellini
1/2 cantaloupe, diced
2 tbsp brown sugar
1 vanilla bean pod scraped
Preheat oven to 400F. Line sheet with parchment paper. Toss cantaloupe cubes with sugar and vanilla bean. Roast for 20 minutes, until soft and caramelized. Place in vitamin and blend until silky smooth. Let cool completely.
Osmanthus Simple syrup
1 cup water
1 cup sugar
3 tbsp dried osmanthus

chilled prosecco
Stir together sugar and water. Add osmanthus, over medium heat. Cook 5-7 minutes, until dissolved. Turn off heat and let steep. Let cool completely.
Place 1 tbsp puree in flutes or cocktail glass. Place 1 tsp simple syrup (or less, if your cantaloupe is very sweet). Top with prosecco, poured down a stick for less bubbles. Stir and incorporate puree into the drink. Don't be alarmed if it separates – just stir it back in. Garnish with mint, if desired :). Cheers!