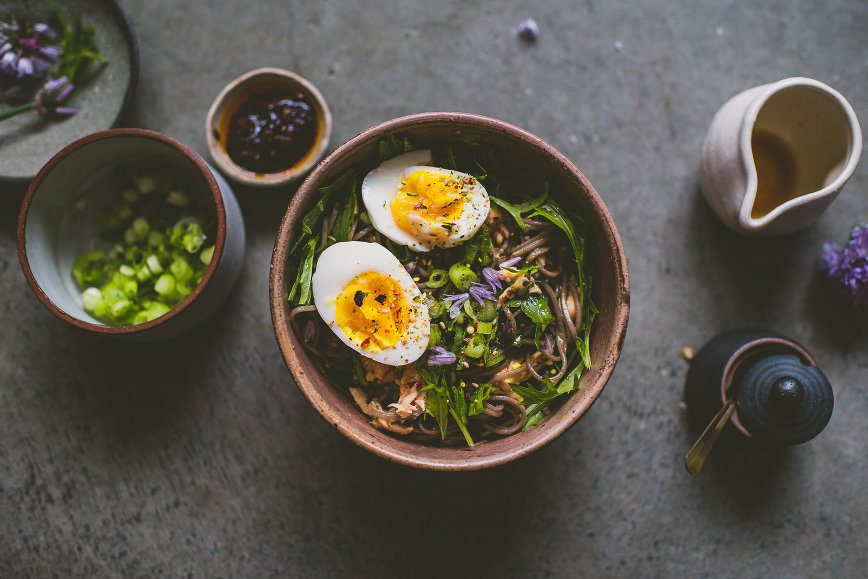 The theme of the past few recipes have been flexibility, ease, and prep, such as making dressings in larger batches for subsequent uses, chopping up vegetables or fresh greens for easy future salads, making batches of cold brew concentrate so every morning I can just dilute and go. I'm really excited to share this very special recipe for spicy miso soba noodles with salmon, with two tricks to make this SUPER easy, healthy, and fast. It's one of those weekday barely-any-time-to-unwind nights where takeout is just not appealing, and you want something fresh but with minimal effort.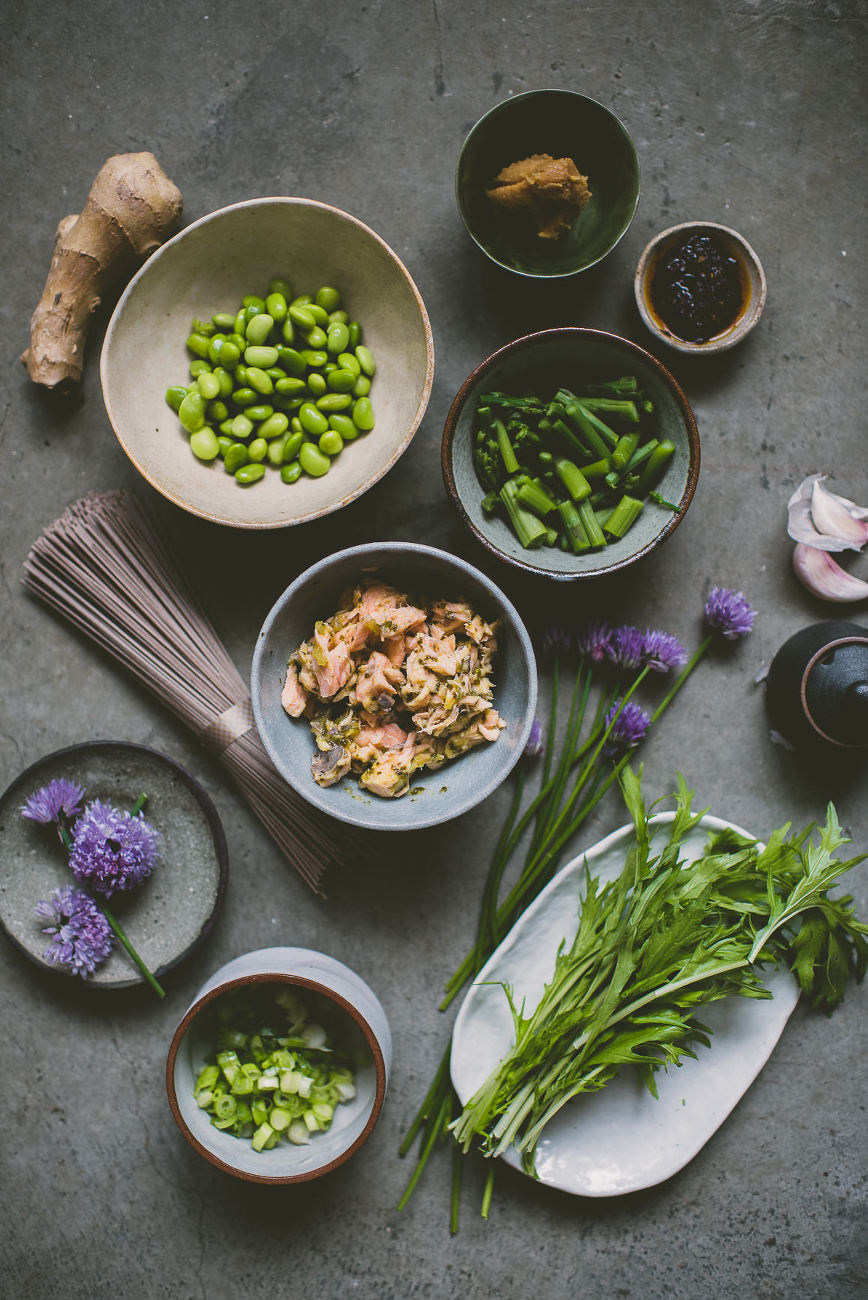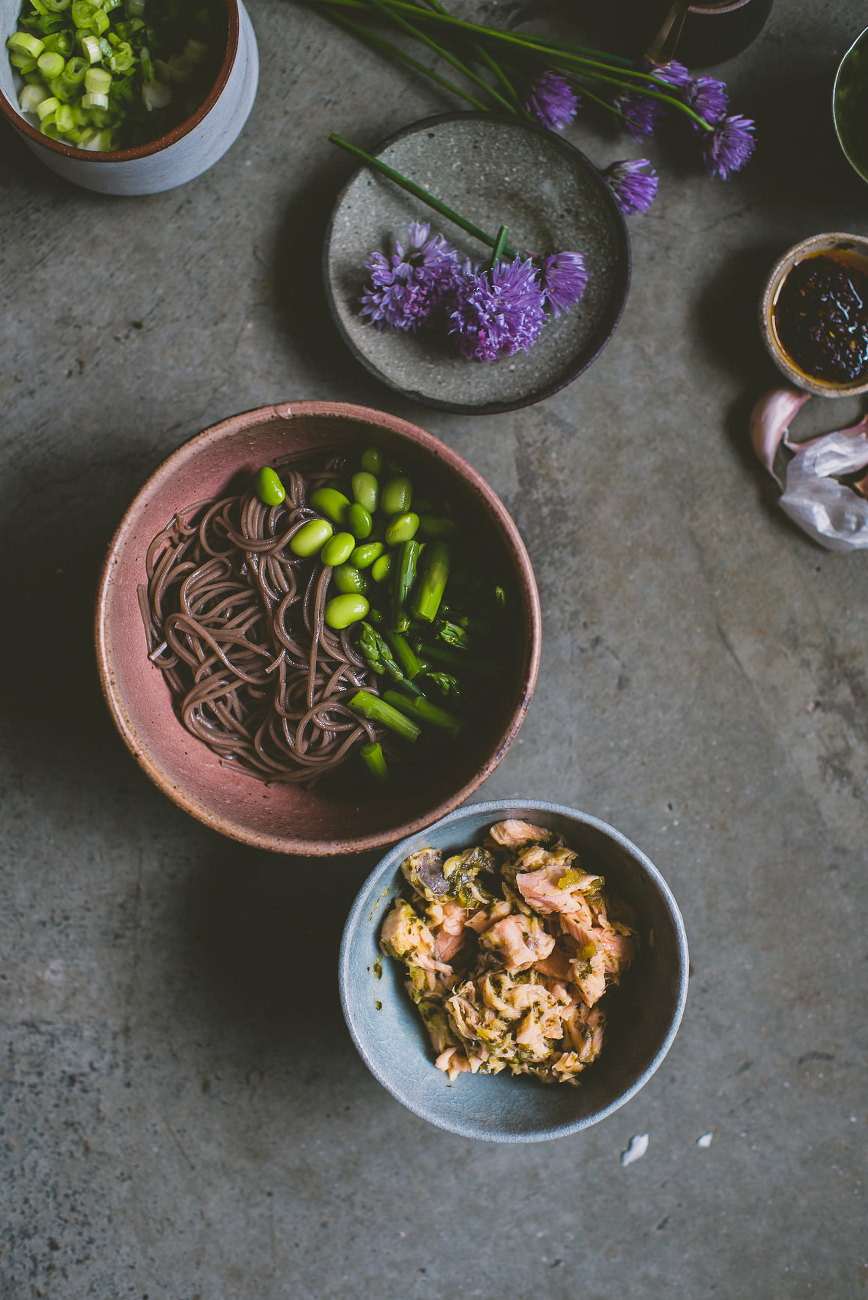 First, you make the dressing, and this is a favorite, especially for noodles: spicy miso!!!! I've always loved spicy (and my paternal family is actually from Sichuan area, did you know? My parents were born in Shanghai but my grandmother is a Sichuan-ian. So, my dad fed us spicy things since we were young, and I love it), and combined with umami packed miso, it makes a subtle spicy creamy sauce that is less in-your-face than the ubiquitous peanut sauce. Dish the peanut butter and just make this. I make it on Sunday and it will last a week J.
Second, you stock up on Saucy Fish Co's salmon. I'm not kidding. Before you write me off for being lazy because salmon cooks fast, let me tell you about this. The salmon comes cooked, either steamed or roasted, and they come with flavor packs like lime and cilantro, tomato and chili chutney, lemon and dill mayo. No searing, no seasoning, no fuss – just open and pour the flavor pack on top. Even though salmon cooks quickly, this means no pans to wash, no marinades to prepare, no defrosting planning to do – having a few packs of this salmon in my fridge these two past weeks have been actually amazing. I will cook rice or boil up some noodles, flake the salmon in with flavor pack, which is subtle and not overwpowering, and ta-da. Plus, it's REALLY GOOD. I used the steamed salmon with lime + cilantro and honestly I have NEVER steamed a salmon like this. It is so tender and melty that I thought it was medium rare, but it's not.


With this soba noodle dish, I flaked the salmon, poured the lime + cilantro flavor pack over it, and then tossed cooked soba noodles, all the greens, soft boiled egg together with spicy miso dressing. Topped with the salmon. Imagine bites of spicy-miso, tempered with bites of subtly lime+cilantro flavored steamed salmon. Healthy, fresh, delicious. Even Alex, who usually just likes his traditional zaru-soba, gobbled this soba noodle salad down.
What about you? Any tricks you do for meal prep, or for making weekday / busy-day meals easier to come together? Still learning and taking tips.

This post is sponsored by Saucy Fish Co. All opinions expressed are purely my own, as always. Thank you so much for supporting the companies that support this blog!!!!! You can find more about them on Facebook, Twitter, and Instagram, and you can find them in Whole Foods, Hannford Markets, and Meijer among other stores! '
PS do you like my new ceramics from Japan???
RECIPE: Spicy Miso Salmon Soba Noodles
Dressing:
¼ cup rice wine vinegar
2 tbsp white miso paste
2 tbsp chili oil or paste (whatever you like really. I used my own mouth numbing chili oil but you can use Sambal or sriracha too).
1.5 tsp honey
1 tsp sesame oil
½ cup olive oil
½ tsp grated ginger

1 pack steamed salmon with lime and cilantro from Saucy Fish Co. 
1 bunch soba noodle, cooked to al dente and run under cold water to chill
fresh scallions for garnish
chive blossom petals for garnish (optional)
edamame
mizuna or other fresh greens
boiled or steamed asparagus
Blend vinegar, soy sauce, miso, chili oil, honey, ginger, chili flakes together until smooth and creamy. Drizzle in oils. Blend on high until super silky smooth, 30 seconds.
Flake steamed salmon with a fork. Pour lime cilantro marinade over.
Toss soba noodles with dressing and top with greens. Add in salmon and a soft boiled egg. Enjoy!