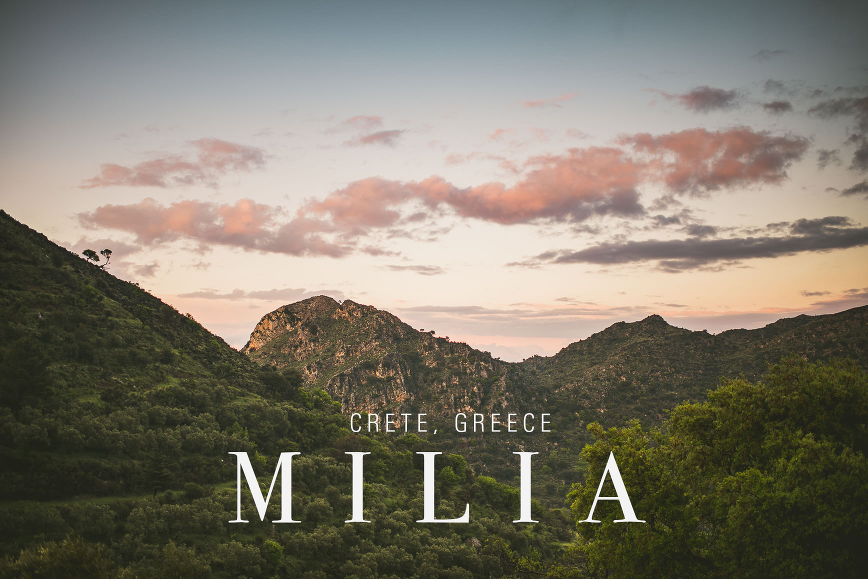 Milia is a little piece of heaven tucked away in the mountains of Greece, with delicious food (some of which is foraged from the mountain!) and beautiful scenery, and I was so excited to host a photography workshop there this past April. People from all over the world, including US, Canada, Switzerland, Finland, to name a few, joined me for my photography workshop in the beautiful Milia on Crete Island, Greece, and just learning their stories, hearing their perspectives, understanding their goals for their work inspired me like no Pinterest board can. Words cannot describe how thankful I was for this group of lovely friends during this workshop, and I still smile and giggle as I remember those late nights after lessons with copious amounts of wine, too much food, and lingering conversations.
A year ago, I taught a workshop in Gradara, Italy, where I met Eleni. We connected instantly and kept in touch, and suddenly we were planning a workshop in her home country, Greece. This is why I love doing these workshops. They can get overwhelming in the planning phase, and I have countless nightmares when I think something is going wrong or logistics were falling apart (ask me someday), but the reward lies in the real-life connections made with the people who come, this community that I have loved since I started blogging. A huge giant thanks to dear Eleni and Artemis for hosting, to Milia Mountain Retreat for their hospitality, to Constantina for the help, and big hugs to Jenny, the best assistant who honestly kept me sane :).
I still remember the nerves and angst when I hosted my first photography workshop (see the very first one here!), which were quickly relieved when I realized how wonderful the attendees were, how we could trust our months of planning, how naturally, conversation flows because we all nerd out about, say, mushroom foraging, or finding the right light, or unified sighs of delight as a poached egg is cracked, with the yolk oozing out satisfactorily for the perfect shot. 
Crete is a lovely island in Greece, and Milia is inland about an hour or so, tucked away in the mountains. It's serene and peaceful, a little haven of a retreat. This mountain retreat is an eco-resort, meaning it is completely self sustained, and the food is foraged locally. They have AMAZING chefs who craft a changing menu according to what is available, and I can honestly say they changed my mind about Greek food. I'd been to Greece about 3-4 years ago, and I think I ate at all the wrong places because I did not like the cuisine – it was too heavy and full of grilled meats. I left Greece in love with the scenery but not impressed with the food. This time, though, I feel like I had a taste of real Greek cuisine, and by that I don't mean a specific dish, but their way of eating: very fresh, very seasonal. Legumes and vegetables made the heart of most of the dishes we had (inspiring this ramp giant bean dish). They were unfussy and rustic, but in a way that harmonized completely with the lifestyle of the retreat. Lunch didn't start till 1PM if I'm remembering correctly, and dinners would begin at 9PM. Meals were meant to be prolonged with wine and good conversation.
Day 1: welcome hike + dinner
Just scroll through the photos – this place is GORGEOUS isn't it? We also had no outlets in our rooms, and the only available wifi or outlets were in the dining area. It was actually a lovely change of pace, and when we did use our computers, we were with one another, and that sort of forced interaction became real, meaningful interaction.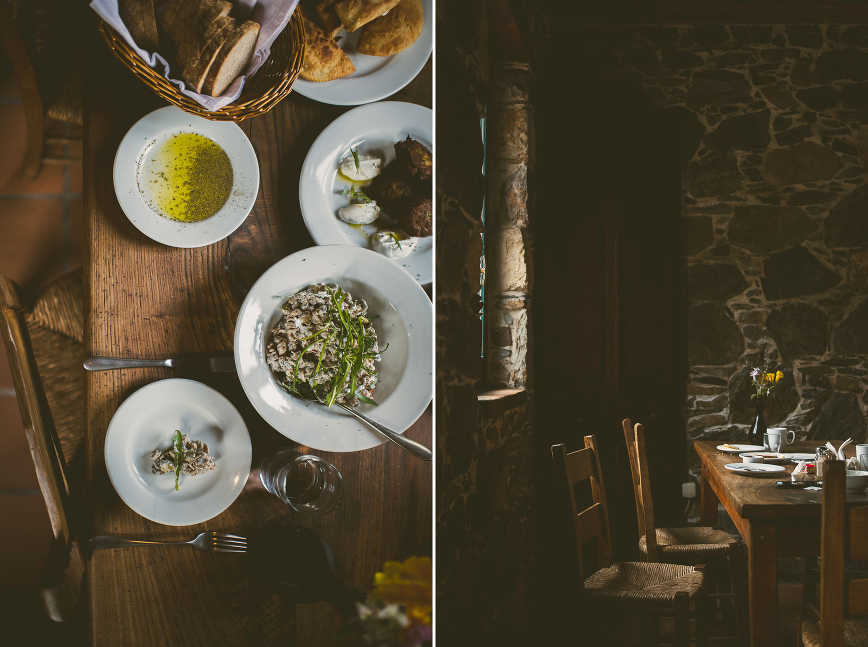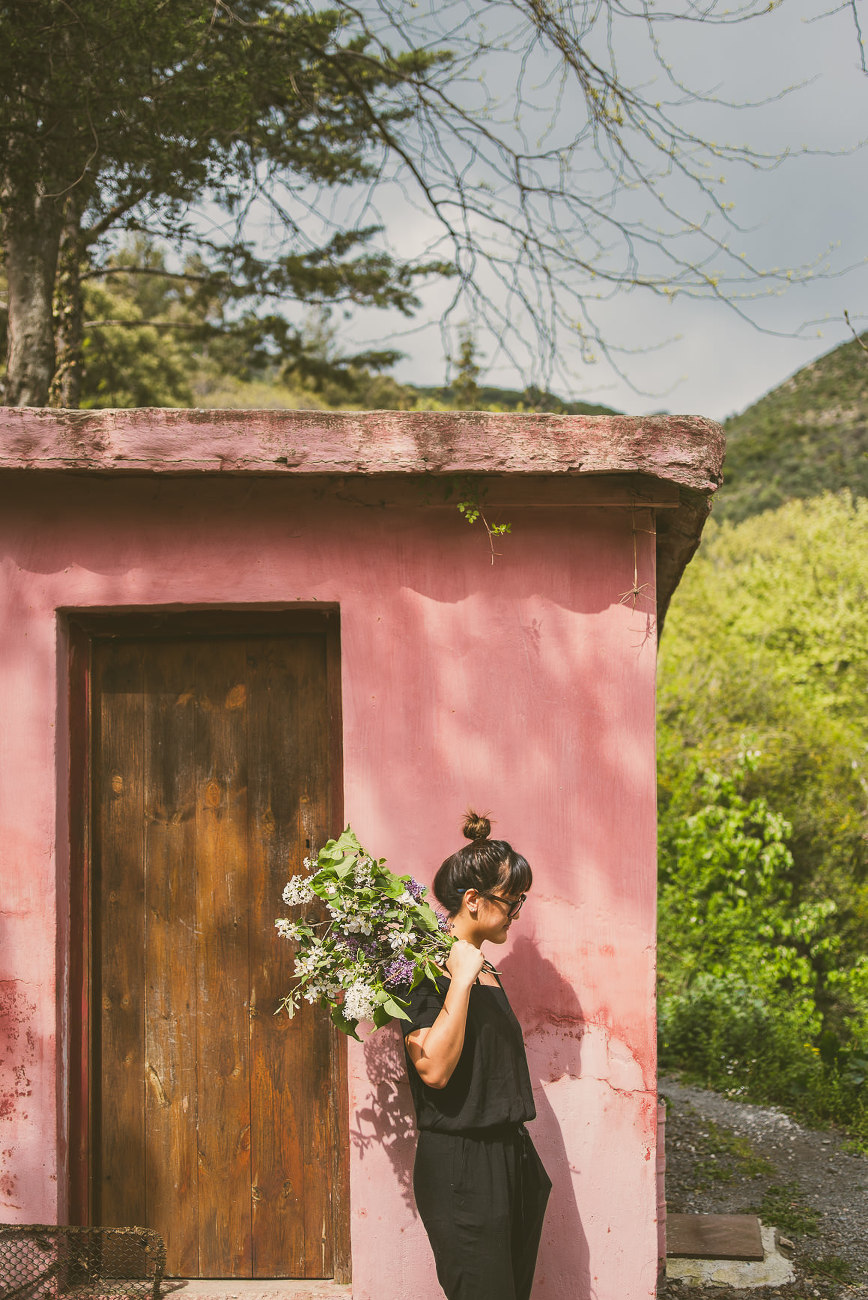 The day the attendees arrived, Jenny and I walked around the property with shears and collected the blooms that struck our fancy. Beautiful wisteria, delicate apple? blossoms… irresistible.




An optional hike into the mountains started off our workshop. Our lovely hosts gave us a brief history of the retreat and pointed out all the greens that could be foraged, most notably mountain tea, malotira. They are fuzzy, almost like sage, but makes a really wonderful floral herbal tea. We had this every morning and during the day – I wish I brought back some dried malotira!



Day 2: Bread baking, Lesson, Elafonisi, Still lifes
Mornings: thick fresh greek yogurt, cretan honey, fruit, killer view. What more can you ask for really?!

In my workshops, I always try to incorporate something beyond still lifes – food stories. I started my journey as a wedding photographer, and documenting action and stories will always hold my heart. Tasos, the one on the left, graciously demonstrated a traditional bread making process so that we could practice capturing the action. Just seeing the process was fascinating. This happens everyday, and everyday, the loaves are baked in their wood-fired oven to create fresh bread for their guests.



Between ferments, Tasos very kindly agreed to be the subject for a demonstration of light. Using what natural light was available, I demonstrated how to use light, subject, and composition to tell a story. Since I started doing food photography, what really fascinated me was the humans behind the food – the human element. They tell us so much more than the end food product, and those process photos have always driven my passion for food photography.

We then took a trip to Elafonisi, a magical pink sand beach I would recommend to anyone visiting Crete. It's worth the drive.






Day 3: beekeeping, Phyllo pie making, cheese board

Our last excursion to document food stories was a trip to Polemarchi village to see a local beekeeper, who makes the best thyme honey and bee pollen. Antony welcomed us into his home and shared his bees with us. I admit it: I'm terrified of bees. We decked ourselves out in protective gear, and I could barely make myself get closer… but you know what? I think we produce better work when we're uncomfortable. Throwing ourselves out of our comfort zone prompts us to be more creative, to make things work. Actually, when I become too comfortable, or if a project is too easy, I know it's time to move on and try something new. BE UNCOMFORTABLE.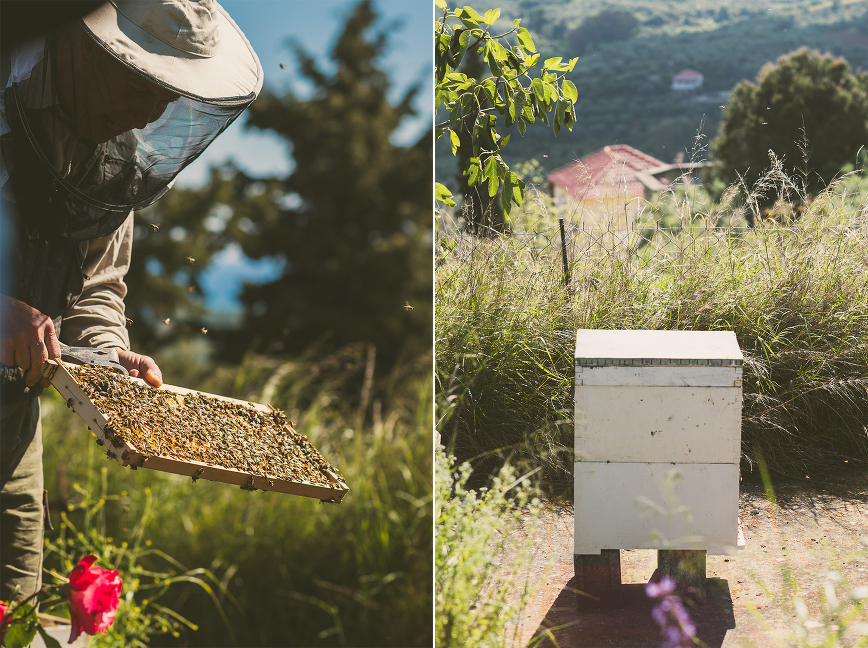 This is Antony!!!!!!




Our lovely chef back at Milia, Panagliotis, demonstrated how to make wild mountain greens pita, aka the Greek pie. It's made with phyllo dough and is just SO GOOD. One of our attendees Alex actually put this into a recipe and you can find it here!!



And then of course, what's a workshop without a cheeseboard? Fresh local Greek cheese, folks!! 

We ended the workshop intensively, packing many photo opportunities in. In every workshop I like to challenge attendees to create their own scenes, to style their own vignettes. I love still lifes because they are the perfect opportunity to practice – you have total control of the scene: the light, the composition, the styling.




A huge thanks to our sponsors, who provided these lovely goods for each attendee to take home, full of local Greek specialties, like Saffron.
Rhoncus – cement plates
Tzoumani Bros – wooden boards
Dourakis Winery – wine
Yiam – spoon sweets
Simply Greek – Dips

See other workshop recaps here:
Eleni's recap 1 and 2 \ Artemis's recap \ Jenny's recap \ Jenni's recap \ Sara's recap 

I came back to Boston re-invigorated and inspired, missing everyone. I also came back with a notebook with a few recipes verbally passed to me by Panagliotis, including beef orzo with tomato, and I'm really excited to give it a try and share it with you all. Thank you for following along with me – hope you enjoyed all the photos of Milia and Crete!
If you'd like to know about future workshops, send me an email at bettysliu07 [at] gmail [dot] com, and I'll make sure you're the first to know when new workshops open up. Cheers!