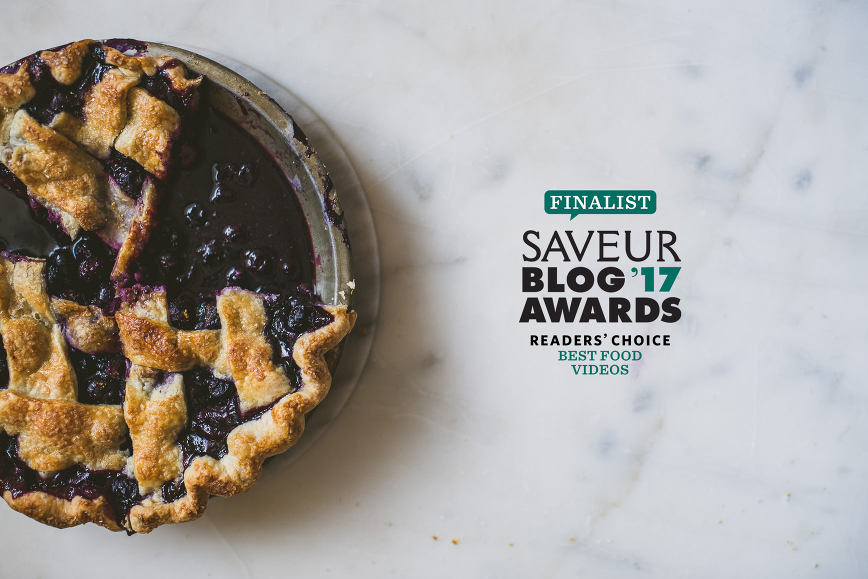 Friends, you never cease to amaze me with your generosity and support – I'm so excited to announce I'm a finalist for Saveur Magazine's Annual Blog Awards 2017, in Best Food Videos!!!!!!!!!!! What?!!!! I'm so touched. I was nominated last year for Best Photography, and that was a humbling and amazing experience, but this year, I'm FLABBERGASTED and so emotional, because I never really considered myself as a cinematographer – still don't, actually. My videos are more, well, photography right? As you may have noticed, I have a slight obsession with creating stop-motion videos of food (like this babka one and this pear galette), and in fact, you can make your OWN stop-motion video via this tutorial, and I'm BLOWN AWAY to be nominated for these!!! Thank you, sincerely. I can't even express how grateful and humbled I am <3.
If you feel so inclined, a vote for my blog for "Best Food Videos" would be super appreciated <3. You can vote here: VOTE!!
And now I have this recipe for you – honestly the best pie I've ever made. It's really the flavor combination – ripe, sweet blueberries complemented by the fragrant, citrus-y yuzu. My husband Alex will forever love apple pie, but even he admitted this pie was particularly tasty, and then very un-healthily ate half the pie. I brought this yuzu powder home from Kyoto, Japan (must blog about my trip soon) and have been dying to put it to use. Sometimes I unscrew the top and just… smell. It's sooo fragrant. Just a teaspoon will give a treat a wonderful subtle aroma of yuzu.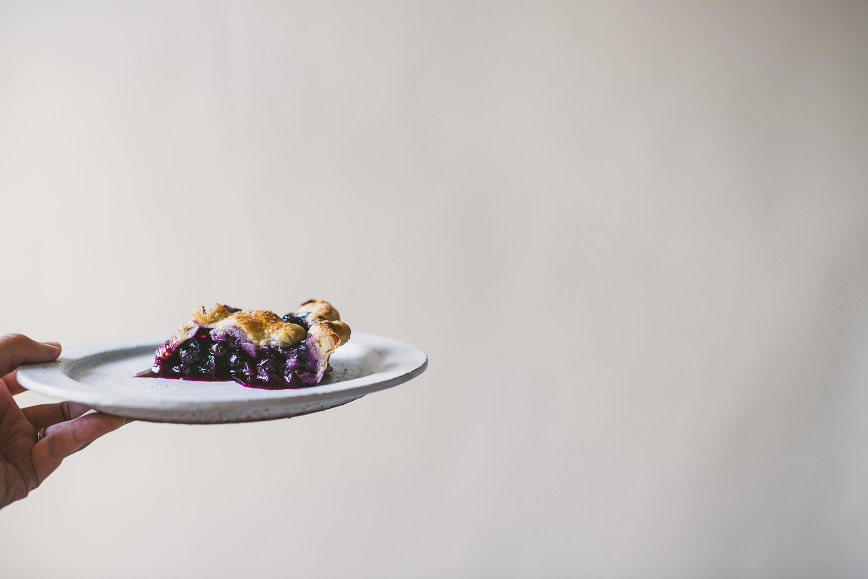 I used my go-to pie recipe, the one from Four and twenty blackbirds, but I omit the apple cider vinegar. I just use ice cold water, chilled ingredients, and this pie crust has never failed me. I did a classic slanted lattice crust (though you can also do a fancy cut-out crust, etc), as illustrated by this stop motion video: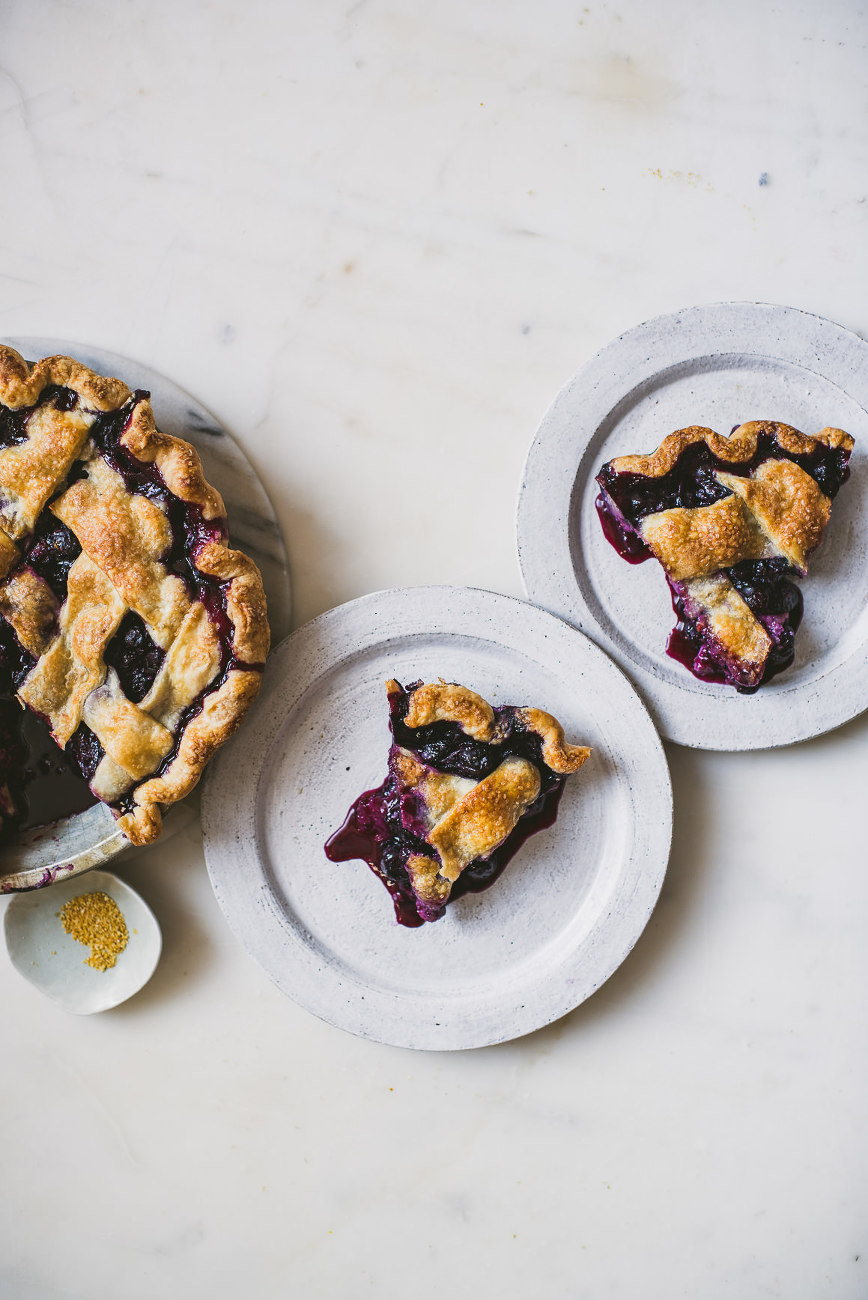 You know, this last week I was feeling really overwhelmed – by school, by weddings which picked up again, by all the various tasks I have to take care of for August/September (surgery starts in October, so I'm making sure to keep Oct-Dec very clear). Then, I got the email about Saveur. That perked me up. Then I realized I didn't do as well on an exam as I wanted to, so that sucked. And then I made dumplings and invited friends over, and after spending the day prior to dinner being anxious and stressed over if there's enough food, are these dumplings good enough, is the place clean enough, what if annie acts out, etc, it was actually a really lovely get together and all those worries kind of faded away. And then we took a nice walk with the dog to the convenient store to buy Alex a toothbrush because I accidentally threw his out in the frenzy of pre-guest cleaning. I have to be better at coping with stress. I have two coping mechanisms I go between: sometimes I just do nothing and indulge, watch TV or a movie or read a book to "escape". Other times I do something entirely for myself, such as go to yoga or bake (like this pie), and it actually energizes me and I feel more capable of moving on to the next task, which is a much more positive coping mechanism, for me. When I was studying for my big exam in March/April, I got into the habit of going to a class called "yoga sculpt" 3 times a week, and it did wonders for my state of mind. I have to pick that up again!  Anyway, how do you cope with stress and not let it overwhelm you?
On the other hand, I'm truly enjoying third year so far. It's a completely different experience, finally away from the classroom and lectures and into the hospital, interacting with people and applying what we've learned. It's humbling and completely re-affirms this path I'm on. So though most of my time is at work, it's very fulfilling and makes me excited for the years to come. I'm sad I can't spend too much time on this blog, but the way I de-stress does involve creating, so I don't anticipate this blog actually stopping :).





I love summer's bountiful produce. It's all so colorful, with amazing flavors and variety, and sometimes my meal consists of just fruit – not the best nutritionally but so good and cooling. Alex is allergic/sensitive to watermelon, but that doesn't stop me from scooping up watermelon directly out of a half watermelon while he eats something else ;).



RECIPE: Blueberry Yuzu Pie
Double Pie-crust, 9″ 
2 1/2 cups flour
2 sticks butter, cubed into 1 cm pieces, cold – prepare this beforehand
1 tsp salt
3 tsp sugar
3/4 cup ice- cold water

Prepare: Cube butter into 1cm pieces, and place it in a bowl in the freezer. I find that this allows the butter to get very cold before you work with it. Place cold water into the freezer as well. Don't worry about it freezing- you will use it before it can freeze.
Combine flour, salt, sugar.
Take cold butter, and using a pastry cutter, fork, or fingers, work quickly and cut butter into dry ingredients. Pea size chunks will remain, and that's completely fine.
Take your cold water out from the freezer and using tablespoons at a time, mix it into dry ingredients until just combined. Do not overmix or knead. Add the mixture gradually – you can always add more water, but you can't take it out. The resulting dough should be damp but not moist.
Separate dough into two halves. Shape into disks and wrap with plastic wrap. Place in fridge. Let dough rest for at least 1 hour.
Blueberry Yuzu Filling
2  pounds blueberries
3 tbsp cornstarch
1/2 cup sugar (if your blueberries are more tart, use more sugar)
pinch salt
2 tsp yuzu powder (you can find it on amazon)

1 egg + water beaten
demarara sugar
Preheat oven to 375F.
Roll one disc of pie dough out and place over pie dish. Chill in fridge. Meanwhile, toss blueberries, yuzu powder, sugar, cornstarch together, using your hands to slightly mush some of the berries. Use a slotted spoon to scoop out berries into the chilled pie crust, leaving residual fluids.
Roll out other disc of pie dough and slice into 1-1.5″ strips. Lattice as per video above. Crimp edges.
Place entire pie into the fridge and call for at least 15 minutes.
Brush with egg wash and sprinkle with demarara sugar. Place on baking sheet and bake for around 60 minutes, until crust is golden brown and filling is bubbling. Remove and let sit for at least 20 minutes before serving.