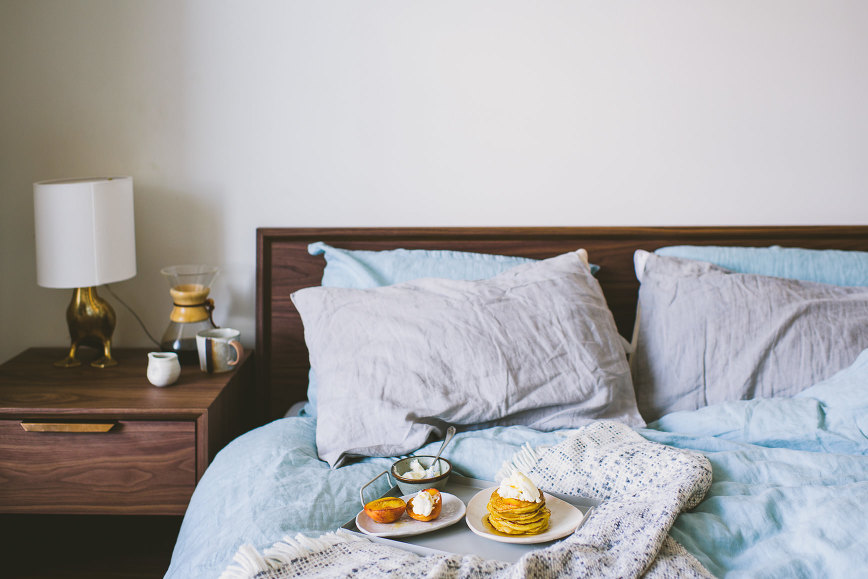 Who doesn't like breakfast in bed? It's a lovely way to take things slowly on a weekend morning. There's something so indulgent about the process that even though there's the possibility of things getting messy, I still love to do this once in awhile. I find myself doing this more in the winter, because COZY right? But when I'm having a particularly stressful week, sometimes taking time for myself to do whatever strikes my fancy (including breakfast in bed) is exactly the remedy I need. Scroll down for the recipe for lovely juicy caramelized peach pancakes with heavenly chamomile cream.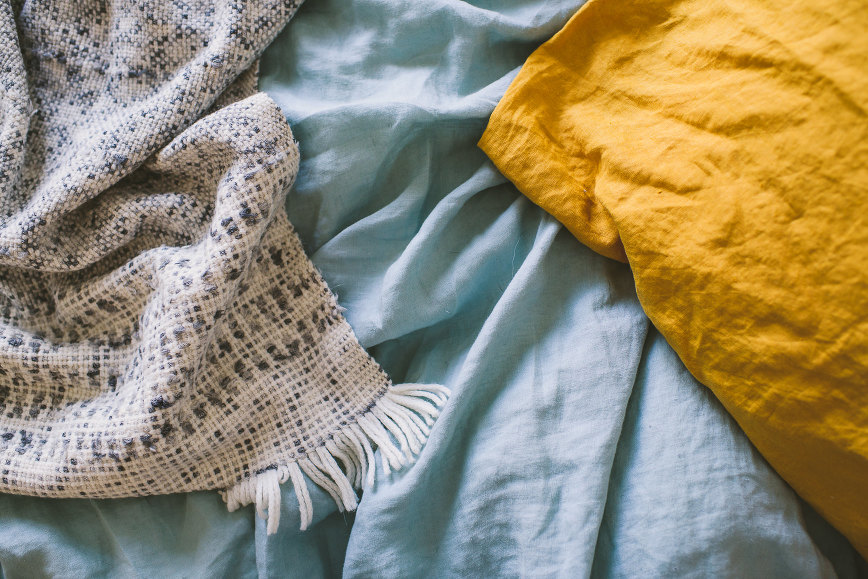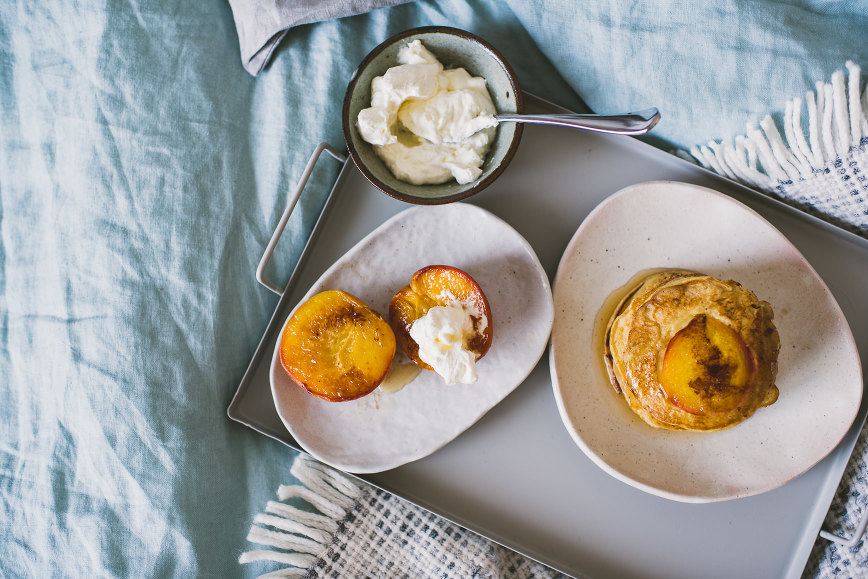 When I was studying architecture, I could survive on 4-5 hours of sleep (oh youth), but I've come to realize just how important sleep is to my functionality, mood, efficiency for the next day. I think a good mattress, linens, and improved sleep hygiene TRULY makes a difference. Alex and I have been subsisting on pretty sub-par sheets since we moved to Boston, but to be honest, that's all we've ever known. We finally decided to switch to linen, mostly because I hear such ravings about them (and let's be honest, linen is gorgeous, I mean look at those textures). We're now coaxed into sleep on heavenly linens from Morrow Soft Goods, and we also got a new mattress, specifically tailored to our sleep habits, from Helix Sleep, on a new beautiful bed set by rove concepts. I try not to stare at my phone before sleeping and instead read a bit from books? I'm trying, anyway. These little changes have really helped, and even Alex agreed that switching to linens was one of our best sleep decisions yet. Have you found changing your night routine to be helpful?
The bed set is by rove concepts, and it is an absolute joy. Tidying up and re-imagining my bedroom has actually made a subtle but noticeable difference – thank you  rove concepts for the set!









I was introduced to Morrow Soft Goods actually because my amazingly talented New Zealand friends Sophie and Si did their lookbook, and I bookmarked these because I knew the switch to linen sheets will happen someday. I've gotten to know the brand, and I absolutely love what they stand for. After two months of sleeping in their French linen sheets, I can honestly say their linens are a dream to sleep in. They're based in Los Angeles, and their focus is to create stylish, comfortable, durable soft goods. I can attest to this. Right now, though, I'm really loving that deep mustard yellow, called Sahara.
Now, let's talk about this recipe. It's simple. It's just a fluffy buttermilk pancake with a juicy slice of peach cooked in the middle, so that the peach can cook and become caramelized as the pancake cooks. I also caramelized up some peaches separately to eat on the side, because honestly caramelized peaches are absolutely delicious. They're like those soft canned peaches, but you get to control how cooked/soft they get, PLUS they're caramelized!!!!!! That nutty aromatic flavor on one side really sets the whole thing off, and I could even forgo the pancakes and just have caramelized peaches + chamomile cream.



If you're looking for more caramelized peach recipes, you can check out my caramelized peach caprese panini, one of my FAVORITE recipes, ever.
By the way, have you voted for your favorites for the Saveur blog awards?? I'm up for best food video *hint* :).
---
SOURCES:
beautiful bed linens & alpaca throw- morrow soft goods / bed frame + bedside cabinet – rove concepts / tray – Freight / mattress Helix Sleep
---
This is inspired by Smitten Kitchen's peach pancakes on Food52, but I used a classic buttermilk batter which I loooove, and whipped up a simple chamomile cream for some more floral-ness, though that's totally optional. I also caramelized the peach with some extra sugar for that extra punch of caramel goodness.
Recipes:
Caramelized Peach Pancakes with Chamomile Cream
3/4 cups all purpose flour
2 tbsp sugar
1 tsp baking powder
1/2 tsp baking soda
¼ tsp cinnamon
1 tsp salt
1 cup buttermilk
2 tbsp butter, melted
1 large egg
2 tbsp vanilla
butter for cooking pancakes
Whisk together egg, buttermilk, sugar until combined. Whisk dry ingredients together. Gently fold wet and dry together until just combined. There will be lumps remaining.
Heat a nonstick skillet over medium-low heat, add some butter and let foam. Add 1/3 cup pancake to the skillet and let a round form. Place a slice of peach right in the middle, and sprinkle some sugar on the peach slice. When pancake begins to set and bubbles form around the peach, flip gently so that the peach slice now is on the skillet surface. Add more butter if needed. Cook until peach slices caramelizes, about 5 minutes.
Caramelized Peaches
*I'm not putting measurements because it depends on the amount of peaches you caramelize, but it's basically a 1:1 butter and sugar ratio. Use your best judgement! It's very hard to mess this one up

light brown sugar
pitted and sliced peaches
butter
Melt butter and dissolve sugar in butter in a cast iron skillet over medium heat. Add peach slice and let sit without stirring until caramelized, about 5 minutes. Serve immediately.
Chamomile Cream
1 cup chilled heavy cream
2 tsp dried chamomile flowers
2 tablespoons sugar
Heat heavy cream in a small saucepan over medium-low heat until bubbles just start to form. Remove pan from heat. Add in chamomile and cover. Let steep for at least 20 minutes. Then place in fridge and cool until cold, preferably overnight (this is great to do the day before).
In the bowl of a stand mixer, strain heavy cream. Add 2 tbsp sugar, and beat until soft peaks form.
Enjoy! Don't forget coffee