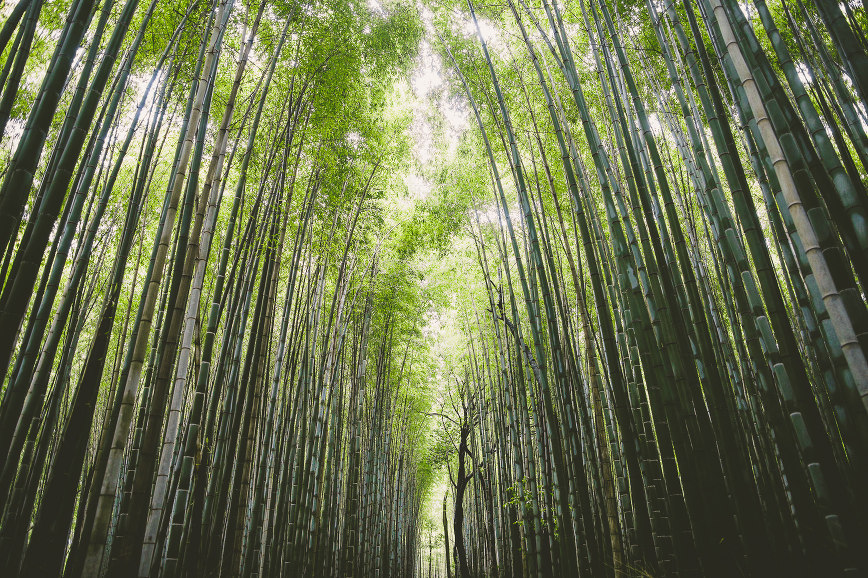 Have you ever visited a place with much anticipation and excitement, to find that you felt not only a sense of discovery but also a sense of peace, like you could imagine yourself living there? I'm not much of a writer, so I'll put it plainly: Kyoto is a magical place: historical streets with traditional buildings  persist, food markets bustle with activity, offering all the spices, pickled foods, artisan goods, bushels of tea. Just wandering around the streets, I felt immersed in this city, this city that welcomes tourists from Japan and the world with open arms. When I go somewhere, I love 1) eating 2) exploring 3) learning 4) participating vs passively observing. In Kyoto, I did all of these, and more.
Before I go on, I'm really excited to announce I'm hosting a workshop with dear Chikae, in Kyoto in January 2018!!!!! See more details here – spots are VERY limited as it will be more of an intimate, immersive retreat, and we've already sold half, so email me at bettysliu07[at]gmail to register :). – update: SOLD OUT! Yay thanks!

Three years ago Alex and I stopped by Tokyo briefly on our way back from China, and we fell in love with the vibrant city. We quickly went to Nikkou, a beautiful waterfall-ridden town outside of Tokyo, and that's when I felt true longing to stay and explore Japan more. In Nikkou, Alex and I had our mini honeymoon (as China was more of a family visit than anything). We stayed in a beautiful traditional ryokan and enjoyed my first seasonal kaiseki meal and greeted the day with traditional Japanese breakfast, sitting by a window overlooking the lake. I remember that morning vividly. We were dressed in our traditional yukatas and slippers, and we were served an exquisite multi-course traditional breakfast, including tofu, fish, vegetables, tea. The customer service, the attention to detail, the food as an art form, the onsen, the hikes – Japan very quickly shot up high on my favorite places on earth list. That was 2014.
This year, 2017, I went with my family – my parents + my twin sister (yup, bet you didn't know that ;)) – to Tokyo, Kyoto, Nara, Osaka, Hakone. Posts on the other cities will be up on the blog eventually, but for now let's talk Kyoto/Nara. I'll be sharing places we visited in no specific order – I don't see this as really a guide but a photo essay of these beautiful cities, with a list of places we went. I think I was struck mostly by the tranquility of these cities. They're ancient, historic cities rich with tradition and culture.
KYOTO
Let's start with the temples. They are everywhere in Kyoto. You can wander to a random neighborhood and discover smaller temples, off the beaten path. Whole areas are dedicated to temples/shrines, and even if you aren't a fan of visiting temples, at least go to a few. As this was my first time to Kyoto and just for a few days, we couldn't pay homage to all of them, but we went to a few:
Fushimi Inari Taisha – come as early as you can in the morning, as soon as it opens. The path up to the shrine is serene, quiet, almost abandoned. The path through these structures are almost empty, and it's a matter of just waiting for the people in front of you to round the corner so you can grab a shot. At one point I just stood there, gazing down, unable to see an end due to the curve, mesmerized.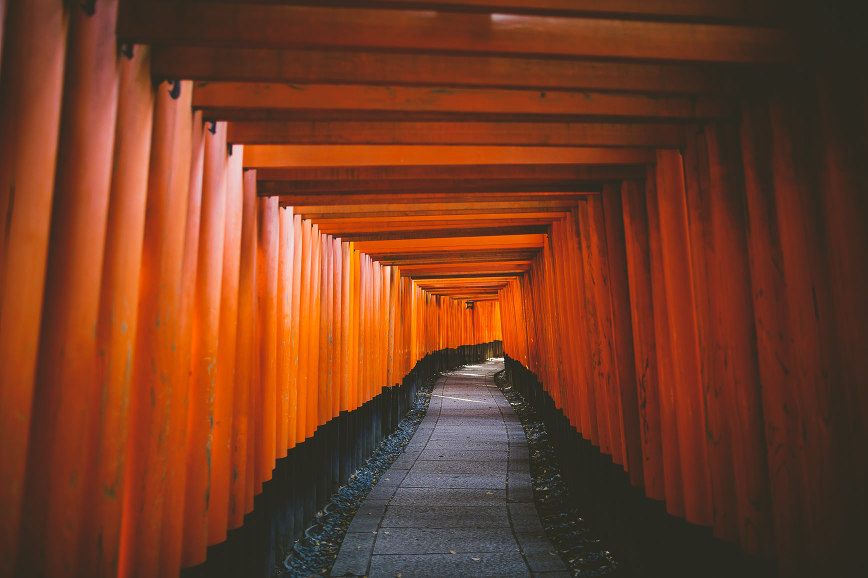 Anyone will tell you, it's the return that's actually the most beautiful – this is where you see the words, the dedications to various donors to the shrine. Because we went early in the morning, we were able to capture the beautiful dappled light streaming through.





Kinkaku-Ji – the famous temple of golden pavilion, with a stunning coat of gold leaf. It's a bit far from city center but worth the trip. And then you can make way to Stardust Cafe, as recommended by Beth of Local Milk (otherwise I would never have known).



Kyomizu-dera is an absolute MUST SEE. My friend Chikae, who I'm hosting the workshop with, recommended this to me as her favorite area, not only because of the temple itself but because of the path getting to/from there. It sits in this beautiful village with artisan goods, and it was around these streets I was able to find some of the ceramics I brought home. Definitely set aside some time in this area to just wander. While we were there, this gorgeous temple was unfortunately under construction, so much of the facade was covered… However, there is quite a stunning view of the city.


Saiho-Ji, Kokedera Moss Temple. This little secret moss garden came to me via Sarah of SnixyKitchen, to whom I will be forever grateful. It's a traditional temple built in the 700s, with over 120 varieties of moss. Apparently the moss wasn't intentional but grew wild after a period of neglect. This Japanese garden became the model for many Japanese gardens across the country. I loved this because it's a bit out of the city as well, and you have to make a reservation via Japan snail-mail to enter.
Therefore, there are no crowds. NO CROWDS. This is also where you can truly participate. Before perusing the garden, you must copy out two pages of sutra, with either a calligraphy pen or the traditional brush + ink way. The entire script was in kanji, which are essentially Chinese characters. So at least I could read it. Of course, my mom and dad were skilled and breezed through quickly. My sister and I actually did take calligraphy lessons when we were young, and the advantage was that we knew the brush stroke order, which is arguably one of the most important things to know when doing calligraphy like this, but we were slow. While we painstakingly tried to complete our sutra, monks at the temple chanted sutra. At the end, you write out a wish on the cover of the sutra, and then hand it to the monks for safekeeping, and kneel/bow. It was quite meditative, a nice break from the sight seeing. After that, came the jaw-droopingly gorgeous moss garden.











Arashiyama / Sagano Road / Chikurin Bamboo Forest – do I need to introduce this place? It's the most beautiful bamboo forest / park, and it's well worth the effort. The moss temple is actually in the same general area, so you can do these consecutively. The other place Sarah recommended is Shoraian, a kaiseki restaurant that serves tofu. All the courses are tofu-related, including the dessert, and it was spectacular. A truly innovative, creative dinner (something that of course, the Japanese have been eating for centuries, nothing new, just new to me, and I feel like I know tofu more than the layman).










Ninenzaka/Sannenzaka and Higashiyama District – beautiful streets of historic Kyoto, with traditional architecture, teahouses, charming shops. you'll find people dressed in kimonos (you can rent them lol) and shuffling around in their traditional slippers, taking selfies. It's such a cute area. Here, you can actually wander!!! Also don't forget to go to Nishiki Market.



















NARA
We did Nara in a day trip, but I wish we had more time here. I actually was first ambivalent about going, because I didn't care that much about feeding deer, but my sister loves animals (we went to bunny cafe, owl cafe in Tokyo) and so we went, and I'm SO glad we did!!!! Nara used to be the capital of Japan and is truly an ancient, historic city. Nara boasts some of the oldest Buddhist temples in Japan, and though we didn't visit them all, we did visit one that stayed with me: Toshodai-ji temple. My dad was the one who instilled in me a love for art and design, for history and tradition. He would always insist we stop and read the information displays in museums, and he ALWAYS knew the backstory and history of architectural sites. I actually first learned photography from him – he gave me my first camera. We can nerd out about everything from fermentation (when I started brewing kombucha he surprised me by telling me he brewed kombucha every summer in China!) to Leicas (he used to shoot with one and it lives in China still). My parents were remarkably tolerant of my quest for ceramics in Japan, but there was one temple he really wanted to visit in Nara, this Toshodai-ji. I knew little of it but it became one of my favorite temples in Japan – peaceful, serene, off the beaten path, gorgeous traditional architecture and space.









What I also found charming was all the little plots of farmland everywhere, manned by families.

KYOTO:
Fushimi inari Taisha – a must see in my opinion, go early to avoid crowds
Kinkaku-ji (golden temple)
Kyomizudera – I loved walking around this temple, and you can find a lot of pottery shops here. I found a gorgeous pale-blue bowl in one of the shops here
Jakko-in temple and Sanzen-in temple in Ohara
Saiho-ji (Kokedera Moss Temple) – secret buddhist temple with incredibly serene moss garden build in 700s, a model for Japanese gardens. you must make an appointment via snail mail. So worth it
Arashiyama, Sagano Road (Chikurin Bamboo forest) – a must see, obviously
Higashiyama District – historical Kyoto
Ninenzaka / Sannenzaka streets – more beautiful traditional buildings, historic area
Nishiki Market (Aritsuga Knives, whiskey, spices such as yuzu powder) – just wander.
Naito Shoten – beautiful brushes/brooms – I couldn't bring anything back due to lack of space but I wish I did!
Sampei for tonkatsu in Nishikyo-ku – we just stumbled on this on the way to Arashiyama but oh my, this small, family-run tonkatsu joint was place heavenly.
Arata okonomiyaki and teppanyaki – one of my FAVORITE, no-fuss meals.
hiro yakiniku– for Japanese BBQ
Shoraian – tofu kaiseki, truly a different way of eating tofu
Monk – I haven't tried this yet, but multiple people have recommended this to me – seasonal cuisine – I'm bookmarking it for next time.
(because coffee is a must, always)
Kei's Coffee Oggi
% arabica coffee
stardust coffee – super cute with beautiful interior, but a bit far and hard to get to.
Kyoto Ichi no den – traditional desserts in traditional setting
Hi-jiru cafe 
NARA
Toshodai-ji + little pottery shop – there is a tiny little antique/pottery shop along the road to this temple. The temple by itself is worth a visit, but for those of you looking for pottery: If you exit the temple and turn right, keep walking and follow the signs to the bus station. You will stumble on this shop where I bought the cutest ceramics.
Nara park: for all the cute deer. Beware, because they will try to take your food!
PS – I have been really on a film kick recently – can you spot the bunch of film in this post? I'm pretty obsessed- they're some of my favorite photos. I used Leica M6 with mostly Portra 400 film. Also I realized I didn't document much of the food in Kyoto. I think I was too busy in a gastronomical heaven ;).