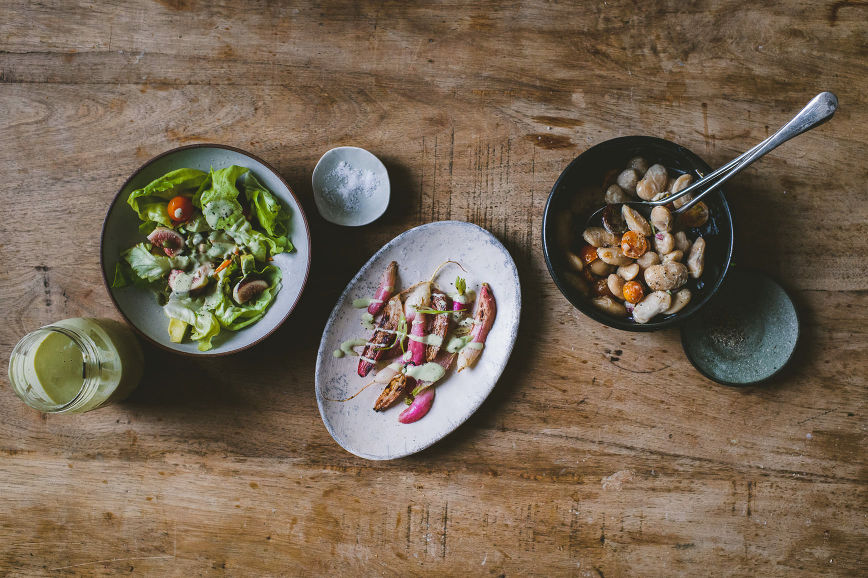 I'm allergic to tree nuts (except pistachios) – and this allergy has actually led to motivation for many of the recipes on my blog, some of my favorites:salty honey seed pie for thanksgiving, black and white sesame milks, sesame-based marzipan. The next seed-based treat I'm thinking up (and will hopefully make) is a seed-based baklava!!! WE'LL SEE. This is another one, and one I'm VERY excited about, because it's not a decadent dessert – it's a dressing that you can use on a daily basis. I've made vinaigrettes and other thinner dressings, because that's really what I gravitate towards – I've never been a creamy dressing kind of person, but this dressing changes everything. It's creamy and thick, and ripe with a nutty flavor that comes from pumpkin seeds. It takes on this delicate, pale, green color, has some tang, but is subtle and mild enough to coat a salad, beans, or whatever you want, and provide that extra nuttiness in flavor. It's a simple recipe: a small amount of thick pumpkin seed milk, something sweet, a clove of garlic, vinegar, good olive oil – blend it all in a trusty vitamix, and you are set.
This post is sponsored by vitamix. All opinions expressed are purely my own, as always. Thank you so much for supporting the companies that support this blog. 
A week ago, I went to a wedding – as a guest. This is rare – actually, this is my first time as a guest vs as a wedding photographer. We were celebrating the wedding of my dear friend from college, and I felt giddy at the thought of dressing up, catching up with college friends, meeting some of her other friends, eating all the apps. As a wedding photographer we're often busy during cocktail hour, and while the staff very wonderfully brings food to the bride and groom during photo sessions, we're usually left empty-stomached until our vendor meal (which is usually boiled chicken with mashed potatoes). Sometimes, the staff takes pity on us and comes by to offer us food, and other time our couple actually very eagerly offers us some of the appetizers as well. It's not something we expect, so it's always a bonus when we get to taste some of the passed appetizers.
As a guest, I can eat all the apps I want. The ceremony was beautiful – it was in a greenhouse on a rainy day, but when Rachel walked down the aisle the sun blossomed out of the clouds, and the greenhouse was bathed in the most ethereal light – I almost wished I were the photographer because that moment was so beautiful! Afterwards, the wedding party is taking photos so Alex and I went to mingle and make small talk (noooo), and find apps. We find someone with a plate of little morsels of something with a creme fraiche possibly, and she dutifully recites, this has apple, creme fraiche, mango. I didn't hear a single nut in it. Alex didn't either. So, like a naive idiot, I just take one and plop it into my mouth. A few minuets later – I get the telltale signs of my allergic reaction. I should clarify: everyone who has an allergy can react in different ways – some people get anaphylaxis, some get hives. I start with my mouth – I get this weird pulsing feeling that makes me grimace and cringe. Over the years I think my reaction has gotten worse – before, I would never get a hint of anaphylaxis, but recently when I encounter a nut I do start to feel my throat closing up. Last time (actually the day before I left for Japan), I had to take s inhaled steroids and use my rescue inhaler as well as Benadryl. I've never had to use my epi-pen, though, thankfully. I do keep it around all the time, and I had it at the wedding.
This time, the reaction was more scary. I felt my throat closing up – but no difficulty breathing, thankfully. I popped two Benadryl, which effectively made me woozy for the rest of the night. I then proceeded to run to the bathroom and throw up. We have histamine receptors in our GI tract, and I'm assuming that is what made me feel this way – I've never thrown up due to an allergic reaction before. Weird. As I was throwing up, another guest walks into the bathroom. I hear a tentative, hesitant voice – "Are you oK? Um… do you need to talk to someone, even if it's a random stranger?" Immediately, I felt a rush of relief and warmth. She couldn't really help in any way, but her offer of help, of consolation, reached me and comforted me. I told her I was having an allergic reaction, I've taken medication, but I really appreciated her thoughts.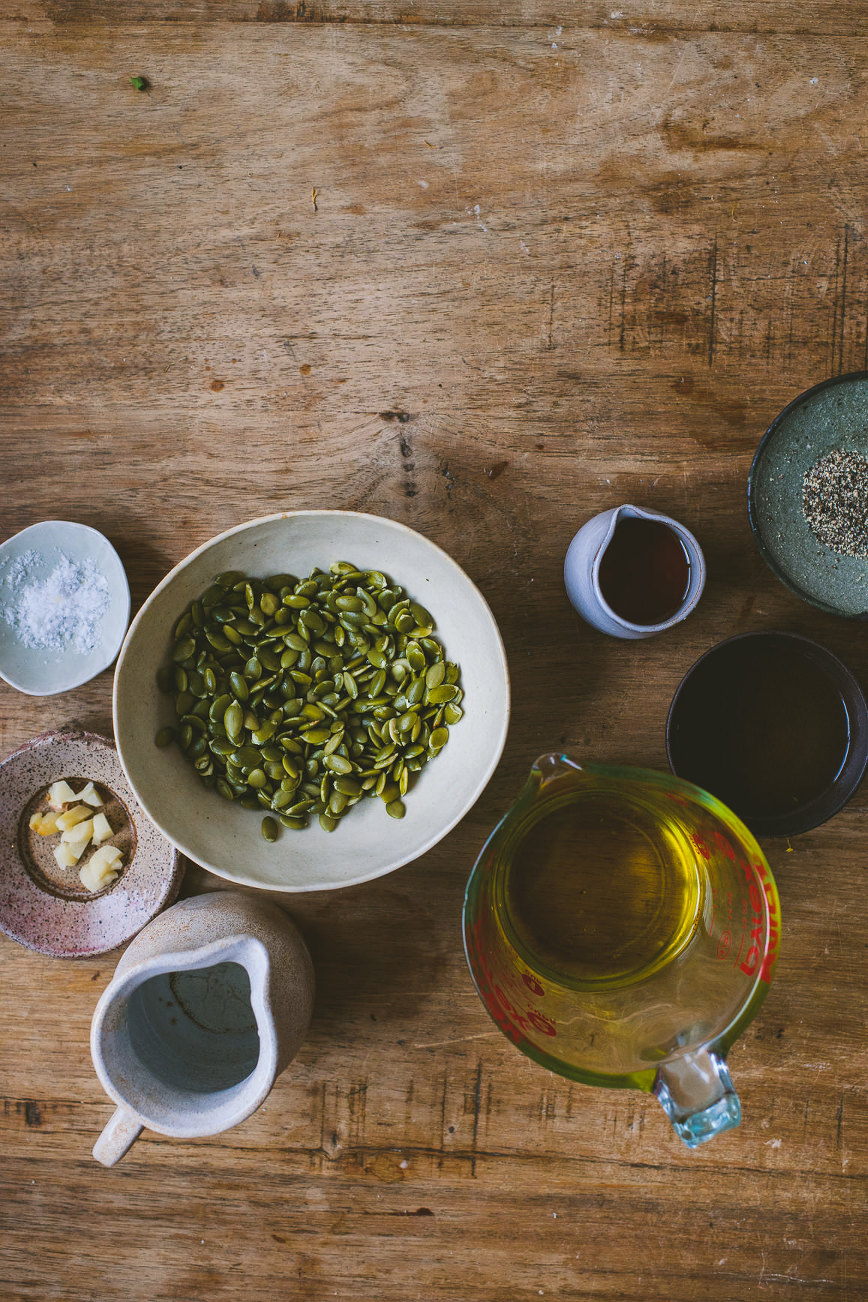 The rest of the wedding is sort of in a sleepy blur – heavy eyelids, beautiful speeches and dancing, yummy large do-rite donuts.
Lesson learned? Just freakin' ask if there are nuts, don't assume from a parroted list of ingredients.
Let's just avoid more nuts, and make this pumpkin seed dressing with me ;). As examples, I used this dressing on roasted radishes, giant beans with tomatoes, and a simple butter lettuce salad. Yum.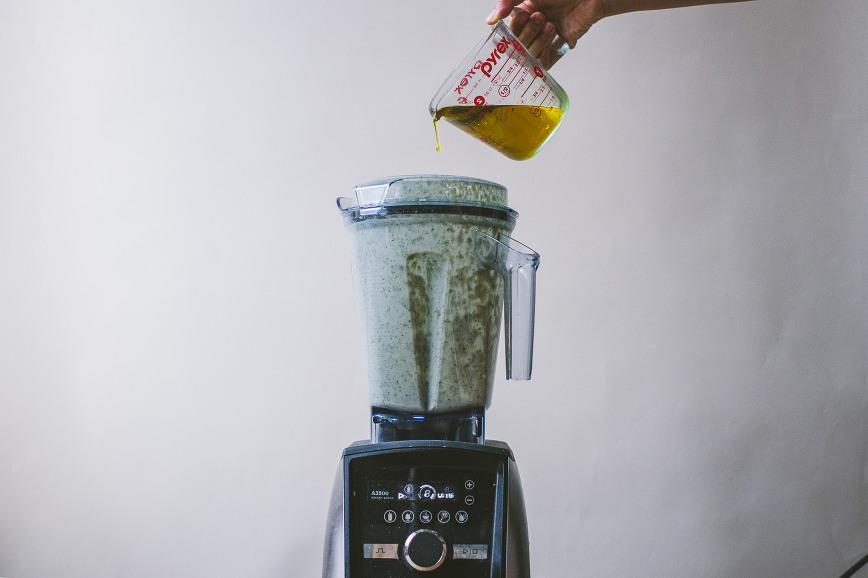 RECIPE: Pumpkin Seed Dressing
1 cup pumpkin seeds, soaked overnight
½ cup water
1 clove garlic
2 tbsp maple syrup
¼ cup vinegar
¾ cup olive oil
salt and pepper, to taste
Drain pumpkin seeds. Blend with water in a vitamix blender. Add garlic, maple syrup, vinegar. blend on high. Open up drizzle lid, and on low, drizzle in olive oil. Re-fit drizzle lid and blend on high for 30s – 1 minute. Adjust to taste with salt and pepper.
Because of the nature of this dressing, it will solidify in the fridge, and that's normal. To use, simply scoop some into a bowl and swirl it with a spoon, and it will instantly liquify.