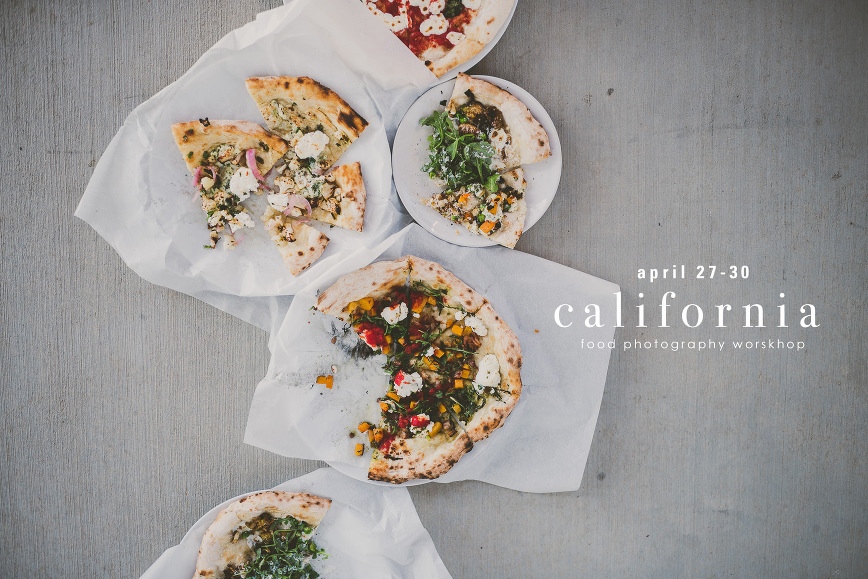 Point Reyes Food Photography Workshop
four days of hands-on lessons, exploring what makes a compelling food story, in beautiful Point Reyes, by the coast and on a working goat farm!!
SOLD OUT! Wow, thank you!
Join Bella of Ful Filled and me in the picturesque, vibrant Marin County for four days of creativity and inspiration, of learning, styling, and photographing. We'll be in a beautiful farmhouse on a working goat dairy farm right in Point Reyes. We'll be a short distance from the coast and be awarded with sweeping views and seaside air. I grew up in the bay area – this location is close to my heart, and I cannot wait to share this beautiful area with you, while we examine how to capture the microstories of food.
The days will be dedicated to learning and exploration, but we'll gather around for dinner with chef-cooked meals and spend the evenings sharing experiences, having warm conversations, and get to know one another (one of my favorite parts about these workshops). We'll enjoy a farm tour, head to the beach, and enjoy everything this area has to offer. We're already working on the spring menu with professional chef Matt Flores, who will be lovingly cooking our meals throughout the retreat, and trust me – it is amazing!!!!!! Our feasts will consist of the freshest local dairy, meats & seasonal produce that we will in turn use to style still lifes and document action while being inspired by our surroundings and each other.
The Point Reyes region is located on the pristine Pacific Ocean coastline of Marin County California. Renowned for its untouched beauty, with more than 50% of the land being designated open space, the landscape is filled with rolling hills, towering forests and rugged beaches. Being the least populated region of the bay area, going to Point Reyes feels like a time warp, with time slowing down to a speed that can be compared to unhurried pace of the cattle, goats & sheep that wander the sloping landcapes.
We will be staying in the quaint small town of Tomales located along scenic Highway One just beyond Dillon Beach & Tomales Bay. Being surrounded by both farmland and water, there is a special kind of seamlessness between the act of eating and just being in nature while staying here. The loveliness of these landscapes, which flank the Point Reyes National Seashore, are in fact shaped largely by food and the raising of it. We will get to experience firsthand the rhythm of farm life as we retreat in a modern farmhouse set on a restored dairy farm. With fresh eggs from the chickens, honey from the bees and award winning cheese produced at the creamery adjacent to the farmhouse, being set on a working farm will make for deeply meaningful food stories.
---
Workshop highlights 
Live Storytelling / We'll put together beautifully styled food stories and demonstrate how we choose a shooting space, how we select props to fit the scene. We'll go on a farm tour, bake and style galettes, cakes, and wood-fired pizzas, all stories we can practice documenting.
Incorporating the Human Element / A huge part of both Bella and my work is including the human element in our food stories, instantly activating a photo with that human presence. We'll talk about how we accomplish this – what our setup looks like. We'll have opportunities for you to capture those action shots that add so much life and movement to a photo.
Lightroom demonstration & preset building / I cannot emphasize enough the importance of editing and therefore creating a consistent look – your personal voice. Styling and light are important to building your style, but the editing is the last "stamp" you have to make that photos yours and will take your work to the next level. We'll sit down to a collective lightroom editing session, where we'll talk about post-processing and how to develop your own preset to get the look you want consistently.
Photo lessons / Naturally, before we dive into styled scenes and shoots, we'll cover the basics of photography to get you comfortable with manual mode (aperture, ISO, shutter speed).
Smart Phone Photography / This may come as a shock to you, but a lot of Bella's social media work is done with her cell phone – both video and still. Her work is a perfect example of how light, styling, and vision can create a beautiful image regardless of the tool used to take the photo. Bella will teach a segment on how she creates her work with a cell phone.
Explore / This farmhouse is on a working goat dairy farm, situated in Point Reyes in Marin County – a beautiful area of Northern California, a short distance from the coast. With beautiful views and lush fertile land, this land will be our home for four days. We'll embark on a farm tour to say hello to the goats. We'll take a trip to the beach and style a scene – simply enjoy the sun and seaside air.
Workflow / We'll go over workflow, from taking photos, backing up, and processing, to the blog post stage and we'll give tips and tricks on how to speed this process up!!!
Marketing / We'll have discussions on blogging, blog sponsorship, and how to navigate the murky waters of Instagram and create a consistent feed to showcase yourself and your brand. Bella in particular has created viral Instagram videos (reaching half a million views!) and is constantly featured on Saveur and Food52's feeds – we'll talk about how to promote yourself and get noticed by brands!
Reflection / An important part of any design or artistic process is reflection and critique. We'll showcase our work and encourage the camaraderie of collective critique, examining our personal preferences and what our eye is drawn towards. We'll reflect on our work and by doing so, evolve our creative process and find inspiration from each other.
All levels welcome, and if you are looking for a particular aspect, feel free to email me!
---
Workshop Details

April 27-30, 2017
Point Reyes, CA
taught by betty & bella
Ticket Options:
SOLD OUT! 
Included:
all lessons and discussions
3 nights lodging, 3 dinners, 3 lunches, 3 breakfasts
welcome gifts
other drinks and bites during the workshop
activities / excursions
Nearest Airports:
SFO and OAK
*Please note that airfare, transportation to and from workshop are not included in the ticket price
*bring your DSLR and laptop if you wish to participate in photo and editing sessions
REGISTER: To reserve your spot, email me at bettysliu07 [at] gmail.com.
Initial payment of 50% is needed for registration and a final payment will be dueby March 30th. Due to the nature of this workshop, this workshop is nonrefundable. Workshops have sold out extremely quickly in the past, and there are limited spots, so make sure to snag your spot now!