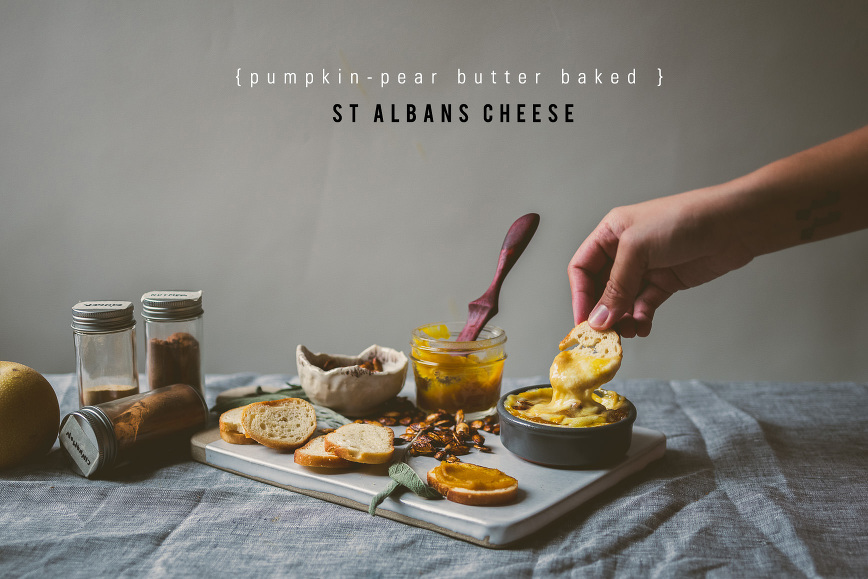 They're here!!! Two extremely exciting events, ones I've been looking forward to months, is here. First, the much anticipated Vermont Creamery new cheese: melty, fondue-like, St Albans aged cow milk cheese!!!!!!!!!! I've been hearing about it for some time but knew it wouldn't be released until this fall. And oh my, it is scrumptious. Second, the (hopefully) annual #virtualpumpkinparty, where the lovely blogger world bursts with creative, ingenious pumpkin recipes, is finally here. A huge thanks to Sara of Cake Over Steak and Aimee of Twigg Studios for putting this together. For the full list of pumpkin recipes, head on over to their blog. What a beautiful day and hopefully, this epic roundup of everything pumpkin will inspire you to go out and nab a few pumpkins to cook with! I made a pumpkin + pear butter, swirled and baked into the melty St Alban's cheese, topped with five-spice maple roasted pumpkin seeds. Each scoop gets that savory sweet melding of flavors, and the crunch of spiced pumpkin seeds – the perfect way to eat mess-free "fondue", right?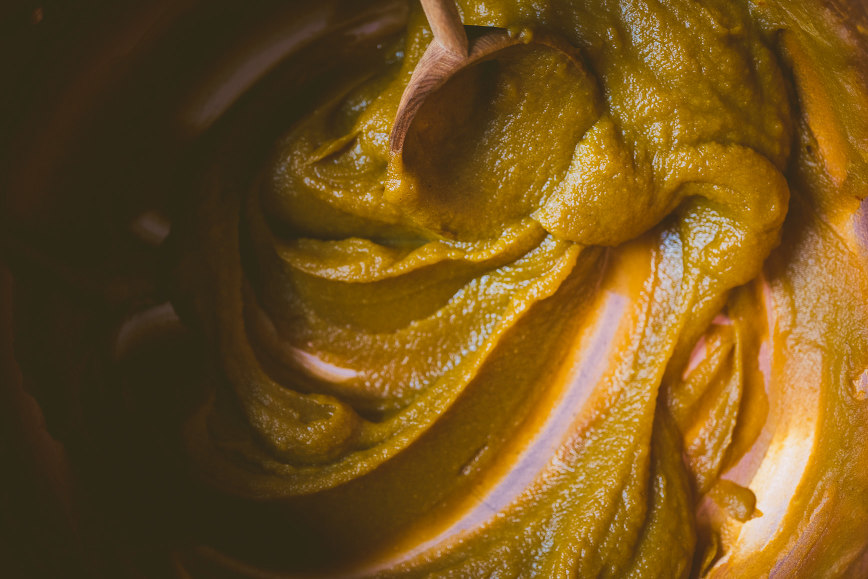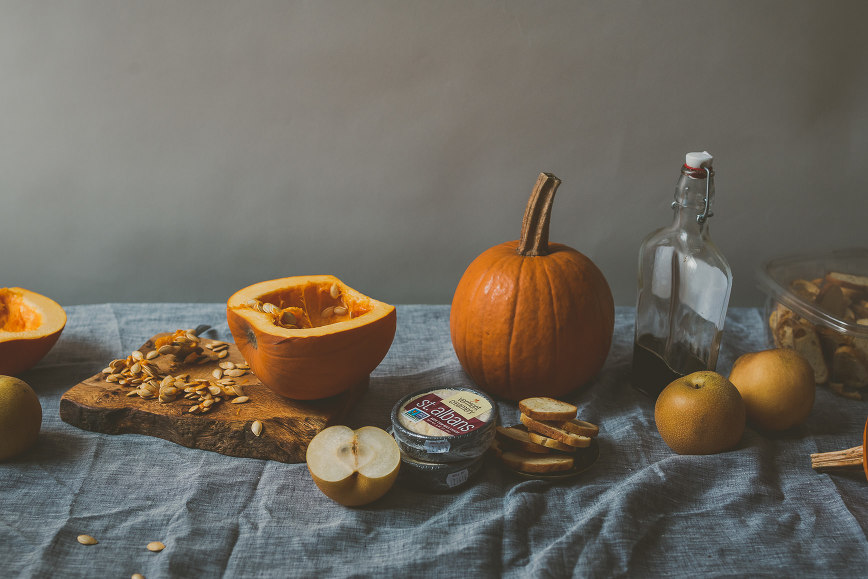 When I lived in California, I'm not sure I totally appreciated the change of seasons. Fall was just the start of school, with slightly cooler temperatures and shorter days. In St Louis, as I biked across campus, I had my first "real" glimpse of the foliage change – I remember biking through a nearby neighborhood on my way to the architecture school and having to stop by the sidewalk because of how beautiful the colors were. Forest Park was beautiful and I fully embraced the freshman year foundation courses, where we often sketched and drew what we saw outside, "forcing" us to be outside. Then, New England. Oh, fall in New England. Not only is the fall foliage resplendent, vibrant, and downright seductive, the whole community celebrates fall with a vigor that draws one in, even if you're not into the seasonal changes. Pumpkins, hay rides, apple picking, apple cider doughnuts, heirloom squashes, scarecrows, Halloween in Salem – ah, the list goes on and on! This recipe I'm sharing today, a pumpkin pear butter baked into aged cow's milk cheese, is totally an ode to New England.
I tasted some pumpkin butter that my friend bought after going apple and pumpkin picking. I was immediately mesmerized – the savory rich pumpkin highlighted by apple flavors, reduced to a creamy consistency – I wanted to spread that over everything. I felt like one of those cartoon characters with thought clouds popping up – pumpkin butter grilled cheese sandwiches, pumpkin butter in yogurt, in oatmeal, over ice cream, mixed in ice cream, over biscuits.. It'd work for both sweets and savory, don't you think? So, when I finally got my hands on St Alban's cheese, I knew exactly what recipe I wanted to create, what would be the perfect combination.





St Alban's is a 100% cow's milk cheese, aged and packaged in a beautiful gray crock. It's soft and perfect for spreading, and if it's warmed up a bit (and the crock makes it easy to just plop in the oven!), it becomes silky smooth, like a fondue. I fell for it, hard.

This pumpkin-pear butter is a DREAM with this cheese, especially when baked, so that the butter and silky cheese swirls and melts together and becomes a perfect pot of cheese to dip crackers or fruit in. I decided to use Asian pears instead of apple, because I'm slightly obsessed with it, and because the juicy sweet asian pears really are a perfect complement to pumpkin. It's pureed with roasted pumpkin flesh, and then it's reduced down until thick and creamy, and easily spreadable. I made a few jars of it, and already I'm down to one. Gave a few away, ate a whole one with friends and more St Albans – it's addicting!!!!!! Toss on roasted 5-spice maple pumpkin seeds (NEVER THROW THEM AWAY), and you've got yourself a great appetizer :).



I'm running to the store shortly to stock up on pumpkin/kabocha/squash, as I've got my eye on this Smoky Pumpkin & Black Sesame Hummus, Pumpkin & Maple Caramel Baked French Toast, Creamy Roasted Squash Soup + Pumpkin Risotto, Truffled Pumpkin Papardelle Alfredo with Frizzled Sage, Pumpkin, Pecan & White Chocolate Ice Cream Sandwiches, and Spicy Pumpkin Noodle Soup!!! There's SO many more, go check out this post for the full list!!


This post is sponsored by vermont creamery.  All opinions expressed are purely my own, as always. Thank you so much for supporting the companies that support this blog!! I discovered vermont creamery about a year ago, and since then have been non-stop munching on their aged goat cheese and using their creme fraiche in just about everything. 
Copper pot – Falk USA \ wooden board and wide round spoon – Created + Found \ apron – Made by Objective
RECIPE: Pumpkin Pear Butter Baked Melty St Alban's 
2 sugar pumpkins
3 lbs pears, peeled and cored, quartered
1/2 cup brown sugar
1/4 cup maple syrup
1 tbsp ground cinnamon
pinch nutmeg
1 tsp five-spice powder
1 tsp lemon juice
pinch sea salt
1/4 cup pear cider, pear juice, or apple cider

1-2 crocks St. Alban's Aged Cow Milk 
Preheat oven to 350F. Slice in pumpkins in half (I slice the cap of the pumpkin off for ease of handling). Scoop out seeds and fibrous guts (but save). Brush with oil, and place face down on baking sheet lined with parchment paper. Roast for 45-50 minutes, until fork tender. Let pumpkins cool for 10 minutes. Remove flesh from skin.
Meanwhile, peel, core pears and quarter. Place in a heavy-bottomed pot (like this jam pot) with ½ cup water. Cook over medium-low heat, until pears are tender and easily mashable, around 15-20 minutes.
Place roasted pumpkin flesh, tender pears and its juices, and pear cider in the blender and blend until smooth. Put back into pan, along with sugar, maple syrup, and spices. Bring to a simmer, then turn heat to medium-low and cook for 30 minutes, using a splash shield to prevent splatters (I put a lid on propped open with a wooden spoon), stirring every 10 minutes to prevent any sticking. Reduce to the thickness you prefer, then stir in lemon juice.
5-spice maple roasted pumpkin seeds
2 cups pumpkin seeds, rinsed and dried completely
1 tbsp olive oil
2 tbsp maple syrup
sea salt
1 tbsp 5-spice powder
Roast at 375F for 20 minutes, stirring and flipping half way through. Near the end, keep an eye on them to make sure they don't burn. Turn off oven, and let seeds sit in oven as it cools.
Put it together: Preheat oven to 400F. Spoon generous amounts of pumpkin butter on top of St Albans cheese in its crock. Place crock on a baking tray and place in the oven. Bake for 10-15 minutes, until silky soft and melted. Serve with bread, crackers, and fruit, and feel free to spread more pumpkin butter with this pumpkin-pear-butter impromptu fondue!