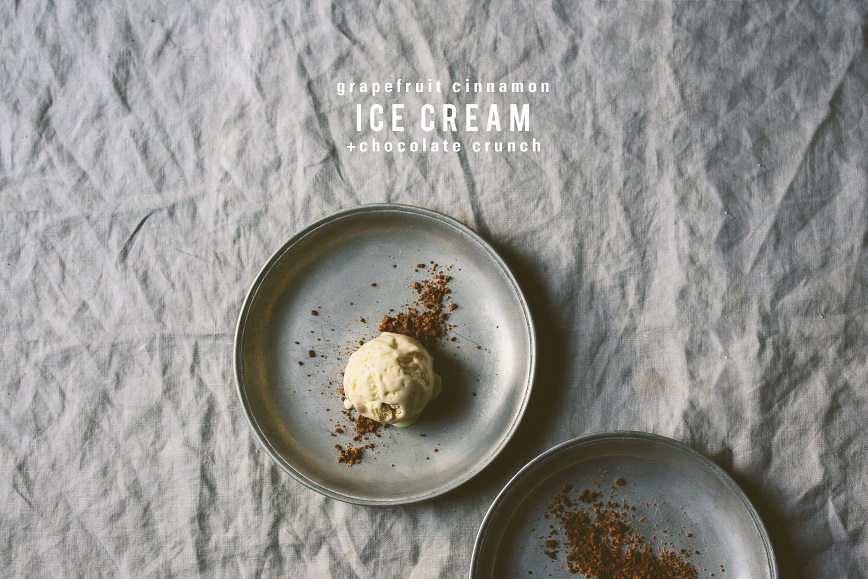 Happy Friday! Does anyone else love ice cream pretty much year round – even when it's freezing outside?? I appreciate the contrast of ice cream on a hot humid day, but I will eat ice cream in every season. Just thinking about seasonal flavors of ice cream gets me giddy – I mean, you can't make fresh pear ice cream without ripe pears, can you? I've got a recipe for grapefruit cinnamon ricotta ice cream, but also a few other bits of happy news!!!
I'm teaching at a photography workshop in April 2017 in Crete, Greece!!!!!
December is giveaway month. Yup, you heard me – a month of giveaways!! A lot has happened in 2016 – I won't go all sentimental right now (that's for the new year post :)), but from workshops to being a finalist in Saveur to features on Instagram – none of these would've happened without you and this lovely community, so as a thank you, I personally selected pans, ceramics, appliances, linens – all products I trust and use and would wholeheartedly recommend, to give away. Every week there will be new giveaway items, so there are plenty of chances to enter. They'll be split between Instagram and here on the blog, so make sure you follow me at @bliu07 and subscribe to my mailing list!
I started this yesterday on Instagram, where I'm giving away one of The Freaky Raku's ceramics!!!! If you saw my last post, you'll know the fascinating process behind making these, and here's your chance to get your hands on one of them. More info here. 
Today, I'm giving away a gorgeous copper Vitamix Professional Series 750 ($599 retail)!!! To enter, simply fill out the form at the bottom of the post, and leave a comment telling me what your favorite ice cream flavor is (difficult decision, I know).
I had a completely different ice cream flavor planned – involving ripe hachiya persimmons and cardamom, but then… well, two things happened. I went to Select Oyster Bar and had an interesting sounding cocktail involving gin, grapefruit, and cinnamon!!! I was intrigued and Alex ordered it. I tried one sip and was instantly riveted. Grapefruit and cinnamon are two flavors I would never have imagined together. Apple and cinnamon; pear and cinnamon; persimmon and cinnamon – yes. However, grapefruit and cinnamon were such great complements – a tangy sunny flavor melded with a warm, subtle cinnamon. Oh yes. I went home, felt my hachiyas, which were NOT ripe enough, and that did it for me. I wanted to explore grapefruit and cinnamon in ice cream.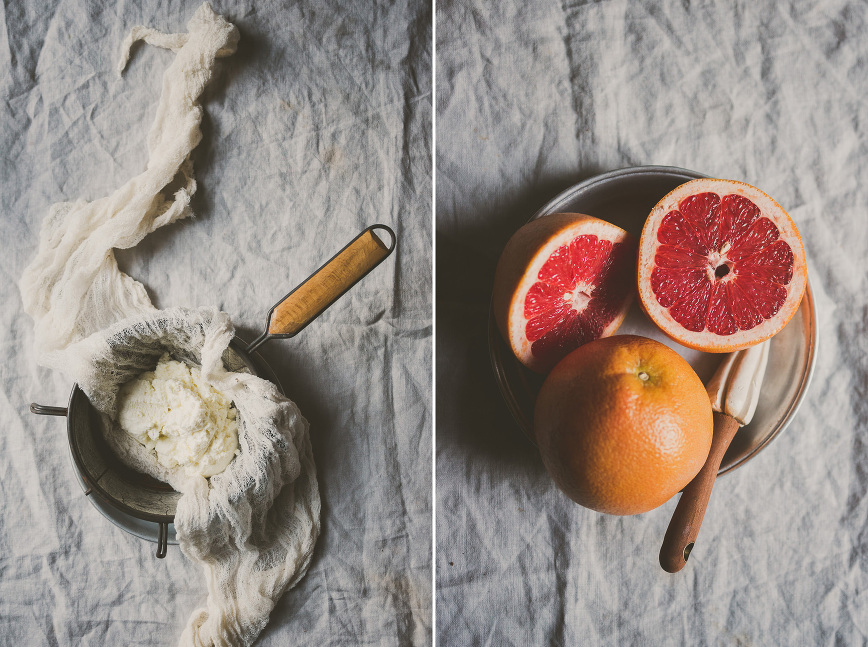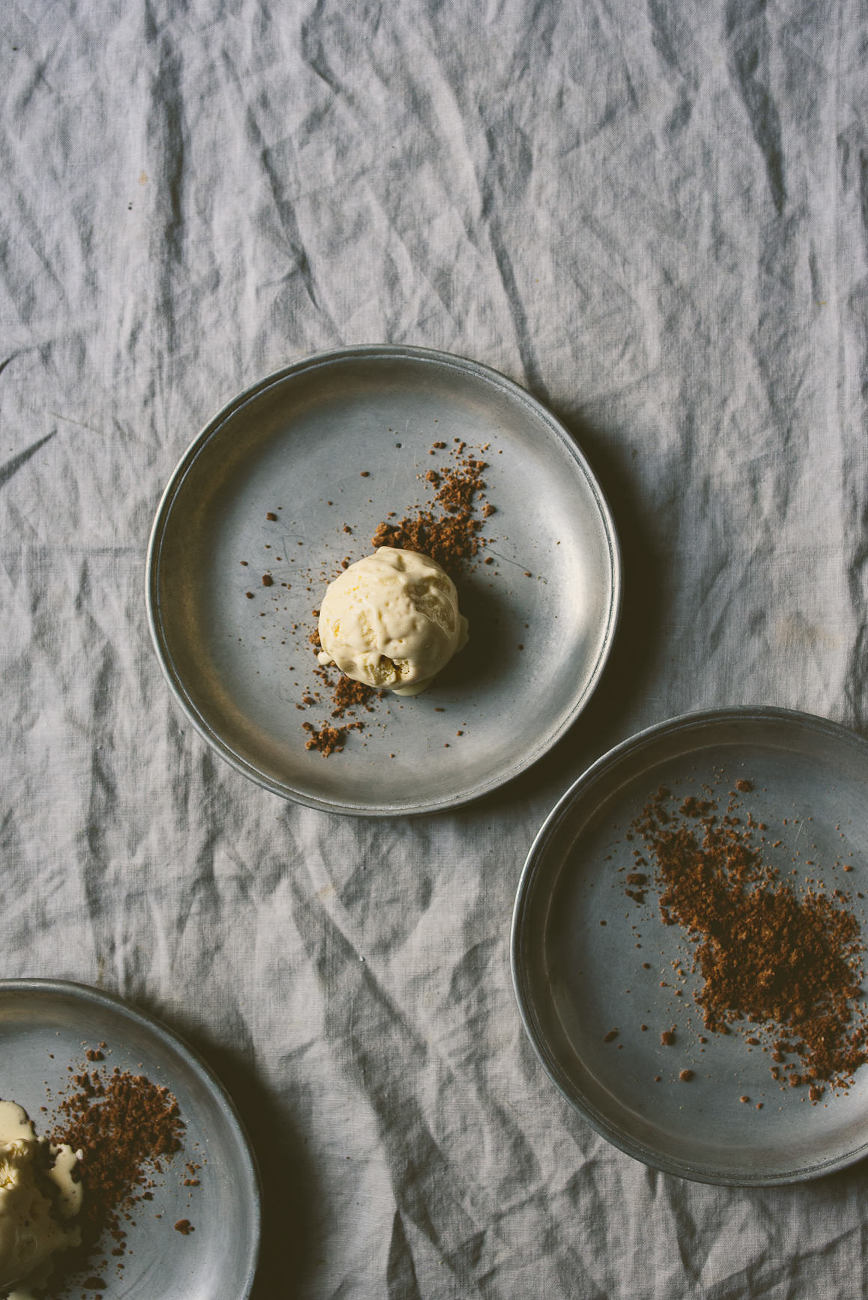 I whipped up a grapefruit curd via Joy the Baker (who else?). From previous citrus ice cream experimentations, I've realized that for the citrus to be the primary flavor, just zest won't cut it, and citrus juice has too much water content to make a creamy ice cream. Curd, though – thick, tangy, delicious curd, is the perfect element to incorporate to make a rich, creamy ice cream. I added in some ricotta too, because ricotta ice cream is my new favorite (thank all the ricotta gelato I had in Italy). The combination is heavenly. So often, I see grapefruit in sorbets or shaved ice or frozen yogurt. The only places I really had creamy grapefruit was in Italy – grapefruit gelato! It was my favorite flavor five years ago when I first went to Italy, and every time I went back I hunted down this flavor.




This ice cream is creamy, tangy, with the warm notes of cinnamon throughout. The heavy cream is infused with cinnamon sticks, so the cinnamon flavor is very much secondary, taking a step back from grapefruit but still present. I love it. This encourages me to explore other seemingly unlikely combinations – and hey, if it fails, well, that's what experimentation is all about right?
I love having something crunchy with my ice cream, so I whipped up a quick chocolate-cinnamon crumbles to hold the ice cream. Optional, but recommended

The recipe is below – enjoy! And good luck with the giveaway!


---
GIVEAWAY!!!

UPDATE: giveaway closed. Congrats to Sam!
This giveaway is sponsored by Vitamix!!  All opinions expressed are purely my own, as always. Thank you so much for supporting the companies that support this blog!!! 
---
RECIPE: Grapefruit Cinnamon Ricotta Ice Cream
Notes: grapefruit has a soft pink color, and the grapefruit I used were quite vibrant, so the curd turned out a nice pink, but the ice cream dilutes that color with the ricotta and cream, so don't be alarmed if your ice cream turns more light pink or yellow-ish, like mine is here. It's still grapefruit flavored, and there's no need for food coloring (unless you really want to!!)
Grapefruit Curd
2 large eggs
2 large egg yolks
½ cup sugar
1 ¼ cup fresh grapefruit juice
5 tbsp unsalted butter at room temperature
pinch sea salt
In a small saucepan, simmer grapefruit juice and reduce to half volume. Let cool. In a metal bowl, whisk together butter and sugar until fluffy. Whisk in egg yolks and eggs until combined. Whisk in salt, and stream in grapefruit concentrate.
In a medium saucepan, bring some water to a simmer. Place metal bowl over it to create a double boiler, making sure the bottom does not touch the water at all.
Whisk continuously until sugar is dissolved and mixture beings to thicken, around 10 -15 minutes. Once texture is thick, pudding-like, and coats the back of a wooden spoon thickly, remove bowl and transfer. Let cool in fridge – it will thicken up more.
Cinnamon Ricotta Ice Cream
1 cup cinnamon infused heavy cream
2 cinnamon sticks
1 cup grapefruit curd, chilled
½ cup sugar
pinch salt
5 large egg yolks
2 cups whole milk ricotta
Heat up heavy cream until just before boiling. Add in cinnamon stick and turn off heat. Cover and let sit for 10 minutes.
In the meantime, whisk yolks with sugar until thick. Gently stream hot heavy cream mix into yolk/sugar mixture, whisking constantly after each addition.
Pour mixture back into a saucepan and heat until custard is thick. I like to use the spoon test – dip a wooden spoon into the mixture, and remove it. Draw a line down the back of the wooden spoon. If the line remains visible, then the custard is thick enough. Blend with ricotta and grapefruit curd. Cover with plastic wrap and immediately chill in fridge for at least 2 hours, or overnight.
Pour into ice cream maker and churn according to instructions. (20 minutes for my ice cream maker).
Pour churned ice cream into an airtight container and freezer for another few hours.
Chocolate Cinnamon Crunch
2 tbsp butter
2 tbsp cocoa powder
1/2 cup flour
1.5 tbsp honey
1/4 tsp sea salt
1 tsp ground cinnamon
Mix everything together until a dry crumble forms. Place in baking sheet and bake at 350F for 9-10 minutes.
Sprinkle crunch on a plate, then scoop ice cream over it.