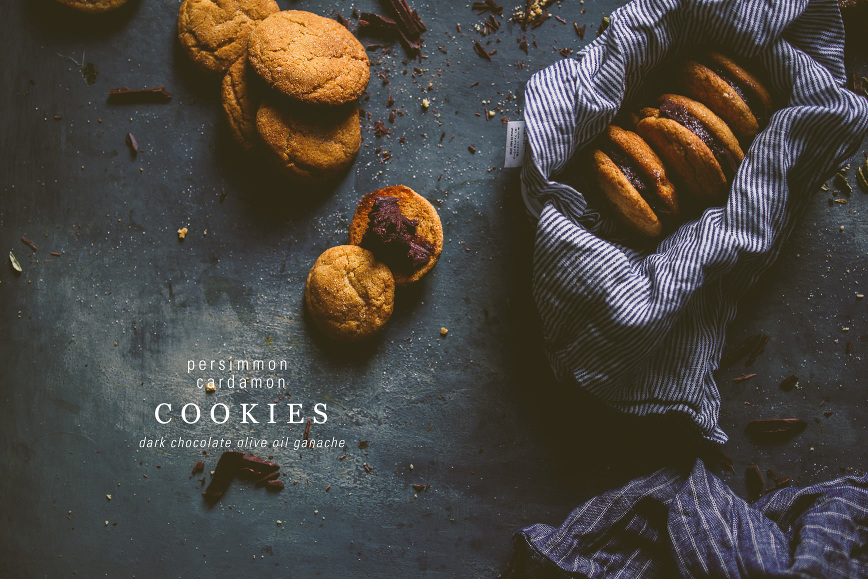 In my previous ice cream post I talked about an option I was considering, a persimmon one, but my hachiya persimmons were not yet ripe!!! If you're not familiar with persimmons, there are several varieties, and hachiyas are the acorn shaped ones that you can only eat when properly ripened. They are of an astringent variety, so if they're not ripe enough, there is a horrible taste. When they show black spots, wrinkles, and is easily depressed, then they're ready. A trick to get rid of any remaining astringency is to plop them in the freezer, and then bring them to room temperature before using. They are gooey, pudding-like morsels of gold, and you can just spoon them into your mouth!!!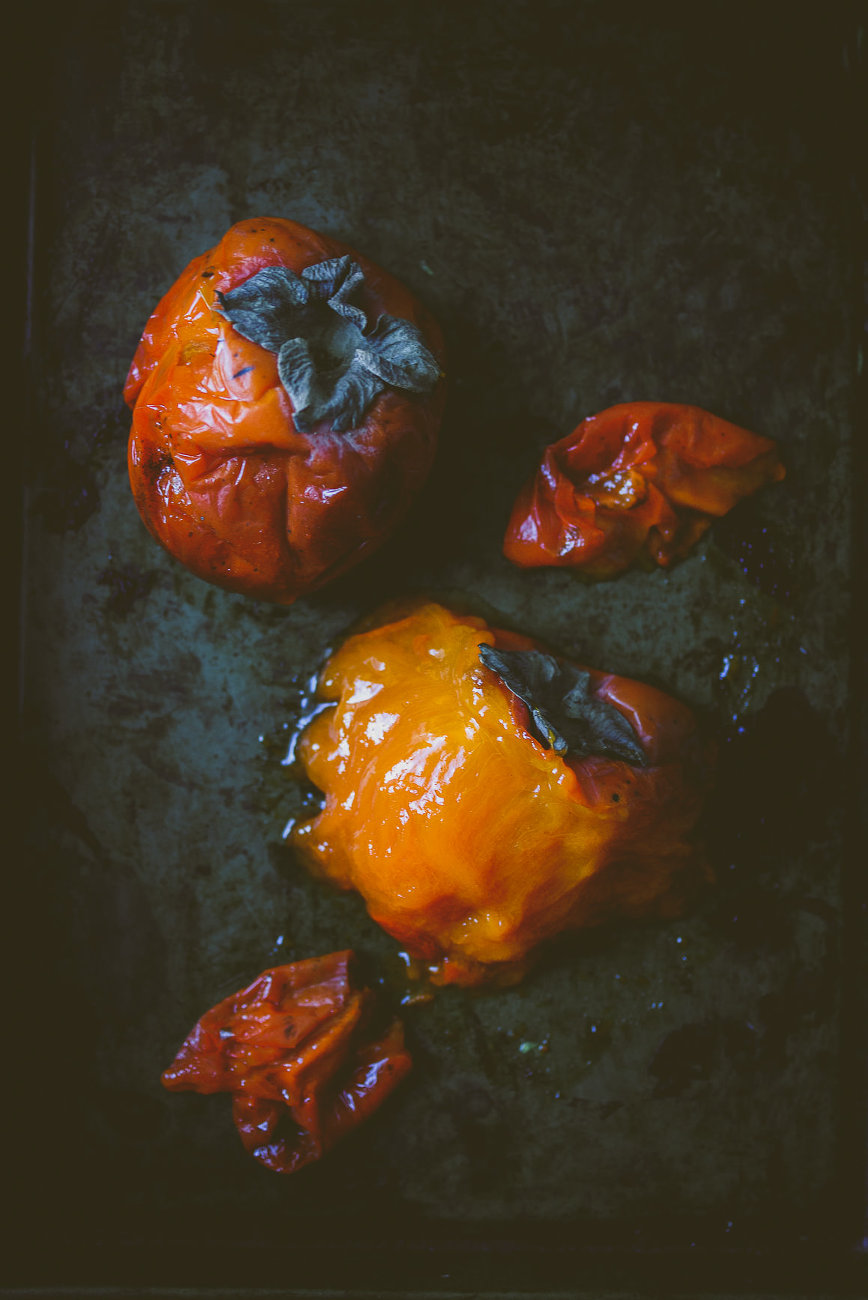 These cookies are persimmon cardamom cookies with a dark chocolate olive oil ganache filling. Alex loves cookies and at first just had the single cookies I had left over, and then he tried a sandwich with that silky ganache, and he turns to me and say, Betty, these are really good. Guys, this is quite a compliment if you know him :). The key to this recipe is not the cookie but actually that dark chocolate olive oil ganache. It's silky smooth, fluffy and textured, because of the olive oil. It's unexpected in a traditional ganache, but the fruitiness of the olive oil really brings out the flavors in the dark chocolate. It's a great complement and creates that meltiness of the ganache. I used my trusty CA Olive Ranch olive oil, and guess what? I'm giving away a set of 4 olive oil – their Reserve Collection, plus their limited reserve (my favorite and the one I look forward to every season!). See below for how to enter.
(Ps – did you enter my mini stand mixer + pasta attachment giveaway from last week? That closes on Friday! More holiday giveaways coming up!!!)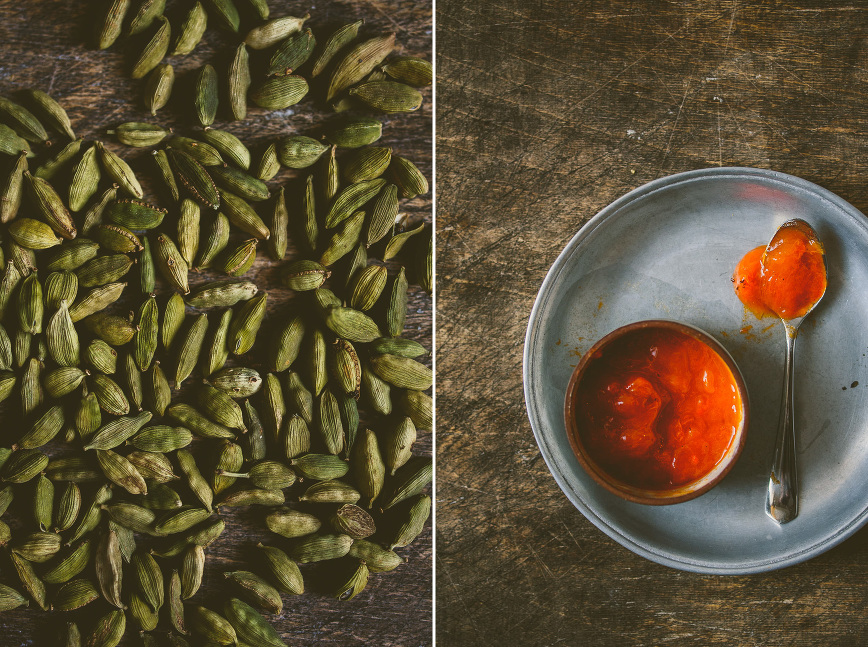 Let's be honest – I'm not much of a cookies person, even in the holiday season – especially in the holiday season.
I know, right? I'm shocked to even be writing this – as a food blogger who has done maybe two cookies ever (one, two), I'm finally admitting that cookies are probably lowest on my things to make. Don't get me wrong, I enjoy eating chocolate chip cookies here and there, and actually, cookies taught me what creaming butter and sugar until fluffy meant, when I was still in college dorms using a wooden spoon furiously venting out my stress by beating it into the right consistency.
The thing is, December has always seemed like a mad dash to deadlines. I've been in school for so long, with only one year at a full-time job and then back to school, that December has never failed to be filled with exams on the 19th-20th, a hasty packing of bags, tidying up, and then out the door to catch a flight to California. This year is no different – exam on the 16th, then flight out to California on the 19th!!!! Ah!! plus, this cold I have is no help. None at all.




Since the day after Thanksgiving, the media world has inundated us with holiday decor, cheer, and of course, cookies. Do any of you feel this pressure when the holidays (starting on Thanksgiving, really) come, and it's almost expected for you to post something in that theme? Part of me is like, YES!!! This is how I celebrate, but the other part is like, NO.. I have to make this at least two weeks prior so I can test and shoot and write about it… Anyway, I had no real desire to make cookies for the sake of making holiday cookies, so I put it away. I planned out my December with no cookies, and then, I get an email, with #calmandbrightcookienight as the subject line, from the lovely gals at The Modern Proper!!! At first, I thought, hm cookies. And then, I read the thought and story behind this, and I began to imagine this wonderful warm virtual holiday party, with homemade cookies all individualized and beautifully photographed, and I thought, wait. I want to make my own special cookie for this party too! So, Holly and Natalie, thank you so much for inspiring me to actually want to make cookies. I didn't think cookies were going to be on the books this December, but … they are! Check out their post for the full list of bloggers, and these in particular are giving me dreams and plans to make more cookies (shocking, right?):
Brooke's dreamy snow-wistful Brown Butter Gingerbread Madeleines, these Ricciarelli (Italian Almond Cookies), classic Milk & Cookies, Tiffany's Pomegranate Pistachio and Almond Biscotti (the 2nd cookie here that makes me wish I could have almonds), Claudia's Coconut Raspberry Wagon Wheels that give me dreams of summertime, Jenny's swoonworthy Ginger Viennese Whirl Cookies with Matcha Passion Fruit Filling, Sarah's Peppermint Chocolate Marshmallow Cookies, Sasha's Almond Macaroons with Satsuma Marmalade (yes, more almonds!!), Amanda's Chocolate Peppermint Crinkle Cookies (with Teff! genius lady), and Erin's Earl Grey Shortbread, because anything earl grey is just delicious.



This post is sponsored by california olive ranch. All opinions expressed are purely my own, as always. Thank you so much for supporting the companies that support this blog. I have been using their olive oil for over a year, and it is my go-to daily, go-to dressing, go-to baking olive oil!!! See more information about how their olive oil is made here. 
Extra virgin olive oil is technically a juice – did you know that? Therefore, the freshness of the fruit really matters when it comes to quality of the oil. I had the opportunity to visit their harvest and learn more about this process, and their olives never touch the ground. Their innovative machines also harvest the olives rapidly, so that these olives are rapidly picked and immediately used to make olive oil, guaranteeing their freshness. I use these olive oils every day, and their fruity earthiness, like fresh picked grass, is just perfect for everyday cooking, as well as on top of spreads, salads, etc. The olive oil made at  california olive ranch is truly an everyday necessity.
---
GIVEAWAY: Set of four CA Olive Ranch Olive Oil
Reserve Collection, plus their limited reserve (not shown in photo)!!!
UPDATE: Giveaway has ended! A huge thanks to those who entered. Congratulations to Tay! Enjoy your olive oil!
---
RECIPE: Cardamom Persimmon Cookies with Olive Oil Dark Chocolate Ganache
Adapted from cook's illustrated snickerdoodle recipe
2 ½  cup all purpose flour
1 tsp baking soda
2 tsp baking powder
pinch sea salt
1 stick unsalted butter, at room temperature
1 ½ cup granulated sugar
1/3 cup vegetable oil
2 large eggs
1 tsp vanilla extract
1 tsp ground cardamom seeds
2 tbsp turbinado or granulated sugar
1 tsp ground cinnamon
3 tbsp ripe hachiya persimmon flesh 
Preheat oven to 375 degrees.
Whisk flour, baking soda, baking powder, salt, and cardamom together.
Beat butter, oil, and sugar together until light and fluffy. Add eggs and beat, one at a time, until well incorporated. Add in vanilla, and persimmon. Reduce mixer speed to low and add flour until well incorporated. Chunks of soft persimmon may remain, and that is OK.
Very lightly wet your hands and form 2 tbsp of dough at a time. Roll in turbinado + ground cinnamon and place on a parchment paper lined baking sheet about 2.5 inches apart. Bake until edges are set, but the center is still puffy, about 10-12 minutes. Rotate baking sheet halfway through.
Cool for 10 minutes on the baking sheet, then serve warm.
Olive Oil Dark Chocolate Ganache
200g dark chocolate, chopped
1/3 cup heavy cream
1 1/2 tbsp granulated sugar
3 tbsp olive oil
Heat cream and sugar until just before boiling, stirring to make sure the sugar dissolves. Rmove from heat and pour over chopped chocolate. Stir until smooth. Stir in olive oil. Cool completely before assembling.
Assemble: Spread ganache over one cookie. Sandwich another cookie over it! Enjoy!