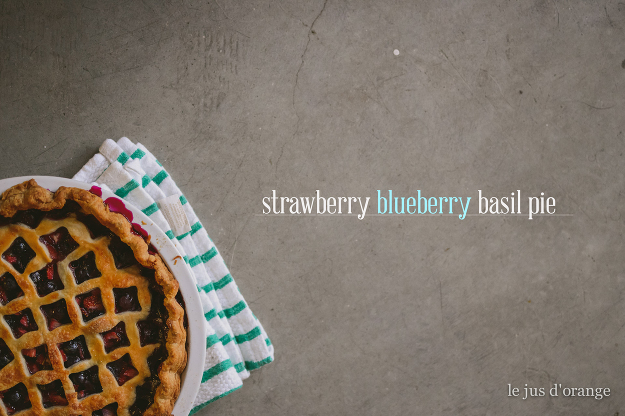 Everyone knows that I love pies. So much, in fact, that we had pies in lieu of cakes at our wedding!!
I love the warm buttery crust that breaks apart at the slightest touch of your fork. I crave the burst of tartness and sweetness with the first bite. I find it hard to restrain myself from diving in right when it comes out of the oven – but I must remind myself to let it cool, to let the filling set. If you think I have a hard time with this, you should watch my husband! When I make apple pie, there's no stopping him! I recently started my own little potted herb corner in my apartment. I have basil, thai basil, and mint. I decided to combine the flavors of blueberry, strawberry, and basil together to form a pie, and here is the verdict: This flavor combination is delicious! There's the sugary sweetness of strawberries with the tarty sweetness of blueberries.  For a future pie I think I will try just blueberries and see how that works out. I'm going to pat myself on the back and say that basil is a fantastic herb to pair with this pie. I'm all for the underlying subtle flavors, and this pie definitely provided.
My plants! My mint plant is struggling :(. Any tips? I've removed it from direct sunlight but it seems to be much less perky than my basil plants.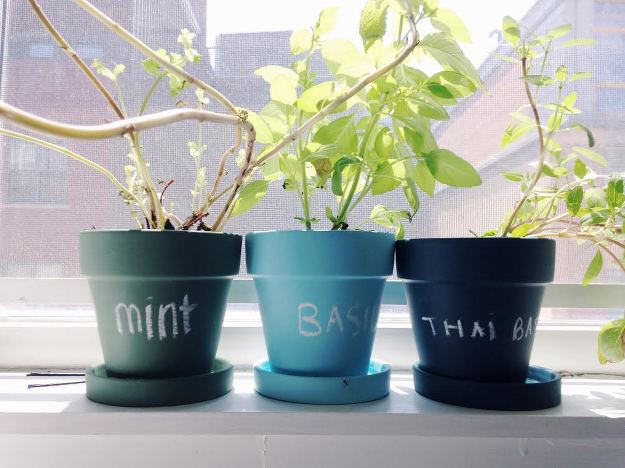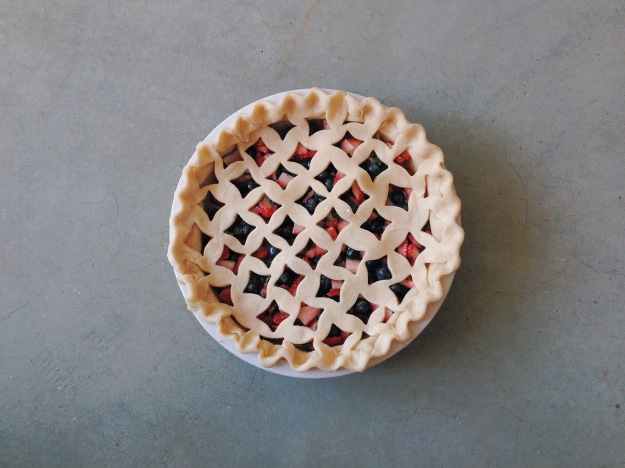 Making beautiful pies tip: Take a small cookie cutter or anything you can use, and just have at your pie crust. You can make a beautiful pattern that is a lot less work than lattice.

DO YOU SEE THIS GOOEY-NESS?



Strawberry Blueberry Basil Pie
Pie crust adapted from Four & Twenty Blackbirds
Double Pie Crust, 9″ 
2 1/2 cups flour
2 sticks butter, cubed into 1 cm pieces, cold – prepare this beforehand
1 tsp salt
3 tsp sugar
3/4 cup cold water
3 tbsp apple cider vinegar
1| Prepare: Cube butter into 1cm pieces, and place it in a bowl in the freezer. I find that this allows the butter to get very cold before you work with it. Put the 3 tbsp apple cider vinegar into cold water, and place this into the freezer as well. Don't worry about it freezing- you will use it before it can freeze.
2| Combine flour, salt, sugar.
3| Take cold butter, and using a pastry cutter, fork, or fingers, work quickly and cut butter into dry ingredients. Pea size chunks will remain, and that's completely fine.
4| Take out cider vinegar / water mixture. Using tablespoons at a time, mix it into dry ingredients until just combined. Do not overmix or knead. Add the mixture gradually – you can always add more water, but you can't take it out. The resulting dough should be damp but not moist.
5| Separate dough into two halves. Shape into disks and wrap with plastic wrap. Place in fridge. Let dough rest for at least 1 hour.
Strawberry Blueberry Basil Pie 
10 basil leaves, thinly sliced
2 cups strawberries, quartered
3 tablespoons granulated sugar
2 cups blueberry (frozen or fresh – I always use fresh!)
2 tsp lemon juice
1/4 cup granulated sugar
1/3 cup brown sugar
1/2 tsp allspice
1/2 tsp cinnamon
2 tablespoons cornstarch
1/2 tsp salt

demarara sugar for sprinkling
egg wash (1 egg, beaten + splash of water)
1| Butter 9″ pie dish. On a lightly floured surface, roll out dough until it is about 2″ larger than your pie dish. Place onto dish. Place in fridge until filling is ready.
2| Sprinkle 3 tablespoons granulated sugar over strawberries and blueberries. Let it rest for 30 minutes.
3| Drain excess liquid from fruit and combine with lemon juice and basil chiffonade.
4| In a separate bowl, combine the 1/4 cup sugar, 1/3 cup brown sugar, allspice, cinnamon, cornstarch, and salt.
5| Gently fold sugar mixture into fruit mixture. It's ok to crush some blueberries ;).
6| Pour into prepared dough-lined pie dish.
7| Roll out other half of dough, and do a lattice, full crust, or pretty patterned crust (up to you).
8| Place in fridge for 15 minutes.
9| Meanwhile, preheat oven to 425F.
10| Brush pie with egg wash and sprinkle generously with demarara sugar.
11| Bake for 20 minutes, or until crust is light golden.
12| Reduce heat to 375F, and bake for another 35-40 minutes, until filling is bubbly.