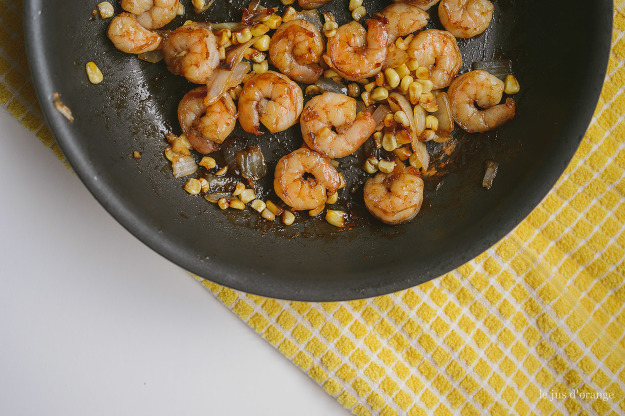 What foods come up in your mind when summer finally starts? For me, it's ice cream, grilled vegetables, salads, berry pies, cocktails, and tacos. Tacos are such an outdoor food, don't you think? I still remember the best taco experience I've ever had: cabrito tacos and pork tacos in Monterrey, Mexico. Alex and I flew down to Monterrey to attend Sam Hurd's workshop. You can read about our experience here. Naturally, I wanted to try as many local foods as possible. Surprisingly (or not), I spotted familiar chain restaurants such as Chilis and Applebees! Alex and I avoided these restaurants. They aren't even restaurants we'd go to in America, so why waste our time there in Mexico?
Instead, I discovered that the local cuisine of Monterrey, Mexico is cabrito – which is baby goat meat. We went to Restaurant San Carlos on the advice of someone on Chowhound. Apparently, this restaurant served good, quality, local cuisine. Speaking with some locals also attending the workshop confirmed the reputation of this restaurant. I had taco de cabritos.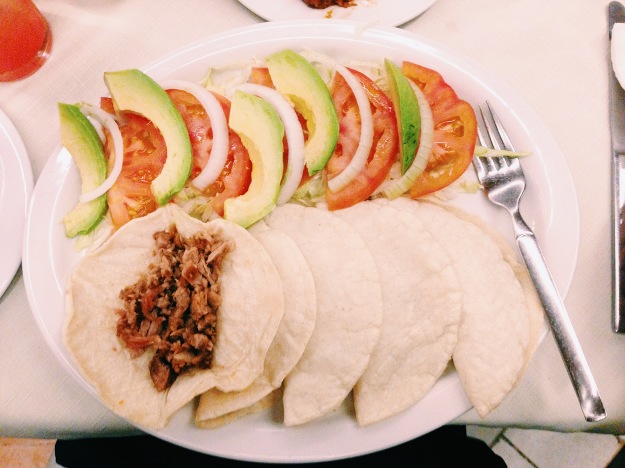 Alex got cabrito as well, but pan-fried with spices. We were given stacks on stacks of corn tortillas, even though we tried to refuse after the third stack was placed on our table. Everyone there was incredibly kind. We spoke minimal Spanish, but with hand gestures, pointing, and basic phrases,we were able to communicate well enough. 

Near the end of the trip, we went out with the workshop attendees and Sam. This time, we found a street taco stand that Sam swore was the best tacos he had ever had. Well, who am I to question this statement?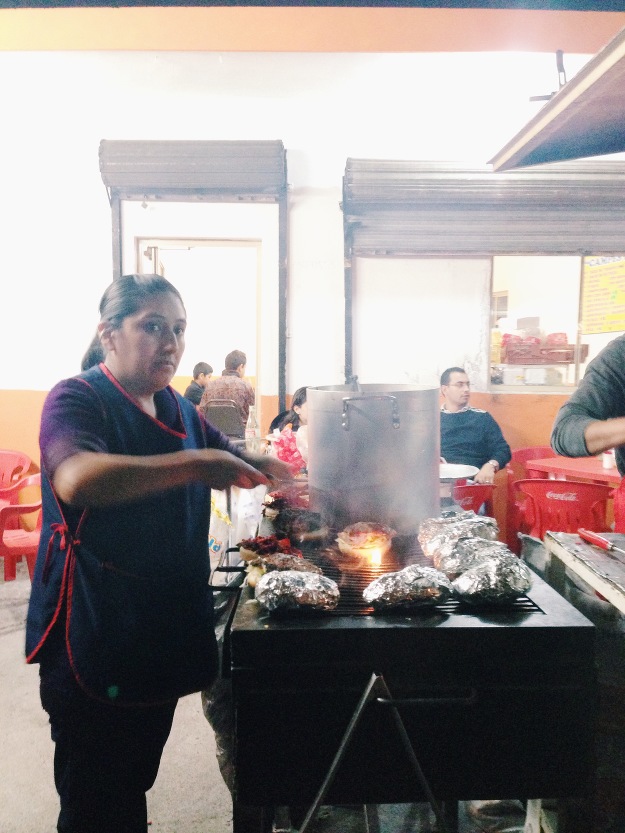 (Please excuse my grainy iphone photos)
I got spicy pork tacos, and they were fantastic!!!! I think I actually liked this more than the cabrito tacos. Wow, they were amazing. I don't think it's possible to articulate how great these were!
Alex and I love to travel and try new things. Alex and I recently travelled to Shanghai, Suzhou, Wuxi, Changzhou, and Tokyo. I will be going to Greece with a couple of girlfriends in August. Then, finally, next spring, Alex and I will be taking our honeymoon in New Zealand. Lots of good times to look forward to.
Anyways… back to caramelized shrimp tacos. I'm not going to say these were as mind blowing as the ones I had in Mexico, because they're a completely different type of taco. They're a little sweet, a little savory, and full of tender shrimp. It's also the easiest taco to make, ever. I promise you that. The recipe in a sentence: Cook shrimp and onions in a brown sugar and water mix until shrimp is cooked through, add corn 5 minutes before it's done, and garnish with sliced scallions.



RECIPE: Caramelized Shrimp Tacos
Ingredients
1 cup peeled shrimp (about 3/4 lb, depending on size)
2 tbsp brown sugar
2 tbsp water
1/2 cup sweet corn, frozen or fresh
1/2 onion, sliced thinly
1 tsp balsamic vinegar
thinly sliced scallion for garnish
white flour or corn tacos
1 ripe avocado
1 tsp plain greek yogurt
1/2 tsp paprika
A quarter of red onion, finely chopped
1 tsp lime juice
1| Mix brown sugar and water together. Heat up in a nonstick skillet on medium-high heat. When it is bubbly and dissolved, add in shrimp and onions.
2| Turn heat down to medium-low, and cook. Stir shrimp and turn to coat both sides. Cook until shrimp is cooked through (shrimp will lose its transparency and turn pink-ish). This may take 2-3 minutes per side. Don't worry about the sugar water mix. It will reduce as the shrimp is cooking and form a wonderful sticky sauce that will coat the shrimp.
3| When sugar-water mix is almost completely reduced, add in corn and stir to cook.
4| Remove pan from heat.
5| Make avocado cream: Mix ripe avocado, lime juice, yogurt, paprika, and onion together and mash. Super simple.
6| Assemble tacos: Spread avocado cream on tortilla. Top with shrimp and corn. Garnish with scallions. Enjoy!