I don't remember when I started to use checklists. This weekend, I fished out the pocket moleskins journal I brought with me to Greece and placed it on the ever growing stack of moleskins I'd already used up. I randomly picked one and flipped through, expecting sketches but finding words.  I found minute checklists, reminding me to learn AutoCad, to sign up for this club, to walk over to the DUC and grab a sandwich for later… meaning I had a long night ahead of me. This must be from freshman year. I grabbed another journal, this one larger with one of those elastic straps. I found a recipe for scallion pancakes. The next page was filled with scribbled notes on the decor and service of a restaurant. This must be when I eagerly strove to be a Yelp reviewer. This time, I reached far and swept out a tiny pocket notebook, purple in color, with lines, similar to the one I brought to Greece. I found sketches of layouts, probably for a portfolio, and more checklists. Go to printing studio. Call for pricing. Finish plans and sections. Buy dowels. Flipping through the notebook, I found checklists of all varieties: scribbles, one-liners, ineligible ones that seemed to have been scratched out in anger.
Everyone says photos are a great way to bring back memories. But checklists, they give you a different kind of recall.
Checklists can be a window to everyday life. They are everyday life. I can flip back and see the mundane. I can see what classes I took, what clubs I joined. I love sketches, and it gives me a great sense of happiness when I flip through all my sketches of famous (and ordinary) buildings in Italy. They're a thorough study of my travels. But it's when I look at the checklists that I remember the reality.
Atul Gawande said, during his TED talk in 2012, that "An aviation checklist…. isn't a recipe for how to fly a plane, it's a reminder of the key things that get forgotten or missed if they're not checked." Checklists are not fancy. You can't dress up a checklist and brag about it to your friends. They're practical, efficient, and the hidden tool that can make a day productive.
Today, I start my day off with checklists. It's a habit that stuck with me, even outside of school. When I get to work, I have a simple routine: tea, breakfast, and a list of tasks I need to do today. As I finish task by task, even mundane ones such as "prepare out of office email", I put away my weak ball point pen and take out a black-ink flowing pen, and I find immense satisfaction in crossing one of my tasks off. When I refer back to this list, I'll see a ladder of lines grow and build, reminding me not only of what I have yet to do, but of what I've already accomplished today.
And today, I can cross off "publish blog post!"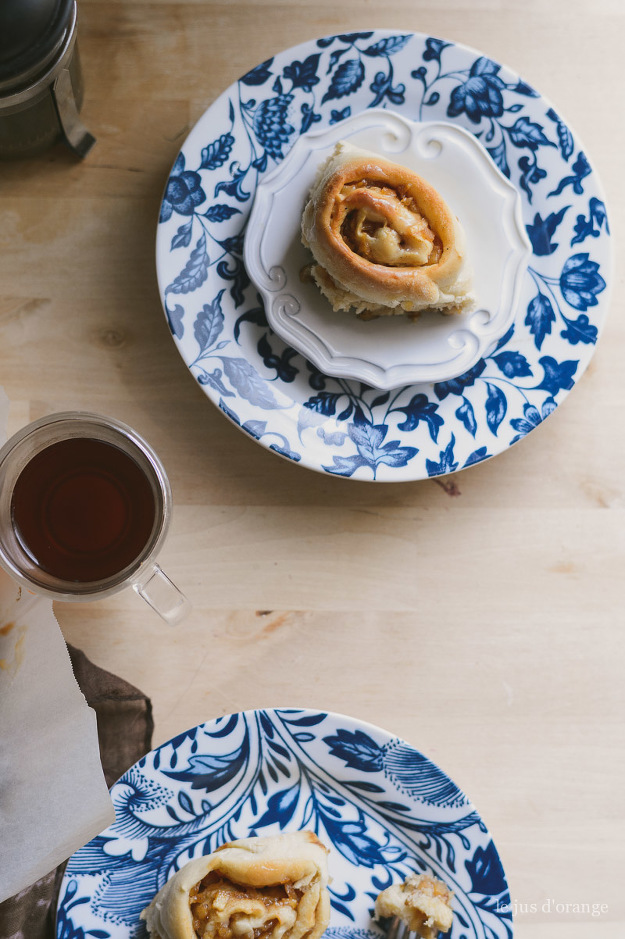 The star of this recipe is, of course, the caramel apple filling.

Before baking (my handiwork is obviously not the smoothest, but you know what? I live for imperfections):


and After!



This spiced caramel apple cinnamon roll is soft, fluffy, and tastes like apple pie! Without the delicious crust, of course. I think cinnamon rolls must be one of my favorite desserts. They're pillow soft, and I always serve them warm. They're the perfect fall treat. Eat it with a strong cup of coffee, and there you have the perfect morning.


---

RECIPE: Spiced Caramel Apple Cinnamon Rolls
Inspired by the recipe from Sallys Baking Addiction! 
Cinnamon Roll Dough:
4 cups all purpose flour
1/2 cup + 2 tbs warm water
1/2 cup whole milk
2 tbs honey
1/2 tsp salt
1 egg
1 tsp vanilla
2 1/4 tsp active dry yeast (or one pack)
2 tbs melted butter
Directions:
1| Mix warm water, yeast, and honey. Let rest for 5 minutes, until bubbly / foamy – this lets you know if the yeast is active!
2| Mix together egg, milk, vanilla, water/yeast mixture, butter, salt. Add in 1.5 cup flour until incorporated.
3| Add in 2-2.5 cups flour and knead for 3-5 minutes, until the dough is not as sticky and springs back with a poke of the finger.
4| Place in an oil covered bowl, and let rise for 1 to 1.5 hours.
Spiced Caramel Apple filling:
2 tart apples (Granny Smiths or Honeycrisp or Pink Lady work well!), diced finely
1/2 stick butter
1/2 cup brown sugar
1/4 cup heavy cream
1 tsp cinnamon
1/2 tsp nutmeg
1/2 tsp ground ginger
1/2 tsp sea salt

Simple Glaze: 
1 cup powdered sugar
1 tbsp milk
1/2 tsp vanilla
pinch salt
Directions:
1| Sautee apples on medium heat for 2-4 minutes, until brown. Set aside.
2| In the same skillet, melt butter and brown sugar until dissolved. Stir and pour in cream. Be careful on this part – the cold heavy cream added to the hot butter/sugar mixture may splatter a bit. Simmer for 2-3 minutes, until thick.
3| Turn down to low heat, and add the apples back in. Add in cinnamon, nutmeg, and ginger. Simmer for 1 minute.
4| Remove from heat, and stir in 1/2 tsp sea salt.
5| Make glaze: whisk ingredients together until thick.
ASSEMBLE
1| Place dough on a floured surface. With a rolling pin, roll dough out to a large rectangle. Mine covered my entire cutting board. Try to make it as rectangular as possible so that you don't have to waste the ends!
2| Spread apple filling across surface evenly. I like to sprinkle some brown sugar + cinnamon on it as well, but I have a sweet tooth…. which may not be a good thing.
3| Starting from the bottom at the long edge, roll tightly.
4| Cut 1″ pieces and place onto a baking pan. You can either space them out and let them rise horizontally, or you can place them right up against each other and force them to puff up. I did the latter.
5| Let rise for another 30 – 45 minutes.
6| Preheat oven to 350F. Bake for 20 -25 minutes, until light golden brown. Remove from oven, and let it cool slightly.
7| Drizzle glaze over cinnamon rolls when they are warm.