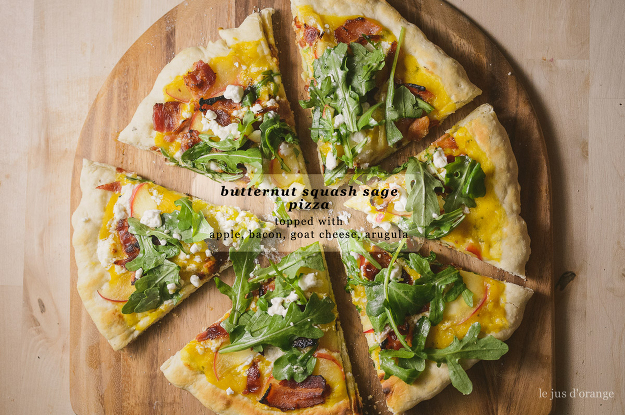 Butternut squash is one of those foods that, once you taste it for the first time, you just become its biggest fan. Last fall I made so much butternut squash soup that I was constantly harboring tiny burns from transferring the cooked chunks to my blender. This year, my arms are spotless, because I got an immersion blender, which was probably one of the most useful gifts I'd received in my registry!! Now I can make butternut squash soup, tomato soup, pumpkin soup, and more with this nifty tool. Thanks Diana :).
I make pizza quite often. Its easy, delicious, and boundless in possibilities. I decided to whip up a butternut squash sage sauce, which turned out fragrant and mellow. I topped the pizza with goat cheese, crispy thick cut bacon, thin tart apple, and more goat cheese.
Yum.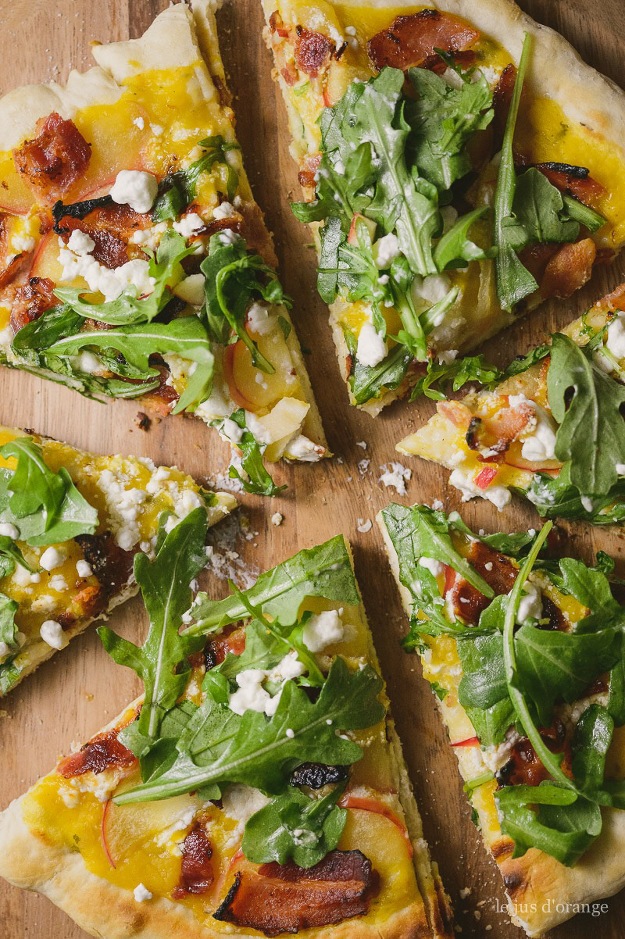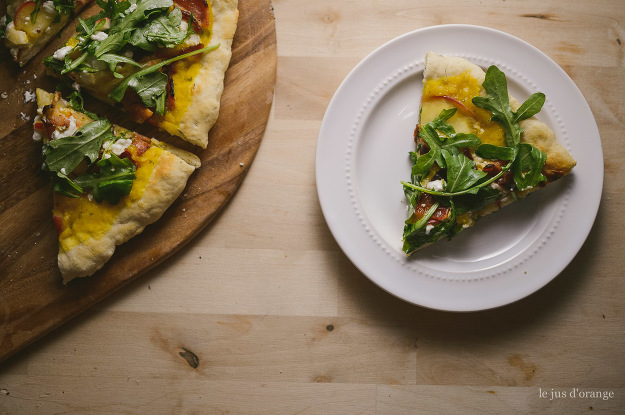 RECIPE: Butternut Squash Sage Pizza topped with Apple, Bacon, Arugula, and Goat Cheese
Butternut Squash Sage Sauce
1 butternut squash, peeled and diced
1 cup chicken broth
6 leaves sage
1 bay leaf
1/2 yellow onion, diced
1 tbsp olive oil
salt and pepper, to taste
pinch nutmeg
Directions
1| Heat olive oil. Add in yellow onion and cook until it starts to change color
2| Add in butternut squash pieces. Season with salt and pepper. Caramelize each side of cube
3| Add in chicken broth, sage, bay leaf, pinch nutmeg. Bring to boil and simmer until butternut squash pieces are fork tender.
4| Remove bay leaf. When butternut squash pieces are soft and fork tender, use an immersion blender to blend everything into a smooth paste. Alternatively, scoop into a blender and mix. Watch out for hot splashes!
5| Set aside. Should be thick, like a sauce instead of a soup.
Toppings
4 slices thick cut bacon
thinly sliced apple, tart (Granny Smith, Honeycrisp, Pink Lady, or other tart apple)
crumbled goat cheese
1 cup arugula
1 tbsp dijon mustard
1.5 tbsp olive oil
2 tbsp water
1 tbsp lemon juice
2 tsp honey
Directions
1| Cook bacon until crispy. Chop roughly. Set aside.
2| Mix together dijon mustard, olive oil, water, lemon juice, and honey. Whisk well. Toss with arugula. Drain remaining dressing. Set aside.
3| Prepare pizza dough – either with a rolling pin or by hand pulling.
4| BY OVEN: preheat oven to 450F. Place an upside down baking sheet in oven (or a pizza stone). Dust a pizza peel with cornmeal, and place dough on it. Brush with some olive oil. Take out heated baking sheet with gloves and set it right next to the cutting board. Gently shake dough onto heated baking sheet. Cook for 8 minutes. Remove from oven.
BY PIZZA MAKER: This will vary according to your pizza maker. I am using the Breville one. Preheat your pizza maker. When ready, dust a pizza peel with cornmeal, and place pizza dough on it.
5| both methods: spread a thin layer of butternut squash sauce on it. Sprinkle goat cheese. Layer apple slices. Sprinkle bacon. Sprinkle some more goat cheese.
6|BY OVEN: Bake for 5 minutes, until crust is golden brown.
BY PIZZA MAKER: Shake pizza from peel to pizza stone. Close lid and bake for 5-7 minutes, depending on thin-thick setting. I set mine to "thin" setting and baked for 5 minutes. Keep an eye on it and watch for the crust to turn golden.
7| both methods: Remove from oven. Top with arugula and some more goat cheese.