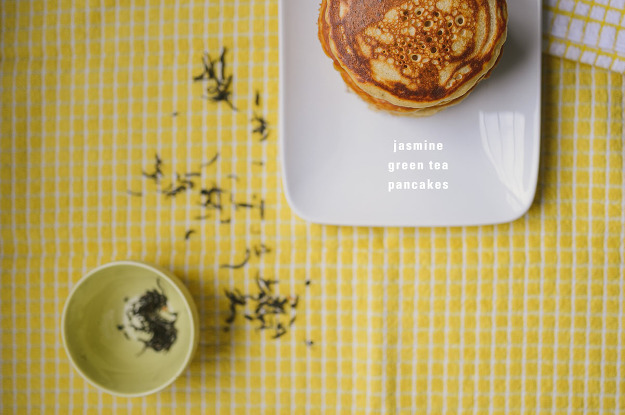 I love anything infused with tea (remember these earl grey tea scones, earl grey tea ice cream, and green tea ice cream?). My sister threw my bridal shower with a theme focused around tea! We had three types of tea and had a very classy tea party, and I loved it. So what do I do with the leftover varieties of tea? I incorporate it into my food of course. Please enjoy these jasmine green tea pancakes. They are incredibly easy to make with ingredients you probably have already in your pantry. You can substitute jasmine green tea with earl grey or other teas.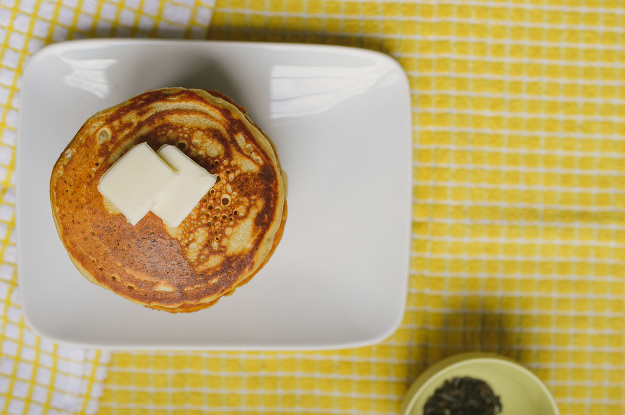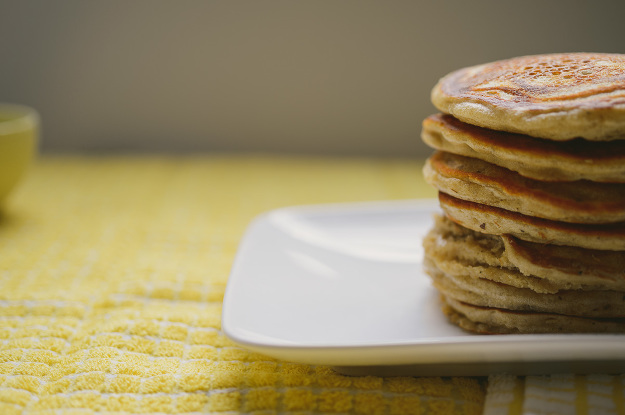 RECIPE: Jasmine Green Tea Pancakes
Ingredients
1 cup flour
1/2 tsp baking soda
1 tsp baking powder
1/4 cup sugar
1 egg
1 cup milk
2 tbsp loose leaf jasmine green tea (or, 2 tea bags)
1/2 tsp vanilla extract
coconut oil for cooking (I prefer coconut oil, but you can use butter, vegetable oil, or cooking spray)
1/2 tsp ground up jasmine green tea leaves.
1| Place loose tea leaves in a tea strainer. Place in a small saucepan, and bring milk to a gentle simmer. It's easy to scald milk, so keep an eye on it. Remove from heat and let the tea seep for 10 minutes.
2| Meanwhile, sift together flour, baking powder, baking soda, and sugar.
3| Wait for milk/tea to become cool (or at least lukewarm!!). Remove tea leaves.
4| Whisk egg, milk, and vanilla together. Add this mixture into dry ingredients. Add 1/2 tsp ground up jasmine green tea leaves.
5| Fold until just combined – do not over mix.
6| Let batter rest for 10 minutes.
7| Heat up a non-stick skillet over medium-low heat. Spread a thin layer of coconut oil on pan.
8| Drop 1 ice cream scoop full of batter (or, 2 tablespoons) into pan. Fit however many you can, but make sure there is enough space to spread. Let it cook – tiny bubbles will start to form on the surface, about 2 minutes. Be patient! Flip, and cook for another 1-2 minutes.
TIPS
If you're not serving them immediately, you can keep them warm in a single layer in the oven. Do not stack them, because the steam will cause pancakes to be soggy. I usually heat my oven to 200F and spread pancakes out on a baking sheet.
There are two steps you should not skip: 1) sifting dry ingredients together – this gets rid of any unwelcome lumps 2) letting batter stand – the starch molecules in the flour will be swelling, absorbing the liquid present. This will contribute to a thicker consistency. During this time, air bubbles will also be making their way through, ensuring a delicate texture.
Do not over mix. I feel like I say this in a lot of my recipes, but that's because it's true!! If you over mix you will get flat, not fluffy pancakes -and let's be honest, who wants those?