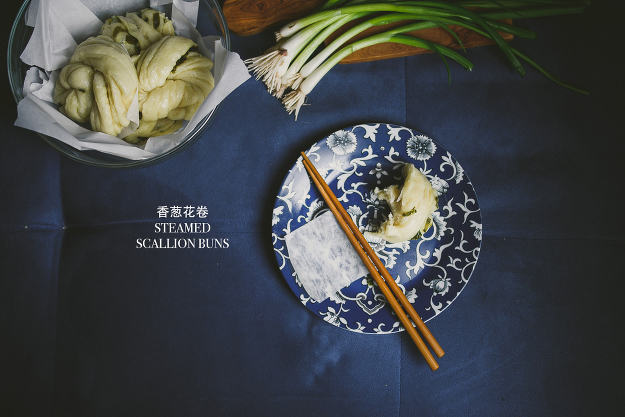 香葱花卷 literally translates to fragrant scallion flower buns. Aka, steamed scallion buns. I kept the flower because I liked the image it evokes. It's in the single digits here in Boston, and I am freezing. I'm downing coffee, tea, ginger soup – whatever works to keep me warm. During times like these, I crave comfort food. I'm not talking about mac and cheese or lasagna (though everyone knows I can't say no to those either), but this particular afternoon, I was craving Chinese comfort food. I had all the ingredients, so I made scallion steamed buns. This is an easy recipe and very very satisfying. I love shaping the buns and watching them bloom and grow in the steamer. I don't use a bamboo steamer – I think I was influenced by my parents. They've always used a metal steamer, sometimes with a double rack. When it came time for me to acquire my own, I automatically veered towards a meal one. Call it comfort. Call it convenience, whatever. You can use a bamboo steamer if you'd like.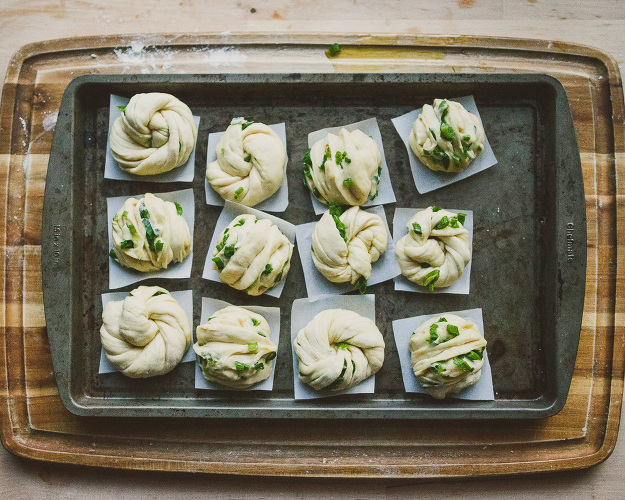 There are two ways you can shape the buns. One uses a knife, the other uses a chopstick. both creates laters, although I have to say the method using a knife creates more layers, and you'll see why.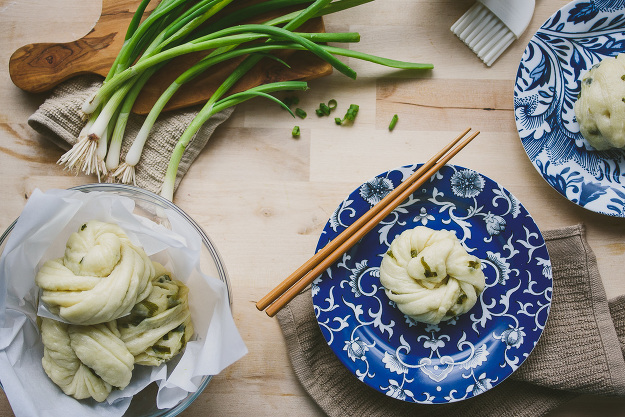 There are the tools you need: rolling pin, brush, knife, chopstick, pre-cut squares of parchment paper, olive oil, and chopped scallions, green parts only.


First, divide dough into two.


Method One: Using a Knife
Take one ball of dough and pinch into 6 smaller balls.
Roll into an oval shape.


Using a knife, cut some slits vertical length wise in the dough. Make sure you do not cut through the edges. Brush with olive oil and sprinkle with salt and scallions.


Begin to twist holding each edge.



And twist into a swirl bun shape.



There, that wasn't too hard was it? Alex used to buy these, frozen, from the local Asian supermarket.

Method Two: Using a Chopstick
With this method, you first roll out the entire dough onto a lightly floured surface. Brush oil over the surface and dump the rest of your scallions across the surface. Roll it up tight. Then, cut it into TWELVE equal pieces.
*This is different from method one in that when you cut the pieces, they are already rolled up with oil and scallions.


Next, place one piece right on top of the next. Take a chopstick and press it down the middle, with the open ends on either side of the chopstick



Remove chopstick, and grip the two edges, and use your fingers to peel it around and under the buns, forcing the "lips" you've created to pucker up and out.



Place them on pre-cut pieces of parchment paper and get ready to steam them.

---
Either method works – it's really up to your personal preference. Next step is to steam it (with parchment paper) for 12 minutes, then turn off the heat and let it sit, lid on, for another 5-6 minutes. Make sure to leave space between the buns when you steam them, because they grow. They really do.



RECIPE: 香葱花卷 Steamed Scallions Flower Buns
makes 12 buns
馒头 Man Tou (Dough) 
3 cups flour
1 cup warmed milk
1/2 tsp active dry yeast
1 tbsp oil
2 tsp sugar

5 stalks scallions, green parts finely chopped
olive oil for brushing
salt
Directions:
1| Mix warm milk, sugar, oil, and active dry yeast together. Let sit for 5-10 minutes, until it is bubbling.
2| Preheat oven to 200 F, then turn it off. Add in flour and mix until it all comes together. Knead until dough is elastic, smooth, but not sticky. If it's too dry, you may need more milk. Dough should be soft. Place in a greased bowl, cover loosely with plastic wrap and a damp kitchen towel, and place in inactive oven.
3| Let rise for 1 hour.
4| When dough has risen, punch dough down and shape in balls. If you are doing both methods, divide dough in half. If not, proceed via one of the methods:
Method 1: Knife
Pinch dough into 6 pieces (or 12 if you are using the whole dough)
Roll one piece into a long oval. Using a sharp knife, cut 6-7 slits in the middle, without breaking any edges.
Brush with oil and sprinkle with salt and scallions.
Pick up the dough length wise, and use your fingers to twist and shape into a bun (see photos).
Method 2: Chopstick
Roll entire dough out onto a lightly floured surface. Brush olive oil over surface. Sprinkle scallion generously, then sprinkle salt across the surface.
Starting from one edge, roll dough into a log. Using a knife, cut into 12 equal pieces (or 24, if you are using this method for all the dough).
Stack one piece on top of another, facing the same way.
Using a chopstick, press down right at the middle, with the open edges on either side.
Using your hands, scoop the lips down the sides and under the bun. See photos for reference.
5| Heat up a steamer. Steam for 12 minutes, then turn off heat and let it sit for 5 minutes, lid on.
6| To store, wait for steamed buns to cool down, then place them in either plastic wrap or sandwich bags and stick them in the freezer. Steam or use a microwave (with a wet paper towel) to heat up again.