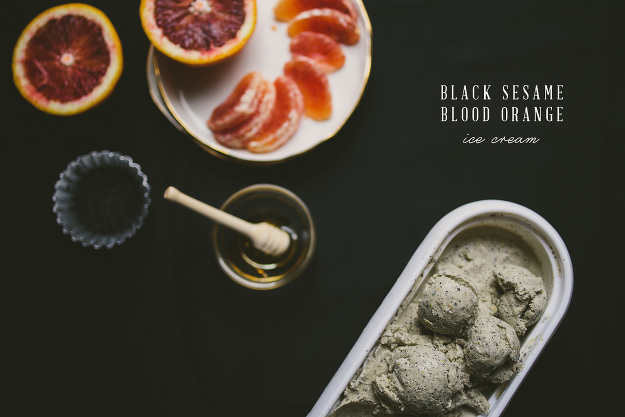 If you've been following me on Instagram, you'll know that I've been completely obsessed with black sesame!!! I can't help it – it's such a lovely, nutty flavor. It's a flavor that I grew up with, and I can't resist putting it in everything. Noodles, rice, in tang yuan, on top of ice cream…
Ever since I received my ice cream maker this summer, I've been making a lot of ice cream. Yes, it is a lot of work – mainly preparation and waiting. You have to completely freeze the vessel, and also thoroughly chill the custard base. Then you can churn, and then you have to chill that as well. It's not a matter of "Let's make ice cream for dessert!". It's more of a "Let's make ice cream for tomorrow's dessert!". Plan ahead, my friends. It's well worth it. I'm not going to let two snow storms stop me from eating ice cream.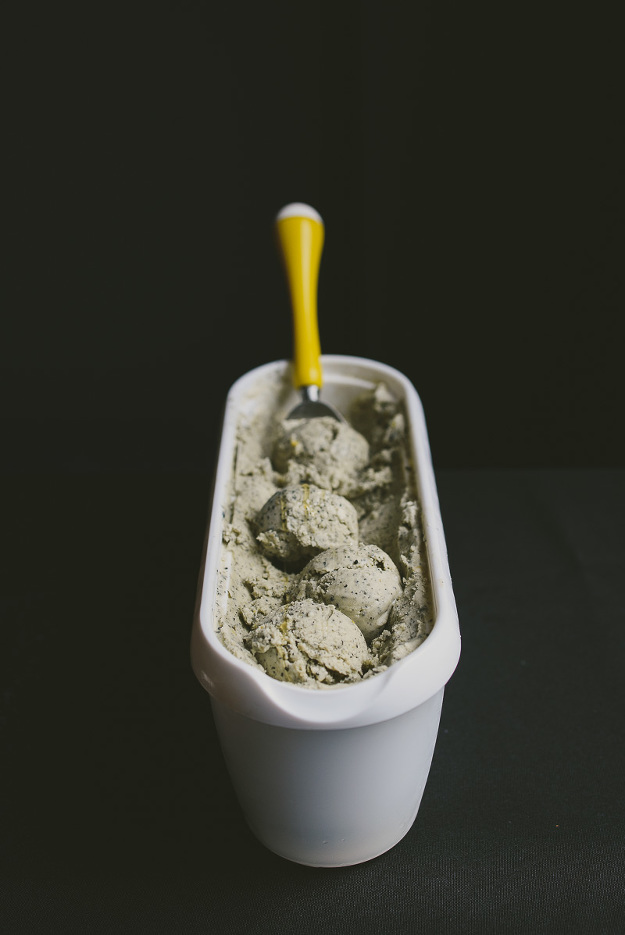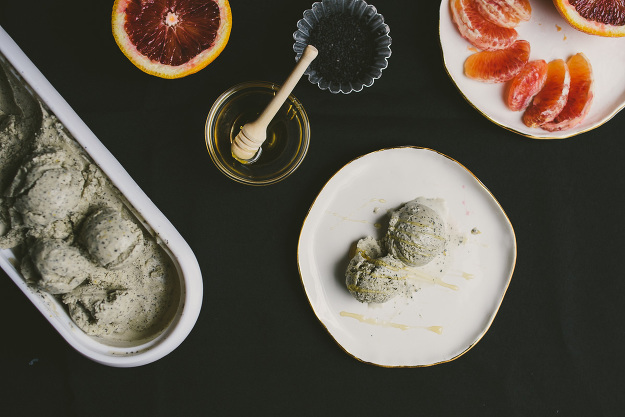 I matched black sesame with blood orange – and it is DELICIOUS. You know that I love adding a citrus tang to my ice cream. For Thanksgiving, I couldn't resist adding orange to cranberry ice cream, and it was such a success!! I'm also a BIG fan of blood orange. The first time I had it was in Cinque Terre, Italy. We were hiking along the coast, and we stopped by a fruit stand. I bought what I thought was a normal arancia (orange). I peeled it, and literally gasped at the beauty of the natural-ombre!! It's beautiful.


I drizzled some honey on top!



RECIPE: Blood Orange Black Sesame Ice Cream
based off the ice cream base I used here.
Ingredients
2 cups whole milk
2 cups heavy cream
2/3 cup granulated sugar
1 tbs vanilla extract
5 egg yolks
¼ cup black sesame
orange zest
juice of 2 oranges (1/2 cup)
1 tsp sesame oil 
1| Prepare the night before: Stick freezer bowl in the back of the freezer the night before you plan to make ice cream.
2| Make black sesame/orange paste: toast lightly, then add to blender. Stream in orange juice and sesame oil
3| Heat milk and heavy cream until it begins to simmer – do not let it boil. Remove from heat.
4| In the meantime, whisk yolks and 2/3 sugar until pale in color and thick. Gently stream milk mixture into yolk/sugar mixture, whisking constantly after each addition. This is called tempering – the point is to prevent cooking of egg yolks. Have patience, and do this slowly.
5| Pour mixture back into a saucepan and heat until custard is thick. I like to use the spoon test – dip a wooden spoon into the mixture, and remove it. Run a finger in a line down the back of the wooden spoon. If the line remains visible, then the custard is thick enough.
6| Pour custard through a sieve into a bowl. Stir in vanilla extract. Fold in black sesame puree. Sprinkle in orange zest. Cover with plastic wrap and immediately chill in fridge for at least 4 hours.
7| Pour into ice cream maker and churn according to instructions.
8| Pour churned ice cream into an airtight container and freezer for another few hours.