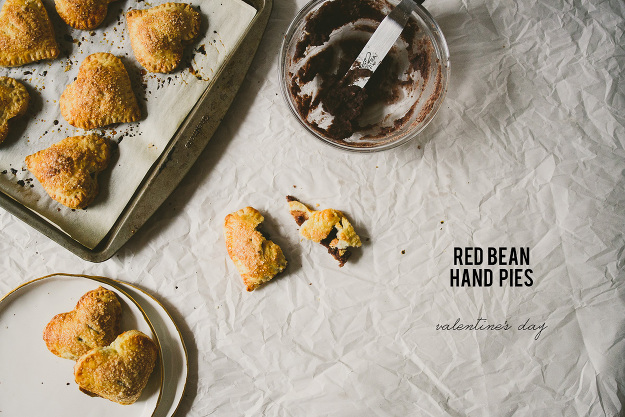 Red bean is the stuff of my childhood. I've eaten it as a paste stuffed in sesame balls, daifuku, japanese treats, mochi balls; I've had it flavored in popsicles, ice cream, even sweet zhong zi (although I much prefer savory ones); I've had it in a thick sweet soup, dotted with glutinous rice balls. If you've visited China at some point, you probably have encountered this ubiquitous flavor. It's made from sweet red beans, which is purchasable from any asian grocery store. The paste can be bought pre-made as well, but I find that making it myself is much more preferable, as I can control its consistency and sweetness.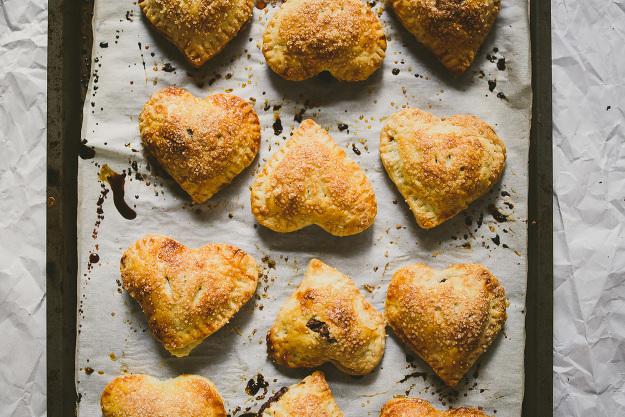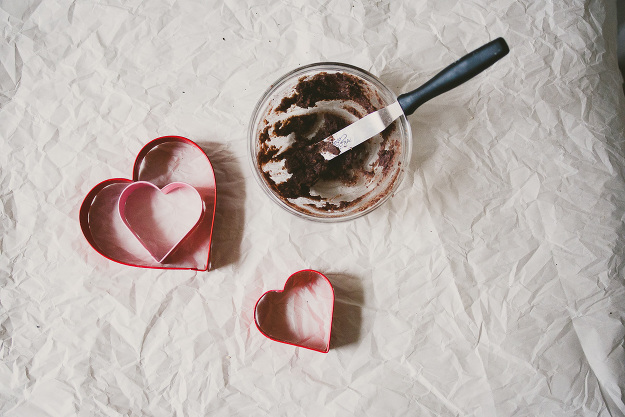 If you've been a reader for awhile, you'll know that I love pies. If I could bring one food to a deserted island, it'd be stacks of pies of every kind. Savory, sweet, full pies, hand pies. half pies? I had pies at my wedding, and it was a complete hit. Who doesn't like pies???? When you can make them yourself, you can control everything. This is the best part.




I had to try it. Red bean paste in hand pies. I honestly didn't know what to expect, but OMG guys it's amazing!!!!!!!! The red bean paste is warm and is a perfect filling. The all-butter pie crust is super flaky and perfectly envelopes the red bean paste. I don't even know how to explain it. When I presented it to my trusty taste testers, I didn't tell them what was it in, for fear of bias. They loved it!!!!!! This is definitely going on my list of party-dishes.





RECIPE: Red Bean Hand Pie
Pie crust adapted from Four & Twenty Blackbirds

Red Bean Paste
1 cup red beans (azuki)
3/4 cup sugar
5 tbsp vegetable oil or coconut oil
1| Prepare the day before: Soak red beans, covered, in cold water overnight (8-10 hours)
2| Rinse and drain red beans. Place red beans in a saucepan and cover with water until water level is 1″ above red beans. Bring to a boil, then reduce to low, and simmer.
3| Keep an eye on the water level. It will boil down. If the water level dips below the red beans, add some more water to keep the red beans just submerged. Do not add too much.
4| After about 1.5 hours, test the red beans. They should have burst open. Take one in between your fingers, and if it smashes open easily, it is done.
5| Add in sugar in increments (I did 3) and dissolve, stirring constantly.  Mixture should thicken. Use your wooden spoon to draw a line at the bottom of the saucepan. If the line doesn't disappear immediately, it is ready.
6| Let cool slightly, then use either an immersion blender or a normal blender and mix.
7| Return to pan and stir in vegetable or coconut oil.
Double Pie Crust, 9″
2 1/2 cups flour
2 sticks butter, cubed into 1 cm pieces, cold – prepare this beforehand
1 tsp salt
3 tsp sugar
3/4 cup cold water
2 tbsp apple cider vinegar
1 egg + splash water for egg wash
1| Prepare: Cube butter into 1cm pieces, and place it in a bowl in the freezer. I find that this allows the butter to get very cold before you work with it. Put the 2 tbsp apple cider vinegar into cold water, and place this into the freezer as well. Don't worry about it freezing- you will use it before it can freeze.
2| Combine flour, salt, sugar, black pepper.
3| Take cold butter, and using a pastry cutter, fork, or fingers, work quickly and cut butter into dry ingredients. Pea size chunks will remain, and that's completely fine.
4| Take out cider vinegar / water mixture. Using tablespoons at a time, mix it into dry ingredients until just combined. Do not overmix or knead. Add the mixture gradually – you can always add more water, but you can't take it out. The resulting dough should be damp but not moist.
5| Separate dough into two halves. Shape into disks and wrap with plastic wrap. Place in fridge. Let dough rest for at least 1 hour. *I find it easier to work in two batches.

ASSEMBLE: 
1| Roll out pie crust. Use heart shaped cookie cutters to form heart shapes.
2| Spoon 1.5 tbsp red bean paste onto the center of one heart shaped half.
3|  Using your finger, line the perimeter with some water. Gently place another heart form right over the red-bean filled heart. The water helps seal the two pieces together. Use a fork and crimp the edges.
4| Use a sharp knife to slice some slits – this lets the air out so they don't explode.
5| Do it for as much dough as you can get. Put them on parchment paper lined baking sheet and stick it in the fridge for 10 min.
6| Preheat oven to 425. Meanwhile, beat 1 egg + a splash of milk or water together.
7| Using a pastry brush, brush it over the chilled hand pies. Sprinkle with a turn of black pepper if grinding, or just a light dash. Sprinkle liberally with demarara sugar (or raw sugar, or just granulated) and bake for 20 minutes. Then turn heat to 375 and bake for another 20-25 minutes, until it is golden brown.