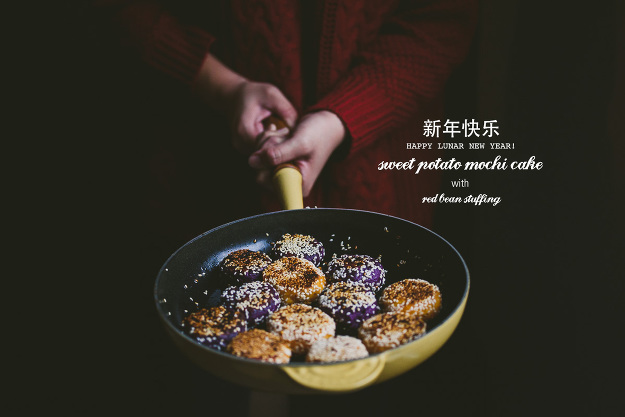 Happy Chinese New Year / Lunar New Year!! Technically, it's tomorrow (2/19). It's one of my favorite times of the year, because everywhere I turn, I see my favorite things – noodles, dumplings, rice cakes, red bean that, matcha this. The blogosphere just bursts with Asian-inspired treats. There was a time I used to hate fusion, because I was up on my high horse of authentic Chinese food, but I toppled down a long time ago. Fusion is awesome, and I REVEL in it. I think the root of my fusion hatred was when I sat down in PF Changs many moons ago and ordered dan dan mian, or some other noodle dish. It was not. It was just, not. To me, fusion then represented fake-asian or asian imposters – but I came to realize that's not what fusion is about. It's the ultimate creative exercise to incorporate asian flavors in nontraditional ways. It's what I find most stimulating right now (red bean hand pies, anyone?)
Let's have some link love, because nothing makes me happier than seeing all these lunar new year posts:
Chocolate dipped black sesame fortune cookies. Yes. Read that over again and then just go visit his site.
This cake that embodies my current two favorite flavors – matcha and black sesame
Turnip cake, which I hated as a child but now cherish.
This other cake because, Molly is awesome and matcha + black sesame, again.
Lucky dumplings and noodles, because everyone can use a bit of extra luck!
Whole fish, another food for good luck on New Year's.
Egg tarts, only of of my favorite dim sum items in the whole world.
And OK, it might be weird to give myself link love, but I make these posts because I love the recipes, and they're perfect for CNY!
Dumpling potstickers, because I'm making these again this weekend.
PINEAPPLE CAKE / Feng Li Su! 
Have I convinced you that Lunar New Year is a wonderful time of the year? If not, well, you should know there's another tradition involved: hong bap 红包!!There's a saying kids used to parrot as a joke – 恭喜发财红包拿来, which translates to "best wishes and fortunes, hand over the red envelopes"! Little red envelopes stuffed with money, usually given by family members. As a kid, I looked forward to this so that I could tuck it away for my savings! It's like another Christmas.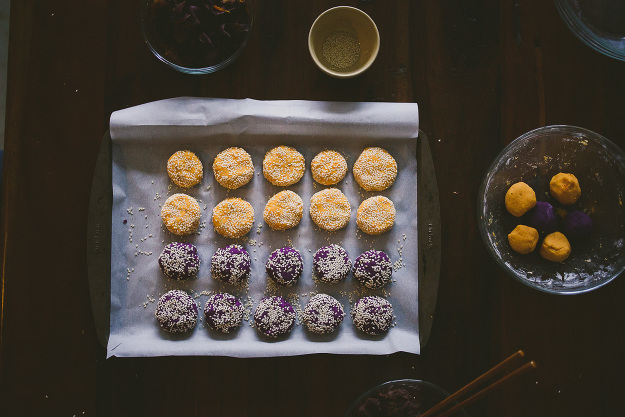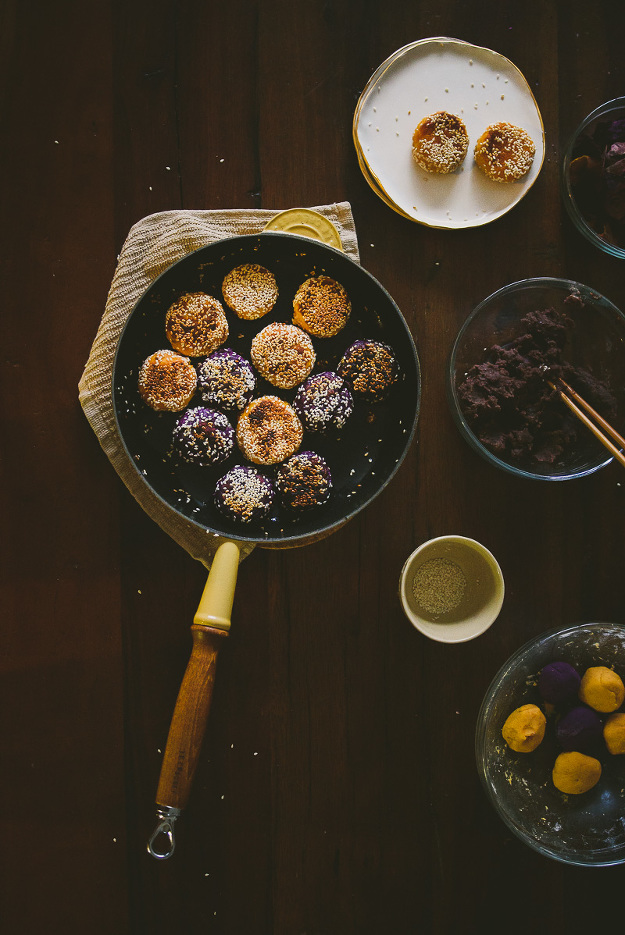 This year, I'm sharing something my mom made for us. We call it nan gua bing 南瓜饼, which literally translates to pumpkin cakes, but she uses sweet potato instead, because they're moist and yummy. Of course, because I'm required by law to do everything in two different ways, I used two types of sweet potato – the normal ubiquitous kind, and purple yam. I dislike using color dye, so it always thrills me to no end when I discover beautiful natural pigments!
This sweet potato mochi cake is stuffed with red bean paste and heated up to create a crispy-yet-soft exterior. Now that I'm literally across the country, away from home, I can whip up a batch of these and immediately be transported back to my mom's kitchen, waiting by the counter for these cakes to finish cooking and stuffing them in, despite scalding my tongue. I love that sweet potato comes in so many varieties – my favorite is to make it with both purple sweet potato and the more common orange sweet potato. They have the perfect natural coloring to make vibrant orange and purple sweet potato mochi cakes.

The ingredients are so simple for this recipe – red beans, sugar, sweet potatoes, mochiko flour, and sesame seeds (not pictured).


I used to buy red bean paste from the store, but I started to make my own, because it truly is that much better. You can control everything – how sweet you want it, how thick you want it, how much fat you want to mix into it. It's the best way to customize how you want your red bean paste to taste or feel like. Personally, I like it a little dry, not too sweet, and full of the natural taste of red bean. When I'm using it to stuff something, the dryness helps keep its shape. 

Of course, I had to make these cakes in two different ways. For one batch, I used purple sweet potato. For the other, I used normal sweet potato. That way, I could get a purple batch and an orange one. The purple sweet potato is, by nature, drier than the orange one, so for that, I added about 1.5 tbsp water to the dough. The resulting dough should feel like play dough – smooth, soft, and easily malleable. When you form the cake, there should not be any fissures on the surface. 

Start off by forming about 2 tbsp dough into a spherical shape with your hands. Then, use your index finger and thumb to pinch it into a well shape. Like a large upside down mushroom cap that you can then stuff red bean paste into. Pinch the edges closed so it resembles a rough dumpling.


Then, just roll that rough dumpling between your palms to recreate a sphere. Dip it into a little plate of white sesame seeds. Place it on a flat surface and gently press down with your palm. Set aside and repeat for the rest of the batch.

Now, all that's left is to cook them and create that beautiful crunch!!





RECIPE: Sweet Potato Mochi Cake with Red Bean Filling 
Red Bean Paste
1 cup red beans (azuki)
3/4 cup sugar
5 tbsp vegetable oil or coconut oil
1| Prepare the day before: Soak red beans, covered, in cold water overnight (8-10 hours)
2| Rinse and drain red beans. Place red beans in a saucepan and cover with water until water level is 1″ above red beans. Bring to a boil, then reduce to low, and simmer.
3| Keep an eye on the water level. It will boil down. If the water level dips below the red beans, add some more water to keep the red beans just submerged. Do not add too much.
4| After about 1.5 hours, test the red beans. They should have burst open. Take one in between your fingers, and if it smashes open easily, it is done.
5| Add in sugar in increments (I did 3) and dissolve, stirring constantly.  Mixture should thicken. Use your wooden spoon to draw a line at the bottom of the saucepan. If the line doesn't disappear immediately, it is ready.
6| Let cool slightly, then use either an immersion blender or a normal blender and mix.
7| Return to pan and stir in vegetable or coconut oil.
 Sweet Potato Mochi Cakes
2 large sweet potatoes
1 batch red bean paste
1 cup sesame seeds
2 cups mochiko flour
warm water, if using purple sweet potato
*If you want to use orange sweet potatoes and purple sweet potatoes, simply use two mixing bowls and 1 cup mochiko per sweet potato. The purple sweet potatoes tend to be drier, so you may need to add 1-2 tbsp warm water to achieve the right consistency. Recipe below is using one type of sweet potato.
1| Roast sweet potatoes at 400F until fork tender, about 45 minutes. Let cool.
2| Once potatoes are cool enough to handle, remove skins.
3| Place potatoes in a mixing bowl and mash a bit. Start with about 1.5 cups of mochiko flour. Use a wooden spoon or your hands to mix the sweet potato and flour together. Once all the mochiko is used up, if it is too wet, add more mochiko. The resulting dough should resemble the consistency of play-doh. It will be very soft and will no longer stick to your hands.
4| Pinch off about 2 tbsp dough and roll between your palm into a sphere. Use your index finger and thumb to pinch a well into the sphere of dough, forming a cup (see photos). Place 1.5 tbsp red bean paste into the well, then pinch dough closed. Roll again between your palms to form a sphere again.
5| Roll sphere in a cup of white sesame seeds to coat.
6| Place on a flat surface and press gently with your palm.
7| Repeat with the remaining amount of dough.
8| Heat up oil in a flat bottomed skillet on low heat. Gently place mochi cakes across the surface, making sure they do not touch each other.
9| Sauté until mochi cakes have browned, then flip. Mochi cakes will turn more translucent than opaque. Once both sides are nicely browned, remove from heat and serve warm.