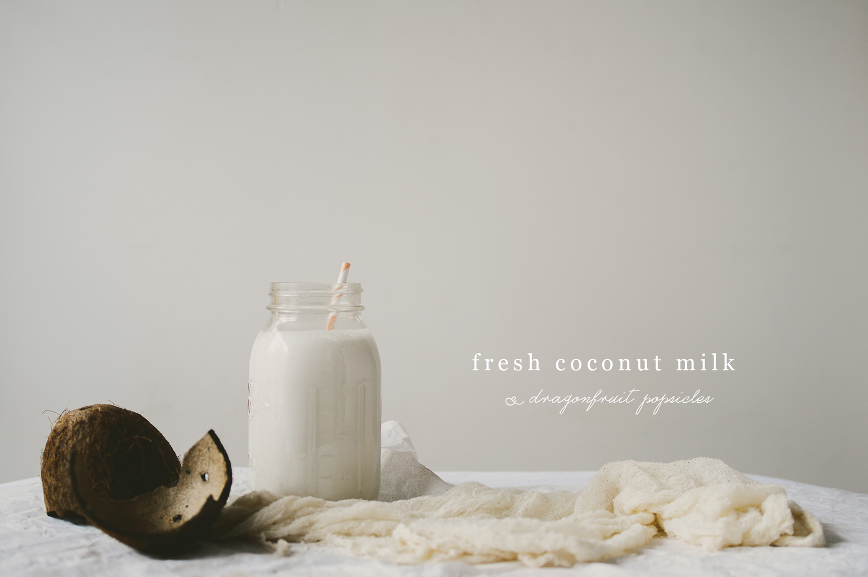 I'm typing up this post from California and it is so good to be back! I'm so excited about this post because there are three things I'd like to share with you:
A second stop animation video!! I'm addicted and I'm not going to stop. You can see my first video on taro coconut milk rolls here. Today I'm sharing a short, sweet video on how to coax coconut milk from a mature, brown coconut.
Dragonfruit coconut popsicles, because it's POPSICLE WEEK! Thank you so much Wit and Vinegar for organizing this delicious madness. So excited to be a part of this popsicle-looza this year!
Meg and I are hosting another food photography and styling workshop! You can see details here. I wasn't even sure I'd like teaching but after our last day workshop sold out within a couple of hours with more requests, we decided to put together an amazing autumn New England retreat. We'll be learning about sourdough bread, picking wild mushrooms and learning about which ones are edible, and of course, we'll be teaching comprehensive, hands-on lessons on photography and food styling. While we will spend a thorough lesson going over technique and how to manipulate the internal camera settings, we'll also be focusing a lot of styling. The light, the props, the background, the food – this is what will bring your vision to life. This is how you develop a personal style. We'll also be going over post processing and providing delicious harvest meals for our attendees. Spots limited! Thanks to those who already signed up!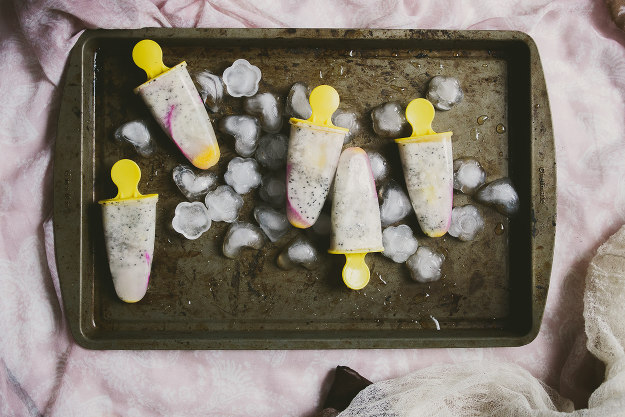 I'm so happy to share my second video!! Super short, super sweet, because that person holding the coconut is my husband! As you know, he's a constant supporter of my blogging endeavor, and he sometimes lends a hand, but for the most part it's me and a tripod and a remote trigger. This was actually his idea. He reminisced about a scene from his time in Hawaii: a stand with boxes of hairy coconuts. A man, grabbing a coconut, efficiently stabs its eyes and pours delicious out delicious coconut water. He cracks it with a rock clutched in his hands. Within a few seconds, the coconut falls apart, revealing a succulent white flesh surrounded by a raggedly edge. The aroma of coconut wafts up, feeding on anticipating and increasing thirst. In the blink of an eye the flesh is scraped into a tight-weave towel using the same rock, squeezed, blended with the water from before, and a jar of fresh coconut milk is presented for consumption. Put that in a scene of beaches, lush greens, and happy people (I've never been to Hawaii so this is my imagination speaking) – this coconut milk is not just a refreshing drink. It is vacation, sun, family time, and happiness all in one jar. Why don't we take a stab at it?
This is truly Alex's pet project. He was determined to crack open some coconuts. We ended up cracking four – two to practice on and two to film. I'm not complaining. We used hammers and muddled our way through the processes. I'm not saying this is the best way to open coconuts – I did a quick search online and found countless ways, including using a chef's knife (genius), or roasting in the oven. Also, Laura opened a young Thai coconut and made some delicious strawberry milk. I'm opening a "mature coconut" – those brown hairy balls that are heavy. I also shake it around next to my ear so that I can listen to it. These coconuts will speak to you and tell you if it is bloated. The meat of these mature coconuts is more firm and has more flavor and oil, and I wanted really flavorful milk squeezed from the flesh of these coconuts. I pick heavy ones because… more juice right? It was shockingly better than any coconut milk I've ever had commercially. I'm never buying coconut milk ever again.


The first step is to dump out the water. There won't be as much coconut water in these mature coconuts as young thai coconuts, but you still want to retain as much as you can. Simply poke a hole through the eyes of the coconut.



Then use a hammer to crack the coconut open.


Continue to use the hammer to loosen the coconut from the shell. This may be tricky and you can use a knife to carefully loosen it up.




Peel coconut flesh so that you are left with only the white meat.



Hot water is used is to extract the coconut oil from the meat. If you have ever used coconut milk for ice cream or whipped cream, then you'll know that one of the important steps is to place the can in the fridge overnight. After that, you'll see two distinctive layers and can separate the fattier coconut cream. This is because the fat has a different density than the water and is completely natural. This will happen and should be expected. Using hot water will help coax the fat and flavor out of the fleshy part of the coconut meat. Because this is a mix of water and fattier cream, the resulting coconut milk will separate. This is completely natural and if it didn't separate then I would worry.



The next step is the fun part – strain it through a cheesecloth and squeeze.



What did I do with my coconut milk?
Drink it. It's lovely just to drink. I would never drink canned coconut milk so I was skeptical but oh my – it is so refreshing, creamy, and transplants me to a tropical beach, even if I'm roasting in humidity in Boston.
Blend it for smoothies. Matcha smoothies, green smoothies, strawberry smoothies – so good.
Make ice cream!!! As the coconut milk inevitably separated, I scooped up the cream part and churned it to a lovely coconut flavored ice cream.
Spread the remaining shaved coconut meat on a baking sheet to dry and then store in an airtight container. Use this for decoration or topping granola or yogurt!
Make ice pops!!! I took the remaining water/thin milk and made ice pops. Super refreshing for this day. Recipe below!


I've always been in love with this fruit ever since I was in child and was served this for dessert one time. My mind boggled. They looked like pretty exotic kiwis!!! They don't taste like kiwi but they're so refreshing and sweet and almost milky. Luckily I was able to find these in Asian grocery stores in the States, so I was able to continue eating them.


Recipe: Fresh Coconut Milk

water and flesh from two brown coconuts
2 cups hot water
1| Strain coconut water by drilling holes in the eyes of the coconut and pouring it into a bowl.
2| Use a hammer to crack open coconut and loosen the skin.
3| Use a vegetable peeler to remove brown skin.
4| Chop and blend flesh, water, and hot water together.
5| Pour into a bowl covered with a cheesecloth and squeeze all the juice out.
6| Enjoy!
Recipe: Coconut Dragonfruit Ice pops
This can be customized in any number of ways. Adjust everything to taste.

1/2 cup diced fruit
¼ cup coconut milk
¾ cup coconut water
lemon zest and juice
2 tbsp honey
1| Whisk coconut water, lemon juice, and honey together. Pour into mold to ½ way.
2| Let set a bit (5 minutes)
3| Add a slice of dragon fruit. Let set a bit.
4| Add second wedge. Let set.
5| Add final layer of blended dragon fruit, coconut milk, lemon zest.