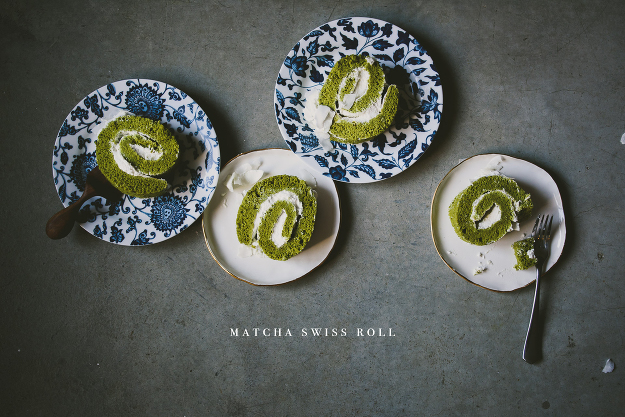 When it comes to cake, I'm a bit boring – I prefer cakes that aren't too sweet, too fancy, or too frilly. I love looking at a beautiful, intricately decorated cake, marveling at the baker's talent, but when it comes to baking my own cake, I always find myself veering towards the simple. Part of it is, I admit, my own disastrous experiences with making fancy cakes, but that's neither here nor there! I'm so happy to share this matcha swiss roll with you – it's kind of a hybrid between a sponge cake and the classic swiss roll. A whipped meringue is gently incorporated into the batter, giving it its signature light and fluffy texture. This is an incredibly versatile recipe. I've done variations both in flavors and form: you can switch out the matcha and add in… ground black sesame seeds, for example, to make a black sesame roll cake. As for form, my favorite is to surprise people with a vertical roll cake. It's made in the exact same method, except that when the cake is assembled, the cake is cut into three long strips and then rolled one after the other. You can see an example here. I call it the vertical cake roll.
This cake is inspired by my Japanese language class in high school. That's right – I've been using this recipe as my go-to not-too-sweet cake for over five years. It started when I was first interested in baking. My teacher had a cute Japanese baking magazine filled with pretty images of pretty cakes. I immediately honed in on a fluffy-looking cake roll and decided to make it a project: to translate it and make it! As a non-experienced baker, I was flummoxed by the different measurements, the requirement for a scale, and the unfamiliar ingredients. Eventually, with the help of my teacher, I came up with a workable recipe and tried my hand with it. It was good, but not what I'd expected. So, I tabled it. Several years past, and I'd learned more about baking cakes, whipping up meringues, and other tidbits of information that helped me understand what I did wrong and how the recipe needed to be changed. To make a long story short, a couple of years after my initial translated recipe, I was able to struggle my way through many iterations and finally came up with a light, fluffy cake recipe, which is up on Food52's Small Batch column!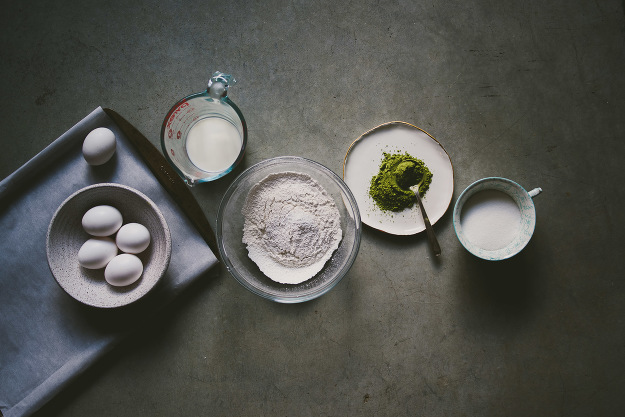 My preferred version of this cake is with culinary-grade matcha. Matcha is a Japanese green tea that is ground into a powder form. Because we ingest the whole leaf instead of just water brewed from the leaves, it is said to be extremely healthy. More recently, matcha has become a very hip drink, with matcha bars and cafes popping up everywhere. I love drinking matcha – I drink a cup everyday in lieu of coffee, but my first introduction to it was actually in the form of ice cream! I loved the vibrant, deep green color it contributed, and the taste was unique but mild. Even better? It wasn't too sweet. I hunted down a package of matcha and have been baking (and now drinking) with it ever since. The taste works well in this recipe, especially when paired with a light whipped cream.
This matcha roll is easy to make (way easier than a layer cake), quick to whip up, and beautiful in presentation. I always measure my flour in grams, but I've provided the cup measure as well.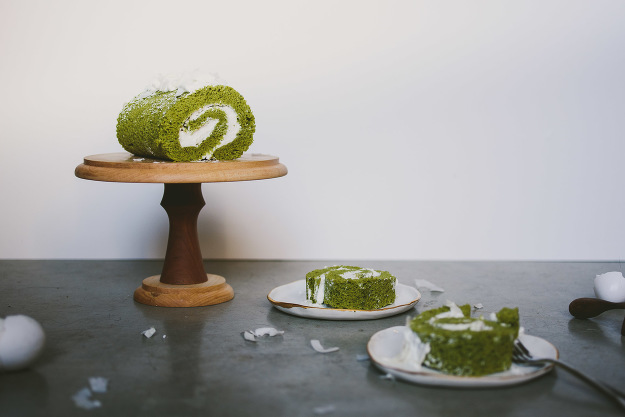 The first step is to sift the dry ingredients: cake flour, baking powder, matcha, sea salt. I actually sift it twice, just in case. Then, beat the egg yolks with sugar and milk until pale yellow and thick. Whip up egg whites into a foamy, fluffy meringue, until peaks can stand up on their own.


Combine: First, add flour mixture to yolk mixture and fold until combined. Add in egg whites in three batchs: Add 1/3 of the egg whites and fold until just combined. Add another 1/3 and fold. Add the final 1/3 and fold. The texture should be light but not fluid like water. It should be thick but fluffy.


Spread onto prepared, parchment paper lined baking sheet or jelly roll pan.


And then bake for 7-8 minutes, until a toothpick inserted at the center comes out clean, with no wet batter sticking to it.


Run a knife around the edges of the pan to loosen the cake. Invert onto your prepared tea towel. Gently remove parchment paper. Roll, starting from the shorter edge, to create a loose log. This shapes the cake without causing any cracks. Cool completely to room temperature. I've tried it with sprinkled powdered sugar between the cake and towel, and both work, but for this recipe I just decided to omit it.



After it completely cools to room temperature, gently unroll it. Spread whipped cream across the surface and gently roll back up.



Top with powdered sugar, more whipped cream, coconut flakes, or anything your heart desires.





Plates: Suite One Studio / Cake stand: Apple Doesn't Fall / Ceramic bowl: Ogusky Ceramics 
RECIPE: Matcha Swiss Rolls
For the matcha cake:
120g (1 cup) cake flour, sifted

5 g ( 1/2 teaspoon) baking powder

10 g (2 heaping tablespoons) culinary-grade Matcha

1 pinch sea salt

5 eggs, separated

110g (about 3/4 cups minus 2 tablespoon) sugar

45 ml whole milk
For the whipped cream filling:
1 cup heavy cream, cold

2 tbsp confectioners sugar
Line a jelly roll pan or deep baking dish with parchment paper and set aside a clean tea towel. Preheat oven to 400° F.
In a medium bowl, sift together the flour, baking powder, matcha, and salt. Set aside.
In a separate large bowl, whisk together the egg yolks, sugar, and milk until pale yellow and thick, about 2 minutes.
In a stand mixer, whisk the egg whites until stiff peaks form.
Add the flour mixture to the yolk mixture and fold until combined. Add in the egg whites in thirds, folding them in each time until just combined. The texture should be light but not fluid like water; it should also be thick but slightly fluffy.
Pour the batter evenly into the prepared baking pan.
Bake for 7 to 8 minutes, until a toothpick comes out clean.
Remove the cake from the oven and run a knife around the edges of the pan to loosen it. Invert it onto your prepared tea towel. Gently remove the parchment paper from it. Starting from the shorter edge, roll the cake into to create a loose log. This shapes the cake without causing any cracks. While rolled up, allow it to cool completely to room temperature.
Meanwhile, make the whipped cream filling. In a cold bowl, whip cream and sugar until stiff peaks form. Cover and chill in the refrigerator.
When the cake roll is at room temperature, gently unroll it and evenly spread the whipped cream across its surface. Re-roll it and sprinkle confectioners sugar over the top. (I sometimes spread a layer of cream on the top with some sprinkled coconut flakes across the surface, but that is entirely optional! )