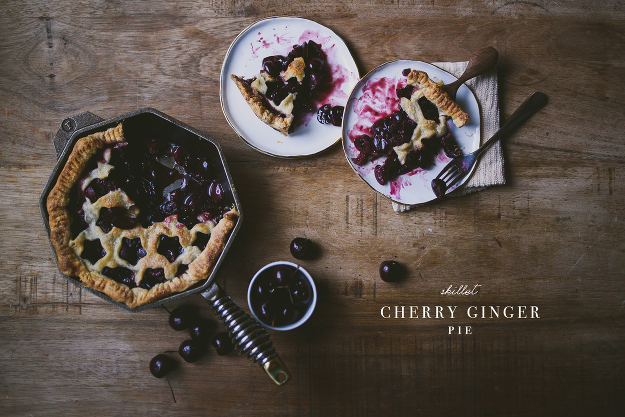 I'm back in Boston and currently melting in my apartment. I feel a bit hypocritical posting a pie recipe, because nothing can make me turn on the oven at this moment. Nothing. However, cherry season is quickly slipping through my fingers and nothing says summer like cherry pie, so here it is. A sweet cherry pie accented with ginger and bourbon. On a skillet, which makes everything so much better. I served this over July 4th (yup, just now getting to post this, sorry!) and it made the prettiest presentation.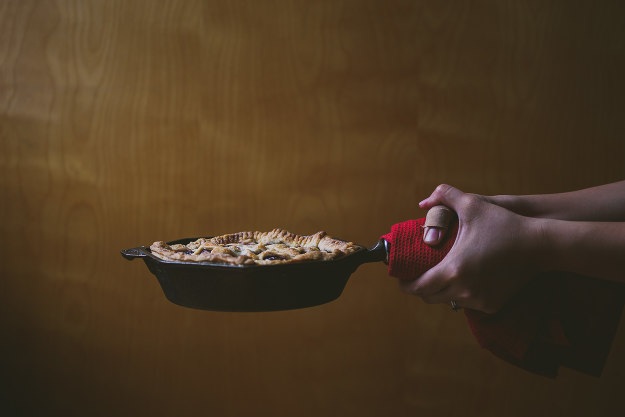 I get restless in this humid weather. I grew up in comfortable California, with dry heat and no humidity. My only brushes with humidity was in China, so when I'm faced with this heat and blanket of moist, I'm instantly transported back to China. I can just taste the ever-present scent of tobacco, brace for the rush of traffic and horns, and listen to the steady, almost musical flow and ebb of Shanghainese. I texted my sister to wish her happy birthday, and we started chatting about updates, etc, and eventually became a festival of complaints about the weather (she's in CT). We both agreed we were just restless. Just last weekend I brought Annie over to a friend's place, and she has two beautiful dogs as well. We had lovely dinner (I made my mom's pork belly), but the AC was malfunctioning so we all had a fine sheen of sweat and were hovering near madness. The dogs felt it and in the snap of a finger began to growl and snap at each other. Humidity can do this: plant a seed of restlessness that will sprout and have you snapping at the most minuscule things. It is over 90 degrees out with humidity that tells me, clearly as any weather forecaster, a storm is coming. I welcome the storm with open arms. Come chase this humidity away and I'll be a happy camper again.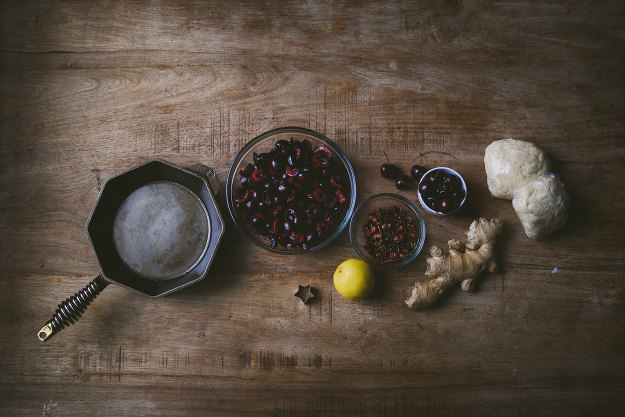 I'm sipping on ice-cold, fizzy kombucha, the first batch I've ever made (yes, blog post coming soon) and about to make another. My dog is panting at my feet after a lazy stroll through the park. Poor Annie, with her plush German Shepherd coat and no sweat glands. Thankfully we have concrete floors, which stay cool to the touch. She's sprawled out, trying to make contact with every inch of her belly. She opens her eyes and gives me a look. The look that says, Why did we move here? DO YOU SEE MY FUR?? 




I love lattice crusts, and I love full crusts. I love decorative crusts as well, but my go-to, easiest method of closing up a pie is cut-out crusts. I used stars for these, although they did turn out a bit deformed. Haha.



I can't wait to write all about my trip to California. This was made super special because I was able to meet up with so many bloggers! I only had a week, which was not enough time, but I was able to meet up with Sarah, Alanna, Michelle, Nik, and Phi. Lots of laughs, chocolate, and good food was exactly what I needed to unwind. I'll do a post soon, promise! 






Notes:
I used an 8″ skillet (from Finex) and made only 3/4 of the double pie crust. If you have leftovers you can always make hand pies (like this this and this) :).
Work quickly with the pie crust. Before assembling anything I always keep the cubed butter in the freezer and the water in the freezer as well. You'll be using them up before there is any chance of freezing.
Pie crust is the one from Four & Twenty Blackbirds, although without the apple cider vinegar. Flaky as always.
The sugar, you'll notice, is a range. This depends on how sweet your cherries are. I would taste the filling and adjust to your preference. I also tend to keep my treats on the less sweet side, so it is really up to you :). Pies are great that way, aren't they?
I used bourbon because… bourbon goes great with cherries. Meg knows this as they appear in a delightful pairing in her popsicles. Completely optional and up to you. Ginger is also optional. I love the added depth fresh ginger gives to anything – I almost always use it in stir fry, soups, teas, and have recently started to incorporate them into desserts. I'm not stopping anytime soon.
If you are doing a full crust with cut outs like mine, I recommend you roll it out on a piece of parchment paper, cut out the shapes, then use the parchment paper to transfer the dough onto the skillet. I did not do that with this pie and the stars got a bit stretched out. I did use that technique here though and it worked out wonderfully.
Let the pie rest after you remove it from the oven. I let it rest at least 30 minutes. This helps the filling to set and you won't be treated with a completely soupy pie.
RECIPE: Skillet Ginger Cherry Pie
Double Pie Crust, 9″
2 1/2 cups flour
2 sticks butter, cubed into 1 cm pieces, cold – prepare this beforehand
1 tsp salt
3 tsp sugar
3/4 cup cold water
1 egg + splash water for egg wash
1| Prepare: Cube butter into 1cm pieces, and place it in a bowl in the freezer. I find that this allows the butter to get very cold before you work with it. Place cold water into the freezer as well. Don't worry about it freezing- you will use it before it can freeze.
2| Combine flour, salt, sugar.
3| Take cold butter, and using a pastry cutter, fork, or fingers, work quickly and cut butter into dry ingredients. Pea size chunks will remain, and that's completely fine.
4| Take out cider vinegar / water mixture. Using tablespoons at a time, mix it into dry ingredients until just combined. Do not overmix or knead. Add the mixture gradually – you can always add more water, but you can't take it out. The resulting dough should be damp but not moist.
5| Separate dough into two halves. Shape into disks and wrap with plastic wrap. Place in fridge. Let dough rest for at least 1 hour.
Bourbon Ginger Cherry Filling
5 cups sweet cherries, pitted
2 tbsp fresh lemon juice
1/2 – 2/3 cup light brown sugar
3 tbsp corn starch
¼ tsp cinnamon
1 tbsp. grated fresh ginger
2 dashes bourbon
6| Combine all filling ingredients and stir to combine.
7| Butter your skillet. On a lightly floured surface, roll out dough until it is about 2″ larger than your skillet. Gently place over skillet, with edges hanging over.
8| Using a slotted spoon, transfer cherry filling onto prepared pie dish. There should be liquid remaining in the bowl.
9| Roll out other half of dough, and do a lattice or full crust.
10| Place in fridge for 15 minutes.
11| Meanwhile, preheat oven to 425F.
12| Brush pie with egg wash and sprinkle generously with demarara sugar.
13| Bake for 20 minutes, or until crust is light golden.
14| Reduce heat to 375F, and bake for another 30 minutes, until filling is bubbly.
Note: This post is in collaboration with Finex. All opinions expressed here are purely my own.
Plates: Suite One Studio / pie server: Apple Doesn't Fall / cast-iron pan: Finex