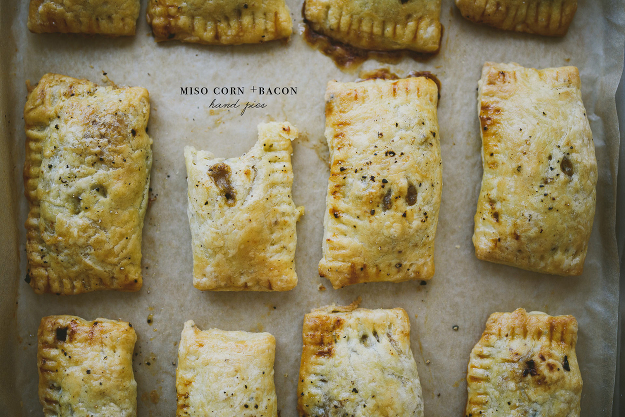 I've always had this image of summer – picnics with a lovely dainty basket (tied with a bow), a bright blanket, a bottle of wine, sandwiches, potato salad, pie, sun, intimacy, a light breeze with no humidity, and flowers. Can't have a picnic without a bright bouquet of flowers, wildly picked or brought. In reality, the picnics (a rare happening in Boston humid summers) usually consist of a cloth shopping bag, wrapped up sandwiches, and our rambunctious canine companion Annie. When Alanna and Sarah came up with the idea of a picnic-themed collaboration, I jumped on it. Unashamedly. We each made a different hand pie. I made miso corn and bacon hand pies. This can't be surprising- you all know my love affair with corn, my predilection for miso, and my obsession with hand pies. Head over to Sarah's blog for rosemary peach hand pies with white chocolate marscapone, and Alanna for eggplant parmesan hand pies .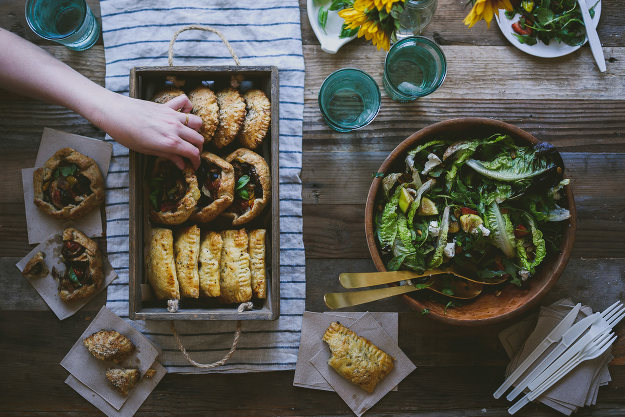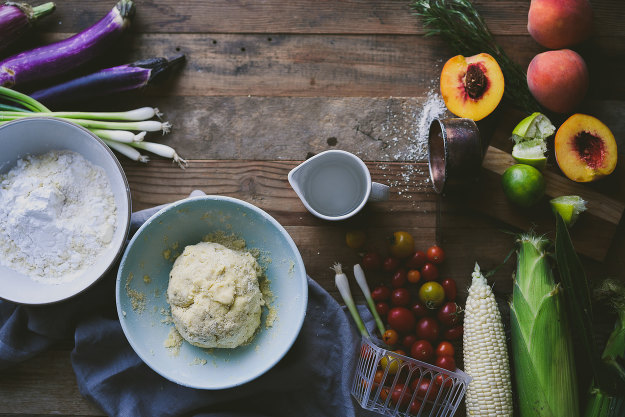 Besides hosting events with Meg, this was a new experience for me – working on recipe + shooting with other food bloggers. It was so much fun. Why don't I do this for all my posts? There's conversation, anecdotes that only other bloggers would understand, and general shared enthusiasm for food. Plus, I got to taste some treats from Alanna's upcoming book, which was scrumptious. We baked in that house though. With three hand pies going in and out of the oven at different times, the oven was on, constantly, at 375-400F. We dapped at our faces daintily, shed our jackets, and powered through. If you've lived in Northern California before, you'll know that in most houses, there is no AC. You generally don't need it. We didn't want to open any windows because it'll ruin our setups. When we stepped out of the house, we discovered that the house was actually the warmer environment. Despite sweating buckets while running around photographing everything (which automatically makes the simple process of making hand pies many times more complicated), it was just plain fun. I'd do it again


Interspersed throughout this post will be some scenes from our shoot – including Sarah's super cute cats! 


The hardest part about this recipe is removing the kernels from the cob. I was not my in own kitchen, so every stray kernel flying out onto the floor screamed at me to hurry up and clean it up. The rest is simple – you can't really go wrong with bacon, miso, and a simple roux.




Forming these hand pies were more difficult than usual, for two reasons: the house was really warm; I was trying to photograph the process, which meant more time for the dough to melt away. Food blogging problems, right? 


I do not follow a gluten free diet, so I prepared my go-to pie crust, which is basically Four & Twenty Blackbird's crust, though I do omit the apple cider vinegar at times. Alanna brought this crazy crust with a bunch of different flours that I can't even list off – you'l have to go to her blog for that. Sarah also ground up her flour for her pie crust the day of, which is mind-blowing and insane!!! Definitely check those out of you're looking for gluten free options.



And then I could relax and see the others in action (and photograph)



Alanna and Sarah in action!!!!! It's no secret I'm obsessed with stop-motion videos, so after my corn pies were resting out of the oven I had to come over and shoot some frames while they assembled their pies. See them over at their blogs.
Alanna's eggplant parmesan hand pies
Sarah's Rosemary Peach Hand Pies with White Chocolate marscapone



Photography and styling were with Alanna and Sarah
Eggplant Parmesan hand pies – The Bojon Gourmet
Rosemary Peach hand pies with White Chocolate Marscapone – Snixy Kitchen 
RECIPE: Miso Corn + Bacon Hand Pie
Pie Dough (Double Crust)
2.5 cups flour
2 sticks butter, cubed into 1 cm pieces, cold
1 tsp salt
3 tsp sugar
¾ cup cold water
½ tsp black pepper
1 egg + splash water for egg wash
1| Prepare: Cube butter into 1cm pieces, and place it in a bowl in the freezer. I find that this allows the butter to get very cold before you work with it. Put water in freezer as well. Don't worry about it freezing- you will use it before it can freeze.
2| Combine flour, salt, sugar, black pepper.
3| Take cold butter, and using a pastry cutter, fork, or fingers, work quickly and cut butter into dry ingredients. Pea size chunks will remain, and that's completely fine.
4| Take out water. Using tablespoons at a time, mix it into dry ingredients until just combined. Do not overmix or knead. Add the mixture gradually – you can always add more water, but you can't take it out. The resulting dough should be damp but not moist.
5| Separate dough into two halves. Shape into disks and wrap with plastic wrap. Place in fridge. Let dough rest for at least 1 hour. *I find it easier to work in two batches for hand pies.
Sweet Corn + Bacon Filling
3 bunches scallions, chopped finely
3 cups kernels corn (about 4-5 fresh ears, husk and silk removed )
½ cup chopped cooked bacon (~1/3 lb bacon)
2 tbsp white miso
1 clove garlic
salt and pepper to taste
2 tbsp flour
2 tbsp butter
1 cup whole milk or stock
1 tsp ancho red chili powder
dash fresh lime juice
1| Brown bacon until cooked and most of the fat has rendered off. Remove bacon, leaving the fat behind. Sautee sliced scallions until translucent and soft, about 3-4 minutes. Add in garlic and cook for another half minute. Add in corn and about some water (around 1/2 cup) and simmer, covered, for 5-10 minutes, until corn is cooked through. Season with salt and pepper.
2| Push corn to the side and heat 2 tbsp butter in a skillet. Add in flour and stir until fully incorporated and thick and browned.
3| Slowly stream in stock and continue to whisk until thick and gravy-like. Whisk in miso.
4| Add in chopped bacon and mix well.
5| Let mixture cool before handling
6| Assemble: roll pie dough on a lightly floured surface
Hand Pies: Cut out squares or rectangles. Spoon filling over one side and fold over. Seal with egg wash and crimp with a fork.
With both, use a sharp knife to cut some venting slits.
7| Place in fridge for 10 minutes.
8| Brush with egg wash and bake for 30-40 minutes at 400F, until golden brown.