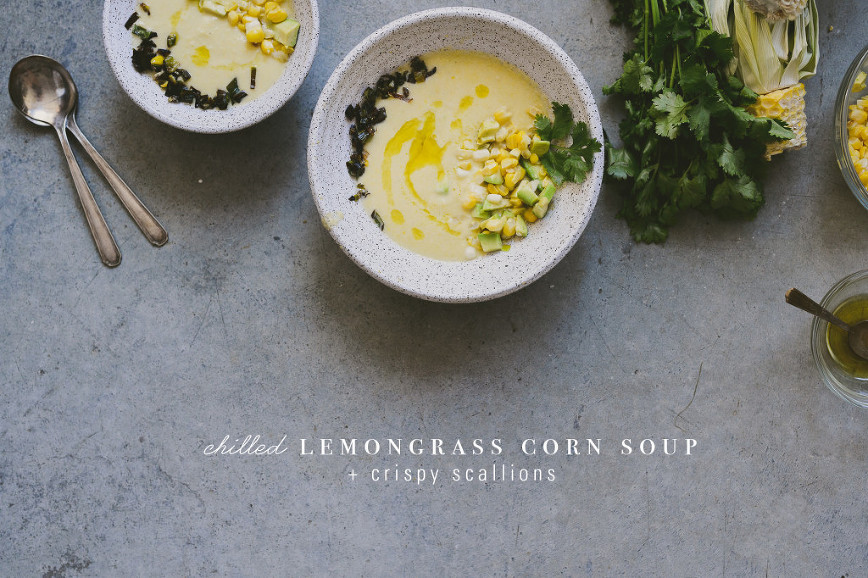 Everyone says that labor day is the end of summer. It certainly seems like it!! There are signs of fall sprouting up everywhere – I spied some telltale bright red and orange hues on the very tips of some branches outside; my friends were picking apples and buying apple cider doughnuts; pumpkin soups, breads, cinnamon rolls are popping up all over social media; and I ate some pumpkin and spice yogurt, which put me in the mindset of fall like nothing else did. Fall's my favorite season. Even though the temperature is still in the 90s, when I took my dog out to use the bathroom yesterday morning at 6 am, it was crisp. Like a much anticipated bite into a juicy apple. I wanted to shout in excitement. It quickly rose to high humidity and high temperatures, but I took this indication of fall and hugged it to my chest – I can't wait.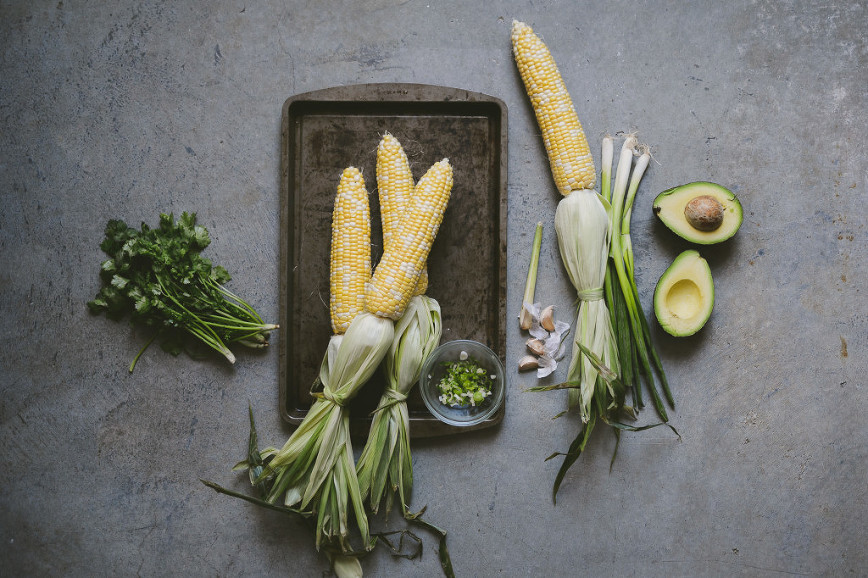 In the meantime, while we're waiting, let's embrace chilled soup and the last of summer's sweet corn just a bit more. As I was making this, I thought – do we need yet another chilled corn soup? I deliberated for maybe five seconds while drinking this and then though, YES. There can never be too many chilled soups. First of all, look at the lovely colors in what goes into this soup. Bright yellows, soft pale greens to deep forest greens, all to create a lovely pale yellow soup. I don't usually focus on the colors of food, but as I was styling I was struck by the harmony of these colors.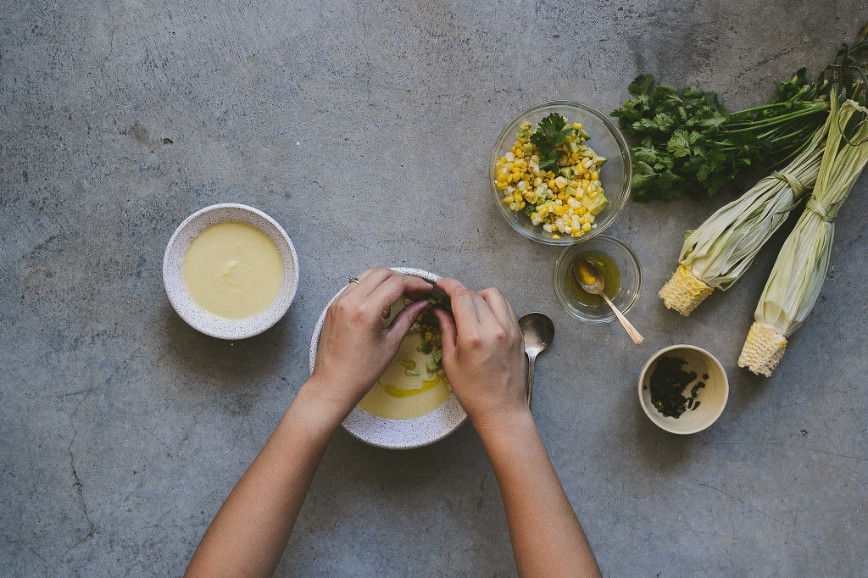 I think my favorite summer soup  is still shanghai-style mung bean soup, but when I'm craving something more savory I always turn to chilled corn soups. My mom does a particular version that blends silen tofu with corn, and that's it. It tastes like a wonderful mix between corn and soy milk. I'll have to recreate it one day. For now, this is what I've been making all summer. It's relatively effortless, and the best part? I infused some fresh lemongrass into the soup, which lends a floral fragrance to it that is just enjoyable. Ever since I poached shrimp in lemongrass for the Vietnamese spring roll recipe I made for Food52, I've been picking up more and more fresh lemongrass and using it in everything. It's the most wonderful plant for infusing and extra flavor.



The most time consuming part of this soup is literally removing kernels from the corn. I did it on top of a baking sheet, because those kernels will flail and hop right over a bowl. I use the sharp side of the knife to remove the kernels, and then flip the knife to use the blunt side to really squeeze the "corn milk" off. The empty cobs are added in to infuse with the soup for some extra corn flavor. The shining flavor of this soup is, after all, sweet corn.

We're right into the heavy late summer/fall wedding season, which is both exhilarating and exhausting. It has taken us to some exciting places – last weekend we were down in Cape Cod! It was actually my first time down there (the traffic scares me, I swear), and I know I'm going to be back. It's beautiful, quaint, and extremely picturesque. Plus, our clients had a classic lobster/clam bake for dinner. I love when my food passion and wedding photography passion intersect. I mean, my interest for food photography came from my job, so it's only natural to be very excited when the worlds collide! My husband is sweet – he has no qualms about me stealing all of our gear for my food photography projects. I have our entire arsenal of wedding photography gear available for me to use… (imagine evil laughter here). I also got a few new toys to play with in terms of setting the scene, so I'm excited to put those to use! I get bored quite easily, so I'm always looking to change things up or try new things.


While that's simmering away, we can make the garnish. This can be anything. If you want to just put some cilantro on, fine. Fresh scallions? fine. Roasted sunflower seeds? Perfect. I chose to put some lime juice tossed corn + avocado + cilantro with some crispy scallions as this garnish. I'm partial to crispy scallions and the flavor that comes out – one of my favorite noodle dishes, ever, is duck-fat scallion noodles, sometimes without the duck fat! Simply heat up some oil in a cast-iron or heavy skillet and toss on chopped scallion. Don't move the scallions until they brown nicely. The signature fragrance of caramelized scallion will waft up and you'll know when its ready. Plus, it'll turn crispy!!



And of course, I made a little stop-motion vignette. I made another one too that you can see here on Instagram, but that's just me removing kernels from corn. Not as interesting as my humble attempt to garnish soup!

Bowls: ogusky ceramics / round cocotte: staub / wooden spoon: apple doesn't fall / cast-iron skillet: finex cookware /
RECIPE: Chilled Lemongrass Corn Soup with Crispy Scallions
Ingredients
4 large ears corn, husk, silk removed
4 tbsp vegetable oil
1 small shallot, diced
2 garlic cloves, minced
3-4 cups water
1-2 stalks lemongrass, chopped roughly and slightly crushed 

Garnish
½ cups diced avocado
½ cup chopped scallion
1 tbsp chopped fresh cilantro
1 tbsp fresh lime juice
1| Remove kernels from ears of corn. Squeeze out corn milk from cob using the back side of a knife, reserving "pulp". Reserve a few empty cobs.
2| Heat up oil in a cocotte, or saucepan. Add in diced shallot and a pinch of salt. Reduce heat to medium and cover. Cook until shallot is soft and translucent.
3| Add in corn kernels and garlic. Cover and cook for about 5-10 minutes. Remove about 1/2-1 cup for soup garnish, if desired.
4| Add in "corn pulp", lemongrass and another pinch salt. Add 2-3 empty corncobs in as well. Increase heat and bring to a boil. Turn heat to low and simmer, for 10-12 minutes until corn is tender.
5| Remove from heat. Remove corncobs and lemongrass. Use either an immersion blender or a blender (in batches) to blend until smooth. Strain into a large bowl and chill for 4 hours.
Garnish:
1| Fry scallions in oil until crispy and charred.
2| Combine corn, avocado, cilantro, and lime juice together and set aside.
3| Drizzle olive oil, top with corn (or add corn at bottom and fill up), and finish with crispy scallions.