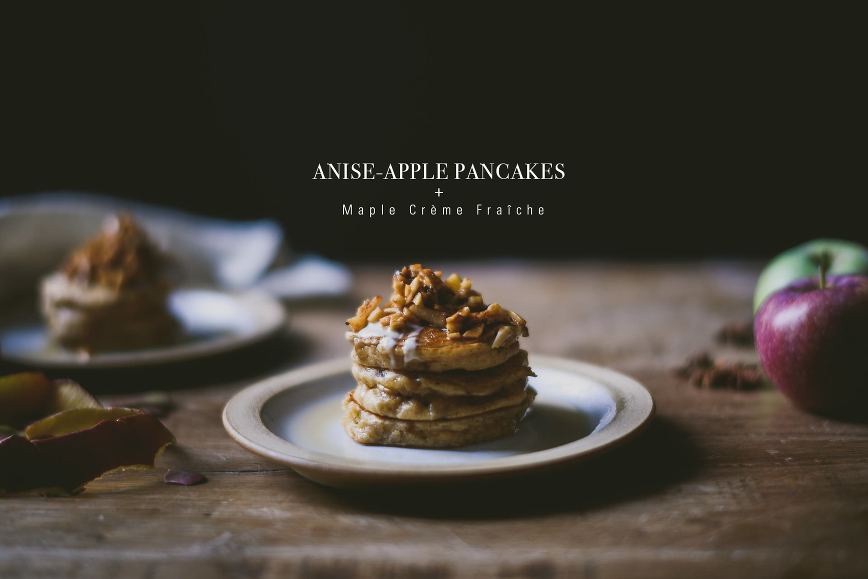 I am now embracing fall with wide and open arms – and these pancakes are perfect for fall. Fluffy, light, cake-y pancakes studded with spiced apples and made aromatic and nutty by brown butter topped with maple crème fraîche and a healthy dose of Vermont maple syrup – who wouldn't want to wake up to this? They're easy to make and so satisfying (and filling!!). Japanese hotcakes are fluffier and lighter than their American complement. They're made with milk and eggs, and to give it an extra fluff, I separated the eggs and whipped the egg whites into foamy peaks. It'll take you longer than the typical pancake, but these pancakes are worth it. They're tall, lightly cake-y pancakes, and I don't think I'll make any other type now. Plus, apple + anise are a match made in heaven. On a second thought, pork and anise are also extremely well paired. Maybe I'll do some sort of pork + apple + anise roast…?? The possibilities are endless!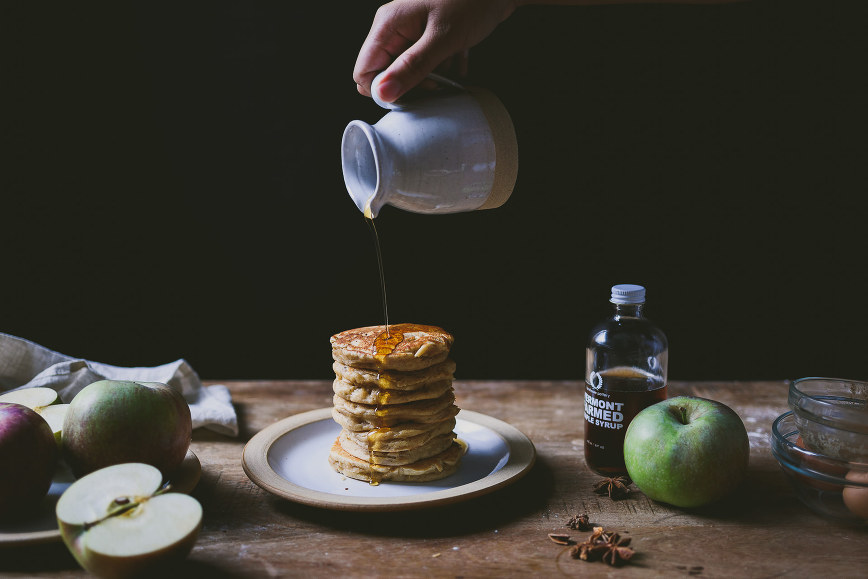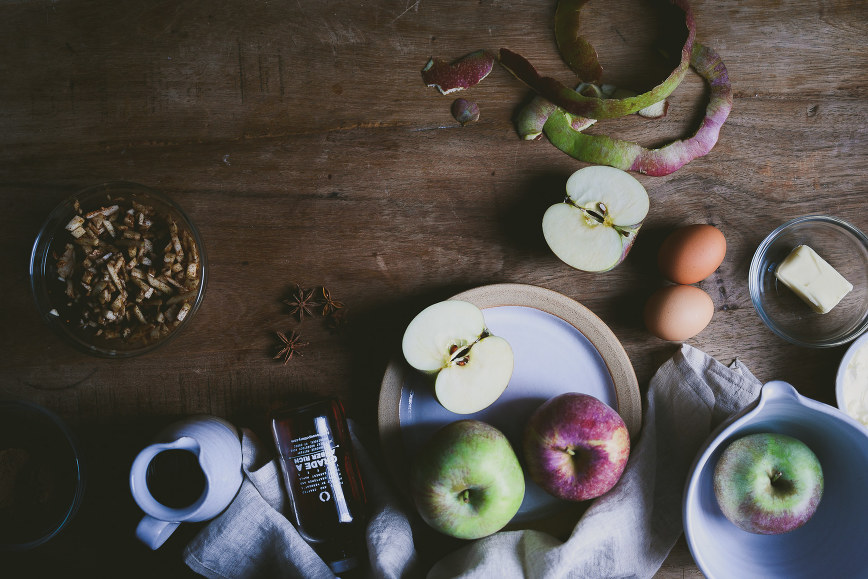 I've also been on an intense crème fraîche kick. I've basically substituted it for cream in almost everything I make – pasta, soups, other sauces.. It's got a nice tang and wonderful texture to it. I had to top my pancakes with  crème fraîche. I lightly whipped it with some maple syrup, and it's the perfect complement to these pancakes!

I found these Blue Pearmain Heirloom apples at the market the other day – apparently they were Thoreau's favorite apple!! Originated in New England in the late 18th/early 19th century. But any tart, crisp apple will work for this recipe!






To make them super pretty, you can make them in a mold, like CR does with his Japanese hotcakes, but I wasn't fancy and just dropped 1/4 cupfuls onto a non-stick skillet. I adapted the recipe loosely from here, but the reason I call this "Japanese Hotcake Style" is that I sort of fused this with American-style pancakes. After several iterations, I came up with a ratio I was happy with – and you will be too :).




And another stop-motion vignette for y'all, because pancakes are fun and drenching them in maple syrup is an action that must be captured :P.

Try to use a digital scale. As with all Chinese/Japanese recipes and these types of delicate batters, the precision of ingredients measured is important. I highly recommend using a scale for the flour and the milk.
If you're pressed for time, you don't need to separately mix the yolks and egg whites. Beating the egg whites separately until stiff incorporates more air into the batter, yielding fluffier pancakes.
Star anise can be a very potent spice. I used 1 tsp initially, but that proved to be overwhelming. 1/2 tsp ground star anise was the perfect amount for me. If you're not a fan of strongly spiced apples, then you may want to scale it back a bit more.
Do not skip the sifting step. This is also important in yielding a fluffy, light pancake.
Note: This post is sponsored by farmhouse pottery. All opinions are purely my own. 
Recipe: Anise-Apple Pancakes with Maple Crème Fraîche, Japanese-Hotcakes style
Pancakes
1 cup apple, peeled and finely diced
½ tsp star anise, ground
½ tsp ground cinnamon

200g all-purpose flour
3 tbsp brown sugar + 1 for apples
1 tbsp baking powder
1/2 tsp salt
2 large eggs, yolk and white separated
7 oz milk
1 tsp vanilla extract
2 tbsp unsalted butter – for brown butter

coconut oil or butter, for frying

Maple Crème Fraiche
1-2 tsp maple syrup
¼ cup vanilla crème fraiche
1| Add butter to skillet and cook until butter browns. Set aside.
2| Mix apple with star anise and cinnamon and brown sugar,
3| Sift flour, sugar, baking powder, salt together.
4| Combine egg yolk, milk, vanilla and whisk until well combined, about 3 minutes. Whisk egg white until light and fluffy, with peaks forming.
5| Add dry mixture into wet and fold until just incorporated. Add in egg white and fold gently until egg whites are just mixed in. It will look lumpy, which is fine. Fold in 1/2 cup of diced apples. Let rest for 15 minutes.
6| Heat a skillet over medium-low heat and grease with a bit of coconut oil or butter. Test by dropping one drop of water, and if it skitters across the surface and evaporates rapidly, it is ready.
7| Gently pour slightly less than ¼ cup of batter to form a smooth circle. You will see bubbles form and pop, and when it is dotted with multiple holes, flip the pancake and cook for another 2 minutes. Repeat.