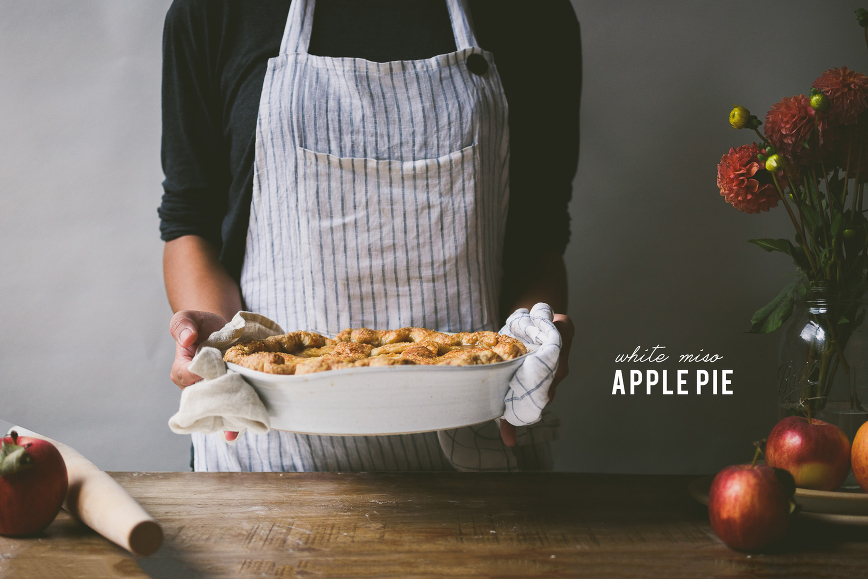 The not-so-classic apple pie I've been eating nonstop is this white miso apple pie. I've been eating it nonstop because it took several iterations to perfect, but I've finally found the right ratio/method to incorporate white miso into this pie. If you aren't aware, you should know that I love pie. I make it frequently (with any filling) and enjoy it with a cop of ice cream. I wanted to share an apple pie with you that isn't the run-of-the-mill apple pie, though I do enjoy a classic apple pie immensely. I've been intrigued by juxtaposing white miso, an umami-filled slightly salty fermented paste, with fruit. I first began to dream of this possibility when I stumbled upon David Lebovitz's miso strawberry ice cream. I was even more curious about this from this white miso peach ice cream. Then, this burnt miso butterscotch topping just screamed of deliciousness and begged to be made. The combination sounded fantastic, so I was ready to try some white miso and fruit concoction of my own. The white miso is caramelized a bit until it becomes brown and nutty on the stovetop; apples are added in to let the miso and apple juices mix and thoroughly coat the apples. This combination is delicious – with sweet, tart, crisp apples and the umami saltiness of miso, this apple pie is going to taste different from the classic one, but it's going to add a unique depth that I'm obsessed with. I'm going to start incorporating miso in more desserts.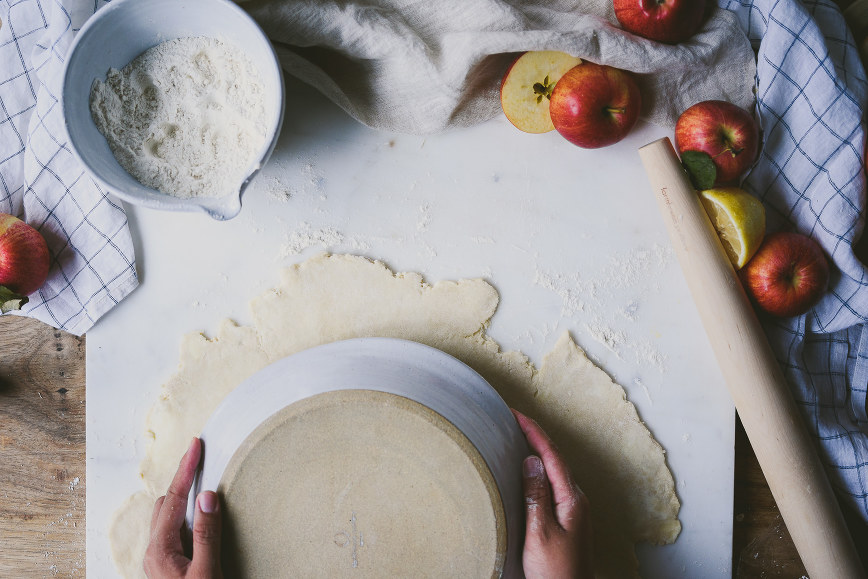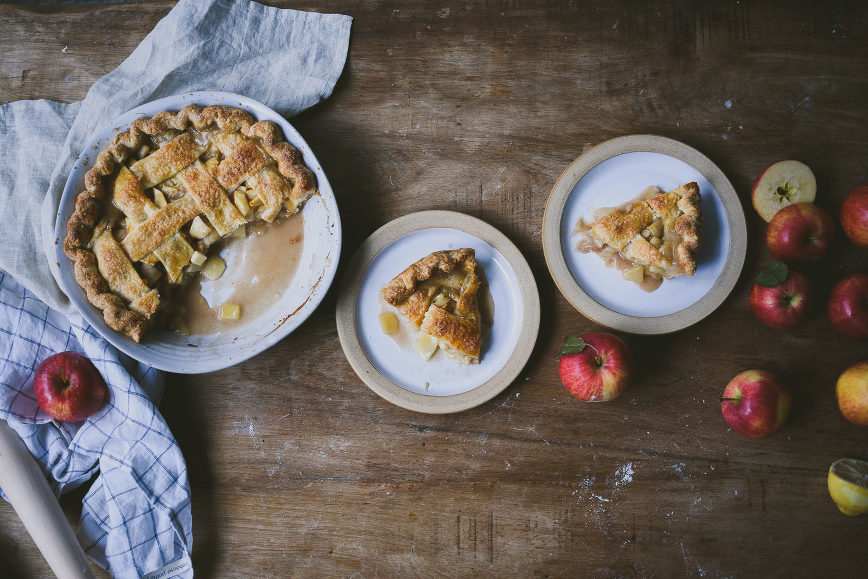 I've made this pie three times. Maybe it was four, I don't quite remember anymore. I just remember handing off so much pie to friends, neighbors, and classmates. It confirmed that the delicious combination of miso + apples was not just in my head, but it also caused me increasing frustration. Why? Let me tell you. My previous pies were ugly. Just, ugly and shrinking and something went wrong with them. I'd never really had a problem making pie crust, but for some reason this time the pie crust refused to cooperate. I worked at it and I think I understand why
This gorgeous pie plate is a larger pie plate than I was used to. It is 11″ x 2.25″. I loved it because I could pile on tons of apple, which pleases my husband (who is more about the filling, whereas I am all about the crust), but the deepness of the pie plate required more pie dough, which I adjusted in the recipe.
The pie dough needs to be properly chilled. The first time I made this, it was delicious (actually, all 3 times were delicious with a flaky crust), but I was in a rush and completely bungled up my styling and photos. The food blogging life, no? I made sure to properly chill the dough next time and it helped a lot.
I'd originally baked the pie according to the convention: 425 for 20-25 minutes, then 375 for 30-40. However, this always had shrinkage. I consulted with Michelle, who is an absolute gem and pretty much my go-to for baking advice, and she gave me a golden tip: bake it all at 350 for about 60 minutes. The network of gluten, a protein in flour, will tighten up / shrink at higher temperatures and can cause the pie to collapse on itself. I baked it at 350 and it worked like a charm!!!




So, learn from my mistakes and go make a beautiful lattice apple pie. How do you make a lattice pie crust? Here is a little stop-motion vignette illustrating how to do so. It's quite simple once you get the hang of it:

Note: This post is sponsored by farmhouse pottery. All opinions are purely my own. This pie plate is fantastic. I'm in love with everything they make, plus Zoe and James are the nicest people ever. If you're in Vermont, do stop by and say hi to them! 
RECIPE: White Miso Apple Pie
crust adapted from Four & Twenty Blackbirds
Double Pie Crust (for 11″ pie dish. For 9″ see here)

3 1/4 cups flour
3 sticks butter, cubed into 1 cm pieces, cold (prepare beforehand)
1.5 tsp salt
4 tbsp sugar
1 cup cold water
3 tbsp apple cider vinegar
1 egg + splash water for egg wash
1| Prepare: Cube butter into 1cm pieces, and place it in a bowl in the freezer. I find that this allows the butter to get very cold before you work with it. Place cold water + apple cider vinegar into the freezer as well. Don't worry about it freezing- you will use it before it can freeze.
2| Combine flour, salt, sugar.
3| Take cold butter, and using a pastry cutter, fork, or fingers, work quickly and cut butter into dry ingredients. Pea size chunks will remain, and that's completely fine.
4| Take out cider vinegar / water mixture. Using tablespoons at a time, mix it into dry ingredients until just combined. Do not overmix or knead. Add the mixture gradually – you can always add more water, but you can't take it out. The resulting dough should be damp but not moist.
5| Separate dough into two halves. Shape into disks and wrap with plastic wrap. Place in fridge. Let dough rest for at least 1 hour.
Miso Apple Filling
5-6 large apples (about 3 lb), peeled and cut into 1/4" slices.
¼ cup all purpose flour
zest and juice of 1 small lemon
¼ tsp allspice
¼ tsp fresh grated nutmeg
½ tsp cinnamon
½ tsp salt
½ cup brown sugar
2 tbsp butter
2 tbsp white miso
1| Preheat oven to 350. Combine apples with zest and juice of one lemon.
2| In a heavy-bottomed pan over medium heat, cook miso until it begins to brown and a nutty aroma wafts up. Add in butter and mix to combine. Add apples and cook just until juices begin to seep out (about 1 minute) Add brown sugar, spices, salt, flour, and mix to combine, until apples are coated with miso/butter mix and dry ingredients.
3| On a lightly floured surface, roll it into a 12" circle and gently place over a pie pan. Place in fridge.
4| Roll out the other piece into a 12" circle and place it into the fridge as well
5| Gently pour apple filling into dough-lined pie plate. Form a lattice top.
6| Place in fridge for 15 minutes.
7| Brush with beaten egg + splash of water and sprinkle with turbinado sugar
8| Bake for 60-65 minutes, until top is golden brown and apple filling is bubbling. Let cool to room temperature, and serve.