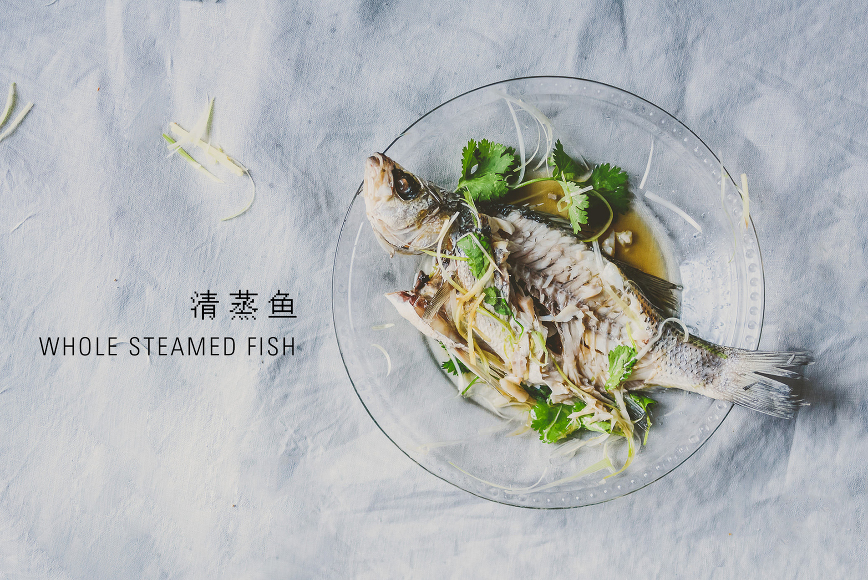 Chinese New Year falls on February 8th this year, and regardless of where I am, I always like to take a bit of time to celebrate, even if it's just a simple meal for Alex and me. I try to cook one traditional dish, whether it be a plate of dumplings, rice cakes (recipe SOON!), noodle soup, or possibly the easiest yet most universal celebratory dish – steamed fish 清蒸鱼. I wrote this article for the Winter Issue of Life and Thyme, where I talk at length about Chinese New Year and the customs associated with it. You can check it out here :). For now I'd like to share with you the simple recipe for whole steamed fish, a classic Chinese recipe.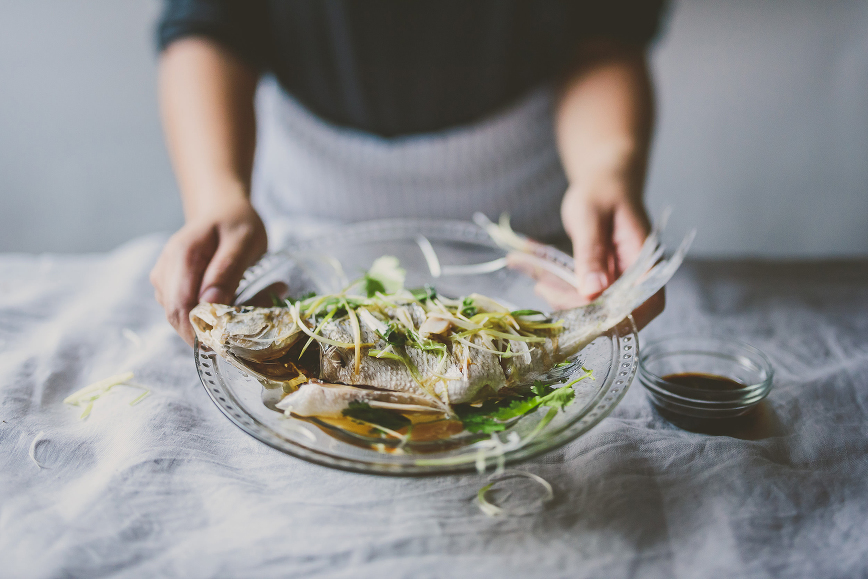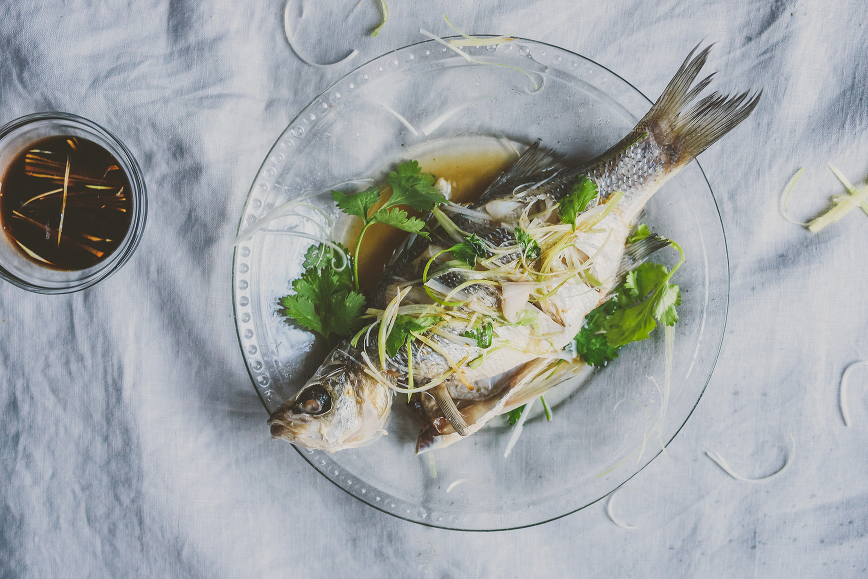 This dish symbolizes fortune and good wishes and has a number of superstitions associated with it. 鱼 (yu), the Chinese word for fish, is a homophone for the word surplus 余 (yu). As you can see, fish and surplus have different Chinese characters, but phonetically, they sound the same, lending thoughts and hopes for surplus for the new year when consuming fish. A white fish is bought live from a tank (if possible), marinated with a light salt rub and shaoxing wine, and then steamed whole with ginger and scallions. It can then be flash fried with hot infused oil, but a lot of families (like mine) may skip it to keep it light. The douse of hot oil does confer a wonderful fragrance to the fish, though, I admit.
A few favorite recipes you can try out for your New Year celebration:


Chinese New Year is a holiday based on the lunar calendar. It is typically celebrated with familial and friendly gatherings on Chinese New Year's Eve, the night before the actual holiday. Growing up, we'd always have family or friends over to our home when we hosted, or we'd go to their place. Thinking back, we actually have never gone out to celebrate Chinese New Year. It's simply always been a holiday to stay in and cook in a casual, warm, setting. A spread of traditional Chinese dishes are consumed, including noodles, fish, egg rolls, dumplings, and fried sweet rice cakes. Similar to the varieties and family-specific traditions associated with Thanksgiving or Christmas, every family will have their own specific set of dishes to make on Chinese New year. Sometimes we had hot pot. Other times, we made dumplings from scratch – a communal activity (in fact, it was during one of these new year's eve gatherings that I first learned how to make dumplings from scratch!). One constant dish, the star entree, always appeared – steamed fish. It's a classic Chinese family staple that is not only served on Chinese New Year but also for any celebratory occasion. It takes the center plate in its full whole steamed fish glory, still steaming and emitting a tantalizing, fresh, subtle aroma. There's nothing like steamed fish, and I will forever associate it with celebrations and luck.


年年有余 is a common saying that means, "may you have a surplus every year", a benevolent phrase to wish someone luck. Phonetically it sounds like "nian nian you yu", with the last character the homophone for fish. As superstitions go, the head and tail of the fish should not be consumed during New Year's Eve's meal, for ending the year with a surplus is fortunate and may lead to surplus in the next year as well. Other superstitions associated with steamed fish include pointing the head towards the eldest or most respected guest and allowing said guest of honor to begin eating the fish first. While we may not follow the custom of pointing the fish head at the guest of honor, this dish is a family classic that is eagerly consumed until only the bones remain. In fact, the eye and cheek muscles (my favorite) are the parts most often fought over. In true family style, the fish is placed in the middle of the table with dinner guests reaching out with their chopsticks to pick at the fish. A well-cooked (but not overcooked) steamed fish will have flesh that simply melts off the bone with no difficulties, and the flesh will be tender and warm.


I'm always amazed how such much flavor can be packed into one dish with just a fish, ginger, scallion, and the most basic pantry staples.
Notes:
What I'm sharing is one of the simplest and most traditional methods of making whole steamed fish. With both my mom and dad from Shanghai and very health-conscious, we've only ever had whole steamed fish just as it is – steamed and then set on the table. What I've included here is an optional flash-frying finish, where hot infused oil is poured on the fish, giving it a crisp exterior and adding a deep, wonderful fragrance to the dish. It's optional – whole steamed fish sans oil is delicious on its own.
Shaoxing wine is brushed across the fish surface and then generously sprinkled with salt. The shaoxing wine yields an aromatic flavor and is especially effective for steamed foods. The salt doesn't actually contribute much saltiness, but it helps to enhance the flavor of steamed fish. In fact, much of the salt will wash off during the steaming process.
Make sure you have a fresh fish. If you can't pick a live fish from a tank, then choose a fish with the clearest eyes, with minimal cloudiness.
Do not over-steam – this depends on the size and type of fish. You can check by poking a knife or chopstick within the pre-formed slits. The flesh should be opaque, but the bone should still be a little translucent. You can go a step further and test it – the flesh should easily flake off the bone. Remove from heat!
I included the simplest soy sauce + sugar sauce to lightly spoon over fish, if desired. I've also see vinegar added to this, but I like to keep things simple. Sometimes I even omit this last topping.
---
RECIPE: Whole Steamed Ginger + Scallion Fish
Ingredients
1 whole white fish, gutted and descaled (like sea bass, tilapia, red snapper, or pompano)
~3tbsp salt, to sprinkle on both sides of the fish
3 tbsp shaoxing cooking wine
3 slices ginger to place on top of fish to steam
1/3 cup chopped cilantro for garnish
3 stalks green onion, green and white parts separated
3 thin slices fresh ginger, julienned

Flash-fry (optional)
3 tbsp vegetable oil
1 thin slice ginger

Sauce (optional)
2 tbsp light soy sauce
½ tsp sugar
Julienne white parts of scallion, about 2 inches from base of scallion. Place julienned ginger, julienned white scallion, and cilantro into ice cold water to keep it fresh. Smash remaining green parts of the scallion with a cleaver and place across the steaming plate. This becomes a bed for the fish.
Prepare a steamer. Alternatively, use a wok by filling it with a few inches of water and placing a rack or bowl to keep your plate elevated.
Make sure fish is gutted and descaled. Pat thoroughly dry with a paper towel. Use a sharp knife to incise about 3-4 diagonal bone-deep slits along both sides of the fish, about 1.5" apart.
Brush shaoxing wine over both sides of the fish, making sure to reach inside the diagonal slits and inside the fish. Sprinkle both sides generously with salt, including inside the slits. Let sit for 30-60 minutes.
Place fish on top of the bed of green scallions. Insert a thin slice of ginger into each slit of the fish.
Place plate inside steamer. Cover with a lid and steam for 10 minutes. Turn off heat and let sit, covered for another 3 minutes. Check if meat inside the slits are done – meat should be opaque down to the bone, but the bone will be translucent.
Remove from steamer. Drain excess water from steaming. Remove cooked green onion stalks and ginger.
Top with fresh cilantro, ginger, and thinly sliced green onion strips.
Heat up 3 tablespoons of oil in a small saucepan with 1 slice of ginger. When ginger beings to sizzle, remove from heat. Pour over fish. It will sizzle as it hits fish.
Whisk soy sauce with sugar. Spoon over fish or serve on the side for dipping.
Serve immediately.