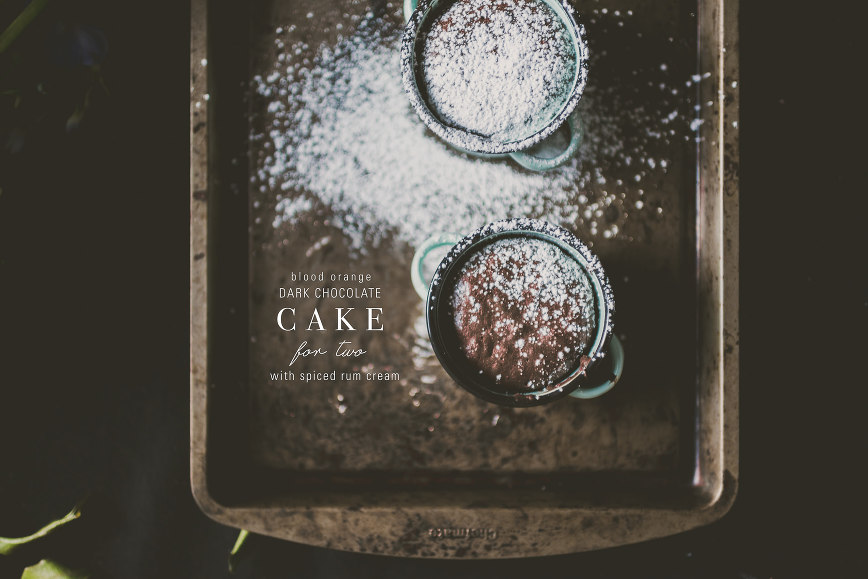 Valentine's day is fast approaching, and while normally I don't celebrate Valentine's Day in the pink splendor that pops up inevitably around me, I do love the ritual, or rather, the excuse to set aside an evening for a special meal. The ultimate date night? Alex and I have been so busy with school (him on rotations, me in anatomy), that our weeknights usually consist of quickly stir frying up some vegetables over rice or noodles. Simple, easy. It's also President's Day this Monday, for which we both get time off, so I began to dream up meals for two. Oddly, my first thought went to dessert.
I wanted chocolate. I wanted rich, decadent chocolate. Ordinarily, desserts for me are light, not to sweet, and fluffy. Think matcha swiss rolls and the lightest japanese soufflé cheesecakes. My one exception is chocolate. I like dark chocolate. The bitter but packed with nuances of flavor dark chocolate makes the best desserts, especially there's some other subtle flavor to complement and balance the dark chocolate out. I love lava cakes, flourless chocolate cakes, even chocolate tarts. Oh, and don't get me started on chocolate croissants.
So here we are. A rich, intense, decadent (all the words that should be associated with chocolate) cake for two, with the mellow but thorough flavor of blood orange, contributed not only by zest but also blood orange puree, which makes all the difference in the world. With such a fudge-like dark chocolate cake, I definitely wanted dollops of cream to be added, if not just to balance out that richness. Spiced rum whipped cream did the trick. In fact, I kept adding more dollops as I ate through the little cocotte – the rum whipped cream is truly special and nicely tops off this dessert. I wouldn't recommend skipping it – it's about the whole ensemble.
Fun thing: I was interviewed over at SBS Blog Appétit, and I mention my few favorites (Alana, Meg, Michelle, Jessie!). Check it out here.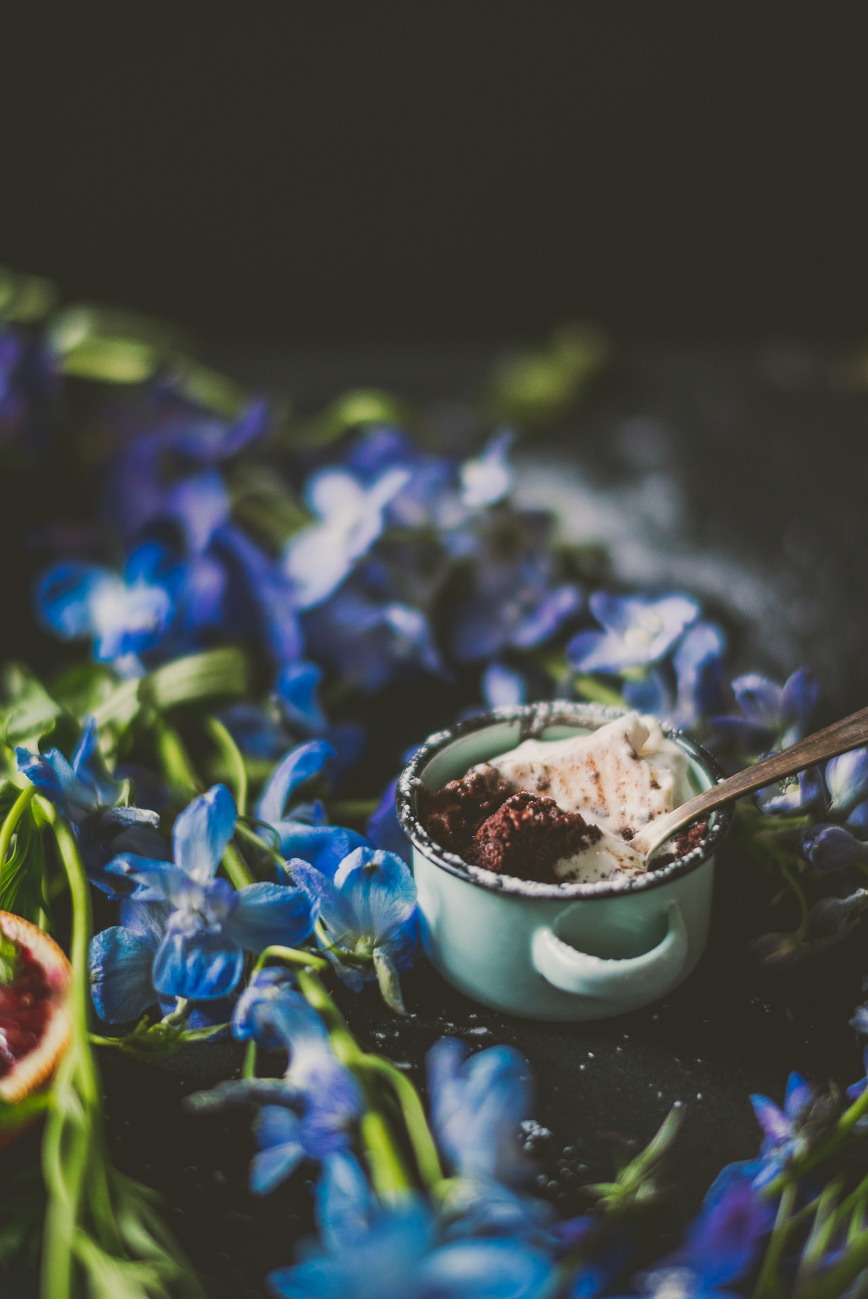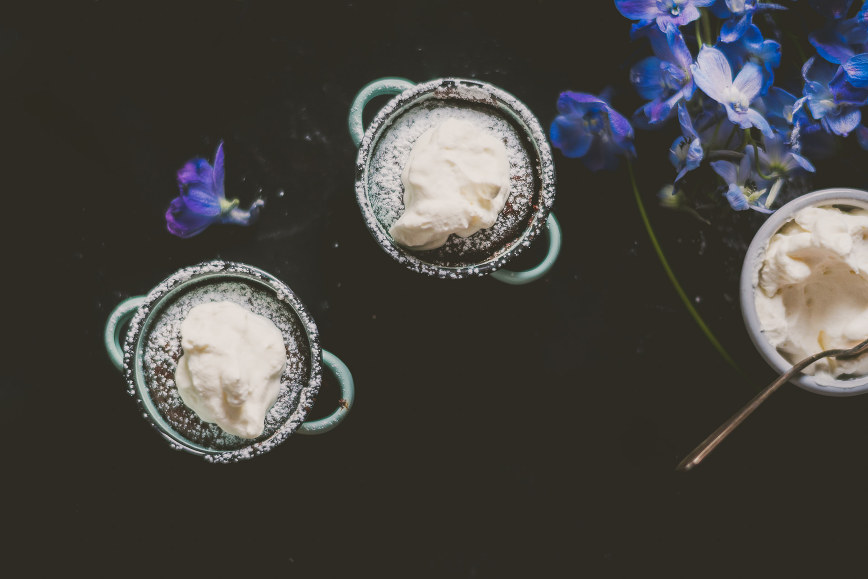 I'm not too good with chocolate, so I consulted these two recipes as my guide – from serious eats and from epicurious. I decided to downsize and make cakes for two, but conceivably, as with the epicurious recipe, you can use 4 ramekins for a smaller cake to invert onto a plate. I decided for more volume in two, left in the ramekin for presentation and ease of devouring. The blood orange puree is not to be skipped!!!! It's made from boiled blood orange to remove the bitterness of the peel, while still retaining the lovely flavor. I've used just zest in desserts before, and I can say without a doubt that even with the richness of chocolate, the blood orange taste permeated through the dessert, really enhancing the flavor of the cake. Citrus and orange – a really wonderful match, don't you think?



Now to top it all off, I used South Hollow Spirit's locally famous spiced rum to whip up a soft, whipped cream. Guys, it's really lovely. You can't really taste the alcohol – maybe just a little, a soft reminder. The spiced rum gives it such a lovely flavor that is perfect to dollop onto the cake. Don't skip this part either – like I said, it's the entire ensemble that plays the piece in every bite. 







This post is sponsored by south hollow spirits! All opinions expressed are purely my own, as always. Thank you so much for supporting the companies that support this blog!!! Their spiced rum is truly a gem – I can even just drink it on its own (or like in this spiced rum old fashioned). 
---
Notes:
Feel free to divide the batter into 4 cupcake tins or 4 ramekins. I piled mine up into two because 1) we love chocolate cake and 2) I wanted to serve these in the ramekins, and for that I wanted the cake to rise to a certain level, especially as these ramekins are deeper than other ones I've seen. If you divide it into four, use smaller ramekins or invert it onto a plate afterwards. Adjust baking time to about 12 minutes.
Boiling the blood orange allows the bitterness of the peel to escape while still retaining its flavor. I also added in fresh zest for that extra oomph, but trust me – you don't want to skip this step. It adds not a sharp citrus flavor as zest often does, but a really nice permeating flavor throughout the whole cake.
Enamelware: Farmhouse Pottery \ ceramic board: Farmhouse Pottery \ Asian utility knife: Shun Cutlery 
---
RECIPE: Blood Orange Dark Chocolate Cake with Spiced Rum Whipped Cream, for two
adapted from serious eats and epicurious
Blood Orange Dark Chocolate Cake
2 oz semisweet
2 oz dark chocolate
4 tbsp butter
1/4 cup brown sugar
1 large egg, at room temperature
1 tbsp flour
2 tbsp blood orange puree (see below)
pinch of salt
1 tsp fresh zest of blood orange

Spiced Rum Whipped Cream
1 cup cold heavy cream
3 tbsp powdered sugar
1 tbsp Twenty Boats Spiced Rum
½ tsp vanilla

1 blood orange, for puree
Cook blood orange in boiling water for 30-45 minutes, until soft and easily pierced. Place in food processor until smooth, and let cool. You will need two tablespoons.
Preheat oven to 350. Melt chocolate and butter together in microwave or in a pan over simmering water until combined and smooth.
Whisk egg, brown sugar, salt together until super light and combined. Fold in melted chocolate, blood orange zest, and blood orange puree, making sure the chocolate is sufficiently cooled (no scrambled eggs here).
Mix in flour completely.
Butter ramekins. Pour batter in evenly between the two. Bake for 17-20 minutes, until the tops start to crack.
For rum whipped cream, in the bowl of a stand mixer, whip cream with rum, sugar, and vanilla until fluffy and peaks form. Serve in dollops over cake while it's warm, and enjoy.