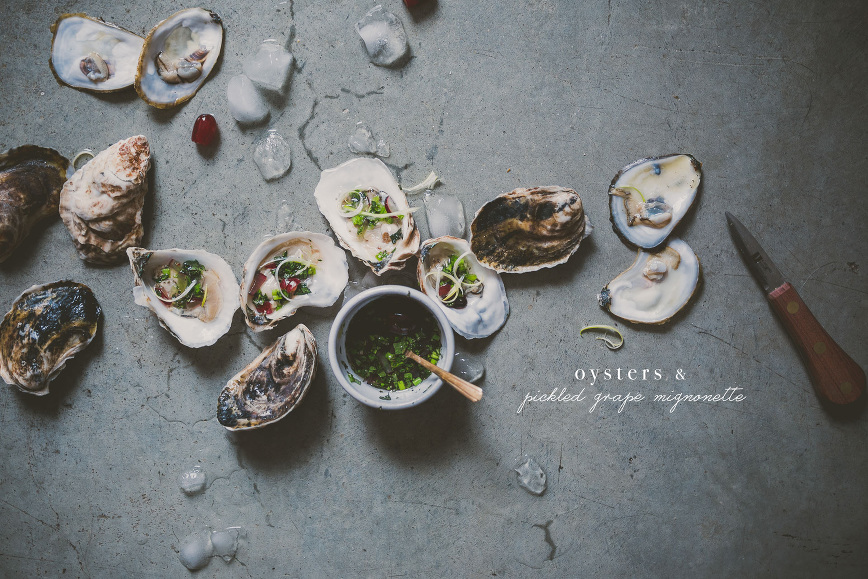 It's March already. Soon we'll be elbow deep in rhubarb tarts and plucking plump ripe blueberries from bushes straight into our mouths, and then before we know it, it'll be fall again with its rich plumage and abundance of root vegetables. Summer always passes incredibly quickly, doesn't it? Maybe it's that I seem to be perpetually a student, and the summer breaks are cherished yet productive times, resulting in a whirlwind of packing in activities to enjoy the summer between internship and work. It's just the start of March, and I'm already thinking of summer plans (this summer consisting of um, weddings almost every weekend).Well, I've got some news.
Alex and I just took a spontaneous trip to Iceland, and you can see a few photos on my instagram account. We drove around the south coast and almost got blown away (literally), and made friends with some cute horses. And then we snapped a ton of photos and blended in nicely with the groups of photographers with tripods. I just got our film developed and am drooling over the photos. I'm eagerly putting it all together in a blog post to show you all!
Yes, we just went to Iceland, but guess what? We're going back. Possibly this summer. Yes, we're that in love.
I spoke with some friends on their podcast about food photography! You can check it out here.
And the most exciting? Meg and I are hosting another food photography & styling workshop! We had so much fun hosting our previous one in Tamworth, NH. We're headed to Martha's Vineyard to immerse ourselves in food photography and styling, as well as visiting oyster farms, quahogging, and feasting on seafood. It's going to be pretty great. If you're interested, you can sign up here.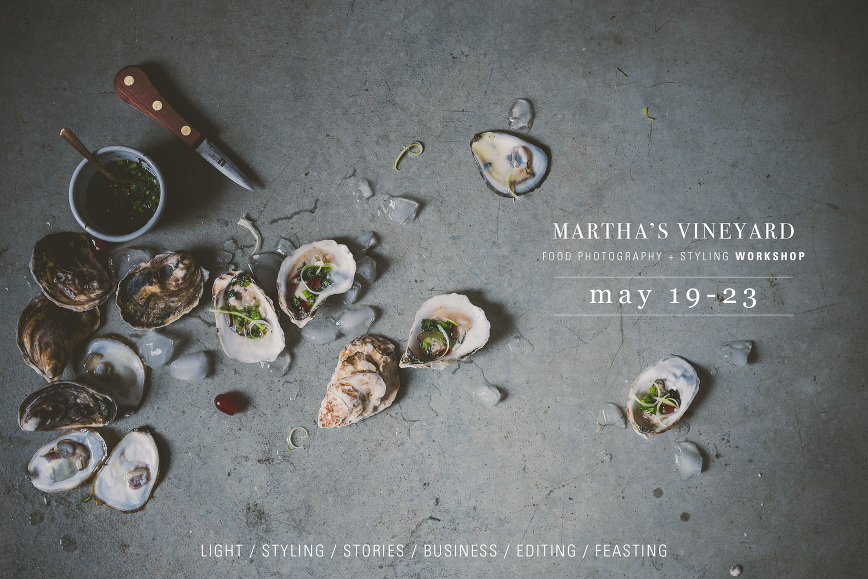 In the meantime, let's rave about fresh oysters together and appreciate the work that goes into shucking them! I drove home from a trip to Martha's Vineyard with two dozen oysters, harvested right there in Katama Bay. I already had a jar of grapes pickling happily in the fridge, so this mignonette came together in one of those moments when an idea seems obvious and doesn't require that much thought – it's a riff of the classic mignonette, but using pickled red grapes as the tang as well as residual sweetness, scallions in lieu of shallots, and mint for extra freshness. Give it a try – I invited some friends over to help us finish 2 dozen oysters, and one of my friends, who does not have a taste for oysters, actually liked it with the mignonette. It adds a subtle, fresh taste over the briny oysters without taking away the oyster's natural flavors.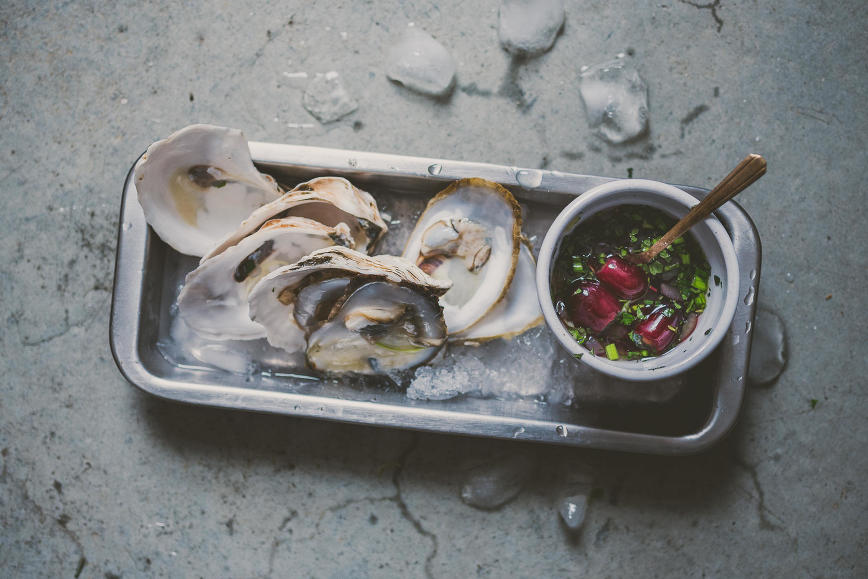 As part of our location scouting, I visited my friend Jeremy at Spearpoint Oysters, and he kindly showed us around Edgartown and introduced us to the history behind oyster farming in Katama Bay. Even in the winter, Martha's Vineyard is stunning. Lighthouses dripping with snow and iridescent icicles, the water tumultuous but glorious in its blue color, white picket fences and green shutters winking at us through the neighborhoods – I can't wait to see what it will look like in the summer. After he showed us Katama bay and pointed out which cages were his, we headed to his place and he taught me how to shuck oysters!!!!! I admit, I was pretty intimidated at first, but you know what? It's not bad. It's all in the shoulder, and knowing how to position and feel for the oyster. It gets intuitive, and I must say, after shucking 2 dozen oysters later at home, I think I have it now :). A huge thanks to R Murphy Knives for sending me their gorgeous shucker to try out!! It works like a dream.







Oh, and of course, here's a quick stop motion vignette on shucking oysters!!!! It definitely takes practice and that initial wiggling to get the blade in there is the most important. I've come to realize it's almost an intuitive feeling – something clicks and you can feel the oyster give. Then, you have to wiggle it around the severe the adductor muscle. It's fun. I can now feel comfortable hosting raw bars at my fancy cocktail parties (when I eventually get around to hosting them ;)).

oyster knives – r murphy knives / mini ceramic bowl – farmhouse pottery / ice tray – boston general store 
---
RECIPE: Oysters with Pickled Grape + Mint Mignonette
pickled grape
½ lb seedless grapes, red or black
½ cup rice wine vinegar
½ cup granulated sugar
½ tsp whole black peppercorns
Rinse and dry grapes. Slice away the "belly button" of the grape (at the stem end). Put grapes in a clean, dry jar. In a saucepan, heat up rice vinegar, sugar, and black peppercorns. Bring to a boil then let cool completely. Pour over grapes. Cover and chill grapes in the refrigerator overnight.
Pickled grape mignonette

3 tbsp pickle brine
2 stalks green onion, white and pale green parts only (about 1.5-2″) thinly sliced longitudinally
3 tbsp chopped pickled red grapes
2 tbsp minced mint
½ tsp salt
cracked pepper, optional
In a bowl of cold water, soak thinly sliced scallion parts, and allow it to curl. Drain and set aside. Stir the rest of the ingredients together. Spoon on top of oysters and top with thinly sliced scallion wisps!