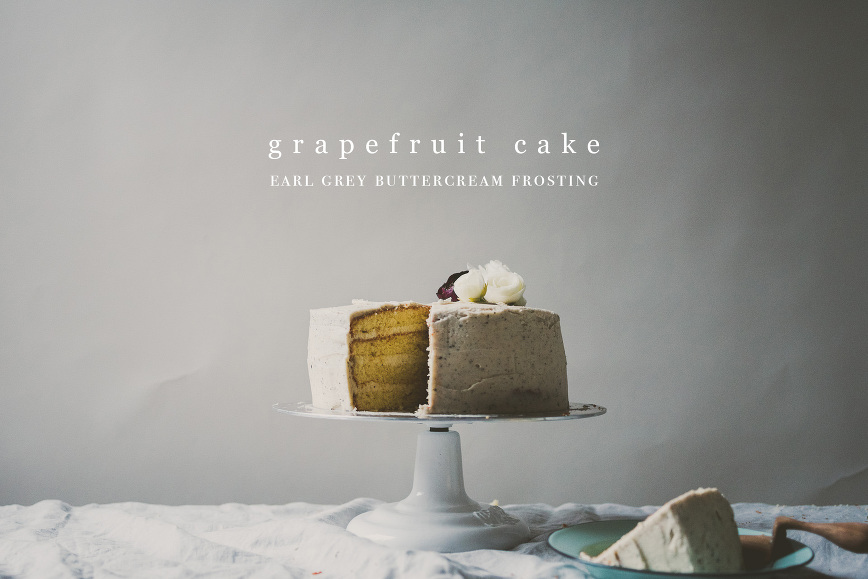 Let me tell you about my baking origins, because it all started with cake. Layer cakes. Imagine a high school girl with stars in her eyes, secretly wanting to make a cake but too timid to start trying. Until one day, she buys a cake book and is determined to make a cake. If it weren't obvious, that girl was me. I obtained a second-hand stand mixer with my meager savings from tutoring, and I read the intro pages and tried to understand what made a good cake. I had no baking experience (except snickerdoodles). I had no idea what "cream butter with sugar" meant. I didn't know what "folding" meant, and even thought I youtube-d the techniques, it didn't really register with me. I tried a layer cake. It never rose, turned out more like a cookie than a cake, and my 'buttercream' tasted like butter. Really. My dad bravely munched on the cookie/cake and told me it was good. I desperately wanted to make tiramisu, so I bought marscapone, coffee, and tried. Again, no rise. I poured way too much syrup over the hard cookie/cake layers. The marscapone cream turned out great, but when I put it all together, it was a soggy disgusting mess. I was so discouraged by all of this, and I didn't have any concept of what went wrong. I made a last ditch effort to try a Boston creme pie, because hello? Chocolate + cream + cake… delicious!!! Again, a thin thin cake (probably like 1/2″ tall if I remember correctly), hard and dry. My young mind was already moving on to preparing for prom, or whatever was going on at that time, and the stand mixer got tucked away in a corner of my parents' kitchen. The cake book ended up shoved in between textbooks.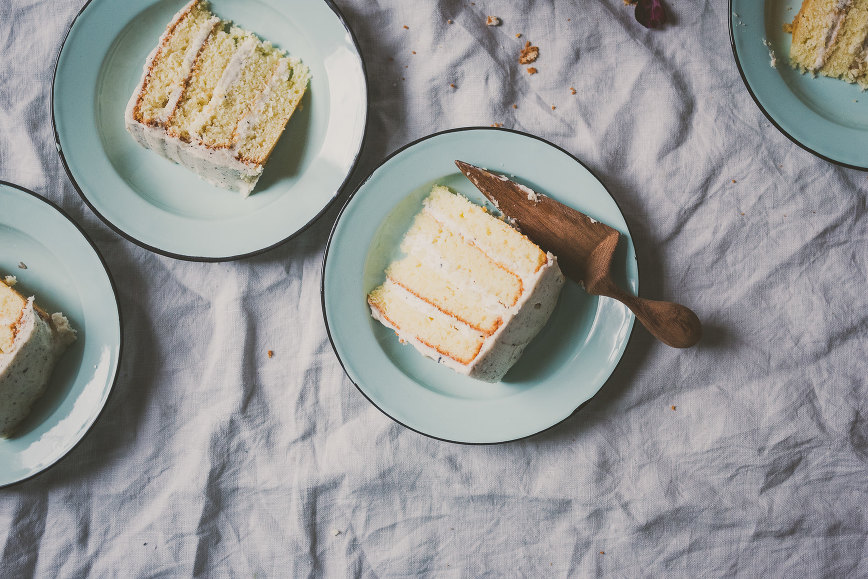 I haven't touched or tried making a layer cake since then. I've made cookies. I learned how to make a roll cake early in college to make a vertical roll cake. I learned about folding. Through endless batches of cookies, I learned what creaming butter and sugar meant. I found online food blogs and started reading about others' experiences with baking and what they learned, which was immensely helpful and oftentimes more intuitive than the baking cookbooks I perused. Baking was fun. It was a way for me to de-stress. I made cake pops, cupcakes, muffins, banana bread, and cheesecake, but I refused to touch layer cake. I didn't even think about it – didn't' really consider it as an option. When I started this blog, I made three types of vertical roll cakes (black sesame, orange cream, matcha). I made bundt cakes, cupcakes, cinnamon rolls… and no layer cake. I greatly respect and admire the cake queens of this wonderful community, who constantly inspired me and brought me one step closer to trying layer cakes: Molly, Linda, Courtney, Michelle, and of course, Tessa.
I found Tessa's blog immensely helpful. She has wonderful tutorials, and her icing a cake page is a gem- Tessa provides step by step images and explains it all so simply even I was convinced it's doable.




This cake recipe is adapted from Tessa and Suzonne. I used crème fraîche in this cake, which worked out so beautifully!!!! And a lot of butter. I honestly did not know how much butter went into a cake until I made it for the first time. 2 tsp of fresh grapefruit zest added fragrance and exactly the flavor I wanted for this cake. It was light, fluffy, and moist – not at all like some of the heavier cakes I've had at weddings (lol, I eat a lot of wedding cake, so that's usually my frame of reference. That or the Chinese bakery cakes that are light as clouds). I used a normal buttercream frosting loosened with some crème fraîche to make a thick, creamy frosting that worked well when icing the cake, but gosh, it is sweet. My friend actually thought it was the best frosting she's had, but she may be biased since she's one of my biggest supporters :). I think next time I would scale back the sugar, or try a Swiss meringue buttercream. The grapefruit cake paired with earl grey buttercream worked like a charm. I'm so inspired to make more cakes. I want to make more cakes. I will make more cakes. I have so many flavor pairings swirling around in my head. Gah! So excited. As you can see, I obviously need to work on my technique A LOT more. I need to practice and get more comfortable with assembling cakes together. So, friends, you'll likely be seeing more cakes on this blog :).








This post is sponsored by vermont creamery. All opinions expressed are purely my own, as always. Thank you so much for supporting the companies that support this blog. I'm so in love all their cheeses and products. Their crème fraîche is a given, but their aged goat cheeses (cremont! bonne bouche! bijou!!! coupole!) are to die for and perfect for any kind of appetizer (both cooked and on its own), and their cultured butter is so dreamy I want to only bake/cook with it now.
wooden cake server – apple doesn't fall / enamelware dishes – farmhouse pottery
---
Notes:
I recommend measuring flour with a scale, but I did include the cup measurement just in case. Definitely sift the flour at least once.
If you're looking for help assembling the cake, see Tessa's post.
Make sure cakes are completely cool before handling. I was a bit eager and actually broke one of my 9″ cakes in half…. I ended up making another batch, which actually gave me the opportunity to taste and confirm my first run wasn't just a fluke!! Yummy grapefruit-y cake.
Don't skip chilling the cakes – before frosting and after the crumb coat. It'll make your life easier.
Have fun with it! Don't get too bogged down about icing the perfect cake or decorating something elaborate. I just swirled on frosting and plopped some flowers on top. However, remove flowers before consumption. Many flowers are not edible, so just be sure not to actually eat them, unless you know for sure they're safe to eat.
RECIPE: Grapefruit Cake with Earl Grey Buttercream Frosting
adapted from here and here
210g all purpose flour, sifted (~1.5 cups)
210g cups cake flour, sifted (~1.5 cups)
1 tbsp baking powder
½ tsp baking soda
¾ tsp salt
1 cup whole milk
½ cup crème fraiche
320g (1 ¼ cups + 2 tbsp) unsalted butter, softened
2 ¼ cups sugar
5 large eggs
2 tsp vanilla extract
2 tsp finely grated grapefruit
Preheat oven to 350F. Grease and flour two 9" cake pans.
Combine dry ingredients together. In a separate bowl, whisk milk and crème fraîche together until smooth. Set aside.
In the bowl of a stand mixer, beat butter on medium-low speed with the paddle attachment until creamy. Add in sugar, and increase speed to medium, until fluffy and pale, about 3-4 minutes. Mixture should start coming off the paddle and up the sides. Scrape butter from sides of bowl.
Turn speed to low. Add eggs, one at a time, until each is fully incorporated. Add vanilla. Make sure to scrape the sides of the bowl periodically.
Still on low speed, add in half the flour mixture. Once fully incorporated, stream in milk crème fraiche mixture. Add in the other half of flour mixture. Once the last streaks of flour are incorporated, add in zest and turn speed to medium-low and beat for 20 seconds until smooth.
Pour batter into cake pans. Bake for 35-40 minutes, until toothpick inserted comes out clean.  Cool on a rack for 10 minutes, then invert onto a wire rack and remove pans. Cool completely to room temperature. Once completely cool, wrap with plastic wrap and chill in the fridge for 2 hours.
Crème fraiche buttercream frosting
2 ¼ cups unsalted butter, softened
3 tbsp crème fraiche
½ tsp vanilla extract
6 cups powderd sugar
pinch of salt
1 tbsp grapefruit juice
1 tsp finely ground earl grey tea
In the bowl of a stand mixture with paddle attachment, combine butter, crème fraiche, earl grey, and vanilla. Whisk until creamy and pale. Gradually sift in sugar and salt, and add vanilla extract. Mix until well combined. Add in grapefruit juice and beat for a few seconds until mixture is smooth.
Assemble:
Once cakes are completely cool, cut in half with a long serrated knife.
Place bottom layer on a turning cake stand. Spread a glob of buttercream over the top. Place another layer of cake on top of the buttercream. Repeat until the last layer of cake is sitting on top of a layer of buttercream. Apply a crumb coat using residual buttercream from layers, adding more if necessary. Chill for at least 10 minutes, but no more than 20. Frost outside of cake and decorate as wished!