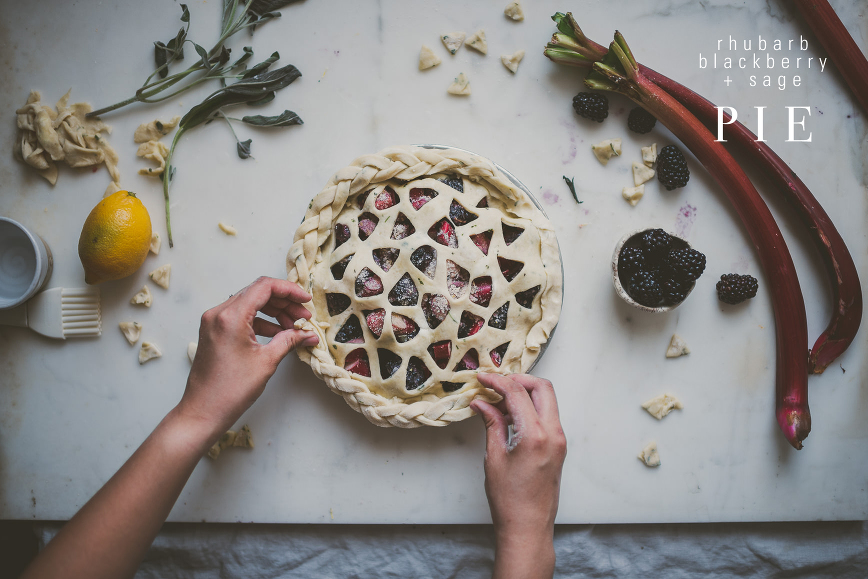 It's finally here! The rhubarb Blackberry Sage Pie with an easy peasy cut-out pie crust and braided edge. If you've been following my food journey for awhile, you've probably heard my spiel about how much I love pies, so let's skip it this time. Instead, let's talk rhubarb. I had never had rhubarb until last year, when I had it at some restaurant and then went home and made a rhubarb-rose jam. It was delicious but then rhubarb went out of season… This year, I started noticing the social media world implode with the gorgeous deep magenta stalks of rhubarb!!! I'd been toying with making a pie (which has been overdue anyway. I think my last pie was at least a month ago!) and this rhubarb-blackberry combination just inspired me. Rhubarb by itself is very tang-y, which works wonderfully for many compotes and jams, but for pie I like to complement it with something, and I'm on a mild obsession with blackberry, so why not give it a try? I'm so glad I did, and blackberry goes so well with sage, I incorporated fresh sage not only in the pie crust but also in the filling. Guys? Best decision ever. The savory but gentle characteristic of sage complemented the blackberry and tangy rhubarb well, and I'm really excited to share this with you.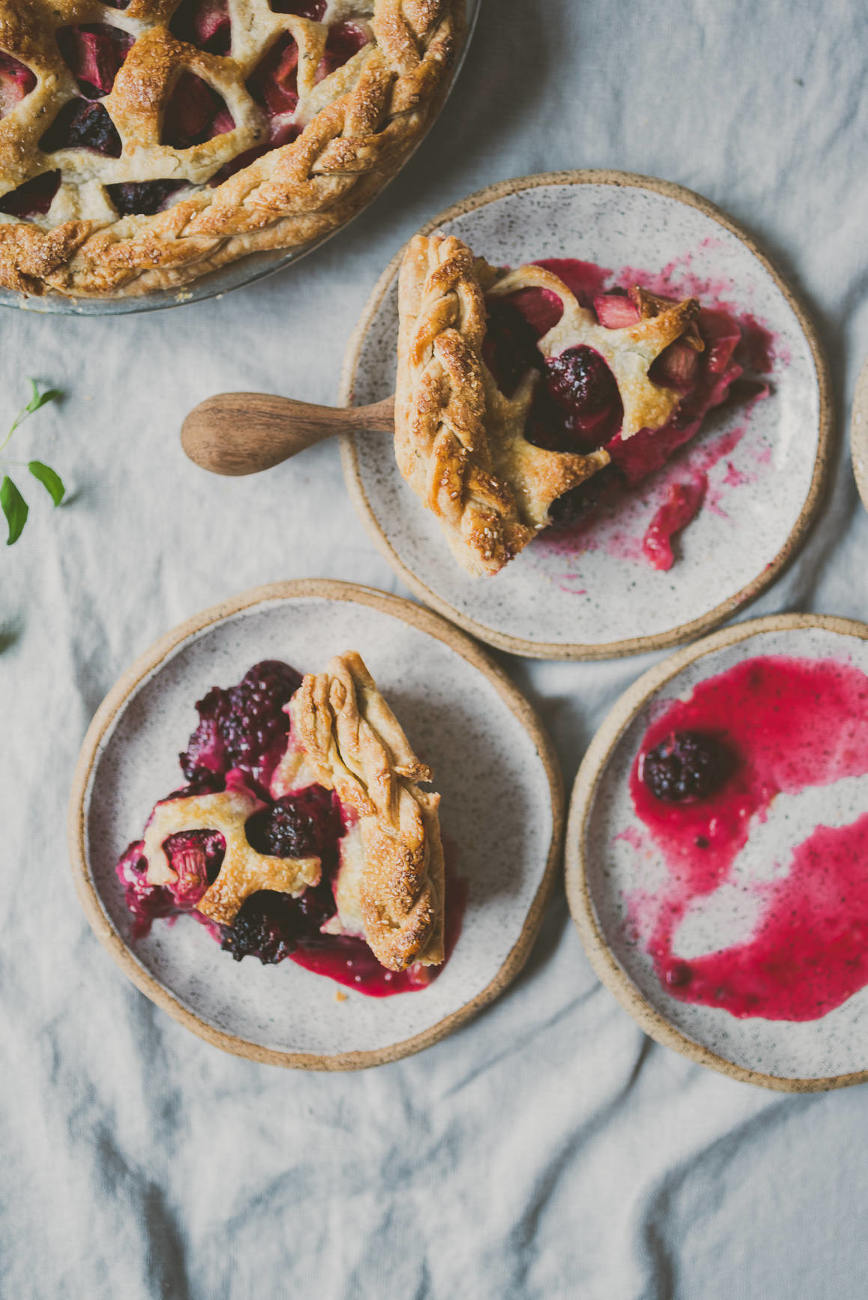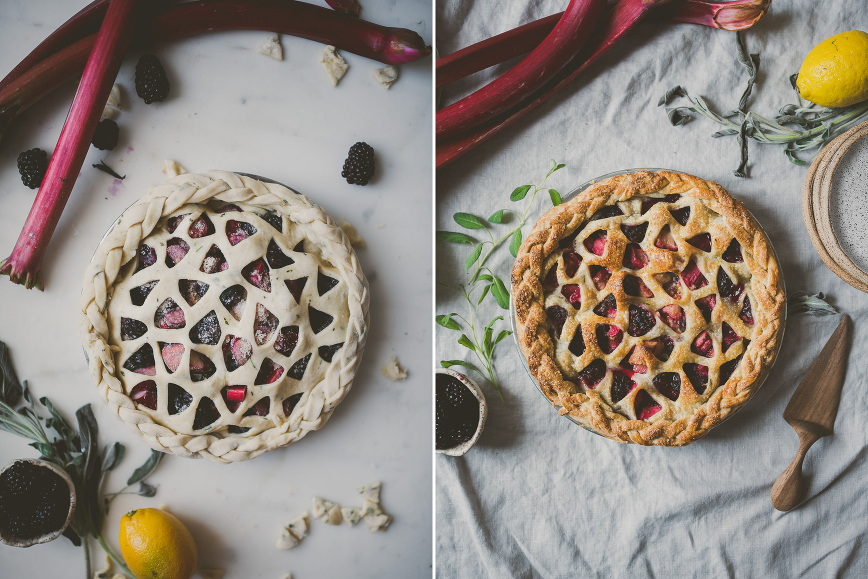 I must apologize for the delay in posting this recipe!!!!! Social media can be so immediate, and I was so happy with the way this pie turned out that I couldn't resist both snap chatting and Instagramming a sneak peek. To be honest, I used to hate snapchat and vowed to never go on it or make it public. Well, as some of you may know, I am indeed on snapchat (bliu07), and I ended up loving it! I love how immediate it is, how unfiltered – it's literally just what you're up to at that very moment. I'm very camera shy so you won't find me walking down streets with the phone pointed at my face, talking about where I'm going. Instead, I find myself giving "sneak peeks" of what I'm working on, showing you the weddings I photograph, nerding out about camera gear, showing the behind-the-scenes that I would likely never put on Instagram! I almost feel like snapchat is more of a personal glimpse rather than presenting a 'brand' or 'lifestyle', as I feel like instagram can be. Sometimes I laugh because my Instagram is pretty curated and often does not reflect my real life, but if I'm being honest, I think that's not what my followers on that platform look for. From trial and error and learning about my specific audience, I think my audience expects curated food moments, creating food, and lifestyle-esque vignettes. Snapchat, though, that's a different story. I'll put my dog Annie on as a star, I'll show off the city, I'll introduce a couple getting married. I'll even put a dog filter on and stick out that cartoon tongue :P. I also love following my friends and fellow food bloggers – it gives me an instant connection with them, and I feel like I'm getting their true personality, something I wouldn't have gotten through just blog reading and Instagram! As I mentioned before, though, I do feel badly because of that immediacy – once I posted a sneak of this pie, I immediately received many requests for this recipe, but I knew I didn't have time in my schedule to sit down and write blog post until…. now. So, many apologies for this delay, and I will work harder on keeping my schedule on-track to share my recipes!!!!!


A little bit about this cut-out method. It's really easy. When I first started trying out pies, I was too nervous about trying lattice crusts because of all the handling, and I had these super tiny cute cookie cutters, and I found that patterns could be really beautiful and made the easiest pie crust, ever!!!! You can see some previous versions of this that I've made:
Apple Cranberry Pie 
Skillet Cherry Pie 
Strawberry blueberry basil pie 
Whiskey Peach blueberry pie 

(Also, kind of a fun thing to look at my old photos and see how my work has evolved!!!)





Notes:
You can read about my previous frustrations about pie here.
Work quickly, and make sure you properly chill the dough before working with it and before baking
Use water to seal between edges (for example, placing braided edge onto the crust)
Make sure everything is cold. I haven't tried this yet, but apparently chilling your flour and everything before assembling helps a lot too. I usually don't and my pie crusts always turn out incredibly flaky, but I will give it a try next time.
For cut-out pie crust, make sure you roll it onto a piece of parchment paper for easy transfer. I've tried it on my marble slab, but removing the pie crust with the cut-out shapes ended up stretching it beyond recognition!!

RECIPE: Rhubarb Blackberry Sage Pie 
Sage-Pie Crust, 9″
2 1/2 cups flour
2 sticks butter, cubed into 1 cm pieces, cold – prepare this beforehand
2 tbsp chopped fresh sage
1 tsp salt
3 tsp sugar
3/4 cup cold water
2 tbsp rose water
Prepare: Cube butter into 1cm pieces, and place it in a bowl in the freezer. I find that this allows the butter to get very cold before you work with it. Place cold water + apple cider vinegar into the freezer as well. Don't worry about it freezing- you will use it before it can freeze.
Combine flour, chopped sage, salt, sugar.
Take cold butter, and using a pastry cutter, fork, or fingers, work quickly and cut butter into dry ingredients. Pea size chunks will remain, and that's completely fine.
Take your cold water out from the freezer and using tablespoons at a time, mix it into dry ingredients until just combined. Do not overmix or knead. Add the mixture gradually – you can always add more water, but you can't take it out. The resulting dough should be damp but not moist.
Separate dough into two halves. Shape into disks and wrap with plastic wrap. Place in fridge. Let dough rest for at least 1 hour.
Rhubarb Blackberry Sage Filling
3 cups rhubarb stalks, chopped into ¼" pieces
3 cups blackberries
1 tbsp coarsely chopped sage
¾ cup sugar
zest and juice of 1 lemon
3 tbsp all purpose flour
1 tsp cornstarch
pinch sea salt

1 egg + water beaten
demarara sugar
Preheat oven to 350F.
Combine sugar, zest and rub until fragrant. Combine with flour and cornstarch.
Place rhubarb and blackberries and lemon juice in a bowl.
Rough one disc and place over pie dish. Chill in fridge. Meanwhile, mix rhubarb mixture with sugar/flour mixture and toss briefly. Fill in chilled pie crust, then place back into fridge until your top crust is ready.
To make cut-out Pie crust: See GIF above for reference. Roll out pie dough, reserving 1/4 cup of it for the braided curst, onto a piece of parchment paper and use a small cookie cutter to create a pattern. Remove cut-out pieces of dough. Then, take parchment paper and gently lay over pie filling. Carefully remove parchment paper. If your dough has become too soft, you can put the dough with parchment paper in the fridge for 5 minutes, then proceed. Crimp edges (you will be hiding this with braided curst) and set aside.
Make braided edge: Pat dough into a long log, then roll dough out. Divide into three strands. Braid. Brush crimped edge of pie with water, then gently lay braided crust over the edges.
Place entire pie into the fridge and call for at least 15 minutes.
Brush with egg wash and sprinkle with demarara sugar. Place on baking sheet and bake for around 60 minutes, until crust is golden brown and filling is bubbling. Remove and let sit for at least 20 minutes before serving.