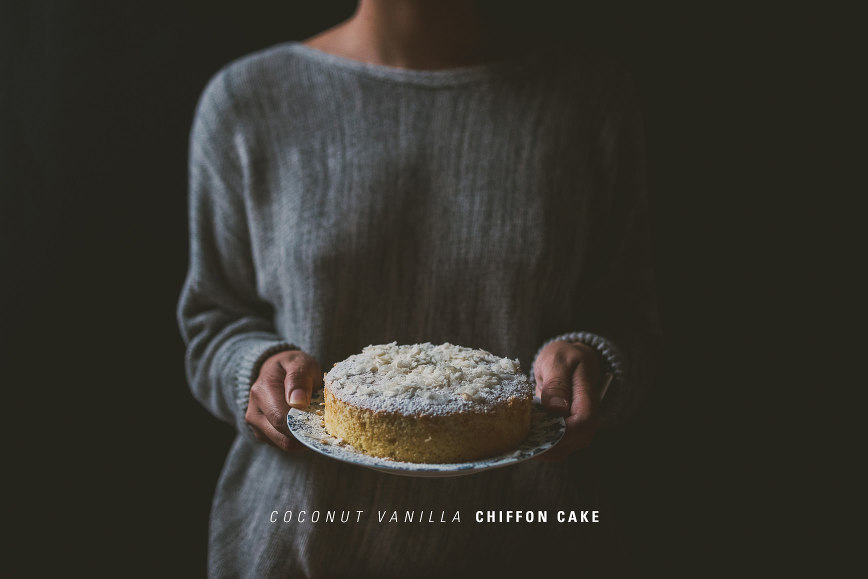 When I got Alanna of The Bojon Gourmet 's book, Alternative Baker, in the mail, I was so excited I stopped everything I was doing and immediately ripped open the box to flip through the pages. My thought process was something like, "these photos are so amazing… wow, so many flours I didn't know about… i want to make this… or maybe i'll make this…" and on and on. I wanted to make every single one. In fact, I was sad summer was over because there are SO many summery treats. Everything made me swoon. Then, I started to read. Beloved cookbooks on my shelf usually yield not only amazing recipes but also education – I'm a sucker for learning about food. It's why I read certain cookbooks like novels – I love learning about the author but also want to learn about food, and Alanna did this in spades. Not only are there personal anecdotes (that made me fall in love with her all over again), but the information and thought and research and sheer sincerity that is in this book is indescribable.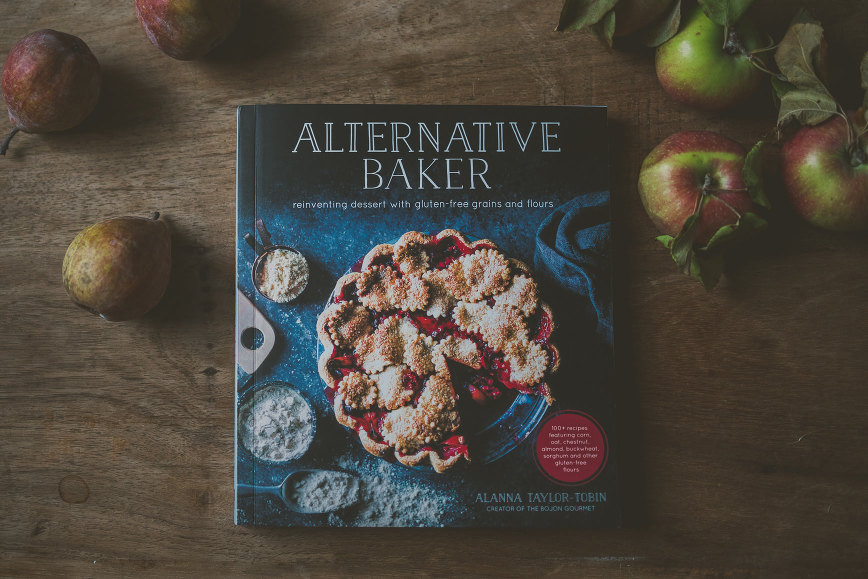 Also, this is my first gluten free dessert. Also, my husband, who is highly prejudiced against gluten free desserts, actually ate this whole cake. So, I think this was a success.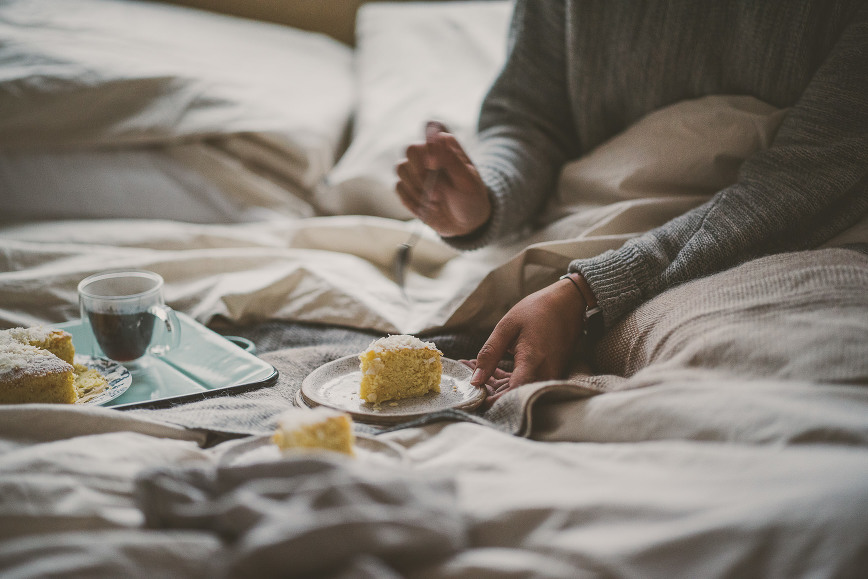 As my first foray into alternative flours, I decided I was going to make something simple, undistracted by other fancy flavors. Her vanilla chiffon cake immediately caught my eye. Plus, OK her photo made it look drool-worthy, so I made it! The first time I made it, I used a 9″ pan (recipe calls for 8″), and like a dummy I didn't scale it, so it was thin. Like, 1″ high, but WOW. It was fluffy, light, and delicious!!!! For photo's sake, I remade it into my nifty 6″ pan, putting leftover batter in little ramekins. As you can see, it turned out amazingly tall and fluffy. So, I've made this two times, and both yielded excellent, fluffy results. Exactly what you would want in a chiffon cake.

This recipe calls for 3 types of flours: millet, sweet white rice, and oat. Since I have a bunch of coconut flour at home for a future project, I used her substitution and used millet, sweet white rice, and coconut flour. I thus added a pile of flaky coconut shreds on the finished cake, too.



Sidenote: Have you noticed something odd about the photos in this post? Yup, I admit it – I messed up a little. With all the best intentions, I styled this post and then… went back on the styling. Food styling is an incredibly personal part of food photography, no? I think food styling can be very instinctive – something you hone and develop as you continue to work. My first few food photographs were technically accurate – nothing clipped, good exposure, good white balance, even OK composition… but the food styling was abysmal. It was practically nonexistent. Since then, I've really enjoyed discovering my own style and learning what I'm drawn to, and what I'm not. When I'm doing freelance or editorial work, I usually style with more deliberation – planning out props, mood boards, etc… but for the blog, most of the time it comes spontaneously, in the moment. I love cooking and photographing food for this blog because it's really a time for experimentation and discovery. I'm lucky that my shoot space is in a small "shoot room", with my props easily at hand, and I often find myself just reaching for props, arranging, shooting, then adjusting or exchanging. I love making the styling decisions on the spot, trying out different ways until it "feels right". Anyway, this method backfired this time, but this cake is still delicious, and the photo still shows this.
Originally. I was going to top this cake with some apple/pear slices, maybe some figs too, to really give it an autumnal, cozy feel, but when I finished the cake with a dusting of powdered sugar and the coconut flakes… I realized it didn't need any more garnish. It stands so well on its own, with a crown of sugar and coconut. The flat textured surface against a warm golden cake is scrumptious on its own. So the apples I put out in the prepping stages were actually not even part of the story. This is just me – personally, I like styling to tell the story of the recipe, and avoid unnecessary or irrelevant props. Well, I did that. And I'm ok with it, because it's something to keep in mind for next time – I think I became complacent and comfortable with my styling, and this is a good reminder to be more deliberate!


I received these linens from Evencki – and oh my, they are glorious. I feel like I'm sleeping in clouds every night. They're the perfect natural shade and the minute I got them, I wanted to do a photoshoot on them. What's cozier than breakfast (aka cake for breakfast) in bed? I realized, of course, that my bedroom isn't Kinfolk-pretty, and the view is of construction and a parking lot, but whatever. It's my real bedroom.


Coconut Vanilla Chiffon Cake
From  Alanna Taylor-Tobin's "Alternative Baker"
1/4 cup sunflower oil (or other neutral oil)
3/4 cup water
3 large egg yolks
1 tsp vanilla extract
1/2 up plus 2 tbsp granulated cane sugar
1/3 cup sweet white rice (50g)
1/3 cup coconut flour (40g)
1/4 cup millet flou4 (30g)
1 1/4 tsp baking powder
1/2 tsp fine sea salt
5 large egg whites, at room temperature
1/4 tsp cream of tartar

powdered sugar and coconut flakes
Position a rack in the center of the oven and preheat to 325F. Line an ungreased 8-inch round cake pan with a piece of parchment paper cut to fit.
In a large bowl, whisk together the oil, water, egg yolks and vanilla, then whisk in the 1/2 cup sugar. Place a strainer over the bowl and sift the sweet rice, millet, and coconut flours with baking powder and salt directly into yolk mixture, adding back any bits left behind in the strainer. Whisk until very smooth.
In the clean, dry bowl of a stand mixer fitted with the whip attachment, whip the egg whites with the cream of tartar on medium-high speed until soft peaks form. Slowly add the remaining 2 tbsp sugar, and whip until whites are glossy and just hold a firm peak when lifted from the bowl, 1-3 minutes more.
Fold 1/3 of egg whites into batter, then gently fold in the remaining whites until just combined and no streaks remain. Immediately pour batter into prepared pan and quickly but gently use an offset spatula to spread the batter into a thin, even layer. Transfer to the oven and bake until cake is golden, springs back to the touch, and a toothpick inserted near the center comes out clean, 40-50 minutes. remove to a rack and let cool completely in the pan. Loosen edges with a thin knife or offset spatula, and invert cake onto a rack or board. peel away parchment paper.