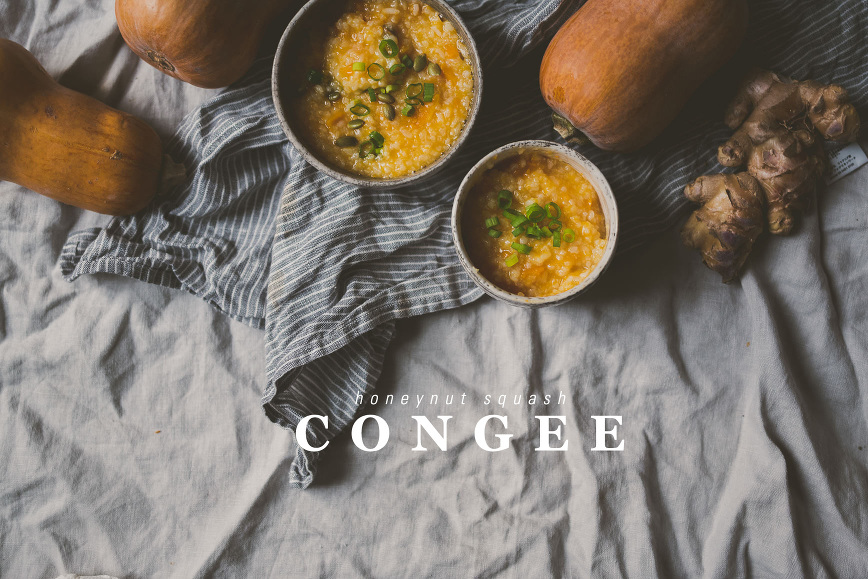 Now, it's really fall. The sweaters are out, the scarves are wrapped, and my dutch oven basically remains on the burners now. It's almost freezing outside! You may have noticed a theme of comfort in my previous few posts (like this stuffed butternut squash and decadent brownies), and that's not about to wane anytime soon, because I've got the ultimate comfort breakfast for you: congee!!!! I'm sort of shocked I don't have a congee recipe already up here – likely because it's one of those "recipes" that you don't really need. It's more about proportions, and then of course, how YOU like to eat congee. So, when the darling Alana and Stephanie threw the perfect #threeredbowls baby shower / celebration for our sweetest friend and beloved blogger Cynthia, I immediately thought of a seasonal, comforting congee, something that can be whipped in quickly and in one pot, and preferably made when wearing fuzzy slippers.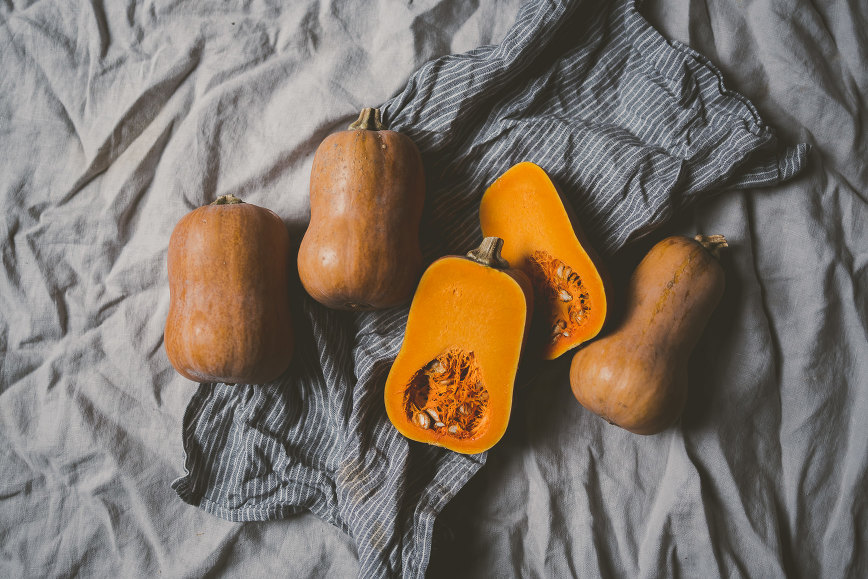 Cynthia was one of the first bloggers that 1) inspired me to start blogging and 2) made me feel welcome in this crazy-but-awesome food blogging world. One look at her work, and anyone will fall in love, but it was really her writing and how sincere her posts are – how willing she is to share her life with us, that made me continuously return to her blog. Oh, and her amazing recipes!!!!!!! She's the master of delicious, next-level dishes that are still approachable and not intimidating to make. I've made her budae jjigae, taiwanese popcorn chicken, and hokkaido milk bread numerous times – they never fail!
Many, many congratulations and heartfelt wishes, dear Cynthia! Luke is so beautiful and precious.
Check out all the other bowl-themed recipes for this #threeredbowls baby shower!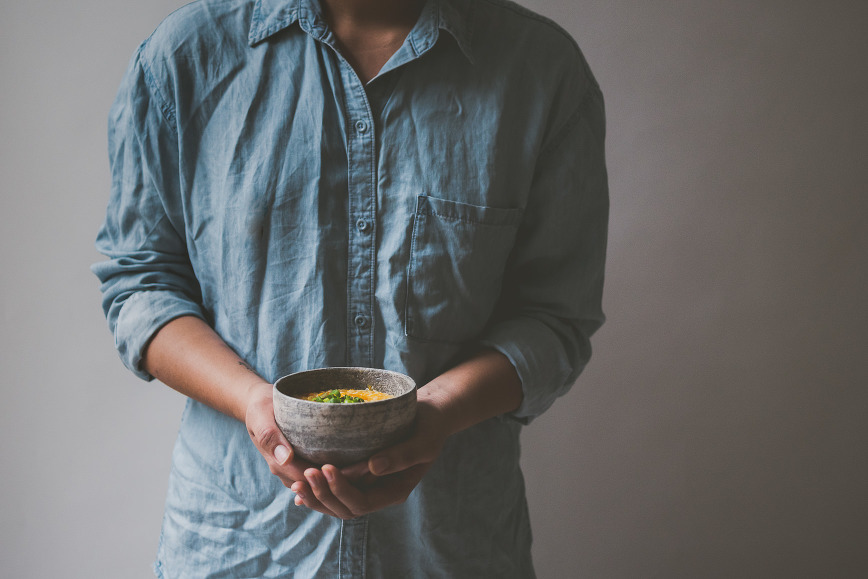 I am a Food Blog | Mac and Kimcheese Dolsot Bibimbap
Fix Feast Flair | Dishoom's Chicken Ruby Murray
The Fauxmartha | Mom Lunches
A Cozy Kitchen | Cornbread Chicken + Dumplings
Cake Over Steak | Salted Caramel Chocolate Crackles
The Pancake Princess | Stovetop Pumpkin Bread Pudding
Snixy Kitchen | Chicken Pot Pie with Chestnut Biscuits
Lady and Pups | Egg Florentine in Pullman "Bowls"
Betty Liu | Honeynut Squash Congee
Style Sweet CA | Date Bourbon Cinnamon Rolls 
Warm Vanilla Sugar | Broccoli Quinoa Bowl with Avocado Sauce
A Beautiful Plate | Coconut Cauliflower Soup
Girl Versus Dough | Tomato Grilled Cheese Soup
Fork to Belly | A HUGE Hawaiian Fruit Bowl!!!
Donny Tsang | Chawanmushi
Wit & Vinegar | Jerk Chicken Chili
Constellation Inspiration | Salted Egg Yolk Custard Mochi
twigg studios | Katsu Udon Soup wth Popcorn Chicken Croutons
Edible Perspective | Acorn Squash Bowls with Pears, Pecans, and Vanilla Bean Cream
Coco Cake Land | Asian Bowl Cut Sugar Cookies
Southern Souffle | Sorghum Apple Biscuits In A Bowl
The Bojon Gourmet | Smoky Sweet Potato & Lentil Tortilla Soup
Flourishing Foodie | Sweet Potato and Pumpkin Soup 
What should I eat for breakfast today | Little Bowl with Creamy Polenta, Cheese, Onions and Mushrooms
Top with Cinnamon | Squash & Crispy Kale Bowls with Pomegranate and Miso-Ginger Dressing
the broken bread | Roasted Celeriac + Fennel Soup
Fig+Bleu | Cauliflower Harissa Soup
my name is yeh | Corn Dog In A Bowl
Crepes of Wrath | Mini Scallion Pancake Challah Buns
O&O Eats | Persimmon Cobbler




This honeynut squash congee is super, duper flexible. In fact, it's a variation (if you can call it that) of the more traditional pumpkin congee that my mom used to make. It's quite popular in the Shanghai / Jiang Su areas, called 南瓜稀饭, and is sometimes made with millets instead of white rice. My mom has made it with whatever pumpkin/squash/yam she had on hand. I was craving the ultimate comfort congee, so I went with traditional short grain white rice. I used a quick-cooking method – you wash, soak, then freeze the rice overnight. It works wonders and basically allows the rice to cook faster. This recipe won't take you more than 30 minutes to make. I used honeynut squash congee, because I'm currently obsessed with these little minions. I spotted them at a local farmstand, but didn't buy them at first. Then, I went on a press trip, chatted with queen of squash Amanda and she told me that it's sweeter than butternut squash and has a lovely color. SHE's RIGHT!!!! It's almost as sweet as kabocha but has the honey-ed flavor of butternut squash, and it was perfect for this congee. As is such for this rustic recipe, there's no additional flavoring necessary. The squash, then salt and pepper to taste. I added a sprinkling of scallions and toasted pepitas because I had them on hand, but this congee can stand on its own just fine.



RECIPE: Honeynut Squash Congee
*It's 3:1 ratio of squash and raw rice!
300g honeynut squash peeled and cut into thin slices
100g short grain rice
1-2 slices fresh ginger
1 cup chicken broth
sea salt and pepper, to taste
Night before: Wash and rinse rice. Soak for 30 minutes. Drain, then place in a freezer-safe container and freeze overnight (I used a plastic bag).
Remove rice from freezer. Bring 3 cups of water to a boil. Add frozen rice, squash slices, and ginger all at once. Turn to medium heat. Cover and cook for 10-15 minutes, stirring occasionally to prevent sticking. pour 1 cup chicken broth (or vegetable broth) and stir. Add salt. Cook, uncovered, for another 10 minutes on low until congee thickens to your preference.
Add more salt and pepper to taste. Top with scallions, if you want!