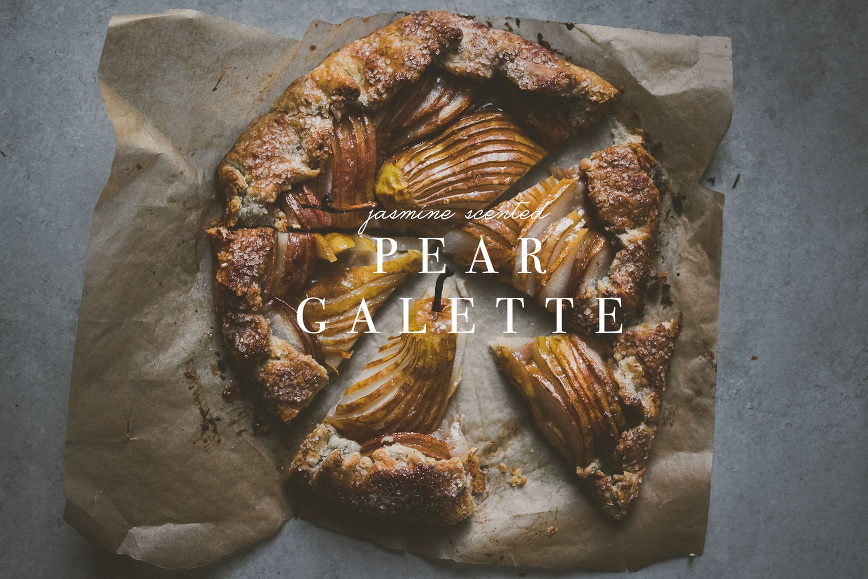 With such a tough week, lets end it on a sweet note, shall we? If you've seen some of my previous recipes, you know I LOVE putting tea in everything. It's such a wonderful way to add in a subtle flavor that infuses through the entire dessert. So, when Smith Teamaker reached out to me to create a recipe, I was so excited!!! This pear galette is one of my favorites to make. I know apples get a lot of attention, especially in New England, but lets give pears a salute as well. Asian pears are my go-to for eating, but not for baking. Instead, Bartlett or Anjou pears are my go to, and when I saw these red bartletts for sale, I just fell in love with them. The color baked off, but they were still stunning and delicious to work with.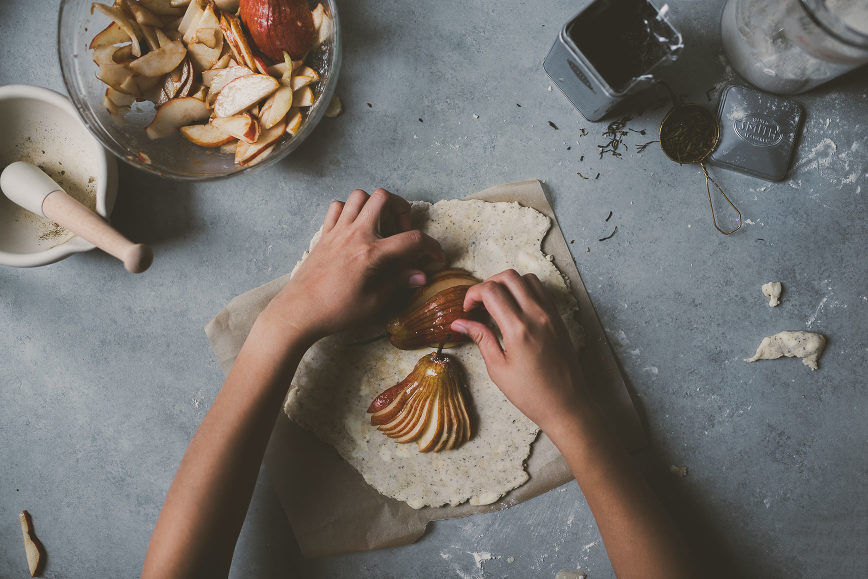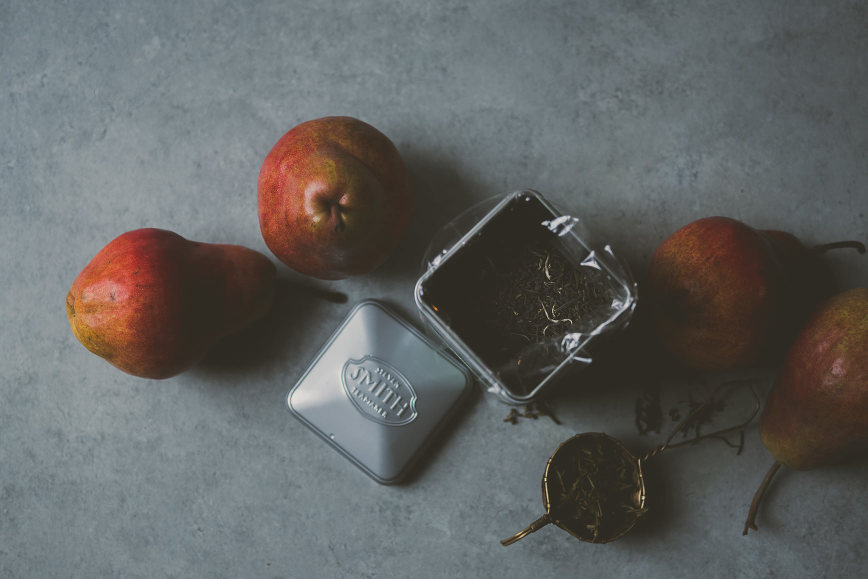 I considered for awhile which tea I wanted to use, and I sampled a bunch of teas from Smith Teamaker – chai, sencha, oolong… I loved them all, and while I was originally tempted to use the chai, as chai goes so well with autumnal produce, but this jasmine silver tip tea made me pause. It is a tender, delicate tea that seemed gentle enough to be incorporated into a dessert. It's not aggressive, but a subtle flavor that sneaks up on you, like the comfort of a warm huge.
The tea is infused in many ways:
Pie dough: the tea is ground up and added, but I also used ice cold brewed tea to form the dough. I was a bit worried but it turned out as flaky and buttery as ever, but with the subtle flavor of tea!
Filling: Ground tea is mixed into the filling so that the pears can infuse with it as it breaks down and bakes in the oven.
Whipped cream: Infused heavy cream, then chilled and whipped, provides that extra sweet addition with some tea.
Give it a try!!! Maybe it'll cheer things up :).





Notes:
Stems are for styling purposes, no need to include them in your galette :). When Alex saw it, he got really excited, and then he paused. Wait. Are there stems??? Haha, those are for purely presentation purposes.
You can use this method for any tea – jasmine and pear go so well together, but I could also imagine earl grey pear galettes, or chai apple galettes.
The infused whipped cream is optional – it does mean an extra step to take ahead of time so that the cream and chill properly, but it's so worth it. I've used this method so many times before and it's so versatile. Imagine using this as a base of tea ice cream :).
I used Smith Teamaker's Jasmine Silver Tip – a delicate, fragrant, tender green tea that has become an everyday morning favorite. It's gentle but still has that caffeine to start the morning.



This post is sponsored by Smith Teamaker! All opinions expressed are purely my own, as always. Smith Teamaker was founded in 2009 and is a small-batch company, exploring teas and botanicals from all over the world. With some familiarity with Chinese teas, I was impressed by the authenticity of their teas, and their loose leaf tea is so delicious and of the highest quality. I've already sent some to my family to see what they think (avid tea drinkers), and they are in love as well. A huge thanks to Smith Teamaker! 
Recipe: Jasmine Tea Scented Pear Galette
Pie crust adapted from four & twenty blackbirds
Single 9″ pie crust
1 1/4 cup all purpose flour
1/2 tsp salt
1 tbsp sugar
1 stick butter, pre-chopped into 1 cm cubes and placed in the freezer
1/2 cup ice brewed Jasmine Silver Tip tea
2 tsp finely ground Jasmine Silver Tip, from loose leaves

Jasmine Tea Infused Whipped Cream
1 cup heavy cream
2 tbsp sugar
1 tsp Jasmine Silver Tip loose leaf tea
The night before: 
Brew jasmine tea. Place in fridge overnight. Meanwhile, heat up heavy cream with tea leaves until wisps of smoke appear, just before boiling. Remove from heat and let cool completely. Pour into a bowl, cover, and place in fridge. Before use, strain to remove tea leaves. Letting the tea leaves steep with the heavy cream will let it infuse even further.
Pie Crust:
Mix together flour, salt, and sugar. Take butter out of the freezer and using a pastry cutter, a fork, or your fingers, work quickly and cut butter into dry ingredients. You should end up with pea sized chunks, which is completely fine! Using tablespoons at a time, mix ice cold tea into dry ingredients until just combined. Do not overmix or knead. Add the mixture gradually – you can always add more water, but you can't take it out. The resulting dough should be damp but not moist. Shape into a disk and wrap with plastic wrap. Chill in the fridge for at least 1 hour.
In the meantime, make filling:
Pear Filling
2 cups sliced pears (about 2 pears)
2 tbsp cornstarch
1 tbsp lemon juice
1 tsp lemon zest
4 tbsp granulated sugar
1 tsp cinnamon
1 tsp ground Jasmine Silver Tip tea
1 tsp vanilla extract
1 dash salt

egg wash: whisk 1 egg with a splash of water
demarara sugar, for sprinkling
Take pie crust out of the fridge. Preheat oven to 425F. Mix filling until coated. On a lightly floured surface, roll out pie crust to about 10″, around 1/8″ thickness. Arrange pear slices on dough, leaving 1″ around the edges. Fold edge over pear slices and crimp all around. Place on parchment paper lined baking sheet and brush with egg wash. Sprinkle generously with demarara sugar.
Bake at 425F for 30-40 minutes, until juices bubble and crust is deep golden.
Whip chilled tea-infused heavy cream and sugar until soft peaks form. Dollop generously.