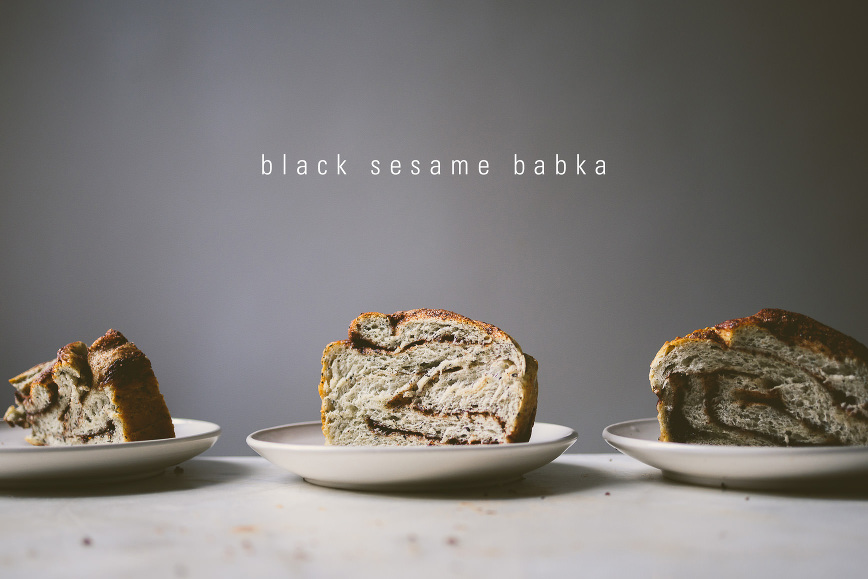 I grew up eating Asian bakery bread. Have you had it before? It's my childhood snack. Soft, pillow soft cotton soft bread that lasts longer and can be filled with so many flavors. Cheesy ones. Pork stuffed ones. Custard filled. Taro. Green tea. Hot dogs. Gah, the nostalgia! Whenever we needed a snack (for hiking, road trips, flights), we'd stop by the Asian bakery and load up on these beautiful breads. It's not just me either. Just this past summer Alex and I shot a wedding where the couple had a tea ceremony, and provided BREAD for everyone afterwards!!!! It turns out the trick to these breads is the water roux, the 汤种 tangzhong method. It's a roux made up of water and bread flour, warmed on the stove into a thick paste that is incorporated into bread dough. Butter is slowly incorporated into the dough and creates a super silky smooth dough (if you're doing this by hand, you can palpably feel the dough changing texture, becoming more silky). I've since made most of my breads using this – like hot cross buns, taro rolls, and now, this black sesame tangzhong milk bread babka.
ALSO, continuing with the spirit of holiday giveways to thank you as being a part of this amazing community and reading my humble blog, I'm giving away two Shun Cutlery Kanso knives!!! These are literally the knives I use almost everyday in my kitchen – super sharp, beautiful, and so functional. I'm giving away a 7″ Kanso Asian Utility knife and a 3.5″ Kanso paring knife. See below for details.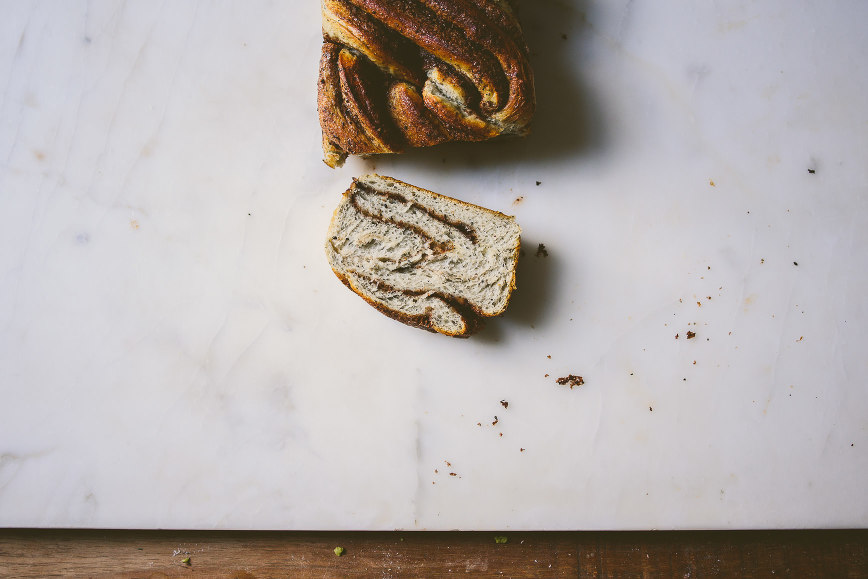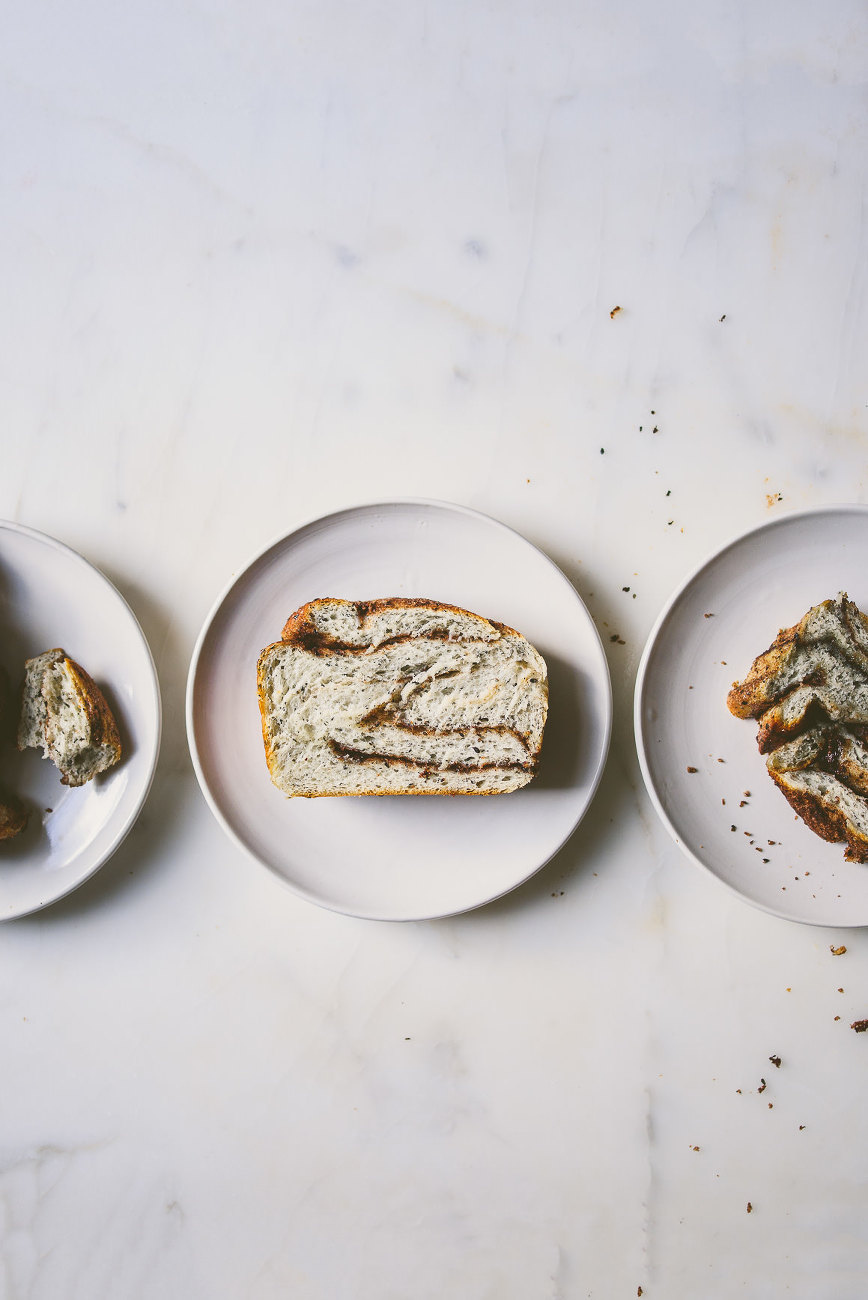 It's no secret that black sesame is a favorite flavor of mine (see ice cream, matcha rolls with black sesame filling, vertical cake roll, black sesame tart shells), but I'm particularly fond of it in this babka, because of the subtle flavor that permeates with every bite of this bread (just the bread, even), Also, that gray. I'm fond of gray, and this soft gray tint to the flesh of this bread makes me irrationally happy. I'm making these into just dinner rolls at home in California next week – my parents aren't too fond of sweets, so I'll omit the babka filling, but my dad loves bread. I know he's going to like this one, because it has that characteristic Asian bakery softness!!!! But also, black sesame is a classic not-too-sweet, nutty flavor that is universally enjoyed (so I like to think).




I always find that shaping the babka is my favorite part – I love slicing up the rolled up dough to reveal all the edges, and then criss crossing it together. Another way to shape babka is to roll it up, and then just twist a few times to create those overlaps. There's something satisfying about slicing that dough open though.

The cinnamon sesame filling wasn't actually my first choice – I feel like I should be honest and let you know that the first filling I tested was a white chocolate matcha filling, and I thought it was a bit too sweet – a dark chocolate matcha might work better, but I found that the white chocolate matcha overwhelmed the black sesame flavor. Alex and my sister Lucy, though, were my guinea pigs and LOVED the white chocolate matcha filling! I much preferred this quieter, cinnamon sesame filling to let the black sesame dough shine, but this did give me some pause for thought. I'll need to tweak the white chocolate matcha filling, and I don't think the black sesame dough is the right fit for that (because you couldn't taste it AT ALL), but expect some other sort of babka sometime in the near future :).





---
GIVEAWAY:  7″ Kanso Asian Utility knife and a 3.5″ Kanso paring knife!!!!!
UPDATE: Giveaway now closed! Thank you for entering and for your sweet words. Congrats to Janice for winning these knives!
---
Notes:
You can also make this by hand, quite easily – kneading the butter in gradually, you can feel the texture of the dough become more supple and smooth – it's a very soothing experience. Follow instructions from this post. 
RECIPE: Black Sesame Tangzhong Milk Bread Babka
(makes 1 loaf)
Milk bread adapted from here and various other sources.
Tangzhong
(you only need half of this – if you're making 1 batch, use half of the ingredients here)
50g bread flour (about 1/3 cup)
1 cup water
Mix flour with water until smooth. Cook over medium low heat in a saucepan and stir with a wooden spoon, until thick. When swirling wooden spoon around pan, you should be able to see visibly the echoes of the swirl. Transfer to a clean bowl. Take a piece of plastic wrap and gently press it against the surface of the tangzhong. Let cool.
Black Sesame Dough
350g bread flour (around 2.5 cups)
45g ground black sesame seeds (3 tbsp)
½ cup whole milk
65g sugar (1/4 cup sugar)
1 egg beaten
30g butter
½ tsp salt
2 tsp active dry yeast
120 g tangzhong

1 egg + splash of water, beaten
Heat milk slightly until lukewarm. Add in yeast and proof for 5-10 minutes. You should see a thick layer of foam, indicating the yeast is active.
In the bowl of a stand mixer, sift in bread flour, black sesame, salt, and sugar. Add in foamy yeast/milk mixture, tangzhong, beaten egg. Mix on medium-high. Add in chunks of butter until smooth. Continue mixing on medium-high for about 15-20 minutes, until elastic, supple, and super smooth. Turn out onto a greased bowl, and cover with a towel. Let rise until doubled in size, around 1-2 hours, depending on how warm your kitchen is. Alternatively chill in refrigerator overnight.
Cinnamon Sesame filling
5 tbsp butter, softed
¼ cup granulated sugar
1 tbsp honey
2 tsp ground cinnamon
1  tsp ground black sesame
Mix all ingredients together until smooth.
Turn onto a lightly floured surface. Punch dough down (fun times!). Roll into a large rectangle. Spread cinnamon filling evenly over dough, and then roll dough up, starting from the short edge. Use a sharp knife and slice through the middle down the length of the dough. Twist two halves over each other, and place in a parchment-lined loaf pan. Cover with plastic and let rise for another 30 minutes-40 minutes. Preheat oven to 350F.
After rising, brush loaf with egg wash. Bake for 20-30 minutes, until golden brown. Let cool and then serve warm.