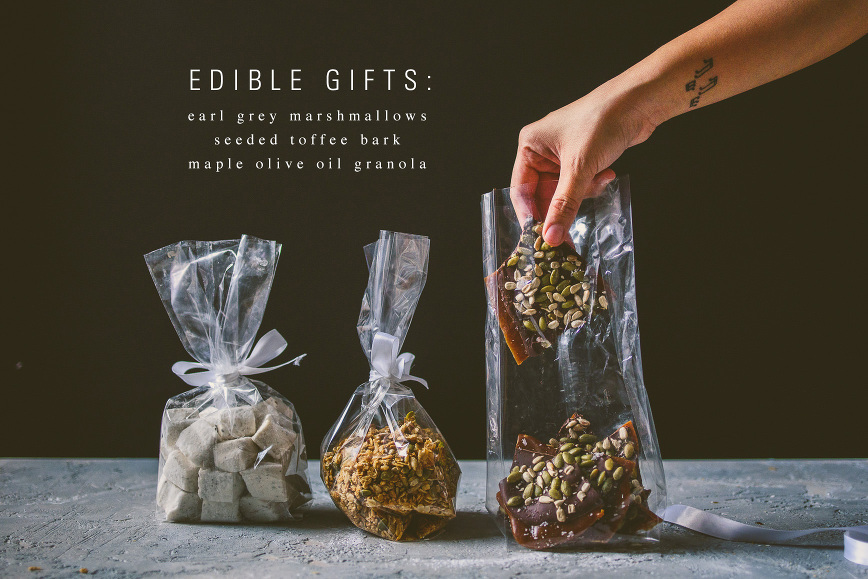 I'm heading to California today!!!! It's been half a year since I've been back, and I'm so excited to see my parents, my friends, and hit up all my favorite eats. It seems like every year we get busier, so any opportunity to go and see family is precious, and I cherish my time with them. Also, my parents have the best garden – persimmons, a giant orange tree, lemon, fig, lots of herbs!! It's such a privilege to be able to go home and cook with my parents, who of course inspired this blog's creation. I can't wait to sit down and chomp down my moms' cooking again!  What are your plans for the holidays?
And of course, I have another amazing holiday giveaway for you – something that will directly help you make treats such as these: a copper Mauviel sugar pot!!! It's got a pouring spout and everything – perfect for caramels, marshmallows, and other candies. Scroll down for details!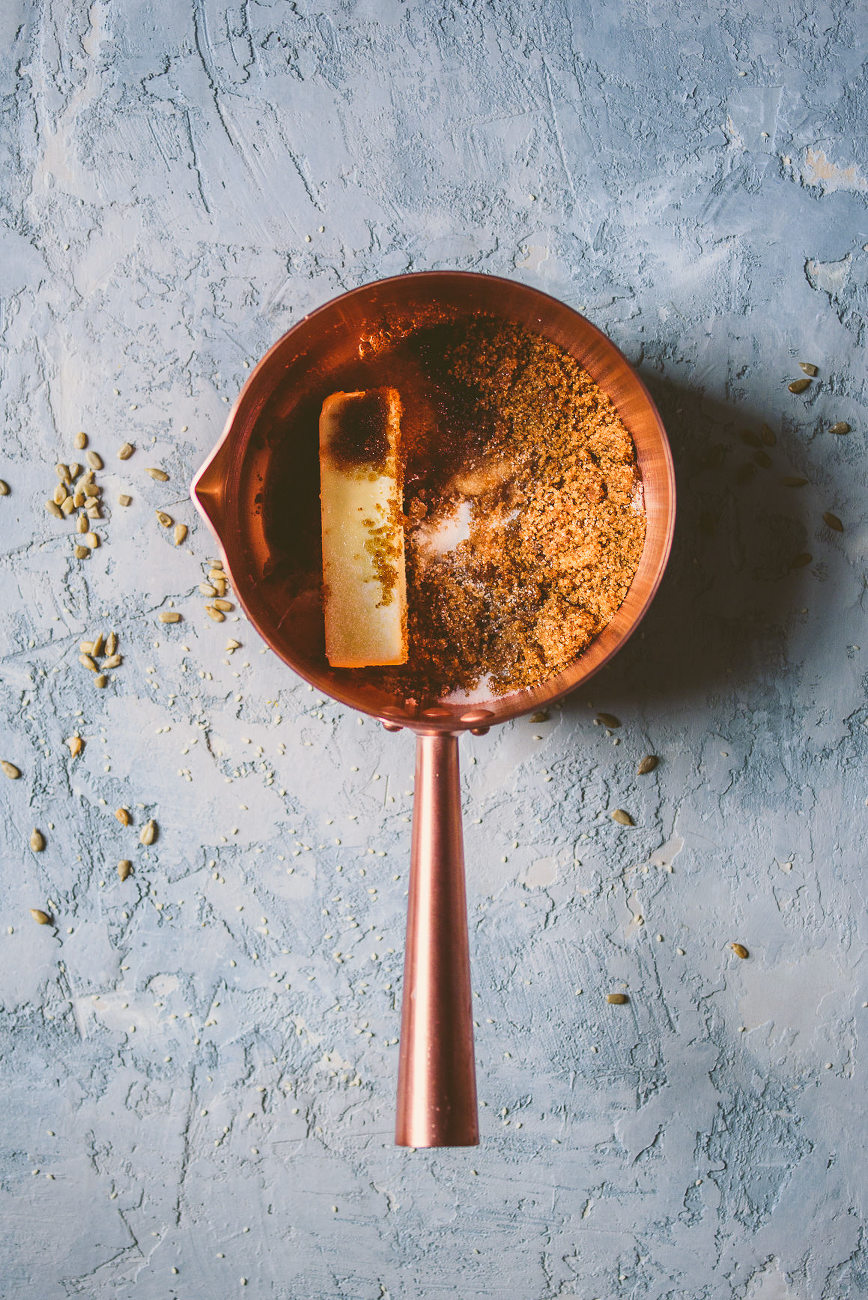 I'm so excited to share these edible gifts with you. Every year I struggle with gifts for friends and colleagues, something meaningful and thoughtful. This year, I decided to cook up a storm and give bags of my favorite holiday treats and couldn't resist adding in my favorite maple olive oil granola. Earl Grey marshmallows are like soft fluffy pillows with that wonderful fragrant bergamot flavor that melts so perfectly in hot chocolate or in s'mores. The seeded toffee bark is, once again, borne of my nut-allergy envy to all the nutty toffees and barks out there, and it's so good. I wish I could say you wont' miss the nuts, but since I've never had them, I can't say that. But. This seeded toffee bark is delicious – with a touch of bourbon and flaky salt, the result is a complex, salty but sweet bark that I could not stop eating during studying (not a good idea).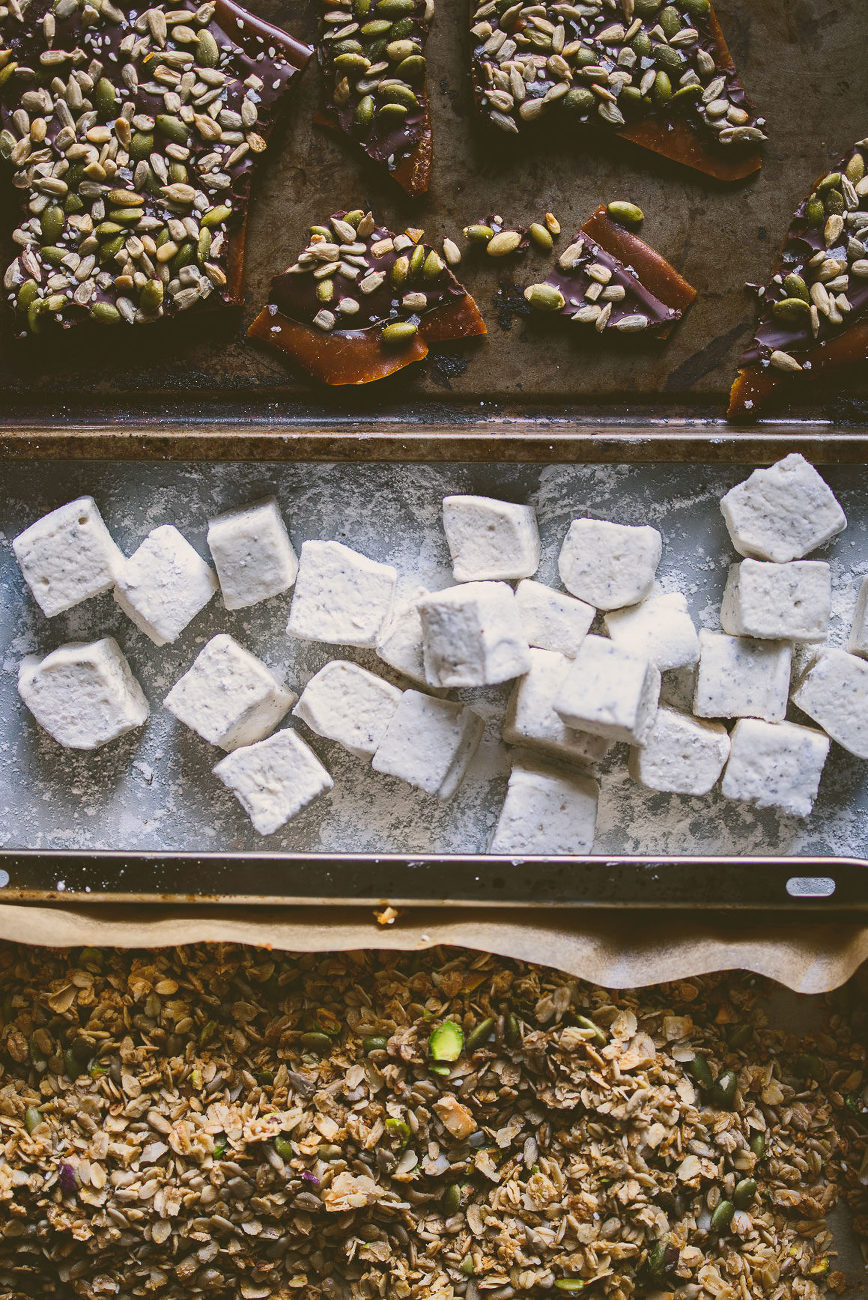 ---


These marshmallows are from Molly's cookbook, Molly on The Range, and like this scallion pancake challah, this recipe was easy and straightforward, and the marshmallows fluffed up in no time. I used steeped earl grey tea instead of water, and also ground up a ton of earl grey tea leaves for extra flavor, leaving beautiful specks of ground tea in the marshmallow. I was nervous about cutting into them, but it turned out to be so easy, and I was rewarded with beautiful soft and fluffy squares of heaven. Homemade marshmallows are leaps and bounds more tasty, in both flavor and texture, than store-bought ones. I'm definitely making them when I'm in California. Alex's family makes s'mores every winter during holiday gatherings, and this year I'm going to fancy it up by whipping up homemade marshmallows :).
Earl Grey Marshmallow
adapted from Molly On The Range

Marshmallow Mix:
¼ cup powdered sugar
¼ cup cornstarch

Marshmallows
¾ cup steeped earl grey tea
1 tsp vanilla extract
1 ½ tbsp ground earl grey tea leaves
2 envelopes unflavored gelatin
¾ cup sugar
½ cup light corn syrup
pinch salt
Make the "mix" – sift together powdered sugar and cornstarch. Sift onto a greased square 8×8 baking pan, and dust sides and bottom with half of the marshmallow mixture.
In a stand mixer with whisk attachment, combine ½ cup of the steeled earl grey tea and ground earl grey tea leaves. Sprinkle gelatin over this liquid.
In a small saucepan with candy thermometer in place, whisk together sugar, corn syrup, salt, and remaining ¼ cup tea. Heat over medium-high until the thermometer reaches 240F. Immediately turn off heat and head over to the stand mixer.
With mixture on low, slowly stream in hot mixture down the side (without touching the whisk). Then, increase speed slowly to high, and mix for 7-10 minutes, until the side of the bowl is no longer hot to touch. Mixture should be fluffy and lukewarm.
Prepare a greased rubber spatula.
Immediately scrape into prepared pan and spread evenly. Dust top with marshmallow mixture. Let sit for 1 hour. Cut into squares with a sharp knive, dust the exposed edges with more the mixture. To store, shake off excess mixture, and store in layers between parchment paper in airtight container.

---


Toffees and barks are classic holiday treats, but oftentimes they're filled with delicious sounding nuts that I unfortunately can't eat. Much as I did with this seeded pie, I decided to make a seed-heavy toffee bark, with a layer of salt and variety of seeds, chocolate, and crunchy toffee. YUM. I added in a swirl of bourbon because, why not?
Seeded Bourbon Toffee Bark
adapted from Bon Appetit 
1 stick unsalted butter
¾ cup sugar
½ cup light brown sugar
2 tbsp bourbon
½ tsp salt
1 tsp vanilla
¼ tsp baking soda
4 oz bittersweet chocolate, melted
1/2 cup sunflower seeds
1/4 cup pumpkin seeds
½ tsp maldon flaky sea salt
Line a baking sheet with parchment paper. In a heavy-bottomed saucepan with a candy thermometer clipped, melt butter into bourbon, sugars, salt, and 2 tbsp water. Cook over medium heat, swirling every so often, until the thermometer reaches 300F, around 7-9 minutes. The mix will appear a deep golden brown.
Remove from heat, stir in vanilla, and then sprinkle baking soda evenly over surface. Immediately scrape into the baking sheet and spread evenly across parchment paper. Let cool for 10 minutes.
Drizzle chocolate over toffee and spread evenly. Scatter seeds evenly. Sprinkle with sea salt. Let sit for another 2 hours, until you can break into large shards.
---

This granola is my go-to. It's made, without fail, every 2-3 weeks, because it's my absolute favorite. It's based off of a Food52 genius recipe for olive oil granola, and it's so customizable – my current variation, and the one I gave away, includes pistachios (it's the one tree nut I can eat), seeds, coconut flakes, and maple syrup. It's not too sweet,
Olive Oil Maple Granola
adapted from food52's genius recipe.
3 cups old-fashioned rolled oats
1 cup raw sunflower seeds
1/2 cup pumpkin seeds
1/4 cup sesame seeds
1 cup coconut shreds
1/2 cup crushed pistachios
1/2 cup maple syrup
1/3 cup extra virgin olive oil
coarse salt
Turn oven to 300F. Mix everything together until well combined. Spread granola on a parchment-lined, rimmed baking sheet. Spread granola in an even layer. Bake at 300F for 45 minutes, making sure to stir every 15 minutes. Remove and sprinkle with some salt. Cool completely.

---

GIVEAWAY
Thank you to all who entered! The giveaway is now closed, and I absolutely loved reading all your edible gifts. This makes me wish the next holiday season would come sooner so I could make MORE edible gifts!!! Congrats to Mimi, and may all your candy making dreams come true!